Epcot is full of Hidden Gems! Here are a few we suggest you check out next time you are strolling through Epcot.
1 – JAMMitors
Head over to Future World East (outside the Test Track area) and get ready to be surprised! Watch as janitors take their cleaning items and break out in an entertaining jam session. This is a short 10-minute show that is well worth trying to work in your schedule. Check for showtimes, but typically they perform every hour in the morning (starting at 9:45 am) until just before 5 pm. You and your kids will be wanting to drum along!
2 – United Kingdom Pavilion
As you walk around the World in Epcot, take a slight detour in United Kingdom. Just off the main walking path in the UK, you will find the UK Pavilion. During the day, this is a perfect place to rest and enjoy the beautiful landscaping. In the late afternoon/evening, a band called British Revolution takes the stage! Familiar songs from artists such as The Beatles and Queen fill the pavilion. It's a perfect place to have a drink and enjoy some great songs. Be sure to check showtimes.
Editor's Note: During the phased reopening of Walt Disney World in 2020, the return of British Revolution has not been confirmed.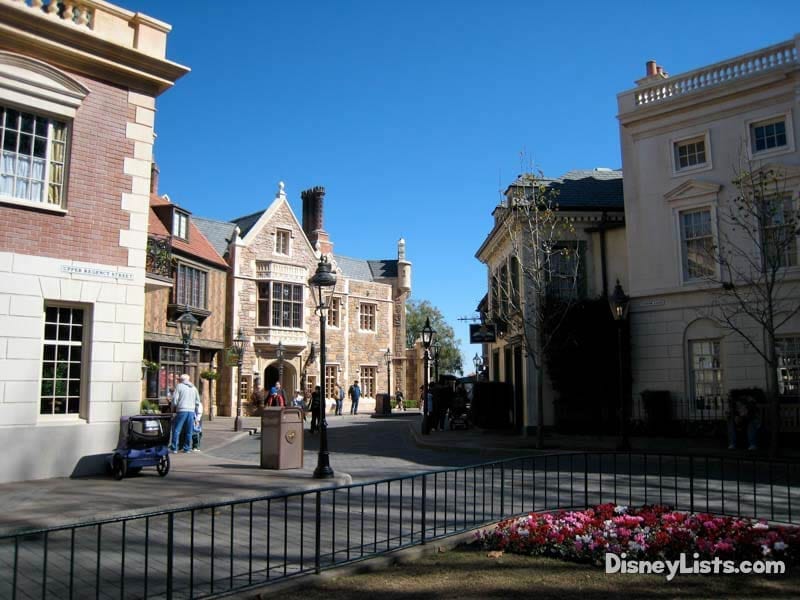 3 – Electric Umbrella – Upstairs!
Editor's Note: The Electric Umbrella is currently closed for refurbishment.
Ok, you are probably thinking – the Electric Umbrella, a hidden gem?! Well, yes! When you need a quick place to dine or rest your feet, we suggest checking out the Electric Umbrella. Here's the trick, not many knows… Electric Umbrella has an upstairs seating area. If you enter through the main Electric Umbrella entrance, head to the very back of the restaurant and you will see stairs. Plenty of extra seating is available, which is perfect if you need to spread out with your family or just want to get away from the crowds.
4 – Rose and Crown Pub During Epcot Forever
Rose and Crown Pub and Dining Room is the perfect place to grab a drink, but have you ever tried to dine there during Epcot Forever? Reserve a dining reservation for right around 7:30 pm. Check-in early for your advanced dining reservation and let them know you would love to be seated outside to view Epcot Forever if possible. Make sure they know you are willing to wait for a little past your reservation time if that's what it takes to have a good view. Enjoy appetizers, drinks, your meal, and dessert and before you know it Epcot Forever will be starting! Let's say you don't get the most ideal seat for Epcot Forever Rose and Crown Pub has their own private viewing section for their dining guests. Fantastic food and a great view of Epcot Forever – the perfect combination!
Editor's Note: During the phased reopening of Walt Disney World in 2020, Epcot Forever will be temporarily suspended.
5 – Voices of Liberty
This one is a must-do! Located in America, be sure to visit the American Adventure Attraction. Before the show begins the "Voices of Liberty," a group of extremely talented vocalists, perform in the open atrium. Recent performances have been moved to the American Gardens Theater, so be sure not only to check for performance times but also for location. Our understanding is that when there are no special events taking place at the American Gardens Theater, the Voices of Liberty will be performing on stage. As you sit and listen to this group perform traditional American tunes and an occasional surprise (such as "Let It Go" from Frozen), you can't help but get goosebumps from their incredible melody!
Editor's Note: During the phased reopening of Walt Disney World in 2020, the return of Voices of Liberty has not been confirmed. 
6 – Les Halles Boulangerie-Patisserie
Tucked away in the back of the France Pavilion, you will find a slice of heaven. French pastry smells fill the courtyard as you enter Les Halle's quick service. The amount of pastries is slightly overwhelming, but who doesn't love a good selection. Besides the treats, you can select from, sandwiches, soups, and salad to dine on. Take a moment and enjoy the tasty goodies and the structural masterpiece around you that the Imagineers put together to make France come to life.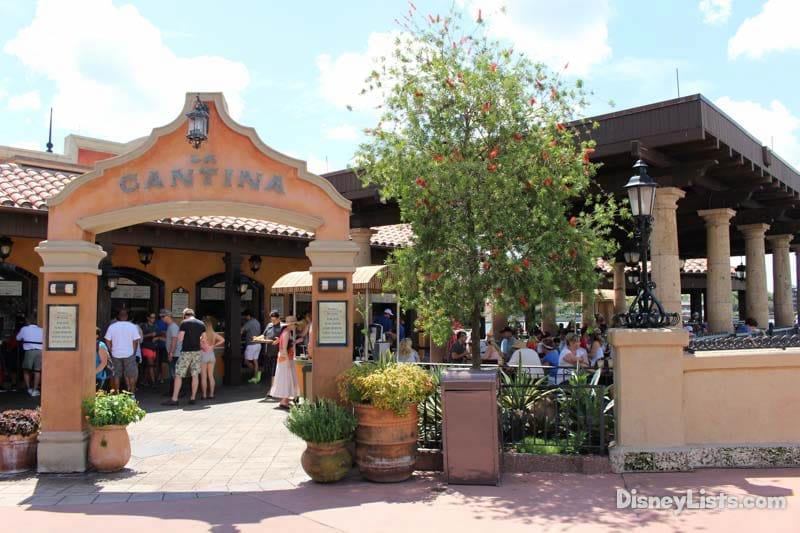 7 – La Cantina de San Angel
Alright, adults – this one is for you! Mexico is a beautiful part of the World to visit, but making a stop at La Cantina de San Angel quick-service café just adds to that Mexican flare. There are several items to choose from on the menu, but we have to recommend the margaritas specifically. You can select from on the rocks to frozen delights. Whatever your preference is, your taste buds will thank you!
8 – Unique Characters
One of our favorite gems of Epcot is all of the unique characters that you don't see as often at other parks. Some of these characters include Baymax, Mulan, Mary Poppins, Belle, Jasmine, Alice, Aurora, Snow White, and Daisy. You can also see Mickey and his pals and Pluto in Future World. These characters may seem slightly hidden but just ask a Cast Member for guidance and meet and greet times, and they will point you in the right direction. Some of these characters are there regularly, and others only make an appearance on select days. Epcot is one of our daughter's favorite places to visit with characters because she gets to fill her autograph/photo book with a great variety!
Editor's Note: During the phased reopening of Walt Disney World in 2020, character greetings are temporarily suspended. 
The list could go on and on! We'd love to hear your favorite hidden gems in Epcot.
For a no obligation, FREE Quote on a Disney vacation package, please contact our travel partner Magical Vacation Planner at 407-442-0227 (407-442-0215 for Spanish). You can also request a FREE quote online by Clicking HERE.