A new version of the popular EPCOT International Food & Wine Festival debuted July 15 when the park reopened and will continue into the fall. We've been back multiple times to experience this modified festival. While there are certainly things about the festival this year that are different than what you may be used to, we're confident that you'll still enjoy your time. Keep reading for the ten reasons you'll want to visit the 2020 Taste of EPCOT Food & Wine Festival!
1 – A Bit of Flower & Garden Festival
The 2020 Taste of EPCOT International Food & Wine Festival is scheduled to be the longest festival in Walt Disney World history! For the first time, a festival was available in the summer months. The modified festival blends the floral fun from the park's annual flower and garden event with the global goodies of the food and wine festival. We were so sad that the Flower and Garden festival only ran for less than two weeks, so it's great that Disney is offering a taste of that festival as well for guests visiting this summer and fall. You'll find some outdoor marketplaces that typically are only out in the spring and you may still be able to find some Flower and Garden Merchandise.
2 – A Helpful Digital Guide
One of the first things we always enjoyed when visiting the EPCOT Food and Wine Festival is picking up a Festival Passport. This year Disney has made a digital guide for guests on the My Disney Experience mobile app. This link takes you directly to our Taste of Epcot International Food & Wine Festival Digital Guidebook on My Disney Experience or links you to the app store if you do not have the app installed.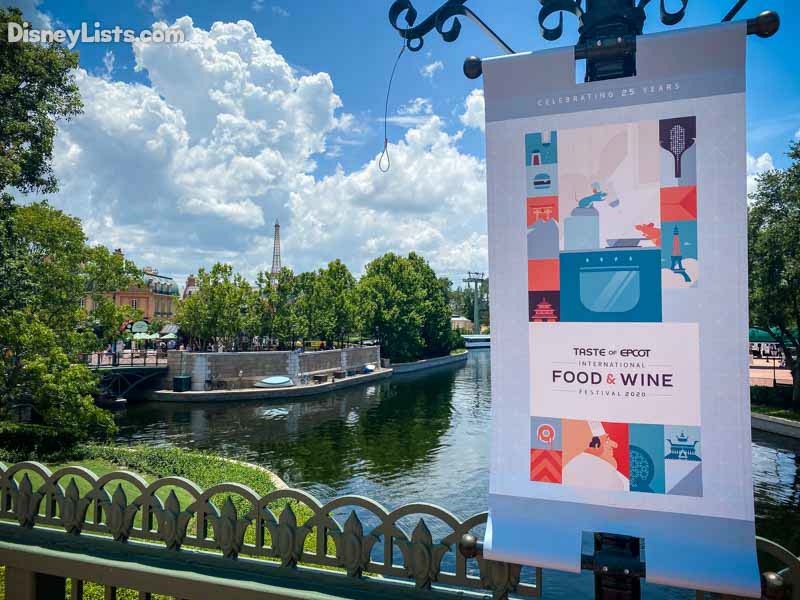 3 – New Remy Themed Signage
If you've visited the festival in the last few years, you may have noticed that Disney was reusing the festival signage and displays for many years. We're happy to report that this year's new Remy-themed signage is out celebrating the 25th EPCOT Food & Wine Festival. It's great to see new designs.
4 – Plenty of Marketplaces to Satisfy Your Food & Wine Cravings
This new event offers more than 20 signature global marketplaces, including Hawaii, Hops & Barley, and Islands of the Caribbean. Disney Cast Member Karen McClintock speaks about this year's menus:
This year's festival will be understandably different from what it was in the past. What has not changed is our chefs' focus on authenticity through ingredients, cooking techniques, and presentation to honor the diverse global cuisines. And our beverage team has, once again, thoughtfully paired wine and beer with selections at each marketplace for the perfect sip.
Click here for the complete menus for each global marketplace.
Click here to see photos of the menu boards to see the pricing of items. (Note: that while the boards still have the Disney Dining Plan logo designated on some items, Dining Plans are currently unavailable during the phased reopening.)
There are also a few more marketplaces that have yet to open! We walked by a few marketplace buildings that were closed but had signs saying they are opening this fall. While Disney has not announced the opening of these marketplaces, we expect these last few to open in early September.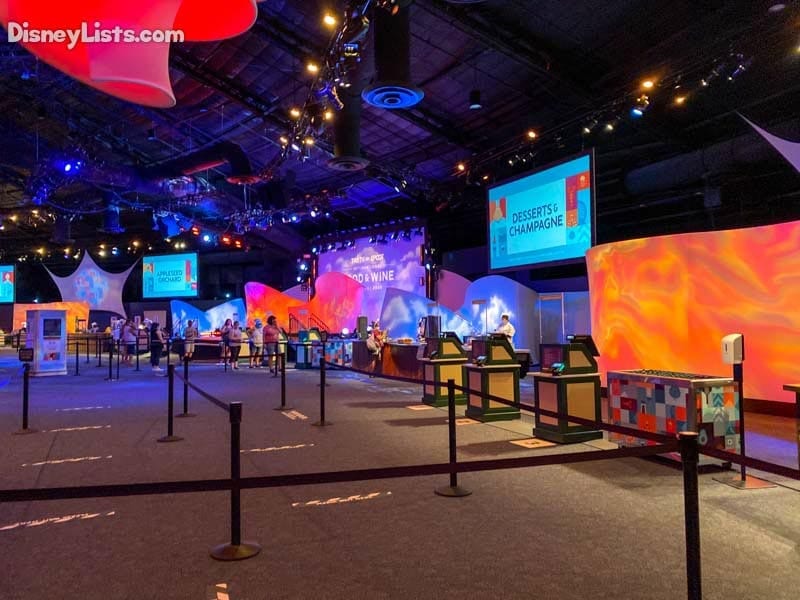 5 – Four Marketplaces at World Showplace
World Showplace is a large building used for special events with the entrance tucked away between the Canada and United Kingdom pavilions. Since there are no workshops or demonstrations at this year's festival, the area in World Showplace has been opened up and holds four marketplaces. The area has lots of distanced tables and, the best part is that it is air-conditioned. It's a fantastic addition to the festival and much needed in the blazing Orlando heat. There is signage out front and a Cast Member so you won't miss it. Inside you'll find Appleseed Orchard, Wine & Dine featuring Festival Favorites, Desserts & Champagne, and Mac & Cheese Hosted by Boursin Cheese.
Check out some of the amazing dishes that you can enjoy here below. (Click any photo to enlarge)
6 – It's Never Been Easier to Pay
Disney is really encouraging contactless payment options at global marketplaces to reduce person to person contact and aid in physical distancing, including Disney gift cards, Apple Pay, and Google Pay. I used Apple Pay for my purchases, and it was so convenient. If you are not paying with your Magic Band, consider setting up Apple Pay or Google Pay on your device before your visit. Festival gift cards are available to purchase throughout EPCOT.
7 – Health and Safety Measures & Additional Tables
There has been some concern about being in World Showcase where most people are eating and drinking and therefore do not have their masks on. The great news is that Disney is working really hard to ensure that people are stationary while eating and drinking. You cannot walk around drinking and eating without your mask on. We've seen Cast Members enforce this rule! To help with the need for more tables, additional tables are in place throughout the park, where guests can stop and remove their face coverings to enjoy festival dishes while maintaining physical distancing. The extra tables are nice because you can enjoy your food and drinks away from other people, reducing the risk.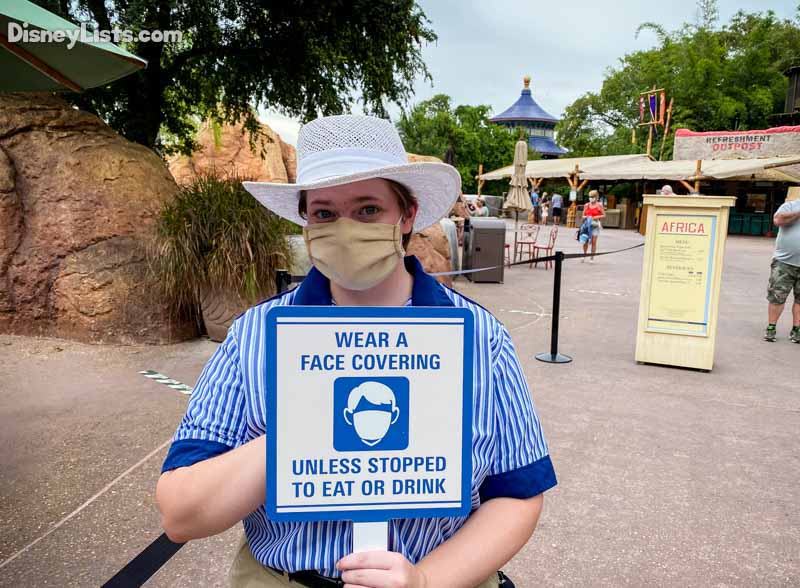 You'll also notice hand-sanitizer and hand-washing stations throughout EPCOT so it is much easier to wash your hands throughout your visit.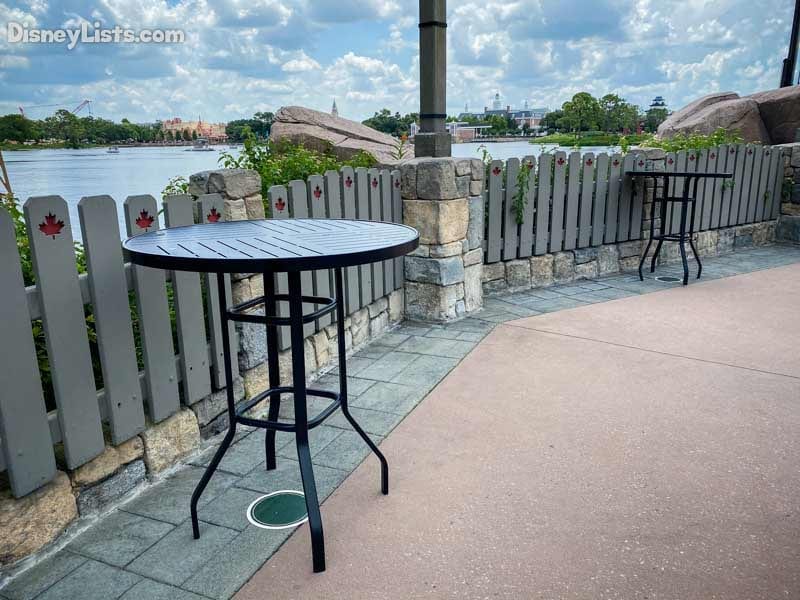 8 – Taste of EPCOT International Food & Wine Festival Merchandise
Taste of EPCOT International Food & Wine Festival merchandise will be on sale around World Showcase and in World Showplace beginning September 1. Here is a rundown of the different collections:
Chef Minnie & Chef Mickey Collection – Chef Mickey joins Chef Minnie again this year for a fun collection featuring the "Queen of Cuisine" apparel, cookware, tumblers, and more.
Recipe for a Figment Collection – Guests can bring Chef Figment home with them with fun accessories, including apparel and baking items
Taste Your Way Around the World Collection – Guests can celebrate their trip around the global marketplaces with apparel, tabletop accessories and more
Brews Around the World Collection – This tasty line features a baseball cap with opener, bottle opener key chain, a growler and more.
Passholder Collection – Throughout the festival, Annual Passholders can celebrate with an assortment of keepsakes created especially for them, including featured items from Chef Minnie, Chef Mickey, Chef Figment and Chef Remy
Below you'll find a sampling of some of the items that will be available.
Also, be sure to check out our Instagram post by clicking here, for close-ups of the items. Also, check out our Instagram Story from our most recent visit, which has video of the merchandise, by clicking here.
9 – Remy's Ratatouille Hide & Squeak
Available again this year is the fun scavenger hunt, Remy's Ratatouille Hide & Squeak. In this fun hunt, Remy makes his famous dishes known as Ratatouille at Epcot's International Food and Wine Festival and needs your help finding all 15 wonderful ingredients that go into his dish. There are several locations throughout the parks that you can purchase the maps. Each map costs $7.99 plus tax and includes a thick paper map and a sticker sheet. Don't forget any Disney Vacation Club or Annual Passholder discounts to reduce the cost. You'll receive a cute prize in the end, (this year a water bottle-see the photo below), even if you don't complete the map, so don't forget to get your prize at the end of the day!
10 – We're Missing Some Things but You'll Still Want to Visit
There is no doubt that visiting the Taste of Food & Wine Festival is different than in years past. The menus have been reduced as well as the marketplaces. In the past, special workshops and demonstrations, cooking shows, celebrity chef encounters, and the very popular Party for the Senses were offered. We are also really missing the Eat to the Beat Concert Series. But the basics of the festival are still there. You can enjoy some fantastic food and beverages, get merchandise, and enjoy the scavenger hunt. We really feel like it is better than not offering the festival at all. Disney has added health and safety measures and has taken steps to promote physical distancing. During all of my visits, I felt safe walking around World Showcase, and while I was eating or drinking. While the overall festival experience is not the same, it's still magical. I have enjoyed my visits and am looking forward to coming back many times yet this fall!
Click here to see our Instagram Story from our most recent visit to EPCOT with photos and video!
Click here to see our Instagram Story from our first visit to EPCOT with photos and video.
For a no obligation, FREE Quote on a Disney vacation package, please contact our travel partner Magical Vacation Planner at 407-442-0227 (407-442-0215 for Spanish). You can also request a FREE quote online by Clicking HERE.