Animal Kingdom's Asia is home to a fictional place called Anandapur. Disney has created a whole wonderful world here in which they have set the attractions, shops, and restaurants. Here is our list of 9 things we love about Asia in Animal Kingdom.
9 – Theming
The theming is simply spectacular in Asia. Everywhere you look, Disney Imagineers have put so much thought into the details. There are used bikes placed throughout the area, and there are even bike tire treads marked into the pavement. If you take a closer look, you might even spot a few animal prints in the pathways. There are beautiful boats tied up along the rivers edge, and colorful flags strung overhead. All these details make you forget you're in Florida and transport you directly into the center of Anandapur.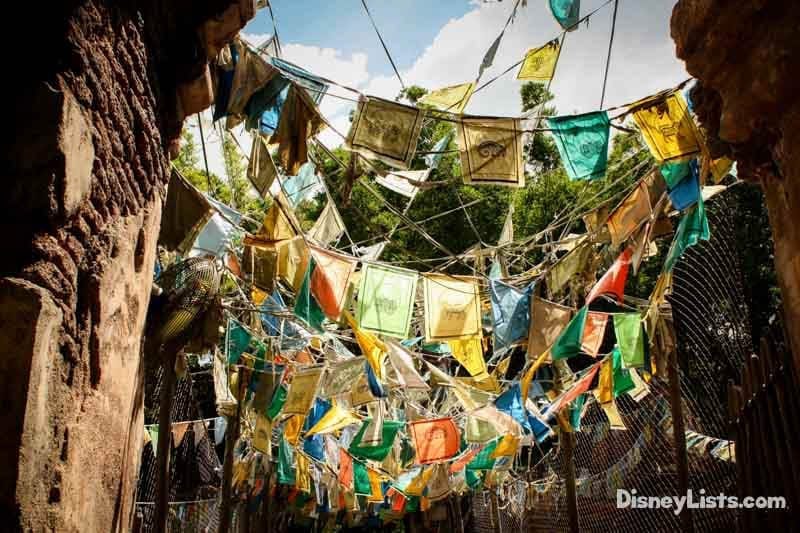 8 – The Anandapur Ice Cream Truck
The Anandapur Ice Cream Truck is the most colorful ice cream truck around, making it difficult to miss. Animal Kingdom tends to feel a few degrees hotter than the other parks, which might leave guests craving a refreshing treat. The Anandapur Ice Cream Truck is the perfect place to make a quick stop and grab a waffle cone or ice cream float. It's also a good option for those who are less adventurous when it comes to their snacks.
7 – UP! A Great Bird Adventure
Editor's Note: At this time, this show has been modified. Russell and Dug do not appear in the show.
This show is for the birds! Seriously, and we're wild for it! Senior Wilderness Explorer Russell and his furry pal Dug from Disney•Pixar's animated hit film UP join bird experts on a new adventure featuring encounters with birds from around the world. UP! A Great Bird Adventure replaced Flights of Wonder and provides a nice upgrade that should make the show more engaging for younger visitors. The birds perform tricks and beautiful flights for the two hosts who aim, along with Up stars Russell and Doug, to teach guests about the importance of conservation and preservation.UP! A Great Bird Adventure is truly a fantastic show that can't be missed in Disney's Animal Kingdom!
6 – Live Music & Dancing
Editor's Note: At this time, this show is not operating.
Disney creates the feeling of being in a bustling, lively marketplace in Anandapur with live music. The latest offering is "Bollywood Beats." This high-energy ensemble brings the spirit and beauty of Indian dance to life. You'll enjoy classical melodies of Kathak, folk-style Bhangra, and modern Bollywood movie musicals. 
5 – Thirsty River Bar and Trek Snacks
This little open-air bar serves some refreshing drinks and delectable quick-service snacks and light meal options. Their specialty drink menu, which features both alcoholic and non-alcoholic options, is worth stopping for. They have fruity pureed drinks like the Pink Lotus, or the Himalayan Ghost and a selection of beers if you'd like something a little stronger. This is the perfect place to make a quick stop and refuel when you're in Asia.
4 – Yak & Yeti
The Yak & Yeti is the table service restaurant in Asia and is reason enough to visit this area of Animal Kingdom. The Yak & Yeti has a mouth-watering menu that features pan-Asian cuisine. The menu has several shareable options like Pot Stickers, Dim Sum, and Dragon Rolls. The entrée menu has something for everyone, noodle dishes, burgers, and seafood. And don't forget to leave room for the Mango Pie.
3 – Maharaja Jungle Trek
The Maharaja Jungle Trek is a self-guided tour, so you can take all the time you want to watch the majestic tigers. Keep your eyes out for colorful birds and stop by the bat habitat. It's easy to lose yourself in the enchantment of the Southeast Asia landscape and forest along this trek. There are temple ruins and murals to admire as well, and you may want to keep your eyes peeled for a Hidden Mickey or two.
2 – Kali River Rapids
Kali River Rapids is an exciting raft ride along the Chakranadi River and through a jungle that is being attacked by illegal loggers. Your raft will spin and bob up a mountain, and then plummet down a slope among waterfalls. This adventure is for those who are willing to accept that they may get soaked along the way. If that isn't your idea of fun, consider grabbing a poncho because this is one ride you don't want to miss on your visit to Asia!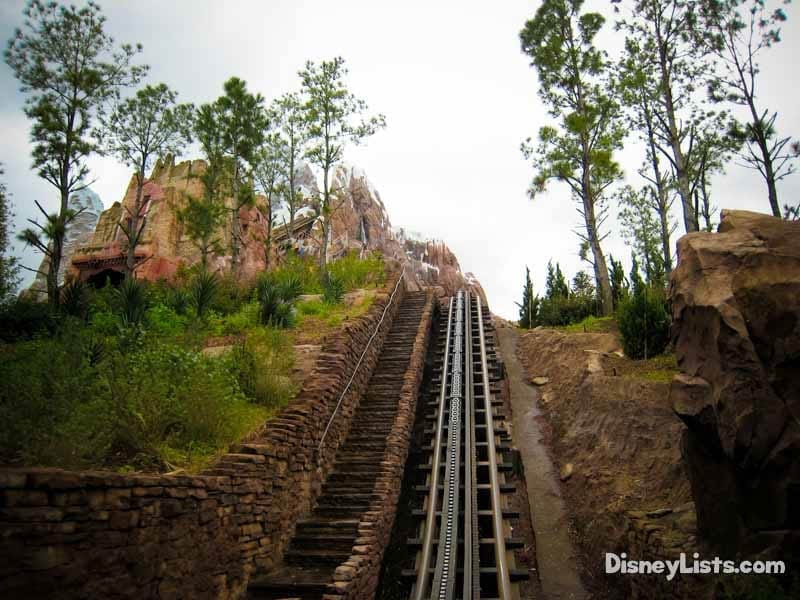 1 – Expedition Everest
Expedition Everest towers over the Asia area of the park, making it impossible to ignore, as are the screams of the guests riding the coaster. Expedition Everest is a thrilling ride inside the Forbidden Mountain, where guests come face to face with the Yeti. The story of this attraction begins in the queue and follows you all the way up the mountain to the broken track and back down again. It is the most thrilling and immersive experience, perhaps in all of Animal Kingdom.
For a no obligation, FREE Quote on a Disney vacation package, please contact our travel partner Magical Vacation Planner at 407-442-0227 (407-442-0215 for Spanish). You can also request a FREE quote online by Clicking HERE.