Ahoy, me Hearties! Do you have a Pirate in the family? Planning on a trip to Disney? Avast! Here are 11 things we suggest you check out to enjoy a swashbuckling time on your pirate-themed vacation at Disney!
1 – "X" Marks the Spot!
Because every good buccaneer needs to excellent treasure hunt, we suggest you tell your Pirate about your trip to Disney with a treasure map. Much like a scavenger hunt, set up little Pirate doubloons along the hunt throughout your home, your town, or whatever works for you. Have them follow the pirate map to the final and greatest piece of treasure… your vacation to the place where Pirates go to have a blimey good time – Disney World!
2 – Prepare for Voyage
Before you begin your grand voyage to Disney, prepare your Pirate with some excellent movie choices. Depending on age, we suggest watching the Pirates of the Caribbean movies, Peter Pan, and/or some episodes of Jake and the Neverland Pirates. Each of these Disney movies is relived at different attractions within the park. Prepare your Pirate for some of the sights he or she may encounter at Disney.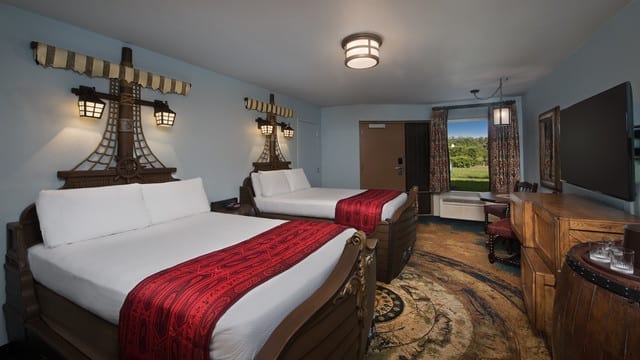 3 – Pirate Room at Caribbean Beach Resort
Disney's Caribbean Beach Resort offers a selection of Pirate-themed rooms. These pirate rooms have ship-style bed frames, mapped/compass floors, skull décor, and other furniture and lighting that make you feel like you have been swept away at sea. Your Pirate will surely revel in sleeping and waking surrounded by these shipshape features.
4 – Pirate Attractions
Your Pirate will undoubtedly want to hang out with other pirates! Be sure to ride Pirates of the Caribbean in Magic Kingdom. You will also want to ride Peter Pan's Flight at Magic Kingdom, where you will see Captain Hook and his sidekick Mr. Smee in different scenes from the movie. If you are around for the Magic Kingdom Festival of Fantasy Parade, you will see Peter Pan, Captain Hook, Smee, Tinkerbell, and even Tick-Tock Croc! 
5 – Dine Like a Pirate
Weigh anchor and hoist the mizzen! Head on over, just around the corner from the Captain Jack Sparrow show, for a pirate bite of food at Tortuga Tavern. Landlubbers will delight in this Pirate-themed quick service location that serves up mostly barbeque options. Plus, don't forget to pack those snacks for the theme parks and for in-room snacking with pirate themes such as Pirate's Booty, Goldfish or Whales, and Chocolate Gold Coins.
6 – Shop Like a Pirate
Thar she blows! Do you ever feel like yelling this out when you find the perfect item or gift you've been looking for at Disney? Well, if any of those gifts or items ye seek are Pirate-themed, Disney has several gift shops in the theme parks and at Disney Springs for you to find pirate items to fit all your needs. Hoist a Jolly Roger, grab a hook or two, and don't forget about all the incredible pirate gear! Notably, the gift shop you are dropped into after the Pirates of the Caribbean ride at Magic Kingdom will leave you wishing you brought more gold doubloons!
7 – Pirate Excursions
Editor's Note: At this time, pirate excursions and the fireworks voyage cruise are temporarily suspended.
As if all of the above isn't enough for your pirate adventure, we will throw another idea your way! For pirates ages 4-12 years old, we suggest you check out a Pirate Adventure Cruise that set sail out of different Disney Resorts. There are two various adventures to select from that allow your child to set sail for a voyage with Pirate Captains (Cast Members). Your pirates will search for treasure and enjoy understanding in locating hidden clues. All these ideas for your young pirates – here's one for the young and young at heart! Check out Pirates and Pals Fireworks Voyage that departs from the Contemporary. This ship voyage provides snacks, refreshing drinks, and, most importantly, an incredible view of the Magic Kingdom fireworks!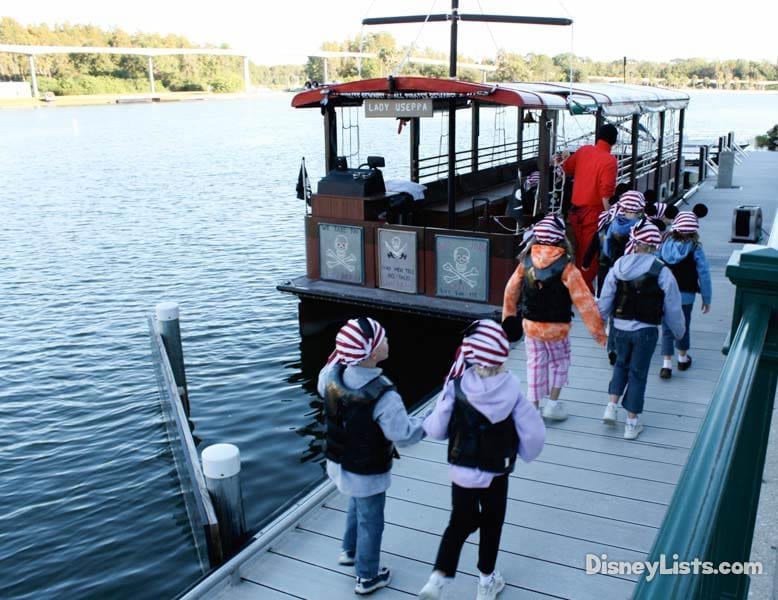 8 – Talk Like a Pirate
Finally, we recommend your pirate and all of your family and maties try to talk like a pirate throughout your day trip or pirate vacation. That's right – just because! I'm sure young and old crew members can come up with some fun pirates jokes to pass the time as well. You can use this one – who's a pirate's favorite Star Wars character? Arrrrrrr-2D2, of course!
Well, blimey, we've come to an end for now. We hope this little pirate guide helps you cast off on an adventure of a lifetime with your maties!
For a no obligation, FREE Quote on a Disney vacation package, please contact our travel partner Magical Vacation Planner at 407-442-0227 (407-442-0215 for Spanish). You can also request a FREE quote online by Clicking HERE.