Dining
13 Best Desserts at Walt Disney World
Do you consider yourself a Disney dessert guru? While we don't have any sort of real qualifications that say such, our experience of tasting numerous Disney desserts and the body curves we fill with countless calories while visiting Disney… we deem ourselves Disney dessert gurus without a doubt! Drool with us as we wander from Disney Springs, to Disney Resorts, to Disney Theme Parks and collect a list of what we feel are the absolute best desserts to divulge on Walt Disney World property.
13 – Salty Caramel Cupcake
Location: Sprinkles @ Disney Springs
If you don't like the color pink, you will after visiting the bright pink Sprinkles ATM. No cash from this machine, but something ever better… gourmet cupcakes! Visit Town Center at Disney Springs to locate a gourmet cupcake shop known as Sprinkles. Spot the pink Sprinkles Cupcake ATM outside, or make your way inside to take a pick from cupcakes, cookies, and ice cream worth doubling up on! Our hands down, favorite cupcake is the perfect mix of sweet and salty… the Salty Caramel Cupcake.
13 – Blueberry Cream Cheese Mousse
Location: Satu'li Canteen @ Animal Kingdom Theme Park
This dessert is a new favorite on our list and is especially fun to delight in at night as the surrounding land glows with bioluminescent lighting! Explore Animal Kingdom's newest land, Pandora – The World of Avatar where you'll spot a remodeled mess hall called Satu'li Canteen. Take advantage of the mobile ordering option on your My Disney Experience app at this quick service spot by order and paying from your phone. A couple of minutes after arriving, your dessert is ready for pick up and devouring! We especially love the Blueberry Cream Cheese Mousse with passion fruit curd. It's not only a small plated masterpiece but a light and refreshing dessert that offers the perfect amount of sweetness.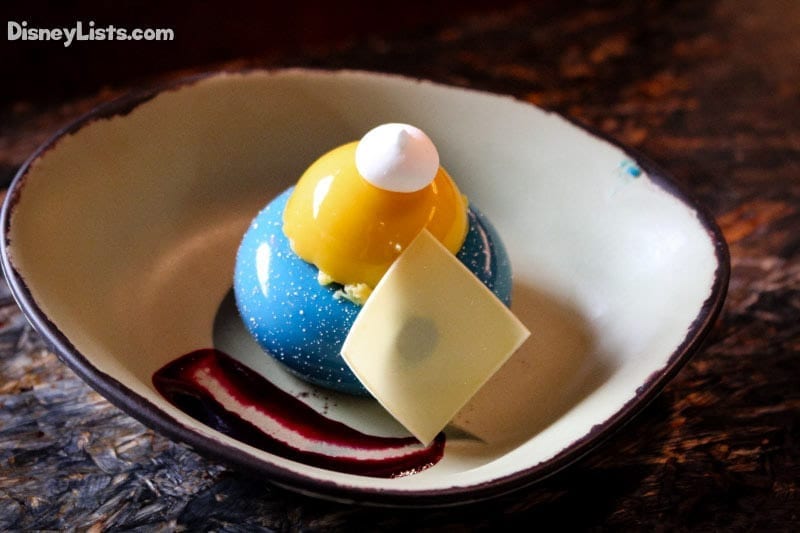 11 – Warm Brownie Sundae
Location: Tamu Tamu @ Animal Kingdom Theme Park
You can't go wrong with a delicious warm brownie served with vanilla ice cream and caramel. The Warm Brownie Sundae is just one of many tasty desserts served at Tamu Tamu in the Africa section of the park. There is also a pretty well-shaded seating section behind the restaurant so you can enjoy your dessert out of the hot sun.
10 – Supernova Shakes
Location: Planet Hollywood Observatory @ Disney Springs
Um, ok… now this, THIS is a dessert! If anything, almost too much of a dessert which is just crazy for even us to say! The revamped Planet Hollywood Observatory at Disney Springs on the edge of Town Center is truly rocking it in both the food and atmosphere. Check out one or all three of their Supernova Shakes which are drowning in all sorts of assorted candy and goodies. The Cosmic Cotton Candy is a vibrant shake with a with mounds of cotton candy sticking out of it and even a huge lollipop! The Chocolate Comet is chocolate overload with chocolate bites and candy bars even stuck on the outside of your shake jar. The Strawberry Big Bang has a whole slice of birthday style cake stuck on top of it. Who says you can't have your cake and eat it too?!
9 – Macarons
Location: Les Halles Boulangerie-Patisserie @ Epcot
A perfect dessert that's easy to hold between two fingers as you stroll around Epcot's World Showcase is a heavenly Macaron from Les Halles Boulangerie-Patisserie in France. Let your eyes and appetite go wild while you preview all the dessert selections that could only be done this well in France! Numerous Macaron selections are available. No worries however as Les Halles does have a Macron Collection option where you can get multiple macarons in a box. Our favorite Macarons however are the ones filled with raspberry and lime cream.
9 – Mini Dessert Trio
Location: The Hollywood Brown Derby @ Hollywood Studios
Elegant dining and higher end prices doesn't mean the desserts are anything less! An easy favorite on this list is the Mini Dessert Trio at The Hollywood Brown Derby table service restaurant. Our favorite dessert can be selected in the Mini Dessert Trio where you'll have a chance to pick three desserts from their super dessert list. Our favorite trio – Brown Derby Original Mini Grapefruit Cake, Warm Blueberry Cobbler, and Dark Chocolate Crémeux.
8 – Cinnamon Roll
Location: Gaston's Tavern @ Magic Kingdom
Probably the manliest thing located in Fantasyland at Magic Kingdom is at Gaston's Tavern of course! While you can get Cinnamon Rolls just about anywhere in the world, the Cinnamon Rolls at Gaston's Tavern are delicious and HUGE. No joke – share one with a family of three type of huge! We especially enjoy these Cinnamon Rolls when we've had a large breakfast and have a large dinner reservation. This warm Cinnamon Roll is the perfect hold you over dessert.
7 – Troll Horn
Location: Kringla Bakeri Og Kafe @ Epcot
Head back with us around Epcot's World Showcase to Norway. Anna and Elsa and Frozen Ever After aren't all this fantastic country has to offer! In fact, our Norway must-do is the Troll Horn located in Kringla Bakeri Og Kafe. Yummy cloudberry jam and whipped cream is rolled in a crispy, sugar-coated pastry shell to create a decadent Troll Horn. Runner up at Kringla goes to the School Bread. Do yourself a favor… just get both while you're there!
6 – Dad's Favorite Chocolate-Peanut Butter Layered Cake
Location: 50's Prime Time Cafe @ Hollywood Studios
You might get in trouble at 50's Prime Time Cafe at Hollywood Studios for having your elbows on the table or forgetting to set the table – but it's well worth it when tasting their home-cooked food and unbelievable desserts. We especially favor Dad's Favorite Chocolate-Peanut Butter Layered Cake with its wonderful blend of chocolate and peanut butter. Even better – get it served a la' mode!
5 – All-You-Care-To-Enjoy Milk Shake
Location: The Plaza Restaurant @ Magic Kingdom
What makes the view of Cinderella Castle at Magic Kingdom all the better? How about having a seat in The Plaza Restaurant with window views of the Castle while slurping on an all-you-care-to-enjoy Milk Shake! A variety of ice cream flavors are offered to satisfy all types of taste buds!
4 – Whispering Canyon Pioneer Chocolate Cake
Location: Whispering Canyon Café @ Wilderness Lodge Resort
Mouthwatering goodness that needs to come with a huge glass of water! If you are a rich-tasting chocolate fan, this is your must-do dessert on Disney World property. Not only is the atmosphere at Whispering Canyon Café in the Wilderness Lodge fun and memorable, but the food and desserts are also some of our all-time favorites. This decadent chocolate cake is the perfect way to wrap up a wholesome meal.
3 – The Classics
Location: Mentioned Below
You know, every now and then, the very best desserts are the most basic ones. As basic as these desserts may be, they somehow bring back floods of memories with every bite. Our favorite classics would have to be Mickey's Ice Cream sandwich, Mickey's Premium Ice Cream Bar, the beloved Dole Whip, and Churros. Mickey's Ice Cream sandwiches and Mickey's Premium Ice Cream barsb are sold at various ice cream stands through Disney theme parks and even within Disney Resorts. The Dole Whip is served at Aloha Isle in Adventureland at Magic Kingdom, at Polynesian Village Resort's Pineapple Lanai, and many other locations throughout the resort. It's definitely our favorite refreshing dessert at Disney! Then there is the timeless churro. Our favorite place to get this is at Magic Kingdom's Frontierland Churro Cart. Nothing says delicious like a culmination of fried, sugar, and cinnamon goodness. These desserts are simple, but are also a Disney rite of passage in our family!
2 – Kitchen Sink
Location: Beaches & Cream Soda Shop @ Beach Club Resort
Why is it called the kitchen sink you ask? Do you know the expression, "Everything but the kitchen sink"? Well, this dessert not only comes in a cute kitchen sink style bowl, but has a whole lot of everything in it! Mounds of ice cream scoops fill the kitchen sink from flavors like vanilla, chocolate, strawberry, cookies and cream, and mint chocolate chip. Smother that with EVERY topping offered at Beaches & Cream Soda Shop – and ta-da! You have a dessert that is suggested to be shared among four of your closest friends.
1 – Ohana Bread Pudding
Location: Ohana @ Polynesian Village Resort
We typically aren't huge bread pudding fans, but one taste of Ohana's Bread Pudding and well, we were transformed forever! After you've had your all-you-care-to-enjoy dinner of bountiful food fresh from the grill, a server will bring you a piece the remarkable Ohana Bread Pudding which comes à la mode with an out of this world bananas-caramel sauce that we wish we could drink with a straw. Want seconds? Just ask for more!
Did your favorite Disney dessert make the list? We'd love to hear from you!
For a no obligation, FREE Quote on a Disney vacation package, please contact our travel partner Magical Vacation Planner at 407-442-0227 (407-442-0215 for Spanish). You can also request a FREE quote online by Clicking HERE.