Central Florida can be a very hot place to visit, especially in the summer months. Guests enjoying Walt Disney World can experience high temperatures, insane humidity, and strong heat and sunlight, making days in the park sometimes seem totally exhausting. Thankfully, there are plenty of ways to beat the heat in the parks and keep guests feeling cool and comfortable. In addition to stopping to enjoy indoor attractions and air conditioning, guests can easily cool off by getting wet in the parks. From water-based attractions to awesome water parks, here are the best ways to get wet in the parks in Walt Disney World.
1 – Splash Mountain
The Magic Kingdom is home to a mountain in Frontierland which is sure to leave guests both smiling and soaking wet by the end! Splash Mountain follows the story of Br'er Rabbit who is looking for more adventure while constantly being chased by Br'er Fox and Br'er Bear. While enjoying the attraction, guests float along in logs and find themselves slipping down slopes into the waters waiting below. There are several small drops along the way which provide splashes, but the final drop down Chick-A-Pin Hill into the Briar Patch is sure to leave guests soaked! For those who are looking to enjoy the biggest splash of all, the front row should be requested at the loading area.
2 – Kali River Rapids
Disney's Animal Kingdom is home to an attraction that brings guests down an exotic river for a thrilling and soaking expedition. Kali River Rapids is located in the Asia section of the park and invites guests to enjoy a tour that floats down the Chakranadi River. Guests board a family-style raft and set off through beautiful jungle and forest scenes before learning firsthand the devastating effects of illegal logging and deforestation. With plenty of dips, turns, waves, and one massive drop, Kali River Rapids can leave guests absolutely soaked on a hot day in Disney's Animal Kingdom.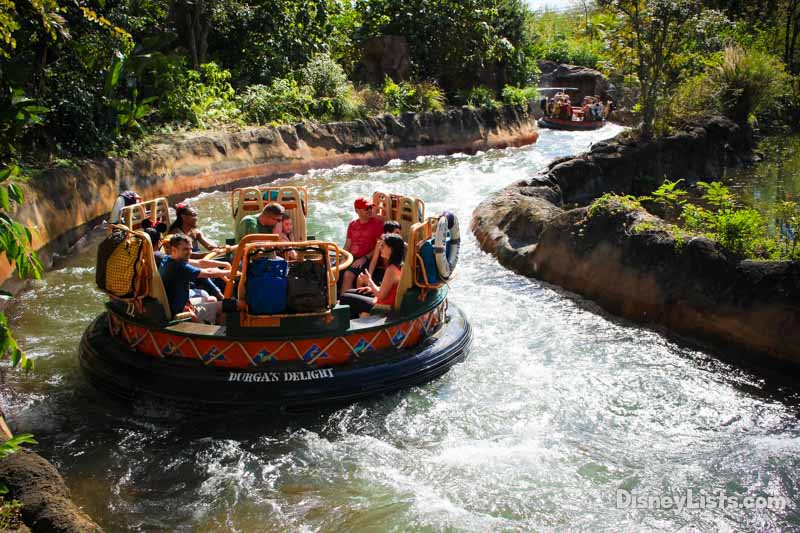 3 – Casey Jr. Splash 'N' Soak
Editor's Note: During the phased reopening of Walt Disney World, Casey Jr. Splash 'N' Soak Station is closed. 
Over in Fantasyland in Magic Kingdom is a truly magical spot for kids of all ages! Casey Jr. Splash 'N' Soak Station is a whimsical water play area inspired by the circus train from Walt Disney's Dumbo. Casey Jr. lets off billows of refreshing "steam," while circus animals—including monkeys, elephants and camels—may spray their visitors with water. While this area is a great place for young ones to cool off, parents can just as easily have fun with their kids in the splash zone.
4 – Test Track Cool Wash
Epcot's Future World is home to Test Track Presented by Chevrolet, a thrilling attraction that gives guests the opportunity to design their very own cars and see how they perform on the track. Located just outside of the massive attraction is a quick-service location which is sure to cool guests down on hot days in Epcot. Test Track Cool Wash serves up cold and refreshing beverages including Frozen Minute Maid Raspberry Lemonade, Frozen Minute Maid Blue Raspberry, and Frozen Coca Cola. In addition to the icy beverages, guests can stand under massive fans with misters that provide just the right amount of cooling wetness to make guests feel comfortable without being soaked.
5 – Disney Resort Pools
Guests who visit Walt Disney World can choose from over twenty different Disney Resorts when staying on property. Each Disney Resort is home to at least one pool area that matches the theme of the resort and is full of relaxing ways to cool off in the sun. One of the most popular pool areas in Walt Disney World is Stormalong Bay which is available only to guests who stay at Disney's Beach Club Resort and Disney's Yacht Club Resort. Stormalong Bay features three acres of aquatic fun including water slides, hot tubs, an elevated sun deck, zero-depth entry sand-bottomed pool, lazy river, and kiddie pool. Guests who stay at Disney's Art of Animation Resort can splash around in the Big Blue Pool which features characters from Finding Nemo, the Schoolyard Sprayground, and Squirt's Righteous Reef. Disney's Polynesian Village Resort features the Lava Pool which is centered around a massive volcano complete with water slide and beautiful views of Seven Seas Lagoon and the Magic Kingdom. With these amazing pools and plenty of others to enjoy, splashing around at Disney Resorts is a great way to get wet in the Walt Disney World.

Editor's Note: During the phased reopening of Walt Disney World, the water parks are not operating. Blizzard Beach will reopen in March 7, 2021.
6 – Disney's Typhoon Lagoon
Walt Disney World is home to two water parks in addition to the four theme parks. The first water park is Typhoon Lagoon which was created after a crazy storm bombarded Mount Mayday leaving lots of water-based fun in its wake! Guests who visit the park can enjoy many different water slides and water coasters including Mayday Falls, Storm Slides, Humunga Kowabunga, and the Crush 'n' Gusher. Those looking for a different kind of thrill can snorkel through the Shark Reef where live sharks and various fish swim past below! One of the most popular places to cool down in Disney's Typhoon Lagoon is the Typhoon Lagoon Surf Pool where guests can wade into a massive body of water that pumps out waves that reach up to six feet. Guests can hang ten and catch some waves while cooling off on a day at Disney's Typhoon Lagoon!
7 – Disney's Blizzard Beach
The second water park in Walt Disney World is Blizzard Beach which originated when a freak snow storm hit the area and a ski resort was quickly constructed. Once the temperatures returned to normal, the snow began to melt and the owners decided to make the most of it and turn it into a melting water park! Disney's Blizzard Beach is full of plenty of ways for guests to get wet and cool down on a hot day. Guests can enjoy whizzing down water slides like the Slush Gusher, Downhills Double Dipper, and Snow Stormers and laugh along with family on the raft style Teamboat Springs. One of the biggest thrills in all of Walt Disney World is Summit Plummet which drops guests down twelve stories on an extremely steep water slide for a chilling way to stay cool. Guests are sure to love getting wet at Disney's Blizzard Beach!
For a no obligation, FREE Quote on a Disney vacation package, please contact our travel partner Magical Vacation Planner at 407-442-0227 (407-442-0215 for Spanish). You can also request a FREE quote online by Clicking HERE.