"There's no man in town half as manly. Perfect, a pure paragon!" The Gaston song lyrics from the classic animated Disney film, Beauty and the Beast, provide a true personification of just how manly Gaston thinks he is! Now, step into Walt Disney World's Magic Kingdom, and be prepared to experience Gaston's Tavern… surely the "manliest" place in Magic Kingdom!
6 – Keep Your Friends Close and Your Enemies Closer  
We absolutely loved that when the New Fantasyland opened at Magic Kingdom in December of 2012, the storyline of Beauty and the Beast had a strong presence. While we expected this themed area to feature Belle and Beast, we were pleasantly surprised Disney's love-to-hate villain, Gaston, also had a staring roll. Just two doors down from Belle's cottage in Enchanted Tales with Belle, you'll find Gaston's Tavern, a quick-service restaurant. Of course, Gaston planned to keep Belle close, but we were intrigued that Gaston's Tavern sits in the shadows of Beast's Castle which holds the popular table-service restaurant, Be Our Guest. We guess what they say is true… "Keep your friends close and your enemies closer"!
5 – An Over-Exaggerated Fountain
Gaston's Tavern is easy to spot as it is nestled in a quaint corner with a the bold feature of an over-exaggerated fountain! This isn't just any fountain – it's a very large fountain with a huge statue of Gaston in the center with his sidekick, LeFou. Water pours out of barrels that Gaston is muscularly holding and LeFou is under foot attempting to catch the water in drinking mugs. As if the fountain doesn't provide enough of a macho chuckle – the plaque on the front states it is a "Tribute to Gaston" with the inscription: "An extremely generous gift to the humble people of my village, from me, Gaston."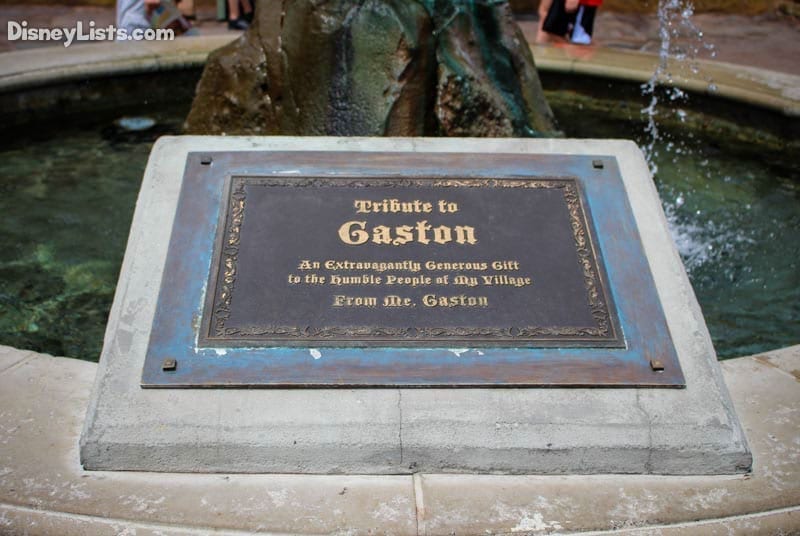 4 – Antlers In All Of His Decorating
Truly, Gaston does use antlers in all of his decorating! Right from the get go, the exterior of the rustic tavern holds a "Gaston's Tavern" sign with a barrel and antlers. As you enter, you might be surprised at just how small the inside is. The quick-service counter is the first thing to spot as it is steps from the entrance. Two small rooms are located to the right and left of the ordering space. The room to the right however is where Gaston has really gone all out with his decorating skills! Antlers fill the walls, Gaston's prestigious chair sits empty, and a huge self-portrait of Gaston shows every bicep and muscle ripple possible. Gaston's Tavern has no shortage of testosterone overload!
3 – Huge (Really HUGE) Cinnamon Rolls
Ok, so there are cinnamon rolls… and then there are Gaston's Tavern CINNAMON ROLLS. Served warm, fluffy, on a preposterously small plate, and full of deliciousness – we can't help but put the cinnamon rolls here on our top ten desserts list at Disney World. If you are looking for a great way to maximize your Disney Dining snack credit, this snack is a good option as it's an easy one to share, especially for kids! The menu also features items like a Ham and Swiss Sandwich with Chips, a Fruit and Cheese Picnic Platter, Chocolate Croissant, Trio of Assorted Macarons, Sliced Apples with Caramel Sauce, Mixed Vegetable Cup with Dip, and Hummus and Chips. The Cinnamon Roll however is by far our favorite. Nothing says Gaston more than a ridiculously over-the-top snack!
2 – LeFou's Brew – An Ode To Gaston's Sidekick
Gaston finally let's LeFou have a roll, that in our opinion is anything but minor! Here you will find a specialty beverage that is only available at Gaston's Tavern, called LeFou's Brew. Nope, sorry folks – it's a non-alcoholic beverage but still worth trying! LeFou's Brew is a Frozen Apple Juice with a hint of Toasted Marshmallow and topped with All-Natural Passion Fruit-Mango Foam. Sounds manly enough right? Take your brew experience one step further with a souvenir goblet (featuring Belle) or stein (featuring Gaston). Assorted fountain beverages, Dasani bottled water, milk, juice, tea, and coffee are also available.
1 – Gaston, The Manliest of Villains
Of course, number one goes to the manliest of villains… Gaston himself! Just outside Gaston's Tavern, Gaston makes appearances at specific times. Get in line early for this meet and greet as the line gets rather long very quickly. Gaston is fantastically entertaining and grossly charming in his uniquely, irritating way. This of course makes him very popular because we just can't get enough of his not-so-humble self, witty responses, and humor. Gaston is "everyone's favorite guy" after all!
Well, there you have it. Gaston's Tavern – the "manliest" place in Magic Kingdom. I think it's time to shake off some of this testosterone and head to the Princess Fairytale Hall!
For a no obligation, FREE Quote on a Disney vacation package, please contact our travel partner Magical Vacation Planner at 407-442-0227 (407-442-0215 for Spanish). You can also request a FREE quote online by Clicking HERE.