Epcot's World Showcase is home to eleven amazing pavilions which offer guests the chance to travel around the world without ever leaving the park. Each pavilion showcases one country from around the world and brings that location's culture and history to life through dining, architecture, shopping, artwork, entertainment, and attractions that are sure to thrill guests. The Germany Pavilion in World Showcase is a favorite of many guests thanks to its lively atmosphere, amazing dining options, beautiful ambiance, and unique shopping locations. Guests who spend time in the pavilion are sure to feel as though they have actually traveled across the world to Germany and will love learning about the culture and people in entertaining ways. Here are the six best things about the Germany Pavilion in Epcot's World Showcase which guests are sure to love!
1 – Biergarten Restaurant
Epcot and World Showcase are home to some of the most popular full-service dining locations in all of Walt Disney World, and guests who spend time there can have a hard time deciding where to enjoy a meal. However, there is one location in which many guests love to visit time and time again located in the Germany Pavilion. Located in the back of the pavilion is the full-service Biergarten Restaurant which invites guests to enjoy traditional German cuisine in a lively atmosphere. The interior of the restaurant is themed to feel like a quaint village square at night with beautiful architecture, a full moon, bright street lights, and picnic-style tables. Adding to the fun of the Biergarten Restaurant are live entertainment acts that showcase German customs like an oompah band, the daily tapping of the keg, and intricate bell performance. Guests who dine at the Biergarten Restaurant for lunch or dinner can enjoy a traditional German buffet mixed with American classics and are seated at large picnic-style tables with other parties of guests.
2 – Karamell-Kuche
Guests who visit the Germany Pavilion and are looking to shop can stop by a unique location that sells merchandise and delectable treats sure to satisfy every sweet tooth. Karamell-Kuche is sure to lure guests in with the amazing smell of caramel and the location sells everything from caramel popcorn to traditional caramel candies. Guests who spend time perusing Karamell-Kuche are sure to leave with at least one treat to enjoy in the Germany Pavilion!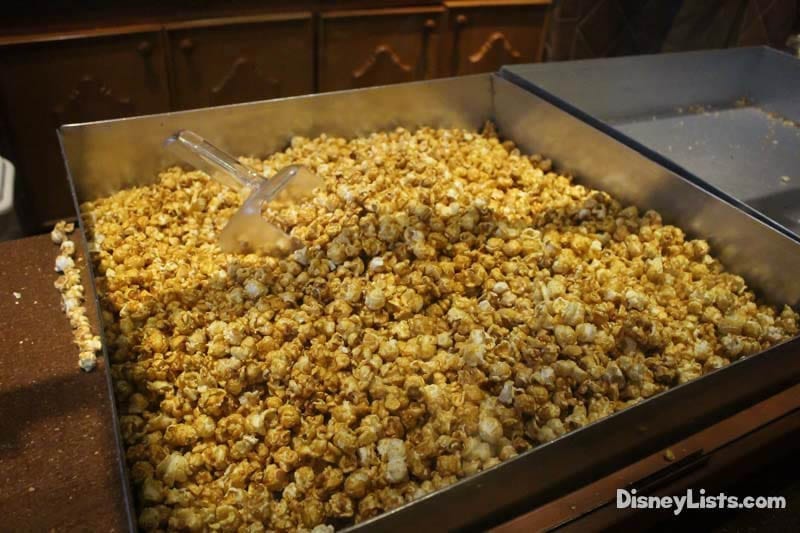 3 – The Atmosphere
Guests who spend time in the Germany Pavilion in World Showcase are sure to enjoy the lively and energetic atmosphere found throughout. The pavilion is set up to feel like the square of a traditional German village and is always busy and bustling thanks to its popularity with guests. Between the beautiful architecture, wonderful details, and bustling energy, the atmosphere of the Germany Pavilion is one of the most exciting in World Showcase.
4 – Sommerfest
Guests who are looking to enjoy German cuisine without a full-service meal can stop by a unique location for fast service and delicious food. The Sommerfest quick service dining location can be found in the rear of the pavilion and is always busy with guests looking to enjoy an unforgettable and informal meal. Guests who stop at the location for lunch or dinner can order up options like Nudel Gratin, Frankfurter, Bratwurst, Authentic Hand-Twisted Pretzel, and Cold Potato Salad. While the entrée options are delicious, guests should be sure to leave room for traditional German desserts like Black Forest Cake and Apple Strudel with Vanilla Sauce. In addition to the amazing food options, guests are sure to love the unique beer selection at Sommerfest including Schofferhofer Pink Grapefruit Hefeweizen, Altenmunster Oktoberfest, Konig Ludwig Weissbier, and Warsteiner Dunkel.
5 – Saint George
The center of the square in the Germany Pavilion features a beautiful fountain topped with a tall pillar. Atop the pillar is an interesting statue that actually honors a German tradition. The statue features a knight slaying a dragon and represents Saint George who legend says slayed a dragon to protect a princess. Many towns in Germany feature a likeness of Saint George as protection, and the Germany Pavilion in World Showcase is no exception. Guests who find themselves enjoying the Germany Pavilion definitely need to pause for a moment and check out Saint George.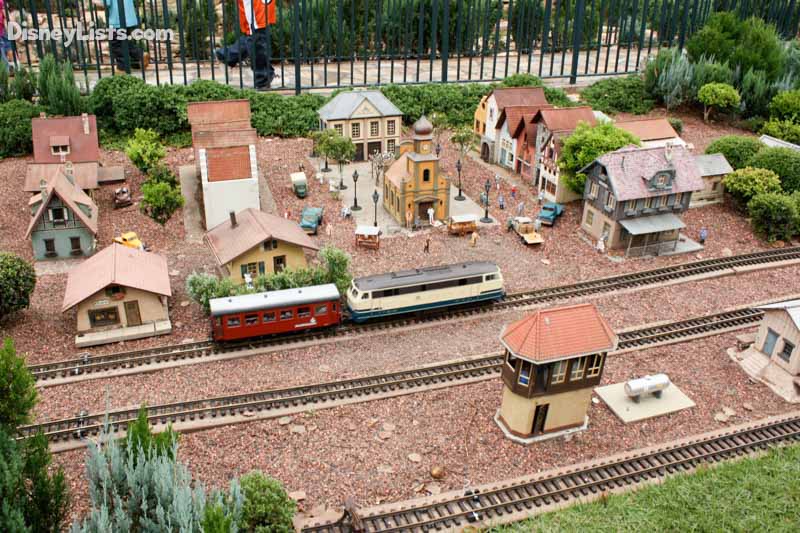 6 – The Miniature Trains
One of the most unique details that guests can enjoy in the Germany pavilion is a miniature train set that is so beautifully detailed that guests will love it. Found just before leaving the Germany Pavilion and entering into the Italy Pavilion, the miniature train set features multiple tracks, bustling locomotives, beautiful stations, waiting passengers, and rolling hills and scenery. With such imaginative and amazing detail, guests will love to spend a few minutes simply taking in the beauty and kinetic energy of the miniature train set in the Germany Pavilion!
For a no obligation, FREE Quote on a Disney vacation package, please contact our travel partner Magical Vacation Planner at 407-442-0227 (407-442-0215 for Spanish). You can also request a FREE quote online by Clicking HERE.