There are so many great facts and secrets about Walt Disney World.  It is a magical place that was carefully planned and built with every detail in mind.  The huge fan following also created unique scenarios and stories.  Here are 8 fun facts about Walt Disney World:
8 – Walt Disney World is double the size of Manhattan.
Yep, you read that right, DOUBLE the size of Manhattan. That is crazy to think about. It is also the size of the city of San Francisco if you want to think about it that way. It makes up about 40 square miles, and not even a third of the land is developed, so there is still a lot more room to add more magical fun for guests to enjoy.
7 – When Disney World opened, a ticket cost $3.50.
I can't even imagine only spending $3.50 to get into Walt Disney World. Ticket prices are over $100 for a single day of admission into any of the four major theme parks. It goes to show the amount of inflation over the years since Magic Kingdom first opened.
6 – There are thousands and thousands of resort rooms.
There are so many resort rooms on property that it would take years and years to stay in each and every guest room at Walt Disney World. If you want to be exact, it would take around 68 years to stay in every guest room on property… along with a ton of money. I don't know that anyone will ever actually attempt to complete this feat. That would require a lot of dedication.
5 – Cinderella Castle is made of fiberglass.
It may look like bricks and stone, but the castle is actually made of a fiberglass material that is painted to look more realistic. You would never look at the castle and think it looks like fiberglass. It is incredibly realistic, and one of the most loved and recognizable Disney icons.
4 – There used to be a waterpark and island on property.
River County was a waterpark that was open before Typhoon Lagoon, and Blizzard Beach were opened. The park closed after these new water parks open and more dangers existed with waters in Florida since the park used a system that utilized lake water. River Country was abandoned entirely, and wildlife took over with animals, plants, and trees completely taking over and growing up over the existing attractions. However, the site of River Country has recently been cleared.
Not only did Disney abandon the water park, but they also abandoned Discovery Island in Bay Lake. The island had animal exhibits, and once Animal Kingdom opened, the island was left entirely abandoned as-is. The equipment, chairs, supplies, etc. were all left behind for nature to take over. Both of these locations have been the subject of a lot of curiosity and speculation amongst fans.
3 – It is one of the most popular destinations to leave human ashes.
Many individuals want to have their remains left at Walt Disney World. The Haunted Mansion is the most popular spot for this at Walt Disney World. Individuals attempt to leave their loved ones remains on the attraction at least once a week, so I've heard. When this happens, the entire ride has to be shut down for cleaning, and the remains make it to the Disney landfill. The costs associated with the cleaning can be hefty, and if Disney catches you dumping the remains, they will make you pay for it and could pursue legal action. It is a very serious matter, so I don't recommend trying this one.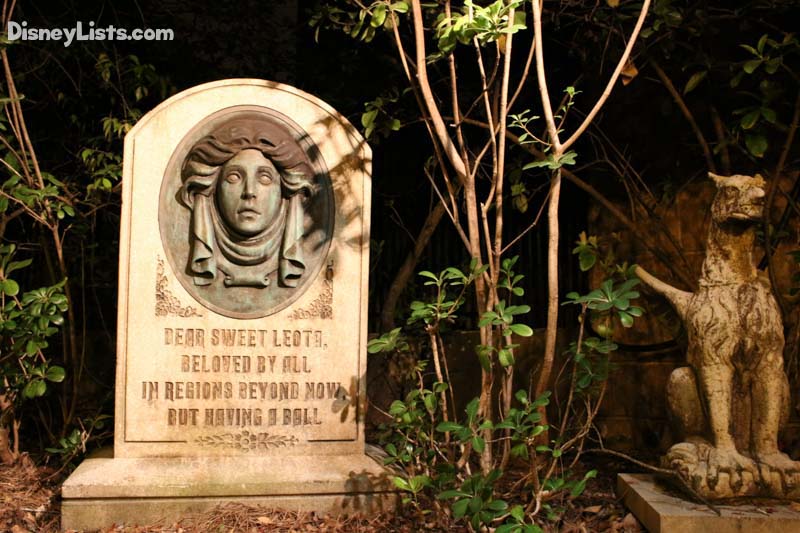 2 – No straws or balloons are allowed or sold at Disney's Animal Kingdom.
Out of concern for the animals and their safety, there are no straws or balloons sold at Disney's Animal Kingdom.  There are paper, biodegradable straws that are given with drinks that are much safer for the environment.  Balloons aren't sold at all at the park, and if you bring one from another park, it must be checked in and won't be allowed inside the park.  This is also done at Disney's Animal Kingdom Lodge.  There is a balloon holding area at the front desk where you can check balloons in and out.  The animals' safety comes first!
1 – No gum sold at Walt Disney World.
You may have noticed that you can't find gum for sale at Walt Disney World.  It should come as no surprise that this was definitely by design.  Disney didn't want guests to dirty up the parks by leaving their gum behind or sticking it to things, so they detour guests from chewing gum by not selling it.  It technically isn't banned from the parks, but rather just isn't encouraged.
For a no obligation, FREE Quote on a Disney vacation package, please contact our travel partner Magical Vacation Planner at 407-442-0227 (407-442-0215 for Spanish). You can also request a FREE quote online by Clicking HERE.