Morimoto Asia is one of the incredible dining locations at Disney Springs at Walt Disney World resort. Located in the Landing area across from Raglan Road, it is located in the old Disney Springs Bottling Company, and the history of the building can be seen throughout the décor. Morimoto Asia is the brainchild of Japanese master chef Masaharu Morimoto, of Iron Chef America fame, who is known for his inventive Asian cuisine. Morimoto Asia is his first "Pan-Asian" restaurant featuring flavors and cooking styles from multiple regions of eastern Asia.

While this restaurant accommodates walk-ups, reservations are highly recommended. Reservations can be made 60 days in advance by calling 407-WDW-Dine or by using Disney's online reservation system. Please note that you will not be able to make reservations for parties of 10 or more online or even by phone with Disney. Reservations for large parties of 10 or more must be made directly with the restaurant by calling 407-939-6686. The manager must approve all reservations for parties over ten and can only be made 90 days in advance.
1 – Great Location
Morimoto Asia is located in The Landing neighborhood of Disney Springs. This area is located in between the Marketplace and Westside. The Landing features Jock Lindsey's Hangar Bar, The Boathouse, Paradiso 37and STK Steakhouse in what has become the epicenter of Disney World's Restaurant Row! Also, don't miss the excellent chocolate and gelato right around the corner.
2 – Cool Atmosphere
The two-story restaurant is massive and includes glittering 20-foot-long chandeliers. As mentioned before, the back story comes to life as the historical elements of the bottling company are weaved into the elegant atmosphere of the new restaurant. From the bar area just beyond the front door through the main dining area up to the sushi bar and private dining rooms on the second floor to the outdoor patio seating, this place is stunningly classy while not being at all pretentious or stuffy. The vibe is industrial chic, and we loved it.
3 – Great Service
At all of our visits to Morimoto Asia, the service was impeccable from start to finish. While not owned or operated by Disney (this is a Patina Group location), they are certainly meeting and in some cases exceeding the Disney standard. Kudos to the Morimoto Asia staff and management!
4 – Open Kitchens
The restaurant features unique exhibition kitchens that provide behind-the-scenes views into traditions like Peking duck carving and dim sum via the floor-to-ceiling glass walls. Feel free to walk around and take a look at the chefs in action.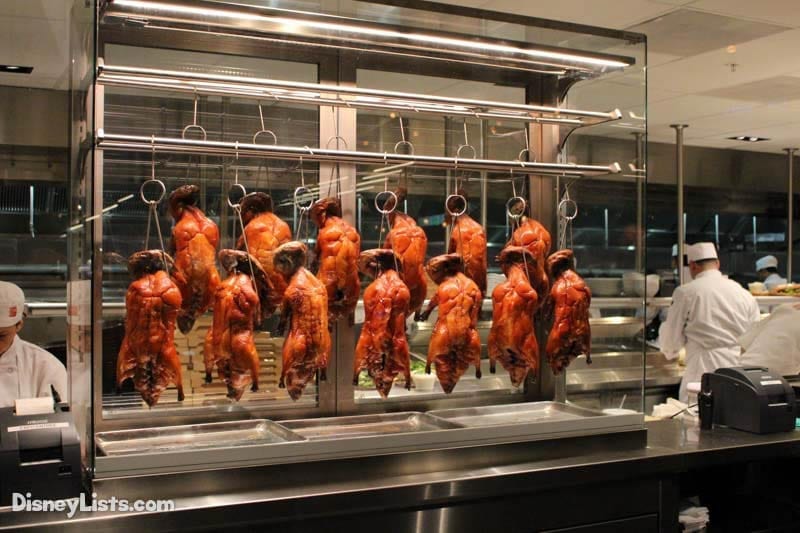 5 – Cool Lounges and Specialty Drinks
The restaurant features two Shanghai-influenced lounges. The restaurant's sake list is extensive and is available by the glass, carafe or bottle. Also available are two of Morimoto's own specialty beers.
6 – Sushi Bar
Located on the second level, you'll find a sushi bar that is sure to please.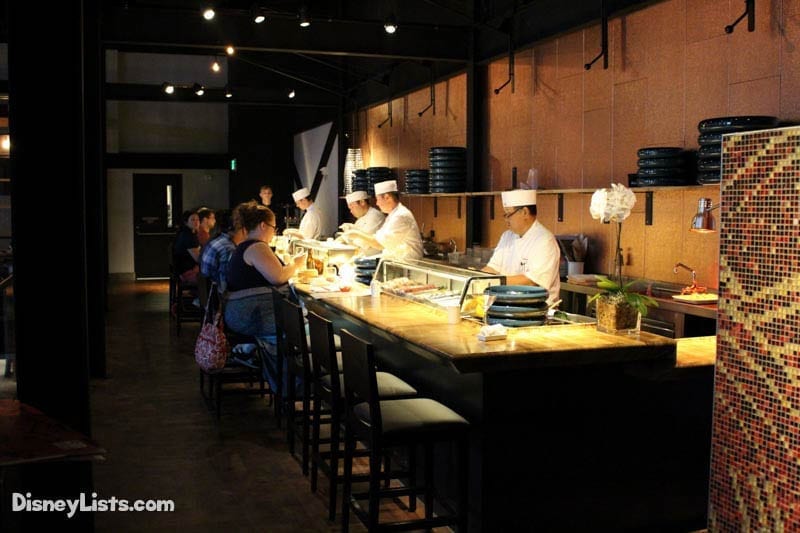 7 – Amazing Food
You'll find Chinese, Japanese, and Korean influences in this Pan-Asian restaurant. Morimoto has showcased Asian flavors and traditions. We haven't had anything we didn't think was excellent. The flavors are familiar, but with unique twists on the traditional favorite. The Kakuni Pork Boa is one of the best things I've ever eaten at Disney World. Here are some photos of a few items we've tried.
8 – Street Food Take Out
Who doesn't love Asian take out? Morimoto Street Food is a walk-up quick-service restaurant that gives you a taste of the Morimoto Asia without needing a reservation. It even has its own outdoor seating area. The menu is limited but offers enough for you to get an idea of what Morimoto has to offer.
Morimoto Asia is an excellent addition to The Landing. Overall, we felt the food was fantastic and a good value compared to other restaurants in the area. It's also a very welcome change in cuisine. Another great place for Asian food has been desperately needed on Disney World property. Bottom line, this is one of our new favorites. The food is fantastic! We encourage you to check it out on your next visit.
For a no obligation, FREE Quote on a Disney vacation package, please contact our travel partner Magical Vacation Planner at 407-442-0227 (407-442-0215 for Spanish). You can also request a FREE quote online by Clicking HERE.