Tom Sawyer Island is so much fun! I remember enjoying it a lot when I was younger, but I think I enjoy it even more with my boys. They love exploring and they get to walk around and check everything out while they also get to touch and climb on most things. It really is fun for everyone, and just a comfortable raft ride from Frontierland to get there. Here are nine facts and secrets about Tom Sawyer Island:
9 – There are three big highlights on the island.
The three main areas on the island that are the most exciting to explore and enjoy are Injun Joe's Cave, Magnetic Mystery Mine, and Fort Langhorn. These are fun areas to check out while you are there, and you could spend a while enjoying getting back to the exploration basics. Everything is perfectly themed to match Mark Twain's, too. If you are claustrophobic, you may want to avoid the cave as it can get pretty tight and backed up from others exploring the area.
8 – Tom Sawyer Island Opened in 1973.
The island was present when Walt Disney World opened, but the themed area wasn't part of the opening day attractions that opened with the park in October of 1971. It was planned after park open and the island build and themed to suit the fantastic story that Mark Twain created. It made its debut in May of 1973.
7 – The barn used to be on "fire."
The "burning cabin scene" was created on the island as a really cool effect and a nod to the story. The effect made the cabin on the island appear as if it were on fire. In 2005 this had to be turned off and has never been turned back on. There was pipe corrosion that caused the issue. The cabin is still there, it just doesn't "burn" anymore.
6 – Aunt Polly's Dockside Inn.
When the attraction first opened in 1973, Aunt Polly's Dockside Inn was a restaurant on the island where you could actually stop and have a meal. It was an incredibly cool location since you could dine in a Tom Sawyer inspired dining location right on the island! The restaurant closed in 2001. It continued to serve cold snacks and beverages, but the sign was removed from the location. The snacks stopped in 2007. The restaurant re-opened for a limited time in early 2015, but then closed and hasn't opened again. We have a feeling the restaurant will be used when needed during peak seasons when extra restaurants are needed like they do with The Diamond Horseshoe!
5 – Fort Langhorn is the second name.
Fort Langhorn actually used to be known as Fort Sam Clemens. The change occurred in 1996 after the new movie was released. In the film, there was Fort Langhorn, so the name change was put in place to sync up with the movie and relate to the audiences who watched it.
4 – Fort Langhorn / Fort Sam Clemens have a special meaning.
Sam Clemens is actually Mark Twain's real name! He wrote his stories under his pen name, Mark Twain. His middle name was Langhorn, so even with the change in the name of the fort, it still carries a part of Mark Twain's name and the great stories and adventure that he stands for. Interestingly enough, his middle name was actually spelled "Langhorne," but "Langhorn" was used for the movie and attraction.
3 – Guests used to receive maps.
When the attraction was first opened, there were actually themed paper maps for the island that were given to the guests so they could carry them around to navigate the island. The maps are no longer given out, but would be a really cool collector's item! Have no fear, there are permanent maps posted at various locations on the island so that you can find your way around.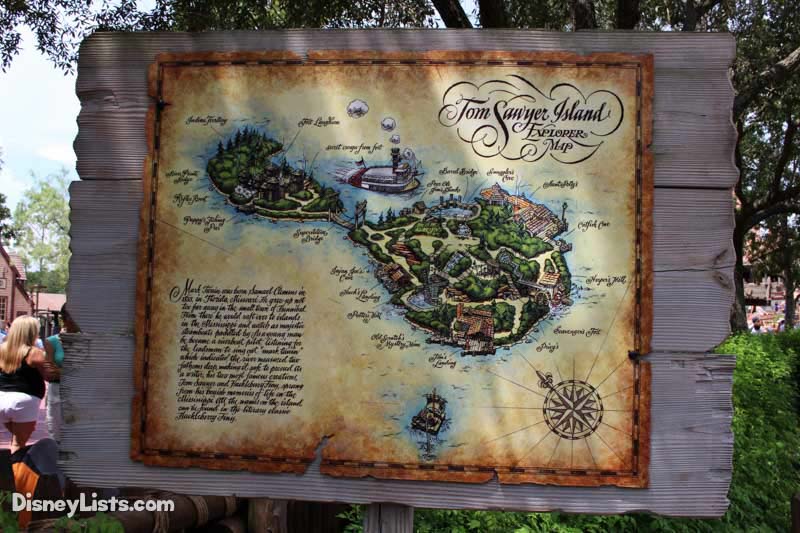 2 – Find the paint brush!
Each morning cast members would hide 6 paintbrushes around the island. If you were one of the lucky guests to find a paintbrush, then you would receive a prize! The price was usually a FastPass that would get you on any attraction (typically good for 3 people, too). That would be a pretty good prize to get! We wish they still did this each morning, as it would be a lot of fun to go hunting for the paintbrushes.
1 – The rafts have themed names, too.
It's all in the details, right? Even the rafts have names after popular characters from the book. The rafts are named Tom Sawyer, Injun Joe, and Becky Thatcher. Also, the rafts aren't actually real rafts. They are powered using natural gas motors and are only used to transport guests back and forth across the Rivers of America between Tom Sawyer Island and Frontierland.
For a no obligation, FREE Quote on a Disney vacation package, please contact our travel partner Magical Vacation Planner at 407-442-0227 (407-442-0215 for Spanish). You can also request a FREE quote online by Clicking HERE.