Before we moved to the Orlando area, we were fortunate to visit Disney World at least once a year, even twice a year, in some cases. In taking so many trips, we found ourselves doing things every trip, and so were born our Disney World traditions. Whether it was certain snacks, must-do activities, annual souvenirs, etc., it wasn't a Disney trip without these traditions.
One of our trip traditions is taking specific photos of the kids (and sometimes Mom and Dad) at certain spots in the park. There are more fantastic picture spots at Disney World than you can count, yet we found ourselves wanting to visit the same photo spot year after year so that we could capture our kids growing up at Disney! Soon I had many places that were absolutely necessary to visit for our traditional pictures. I love looking at these same spots over the years. Here are our top 9 photo spots that have become part of our trip traditions!
9 – Room # Plaque, Resort Hotel
So I can't be the only person who takes a picture of their resort room the second they get there. Right? Well, I hope not. But as far as I know, I may be the only one who takes a picture of their room number. Here's why you should do it too. Disney does a fantastic job of theming every inch of their resorts, and that includes the room number placard! So, years later, I know what resort I stayed in, but I also have a quick visual reminder of the room we were in as well! Can you guess what Disney Resort this is?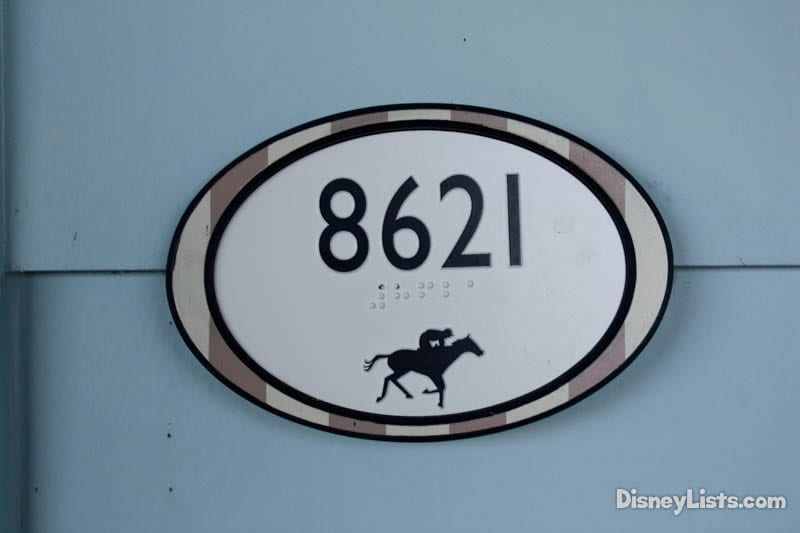 8 – Mosaic Tile Fountain, Morocco Pavilion, Epcot
Visiting the country pavilions in World Showcase is one of our favorite things to do. Nestled way back in the Morocco Pavilion in Epcot is a beautiful tiled fountain that makes you forget that you are at a theme park. We loved coming back to this place because it was not your typical Disney photo spot. Some of my favorite group pictures have been in front of this fountain.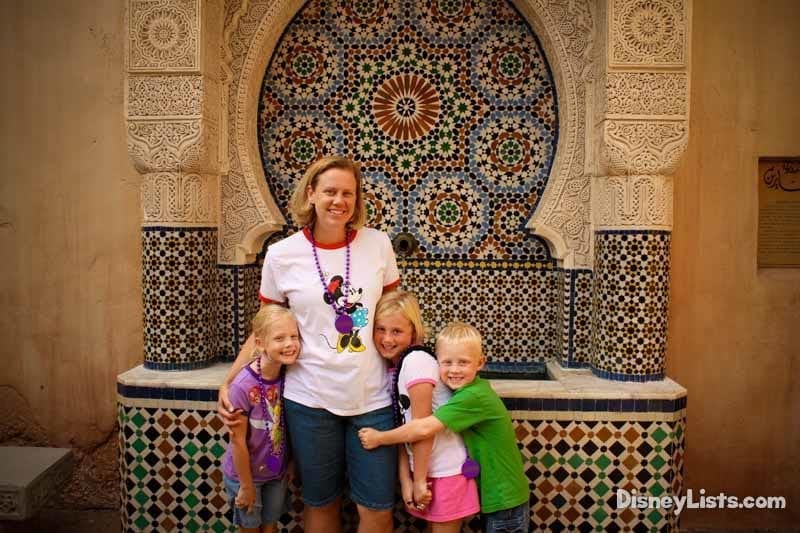 7 – World Showcase Bridge with France in the Background, Epcot
The bridge overlooking the France Pavilion is one of the more popular photo spots, and you'll regularly see Disney PhotoPass photographers snapping shots here. You'll get the Eifel Tower in the distance with this lovely picture. We dream of going to Paris someday, so for now, this will need to do.
6 – Canadian Totem Birds, Canada Pavilion, Epcot
Our kids, especially when they were younger, absolutely loved the chance to stick their head into the Canadian Totem Birds in the Canada Pavilion in Epcot. It's so fun to see their little faces sticking out of the birds' beaks!
Tip: An adult will likely need to help boost up the younger kids for the higher positions.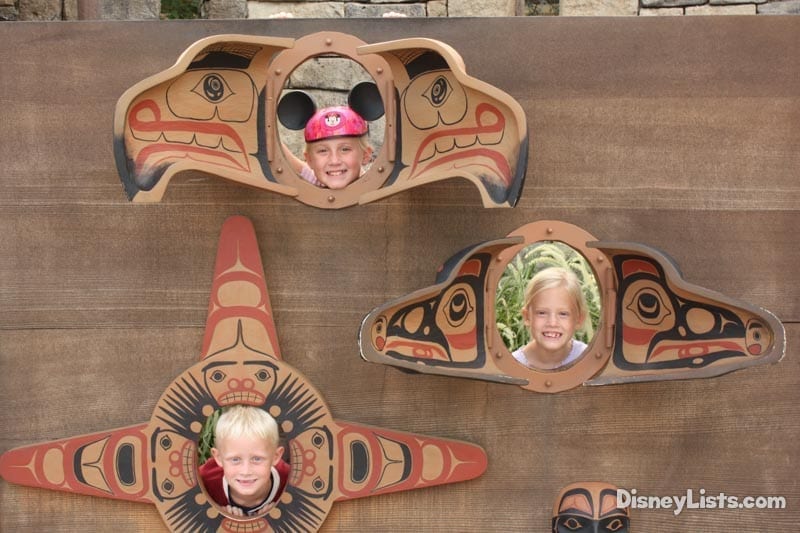 5 – Inside Bruce the Shark, The Seas with Nemo & Friends, Epcot
Editor's Note: Bruce's room and photo spot are temporarily unavailable. 
Say it with me. "Kids are friends, not food!" While visiting Nemo and Friends, don't miss your chance to stuff your kids into a shark's mouth! The "fun" of hearing your kids argue while they jostle and shove to get their spot is priceless! To be fair, Bruce's mouth is more like a slide, so an adult will need to help younger children stay put! Also, the room is also quite dark, so have your flash ready!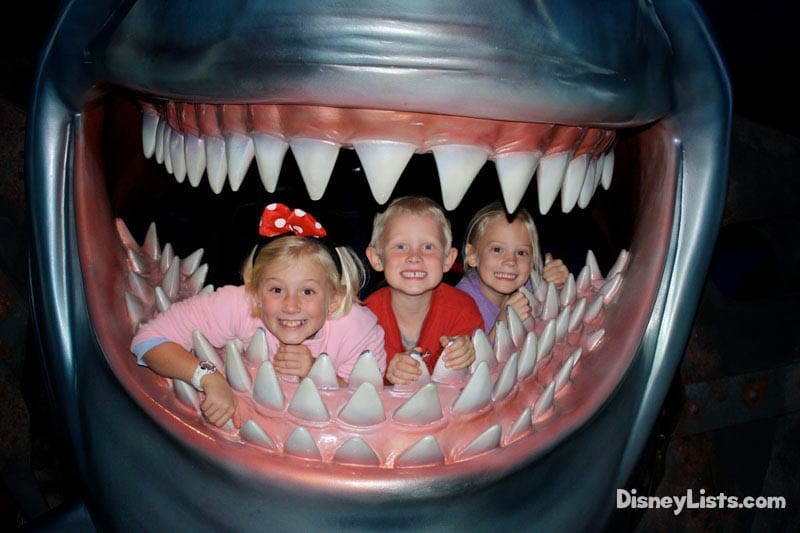 4 – English Phone Booth, England Pavilion, Epcot
We absolutely love England (the real one), and so we always take time to stuff our kids into an English telephone booth while visiting the England Pavilion in Epcot. For fun, ask strangers to join you. How many people can you stuff into a phone booth?
3 – American Stocks, Liberty Square, Magic Kingdom
Looking to teach your children a lesson on punishment used in Colonial America? Look no further than the stocks in Liberty Square in Magic Kingdom. Just don't leave your kids there for too long.
Tip: Dad might need to give the younger kids a boost.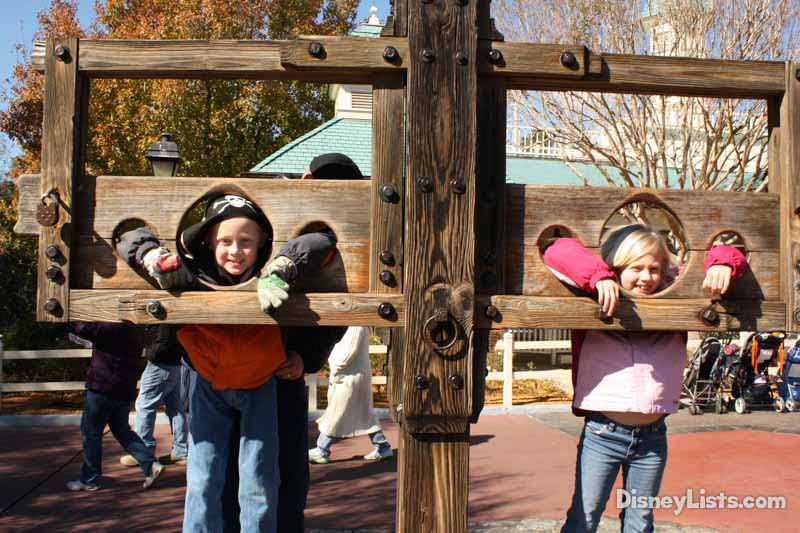 2 – Horses on Cinderella's Carrousel, Fantasyland, Magic Kingdom
Cinderella's Royal Carrousel was a family favorite from our very first trip. It was a perfect place to snap a picture of the kids on their horse. "Look, Mom! No hands!" I have some terrific photos of the kids on their carousel horses.
1 – A Special Goodbye to Mickey and Minnie
Editor's Note: Up and close character greetings are temporarily suspended. You'll see characters come through some parks in short parades or characters will greet guests from a distance at fixed locations scattered throughout the parks. 
Meeting characters is usually at the top of a family's to-do list when they visit Disney World. For our family, we always made sure we visited Mickey and Minnie for a family photo. Confession. We have used these pictures for Christmas cards because it's totally normal, right? After a few trips, Chad had a great idea to make visiting Mickey and Minnie the very last thing we did on the final night of our visit. This way, our family could say good-bye, and it helped end the vacation on a happy note. This tradition would work, of course, with any character you choose, but we loved saying goodbye to the big cheese himself!
Tip: Mickey and Minnie can be found in many locations separately, but it has become increasingly difficult to find them together. As of now, there is only one location where you can see them together, and that is at the Adventurers Outpost in Animal Kingdom.
For a no obligation, FREE Quote on a Disney vacation package, please contact our travel partner Magical Vacation Planner at 407-442-0227 (407-442-0215 for Spanish). You can also request a FREE quote online by Clicking HERE.