I don't think that all little boys (or girls for that matter) are the same and can only enjoy certain types of toys, but as a mother of two boys, I definitely know the various souvenirs that boys tend to flock to while at Walt Disney World.  Here are ten of the best Disney World souvenirs for boys:
10 – Legos, Legos and more Legos
There is a full Lego Store in Disney Springs. There are so many different kinds of sets that there is something that would suit the interest of any little boy, no matter whether they like buildings, superheroes, Star Wars, cities, pirate ships, etc. There is just about anything that you can imagine. The sets are a great toy to play with and actually encourage creativity and learning, as well as a break from the tablets and smartphones that have taken over.
9 – Any of the Star Wars merchandise
There are tons of Star Wars merchandise to be found all over property. There are shirts, toys, lightsabers, stuffed animals, art, comics, and so much more. No matter your kiddo's age, they will be able to find tons of exceptional options that suit their interest if they are a Star Wars fan. With the Star Wars franchise's popularity, we expect this merchandise to stay around for a long time with new and exciting toys and souvenirs each year.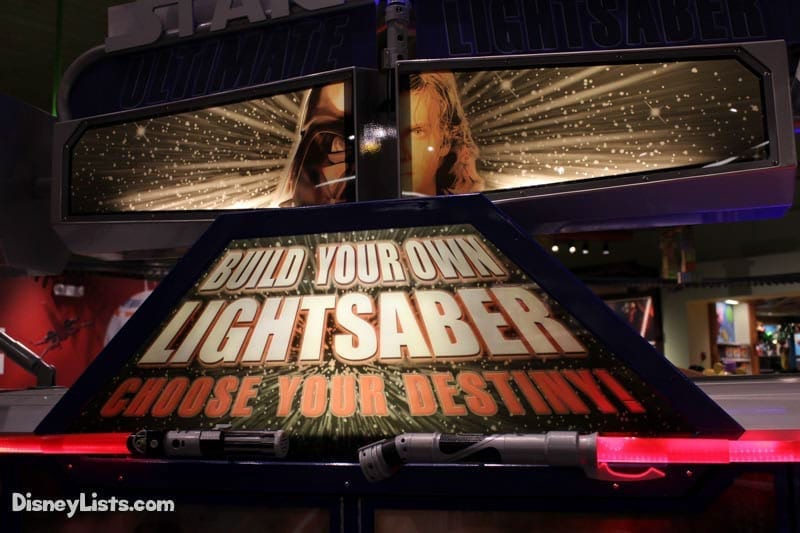 8 – Build-A-Dino              
This experience is so much fun. You get to build your own dinosaur and can even pick out outfits for them. It is a subtle variation from the usual bears and peaks the interest of boys and girls. There are different dinosaurs and colors to pick from, too. It is a fun and memorable experience for the whole family.
7 – Pressed Pennies
It is so much fun to collect the pressed pennies, and it is an affordable souvenir. If you have kiddos that have saved their own money for their souvenirs, then they can collect all the different pennies on a tight budget.
6 – T-shirts
Who doesn't love a good t-shirt? There are so many different t-shirt options. With t-shirts, the kiddo can wear them to school and enjoy remembering their vacation frequently throughout the year. Once they outgrow the shirts, you can make a quilt with them or use the shirts for other crafts and keepsakes.
5 – Pirate swords and other pirate gear
There is a lot of pirate gear, including swords, eye patches, bandanas, hats, playsets, action figures, ships, and so much more.  There are tons of different toys that they are sure to love. Who doesn't love channeling their inner pirate?
4 – Various Disney pins
Authentic Disney pins are created for every attraction, character, park, movie, etc.  You are able to find just about anything you can imagine, and all kinds of different ones with your favorite character.  You can collect all of one character, all from an individual collection, all from the same movie, or whatever your interests are to collect.
3 – Monorails and other transportation sets
I haven't met very many little boys that don't love transportation toys like trains, cars, buses, etc. There are tons of themed transportation sets, including Walt Disney World transportation and cars designed after different Disney characters. There is even a replica of the monorail too! They are so much fun and great for little boys that love anything that moves!
2– Buzz Lightyear toys
Buzz Lightyear is a favorite of so many young boys, and the Buzz Lightyear toys at Walt Disney World are so much fun. There are blasters, action figures, spaceship toys, and so much more. Any little boy will want to desperately walk away with a handful of these fun toys. To infinity and beyond!
1 – Build Your Own Droid at the Droid Depot
Building a droid is a guest experience offered at the Droid Depot and is a perfect experience for boys! For this custom astromech adventure, guests enter a workshop stocked with stacks of parts, chips, and manuals to construct their own droids, either the BB-series or R-series astromech, some of the galaxy's most indispensable sidekicks. Droid parts come and go on conveyor belts as guests make choices to construct their own units. Once built, guests place their droids in an activation station to bring them to life, allowing the droids to be operated via remote control. Droids can be further customized with personality-affiliation chips, color panels, and other accessories. Once activated, droids may interact with other astromech droids and with certain other Bluetooth-enabled elements and devices throughout Black Spire Outpost. Not only is the entire experience a whole lot of fun, but boys also walk away with a fantastic custom astromech droid!
For a no obligation, FREE Quote on a Disney vacation package, please contact our travel partner Magical Vacation Planner at 407-442-0227 (407-442-0215 for Spanish). You can also request a FREE quote online by Clicking HERE.