Planning
10 Fantastic Things To Do When It Rains at Magic Kingdom
"The nicest thing about the rain is that it always stops. Eventually." – Eeyore, from Winnie the Pooh.
Eeyore said it perfectly! Florida may be called the "Sunshine State," but it couldn't be as lush with greenery and blooming flowers without a healthy dose of rain. So, with the sun comes the rain… even in a place as magical as Walt Disney World's Magic Kingdom. Let's plan ahead and prepare ourselves for some liquid sunshine with these 10 fantastic things to do when it rains at Magic Kingdom.
1 – Large Capacity Indoor Attractions
No surprise that indoor attractions make the list! In fact, one of the most popular things you'll see folks do is head to an indoor attraction as soon as the sprinkling starts. While we love indoor attractions like Space Mountain, Haunted Mansion, Peter Pan's Flight, Pirates of the Caribbean, Buzz Lightyear Space Ranger Spin, and even It's A Small World – these lines can get long in the rain. Instead, we recommend the large capacity attractions like Carousel of Progress, Monsters Inc. Laugh Floor, Mickey's PhilharMagic, Liberty Square Riverboat, Walt Disney World Railroad, and the Tomorrowland Transit Authority PeopleMover. These attractions can hold more people, which gets you out of the rain and out of the line to enjoy the attraction sooner.
2 – Second Floor Quick Service Options
Ok, we'll tell you our favorite rainy-day secret if you promise to save us a seat?! Head over to Columbia Harbour House quick-service restaurant in Liberty Square. Once inside, look for the stairs which will take you to a second floor that is often forgotten. Another great second-floor quick service spot is Pinocchio Village Haus. Most people don't think to look for second-floor seating, but these gems are super helpful on rainy days. Lately, the Mobile Order service has been broken and guests are waiting terribly long for their food. Before using that option, check to see if you can order directly at the restaurant. 
3 – Connected Shopping on Main Street, U.S.A.
Rain is just a good excuse to shop, in our opinion! Disney makes it super easy with the Emporium, as this shop stretches the entire left side (if coming from the park entrance) of Main Street, U.S.A. This means you don't have to leave one store and run into another in the rain. Go ahead, buy yourself something nice… you deserve it!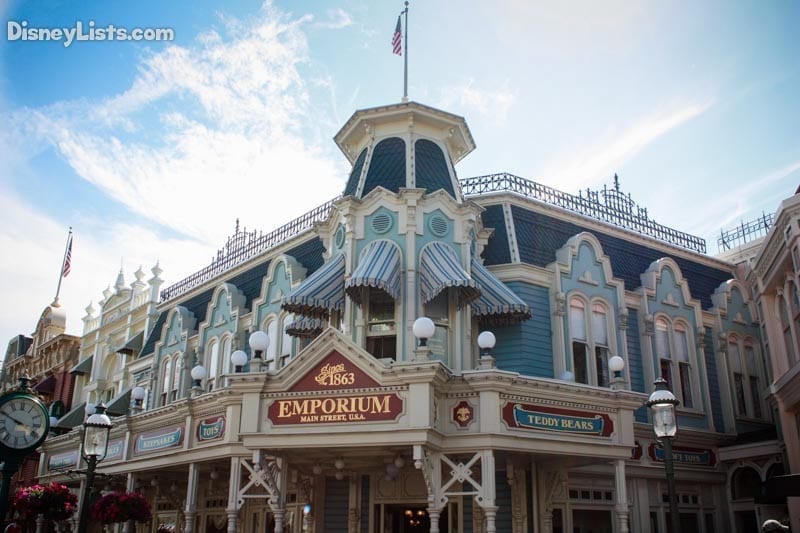 4 – Take Time to Personalize Gifts
While it's raining, you might as well take your souvenir gift shopping to a new level! Take the time to personalize souvenirs at locations like The Chapeau on Main Street, U.S.A., where you can get your Mickey ear hat personalized! We also recommend the Ye Olde Christmas Shoppe in Liberty Square to purchase a personalized ornament.
5 – Head for Indoor Meets and Greets
Editor's Note: At this time, up and close character greetings are temporarily suspended in most locations. However, you can now enjoy "individual time" with Mickey Mouse at Town Square Theater and the Princesses at Princess Fairytale Hall. The characters are roped off, so no hugs (and autographs) at this time, but you'll have time to greet Mickey and get a selfie from a distance. You'll also still see characters come through on special cavalcades throughout the day. 
Most of Magic Kingdom's characters are indoors, which makes meeting them during the rain super easy. Our favorite indoor meet and greets are Town Square Theater on Main Street, U.S.A. with Mickey Mouse and Tinker Bell, Ariel in her Grotto in Fantasyland, Minnie, Daisy, Goofy, and Donald at Pete's Silly Sideshow in Fantasyland, and of course the sweet princesses in Princess Fairytale Hall.
6 – Pause for a Snack
If you aren't looking for a large meal but aren't sure what to do in the rain, sometimes it's a perfect chance to pause for a simple snack. After you've finished meeting Minnie, Daisy, Goofy, and Donald at Pete's Silly Sideshow, you'll exit into the Big Top Souvenirs gift shop. Our favorite part about this gift shop is the very center of the space… where there are loads of sweet treats fresh from the bakery. If you're taking cover on Main Street, U.S.A, we'd recommend a visit to the Main Street Confectionary for a yummy snack to wait out the rain with.
7 – People Watch Those Braving the Storm
Yes, we admit – we like to people-watch at Magic Kingdom! Not in a creepy way, but it's just a fun experience to watch kids and adults alike light up when they see Cinderella Castle. You'll see families that seem to have permanent smiles on their faces while other people look as grumpy as, well, Grumpy! Interesting dynamics pour into Magic Kingdom, but it's a beautiful thing to see everyone come together to enjoy Disney World. Hunker down with your snack under one of the awnings on Main Street, U.S.A, and see who is strolling by, braving the weather.
8 – Resort Hop on the Monorail
Take the "public transportation of the future" during the rain! From Magic Kingdom, we'd recommend hopping on the Resort Monorail even if you aren't staying at one of the resorts. This is a great way to beat the rain but still experience Disney! Check out the lobby and gift shops of the Contemporary Resort, Polynesian Village Resort, and even the Grand Floridian Resort before making your stop back at Magic Kingdom. You could also do the "Monorail Crawl" and have a specialty beverage from a lounge at each of these gorgeous resorts.
9 – Get a Makeover
Editor's Note: At this time, Bibbidi Bobbidi Boutique is not operating.
If a slot is available when the rain sets in, you could always look into getting your kids the makeover of their dreams! Bibbidi Bobbidi Boutique, located in Cinderella Castle, is for girls and boys ages 3 to 12. Both of these locations offer different packages that range in price. Hopefully, by the time the makeover is complete, the rain will have moved out.
10 – Play in the Puddles! 
You know, it's not every day you're at Magic Kingdom! So, take it from Winnie the Pooh – "When life throws you a rainy day, play in the puddles." With or without a poncho, stroll through Magic Kingdom like you own the place despite the downpours. One of our most memorable days for us in Magic Kingdom was a water-logged day. We made the best of it and ended up having a blast despite being soaked!
Meanwhile, "It never hurts to keep looking for sunshine." – Eeyore
For a no obligation, FREE Quote on a Disney vacation package, please contact our travel partner Magical Vacation Planner at 407-442-0227 (407-442-0215 for Spanish). You can also request a FREE quote online by Clicking HERE.