Walt Disney World is definitely extremely busy a lot of the time, especially given that it is one of the most popular vacation destinations in the United States.  If you are trying to time your vacation to avoid the crowds, then you will definitely want to avoid these fifteen days and weekends listed below.
15 – New Year's Eve and New Year's Day: December 31st – January 1st
What better way to start the New Year than enjoying Walt Disney World? There are various celebration dining packages and events throughout the parks, and Magic Kingdom typically closes to capacity due to the influx of guests on one or both of these days.
14 – Marathon Weekend: Typically the weekend after New Year's
The Marathon Weekend is a huge event that hosts various different races including kid races, 5K, 10K, half marathon, and full marathon. This brings an influx of guests to the parks to enjoy the entire weekend and show off all of their medals.
13 – Valentine's Day: February 14th
Walt Disney World is a great place to celebrate romance and time with someone special. It's a popular time to visit Disney World and an extremely popular day for locals to also make appearances on property, especially at the restaurants.
12 – Presidents Day Weekend: 3rd Monday in February 
This three-day weekend kicks of the busy spring break period. Because of the gorgeous February weather and the day off on Monday, this weekend sees a lot of northerners looking to escape and leave winter behind them, even for a little bit. Locals also love to come out this weekend as well. Many visitors will also stay the full week. The weekend after President's Day is the Princess Half-Marathon Weekend which brings down thousands of runners to Walt Disney World. The Princess Half Marathon weekend includes kid races, 5K, 10K, and half marathon. The racers and their families spend the weekend enjoying Walt Disney World when they aren't racing.
11 – Spring Break:  Weeks and weekends in March
Usually, around the second or third week of March, there will be a significant influx of guests, especially from the increased amount of locals that are also on spring break. These weekends are especially busy as Florida residents also plan long weekends to enjoy the parks.
10 – Easter: Varies in March or April
Wherever Easter happens to fall, it is an extremely popular day to be in the parks. There are typically special events happening in the parks, as well as church services available for guests that are staying on property. You can even book special brunches and other dining events.
9 – Memorial Weekend: Last weekend in May
Since it is a lovely three-day weekend, it definitely draws the crowds into the parks. It is always nice when travelers don't have to use an extra vacation day since they already have a day off, so it makes it a popular weekend to be at Walt Disney World.
8 – Independence Day:  July 4th
The fireworks at Walt Disney World are amazing, so that draws in a large number of guests hoping to get a great spot to see the show. Magic Kingdom typically closes to capacity on July 4th. Disney even has to adjust traffic to help alleviate traffic jams getting to the park.
7 – Labor Day Weekend: First weekend in September
This is another 3-day weekend opportunity that always seems to draw in the guests for a little bit of Disney fun over the long weekend. It is definitely a popular time for locals to make appearances in the parks, too.
6 – Magic Kingdom / Epcot's Birthdays: October 1st
There is typically always a little something fun happening in the park to celebrate Magic Kingdom's birthday, which was the first park to open in Walt Disney World. It opened in 1971 to the first guests. Epcot opened on the same day in 1982, so they share a birthday. Disney tends to make a big deal out of these birthdays, especially on milestone years. Disney fans typically make an effort to come out on this date to celebrate and be a part of the festivities.
5 – Halloween: October 31st
Who doesn't love a little Halloween fun? Magic Kingdom is decorated with fun fall decorations, and Mickey's Not So Scary Halloween Party will be offered on Halloween night. It is always the first party night to sell out due to the increased popularity.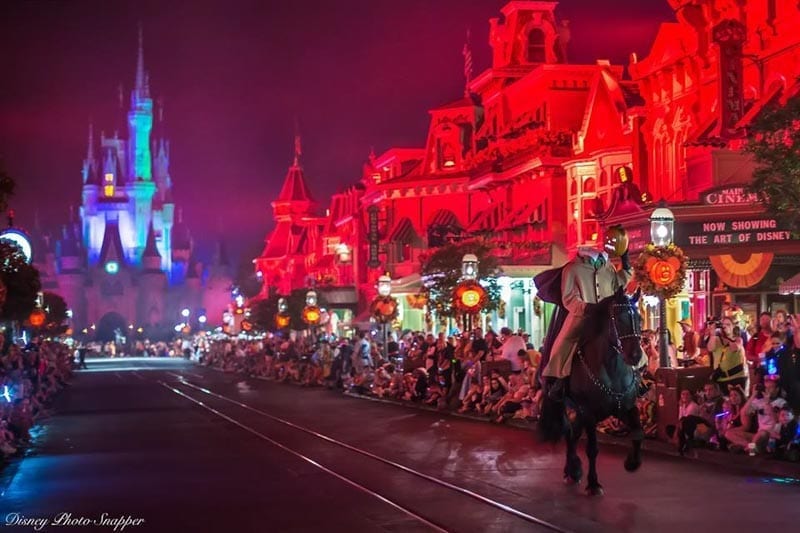 4 – Wine and Dine Half Marathon Weekend:  Typically the first weekend in November
Another half marathon weekend that always brings in large crowds. The event offers kid races, 5K, 10K, and a half marathon. The guests get to sample delicious wines and food samplings from around the world when they aren't busy doing their races.
3 – Thanksgiving Weekend: Starts the 4th Thursday in November through the weekend
This is definitely an extremely popular four-day weekend at the parks. The days just before and after the 4 day weekend also see an increased amount of guests. It is very common for guests to travel on holidays and for a holiday where so many people are already off of work, it makes it a great time to travel.
2 – Pop Warner Cheerleading Competition: Typically the first week of December
The cheerleading competition draws in a ton of cheerleading groups and their families to Orlando. Even if the completion is not hosted at Walt Disney World (in 2021 it was at Universal Studios), families are still in the area and will visit Walt Disney World. The parks and the resorts are busy with the large influx of visitors to Orlando. It is an affordable time to travel to Disney, but that first week could see an influx in guests.
1 – Christmas Eve and Christmas: December 24th – December 25th
Disney is the most magical at Christmas. For all you Christmas junkies out there, you have probably wondered what it might be like to wake up at Walt Disney World Christmas morning to enjoy the parks. Many other guests have that same dream, which is why Magic Kingdom typically closes to capacity a few hours after opening on Christmas morning. It is definitely one of the most popular and busiest days of the year to be at the park.
For a no obligation, FREE Quote on a Disney vacation package, please contact our travel partner Magical Vacation Planner at 407-442-0227 (407-442-0215 for Spanish). You can also request a FREE quote online by Clicking HERE.