Alright, Mates! If you are looking for British flare in both atmosphere and food, Rose and Crown Pub and Dining Room located in Epcot's United Kingdom pavilion around the World Showcase is the place for you. After dining at Rose and Crown more than we can count on one hand, we must say it's a definite must-do on our list when vacationing at Disney World. So, why do we love Rose and Crown so much? Check out these 6 reasons.
1 – Stately UK Location
With the numerous restaurants to select from at Epcot, one might find it challenging to make a decision. The Rose and Crown stands out among many dining options with its fantastic location in the beautiful United Kingdom pavilion. This restaurant truly looks like it was picked up off of a British street and placed in the heart of Epcot! With the frost and arched windows, bold brick siding, and careful attention to detail – it's hard to pass this gem by. Take note of the Rose and Crown sign, which states "Otium Cum Dignitate," which means "leisure with dignity."
2 – Brilliant Atmosphere
Rose and Crown boast three areas within the one restaurant – the bar, the inside dining room, and the outdoor dining patio. Much like pubs found in the United Kingdom, the full-service bar is stocked and ready to serve! There are no stools at the bar, which makes sense for this high traffic pub. Walking further inside is a quaint dining room with simple wooden chairs and tables. The space isn't too large, but the noise and the friendly crowds make it feel exactly as one would expect a pub dining space to feel! Our favorite area by far is outside on the two-level patio. With almost as much seating as inside, the outside patio is stunning as it is waterside to Epcot's World Showcase Lagoon. The tables have great shade umbrellas, which make for a cool setting in the heat. When it's cold outside, Rose and Crown Cast Members let down a clear plastic wall shield around much of the outdoor seating and place tall lamp heaters close to the tables. With each visit, we find that it's the simple details at Rose and Crown that provide the charm that keeps us coming back for more.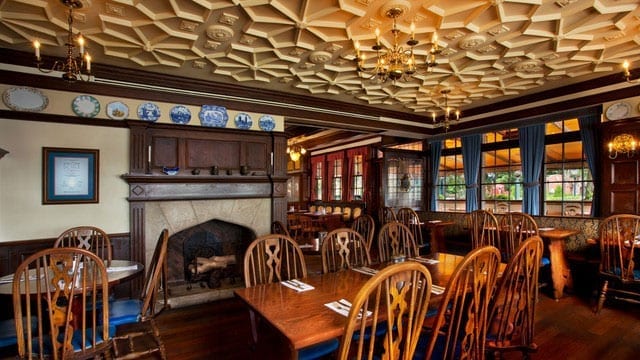 3 – Ace of a Menu
Our mouths are watering just thinking about the delicious food served out of the Rose and Crown kitchen! Open for both lunch and dinner, guests of Rose and Crown can expect a hearty plate of some British favorites such as Fish and Chips, English Meat Pie, Scotch Egg, Bangers and Mash, Shepherd's Pie, and several simple favorites like steak, fish, and chicken. We especially love the Rose and Crown dessert menu with tasty sweets like English Trifle, Jaffa Tarts (our favorite!), Sticky Toffee Pudding, and Banoffee Tart – to name a few! Come hungry to Rose and Crown, and you won't be disappointed you did.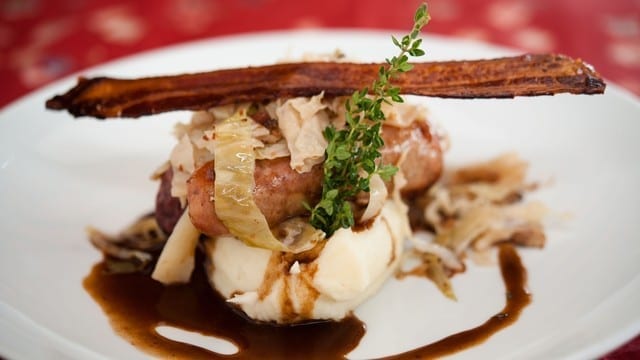 4 – Cheers to the Drink Menu
What would a pub be without an exceptional drink menu? We are always amazed by the vast wine and beer selections available at Rose and Crown. Rose and Crown even takes it one step further and has suggestions on the menu for what would pair well with a selected menu item. The extensive wine list, the ales, lagers, and stouts, the incredible specialty cocktails (try the Welsh Dragon), plus the scotch and whiskey options – you want to be sure you have plenty of food in your stomach before you start saying "Cheers" to this full-service pub bar. Just looking for a drink from the pub but no meal? Head to the bar with no reservations needed. While a standing spot might be tricky to find, you can always get your drink and head outside to the UK pavilion.
5 – Boisterous Evening Entertainment
Get ready to tip a glass and sing along to United Kingdom tunes with Rose and Crown's resident musician performing nightly at the bar. This lively entertainment is a blast to experience and provides a great reason to let your hair down a little and enjoy a drink or two. While the musician is fantastic, the very best entertainment available at Rose and Crown is the view of Epcot Forever, the fireworks and laser display show that takes place nightly at Epcot. The Rose and Crown patio is among the very few places to dine and have a great view of the show around the World Showcase. The trick here is to snag a reservation at the right time, depending on when Epcot Forever is taking place. We also suggest you arrive early and ask the host/hostess to be seated on the patio. If they aren't sure it'll work, let them know that you are willing to wait for a table if that is needed. While patio dining is never a guarantee – Cast Members work hard to be sure you are comfortably seated whenever possible. The great news, however, is that Rose and Crown has an Epcot Forever viewing area. This viewing area isn't very large in size, but it does the trick if you are unable to get a patio seat!
6 – Attentive Service and Reservations
To follow up with the above comment about Cast Members – they genuinely are spectacular at Rose and Crown. We've always had a superb Cast Member serving us that is extremely attentive and quick to our requests. We love to hear their stories about where they resided in the UK and how they are enjoying America! To take part in the full Rose and Crown experience, we highly recommend advanced dining reservations (180 days in advance) to snag that special day and time you are seeking. Forget having to say "rubbish" at the door if you can't be seated because you don't have a reservation. Trust us – Rose and Crown is worth the advanced planning!
For a no obligation, FREE Quote on a Disney vacation package, please contact our travel partner Magical Vacation Planner at 407-442-0227 (407-442-0215 for Spanish). You can also request a FREE quote online by Clicking HERE.