The last day at Walt Disney World is definitely the saddest day, but it can still be magical and fun.  You should definitely still try to get the most out of the day and enjoy the last bit of magic while you can.  Here are our top 10 tips for your last day at Walt Disney World:
10 – Pack up the night before and triple-check that you have everything.
You will definitely make life easier for your last day if you go ahead and pack up the night before. You won't feel as rushed when doing it, and you can enjoy more of your last day instead of spending it packing. It also gives you extra time to make sure that you have everything and aren't forgetting anything important.
9 – Make the most of your time.
We always try to get up early the day we leave so that we can experience and do more that last day before we have to leave. If you make a plan for that day, you can actually get a lot accomplished before you leave.
8 – Don't save Must-Do experiences for the last day (unless you are just revisiting them).
It is never a good idea to hold any of your experiences that you consider "Must-Do" for the last day. You never know when there will be inclement weather, an attraction gets closed, plans change, etc. and you don't want to risk missing it. Do "Must-Do" experiences earlier in your vacation and then repeat some of your favorites on your last day.
7 – Use the airport express check-in.
Editor's Note: During the phased reopening of Walt Disney World, resort airline check-in service is not available.
We absolutely love this service. This allows you to check your luggage for your flight right from the resort. There are certain hours when it is available, so you have to plan ahead, but it is well worth it. You won't have to mess with checking luggage at the airport or transporting it with you. It is super convenient!
6 – Check your carry-on bags at the front of the resort.
If you are venturing out to the parks or other areas around Walt Disney World, you can check any bags you have with you at the front of the resort so that you don't have to carry them around the parks. Everything can stay safe with Disney, and then you can grab them when you are back and ready to head out.
5 – Pay extra attention to your Magical Express pick-up time.
Editor's Note: Disney will no longer offer Disney's Magical Express service for airport transportation, starting with arrivals January 1, 2022. Disney will continue to operate the service for new and existing reservations made at Disney Resort hotels for arrivals throughout 2021.
You will receive an envelope with details about your departure, including when you need to catch the Magical Express. It is essential to make sure that you remember this time since this is when Disney will be taking you to the airport to be sure that you don't miss your flight. You will need to make sure to be back at your resort in plenty of time to catch your bus.
4 – Make sure you have used up your Disney Dining Plan credits.
Editor's Note: During the phased reopening of Walt Disney World, the Disney Dining Plan is unavailable.
If you have Disney Dining Plan credits left over, then you definitely don't want those to go to waste. You can't get a refund for them, but you can cash them out for snack options. Any meal entitlement that you have left can be converted to 3 snack entitlements. You can then use this to purchase various snacks, including pre-packaged snacks like Disney candy and other treats, which you can take home with you. Definitely, don't less these entitlements go to waste when you can take a little bit of the magic home with you to snack on later!
3 – Review your final resort bill in detail.
Make sure that all of your charges are correct. You will receive your charges info in an envelope with your Magical Express information, and you should definitely review it. At the same time, you are there so that you can discuss any discrepancies. We have had meals charged to the room that should have used the dining plan before, and it was a simple discussion to fix since we were still there.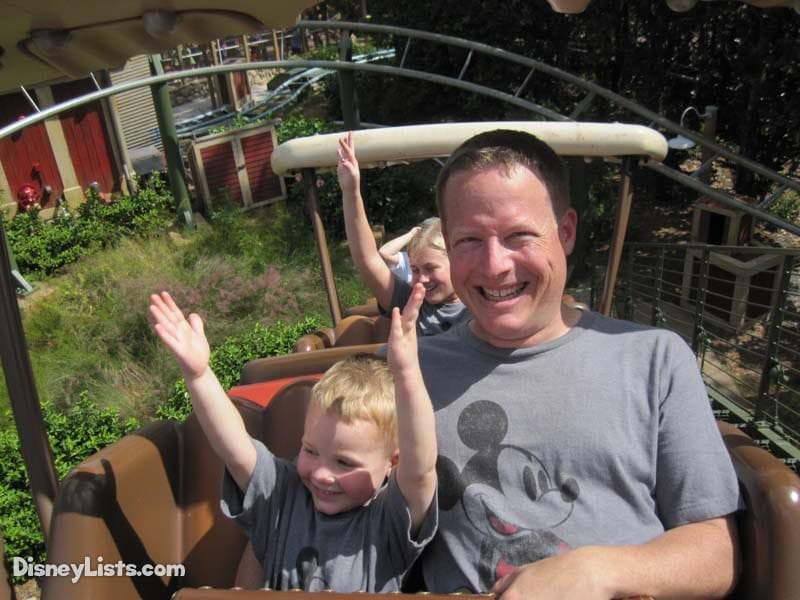 2 – End on a high note with some of your favorite experiences.
We always try to pick some of our favorite and most magical experiences to enjoy for the last day so that we leave Disney on a high note.  We tend to like visiting the Magic Kingdom for the last day so that we can see Cinderella Castle one last time and ride many of the kids' favorite attractions.
1 – Take lots of pictures.
Be sure to take lots of pictures on the last day.  It is a nice recap of your entire stay and commemorate your last exciting moments at Walt Disney World.  Sometimes we even wear our family shirts for the last day so that we make the most fun out of the last day that we can get!
For a no obligation, FREE Quote on a Disney vacation package, please contact our travel partner Magical Vacation Planner at 407-442-0227 (407-442-0215 for Spanish). You can also request a FREE quote online by Clicking HERE.