Dining
Top 12 Counter Service Restaurants at Disney World
If you are on a diet, let us begin with hopes that you don't judge us for sharing this mouthwatering list of Counter Service Restaurants with you! While some say making a reservation at one of Disney's Table Service Reservations is the only way to go, they obviously haven't had the chance to order from these twelve delicious counter service hot spots! These are especially great meals for those spontaneous folks that might not want to make a reservation or stop for a full sit down meal in a restaurant. Instead, order at the counter of these restaurants, snag your food, and grab a table or eat on the move. Let's get tasting!
12 – Docking Bay 7 Food & Cargo @ Disney's Hollywood Studios
At Docking Bay 7 Food and Cargo, Chef Strono "Cookie" Tuggs' transport shuttle sits atop Docking Bay 7 as a mobile kitchen and restaurant, turning the hangar into Tuggs' Grub. Tuggs' journeys from system to system allow him to fill his pantry with exotic ingredients he uses to make new and unusual dishes, such as Smoked Kaadu Pork Ribs, Endorian Fried Chicken Tip-yip and Outpost Puff for dessert. This quick-service restaurant is a great choice for an out-of-this-world meal while visiting Star Wars: Galaxy's Edge.
11 – Sunshine Seasons @ Epcot Theme Park
While most guests plan on dining around World Showcase, we love to grab a bite at Sunshine Seasons found in The Land Pavilion in World Nature. Variety alone is a great reason to get a meal here. There are excellent choices for everyone in your party, even the pickiest of eaters! You'll find an Asian Noodle Shop, a Sandwiches Shop, a Grill Shop, a Soups & Salads Shop, and finally a Kids' Zone Shop. Plus, there are plenty of desserts at the Bakery Shop.
10 – Casey's Corner @ Magic Kingdom Theme Park
What would a top counter service list at Disney World be without the beloved and timeless Casey's Corner located on Main Street U.S.A.?! The American baseball favorites hit a homeroom with a fun menu with items like the All-Beef Foot-long Hot Dog, Corn Dog Nuggets, and even Chili-Cheese French Fries. It's not necessarily our favorite for a unique taste unlike any other – but rather a tradition that makes our visits at Magic Kingdom complete!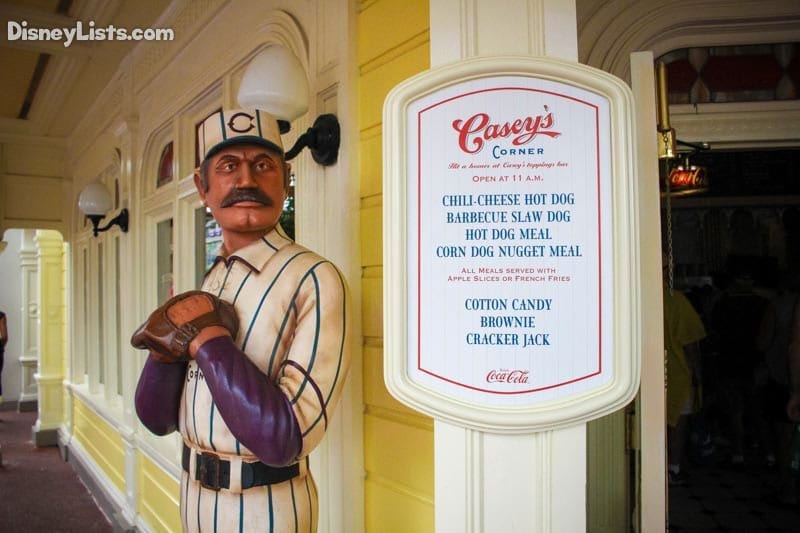 9 – Flame Tree Barbecue @ Animal Kingdom Theme Park
A classic counter-service spot at Animal Kingdom – Flame Tree Barbecue still pulls in our list of favorites! It's no wonder Flame Tree continues to be a popular counter service destination with its magnificent views and even better food. Between the barbecue selections of pork, ribs, and chicken – our only complaint here is the difficulty of selecting just one menu item!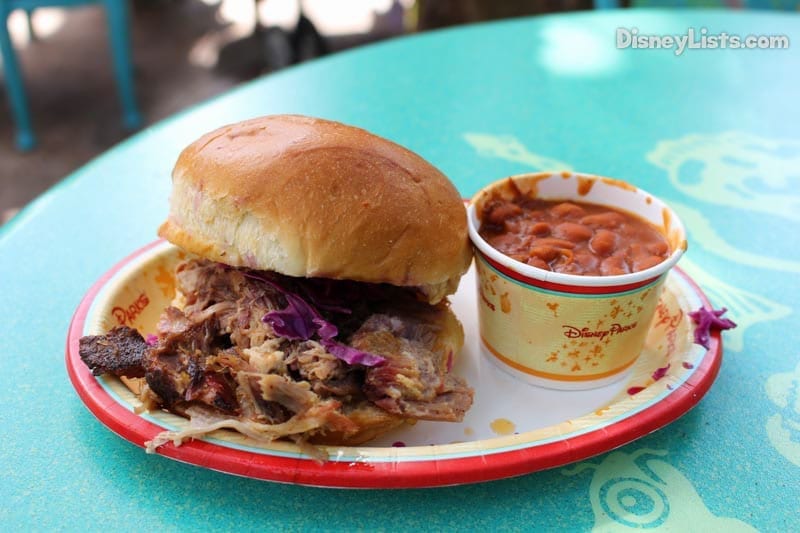 8 – Harambe Market @ Animal Kingdom Theme Park
If you are seeking an array of options with that Animal Kingdom punch of flavors, Harambe Market located in Africa boasts true African-inspired food. Take a good look at the menu to select your delicious and unique meal.
7 – D-Luxe Burger @ Disney Springs – Town Center
Prepare for a meal here with a stack of napkins, as these mouthwatering burgers make this burger joint an easy YES for this list! With a spectacular line-up of burger variety (even a Veggie burger for our vegetarians!), you'll leave D-Luxe Burger with a satisfied and full belly.
6 – La Catina de San Angel @ Epcot – Mexico Pavilion
These Mexican flavors may be served up counter-service style, but many reviews agree that the taste tops that of the table service restaurant located across the way at San Angel Inn. La Catina de San Angel is a popular counter service destination in Epcot, so be prepared to wait in line and possibly walk while eating since the beautiful seating is limited.
5 – Regal Eagle Smokehouse @ Epcot – American Pavilion
Regal Eagle Smokehouse is the newest quick-service restaurant in the American Adventure pavilion. It opened in February 2020, and the overall reception has been very positive. The restaurant takes its name from Sam the Eagle, the Muppet known for his patriotism. The restaurant offers a pretty good variety of different kinds of barbecue. You'll find smoked half-chicken, beef brisket, dry-rub pork ribs, a BBQ burger, and a smoked pork butt platter. You'll also find four different house-recipe sauces at Regal Eagle. Overall, we really enjoyed our dinner at Regal Eagle. The food offerings are definitely a step up from Liberty Inn's previous offerings of burgers and chicken nuggets. We feel that even with a few misses, this is an excellent addition to Epcot, and is our new favorite counter service at this park.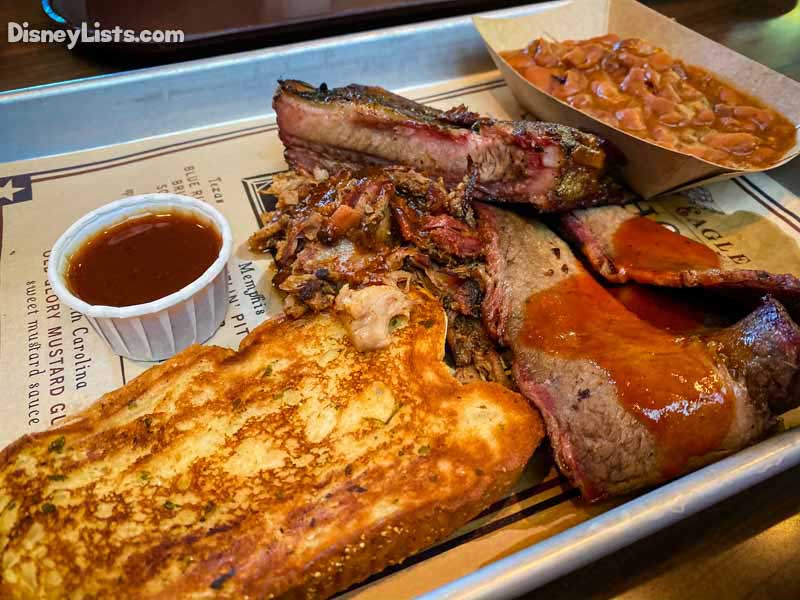 4 – The Polite Pig @ Disney Springs – Town Center
The pig might be polite, but we'll tell you bluntly… GO, EAT HERE. Dare we say that The Polite Pig's taste of barbecue tops that of Flame Tree Barbecue?! We'll create a new hashtag… #PolitePigForTheWin.
3 – Morimoto Asia Street Food @ Disney Springs – The Landing
Morimoto Asia is one step ahead of Planet Hollywood Observatory, with its exterior patio outside of the restaurant now serving as a counter service location. Known as "Street Food," this is the perfect place to grab a shaded spot under the covered patio or stroll along while snacking. Morimoto wins out as our number one because of their fresh ramen, egg rolls, and awesome snack options such as the Morimoto Baby Ribs! Despite our usual back seat view, particularly of sushi, we will be revisiting Morimoto's time and time in the future for their winning tastes.
2 – Blaze Fast Fire'd Pizza @ Disney Springs – Town Center
We are slightly biased here as Blaze is an absolute favorite of ours! Blaze Fast Fire'd Pizza takes pizza to a new level of fresh. Order an 11″ artisanal pie and step down the line while instructing Cast Members what yummy toppings (over 40!) and sauces you'd like. The restaurant name holds true as the pizza is fired up fast, and you're on your way to enjoy it. Get a box to go, or better yet – enjoy their beautiful seating inside or outside next to the water.
1 – Satu'li Canteen @ Animal Kingdom – Pandora – The World of Avatar
Disney's Animal Kingdom's newest quick-service restaurant, Satu'li Canteen, is a fantastic addition to the quick-service line up at the park. This restaurant is located at the far end of Pandora, and is themed as a long-ago an RDA (Resources Development Administration) mess hall that has now been decked out with a colorful array of Na'vi (Pandora natives) art and cultural items. The food is fresh and far from the regular food you expect to eat at a theme park. On the menu, you'll find bowls where you'll choose your protein, base, and sauce for a customized meal. The bowls are filling and delicious!
For a no obligation, FREE Quote on a Disney vacation package, please contact our travel partner Magical Vacation Planner at 407-442-0227 (407-442-0215 for Spanish). You can also request a FREE quote online by Clicking HERE.