If you aren't a fan of thrill rides, but those you are traveling with are – no worries! You don't just have to wait around. Check out this little guide for 10 ways to spend your time while the rest of your party hits the thrill rides.
1 – Treat Yourself
When we've sent our party off to a thrill ride, and either have chosen to sit out or are staying back with the little ones, we find this to be a perfect time to treat ourselves! Near most every ride, you can find an easy grab and go snack kiosk or gift shop. Pick up a refreshing beverage or spoil yourself with a tasty Mickey Ice Cream bar.
2 – Shop!
Much like snacking options, there is a gift shop close to just about anywhere you may be standing in the park. Plus, there is typically a gift shop at the exit of whatever the thrill ride your crew is on anyway. Why not do a little window shopping? Tip – someone special in your party that may be on the thrill ride? Surprise them with a fun gift/souvenir when they get off. This is especially great for those that maybe were finally brave enough to ride – such as an "I Conquered the Yeti" t-shirt sold at the Expedition Everest gift shop.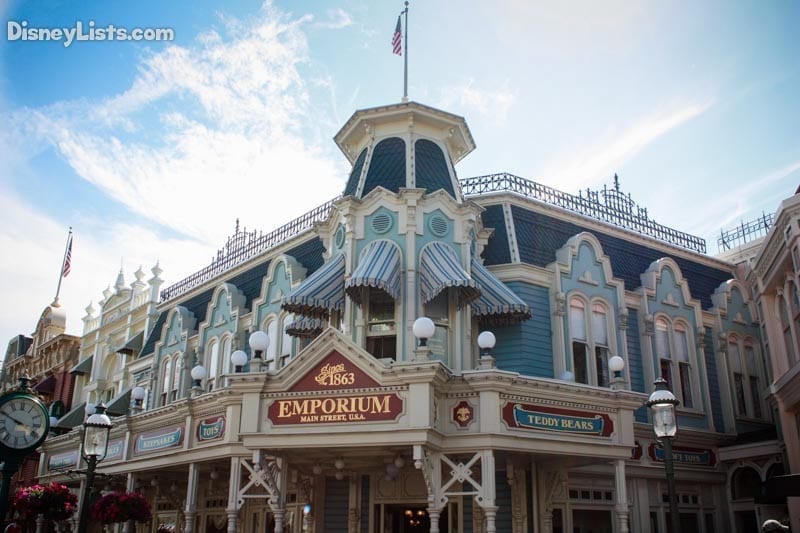 3 – Hit Another Attraction
There have been times that we know it's going to take those riding the thrill ride a while to get off. For example, we sent thrill riders to Thunder Mountain Railroad in Magic Kingdom while we took the kids to Country Bear Jamboree. Look for attractions close by with little wait, and you may both be coming off your rides at right about the same time.
4 – Review Plans
Editor's Note: During the phased reopening of Walt Disney World, FastPass+ is temporarily suspended. 
Sometimes when we are hurrying about the park from attraction to attraction, it's hard to find a moment to pause and re-group. Particularly if you are unfamiliar with the park, this downtime is a great time to study the map, check locations of future FastPass+ attractions, and know where you are planning to go for your next meal. This will make it much easier to guide your group as they exit the thrill ride.
5 – Check Apps
While you're waiting, go ahead and check Disney's app for attraction wait times. This will help you plan timing out and know where you'd like to head next. We always suggest you keep your phones in your pocket as much as possible, so you are spending your Disney vacation time with family. Still, it's the moments like these that are good for posting the fun you're having on social media, checking your email, or catching up on a missed call.
6 – Stretch Young Legs!
Sure, your legs might be exhausted from all the walking while visiting Disney, but don't forget about the little legs that might be riding along in a stroller. This is a perfect time to let your kiddo walk around and take a break from sitting in the stroller. Search for an open area to let them explore and stretch out a little.
7 – Photo Op
This is especially fun if you have the Memory Maker package because you can take as many pictures as you'd like, just like everyone else, but the difference is you get to keep all of them! Look for a close PhotoPass Cast Member and enjoy the photo op. If you are solo, you can be as silly as you'd like and surprise the family later with your goofy images. This is a great time to gather the kids for a picture – just them, with no adults in the shot. Have fun with it!
8 – Hold A Spot
Editor's Note: During the phased reopening of Walt Disney World, parades and fireworks are temporarily suspended. 
If you time it right, you might be able to send the thrill ride junkies on the ride, then head to hold a parade or fireworks spot. Of course, please don't plan on holding 10 spots, but for a small family, it's easy to place a backpack where one person would be sitting for a parade and the stroller to hold a couple of other spaces. Out of courtesy for the other guests, we suggest you time this appropriately to where the thrill riders know they will be able to make it to their saved spots well before the parade or fireworks begin.
9 – Pin Trade
Editor's Note: During the phased reopening of Walt Disney World, pin trading is modified and you cannot trade directly with Cast Members. Trading boards have popped up and you can trade from that.
This has become a favorite past time for our daughter. While others ride a thrill ride that she may not be in the mood to ride, we find close Cast Members and pin trade. There have been times she'll go on the ride, so one of us will take her pins and trade for her. It's a fun way to socialize with different people and check out the pins they are willing to trade.
10 – People Watch
Last, but not least, is to people watch. Simple enough, but this is actually extremely fun, in our opinion, at Disney World. Sit back and relax while mobs of people stroll by. To keep the kids entertained (or yourself), we've made a game of it! See who can spot the first set of Mickey ears, orange t-shirt, face painting, Disney jewelry, camera around their neck, holding a flag… come up with whatever you'd like. It's like a Where's Waldo Disney style!
What tips can you share for spending your time while the rest of your party hits the thrill rides? We'd love to hear from you!
For a no obligation, FREE Quote on a Disney vacation package, please contact our travel partner Magical Vacation Planner at 407-442-0227 (407-442-0215 for Spanish). You can also request a FREE quote online by Clicking HERE.