Mickey in overalls, a bountiful supply of home-cooked food, and a rotating platform for a restaurant – sign us up! The Garden Grill is a delightful dining experience in the heart of Epcot. So, what makes this restaurant so wonderful? Here are our top 5 reasons we love The Garden Grill.
Editor's Note: At this time, up and close character greetings are temporarily suspended. The Garden Grill at Epcot offers a modified experience. The characters will greet your table from afar and let you take photos at a distance. 
1 – The Land Location
Nestled appropriately in The Land of Epcot's Future World, The Garden Grill Restaurant is located on the top level of the two-story "The Land" building. It's easy to spot the colorful Garden Grill sign and oval-shaped restaurant entrance. Just a few steps downstairs from the restaurant and you'd be at the entrance to the popular attraction, Soarin'. The Garden Grill is actually situated directly above the attraction, Living with the Land, which you will catch glimpses of while dining here! With this being said, you'll need park admission to Epcot along with your dining reservation (some walk-ins accepted depending on crowds) with the purchase of a set price per guest.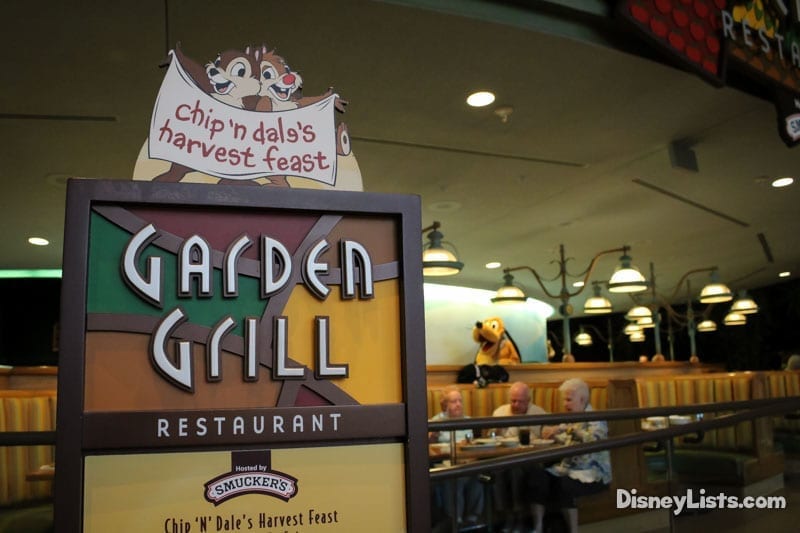 2 – Yep, a Rotating Restaurant!
Immediately upon check-in at the Garden Grill, you'll begin to feel that at home, farm fresh feeling that exudes from the Cast Members attire right from the get-go. As you enter the restaurant you will start to realize that the ground is actually moving under you! No worries, however, as the restaurant is on a circular spinning platform but moves extremely slow. Walking isn't difficult and while dining you may actually forget you are moving. The center of the restaurant is the kitchen which Cast Members flow in and out of to serve their tables. The kitchen stays still while the two layers of seating from booths to tables rotate. Each section has a fruit symbol and table number assigned to it which must be helpful to Cast Members as their tables move as the restaurants moves. The appearance of the restaurant is simple, clean, and quite cute really. We loved the way the tables were set with the Hidden Mickey made out of the plates. We especially enjoyed the view of Living with the Land as we dined and slowly rotated.
3 – Freshly Home Cooked Food
Come hungry to this all-you-care-to-eat dining experience! Serving breakfast, lunch, and dinner, Garden Grill serves up some delicious dishes. While it is an all-you-care-to-eat experience, you never leave your seat to go to a buffet-style setting. Instead, Cast Members fill your table with family-style plates. You can request more of specific food and just a whole new plates of heavenly pieces as much as you'd like! Breakfast has the famous Chip's Sticky Bun Bake which is by is probably one of our favorite things at Disney World. They also have all the usual breakfast foods like eggs, Mickey waffles, bacon, ham, fruits, and potatoes. For lunch, Garden Grill serves items such as turkey, beef, macaroni and cheese, sweet potato fries, mashed potatoes, salad, and vegetables. Dinner has many of the same menu items but they also have delicious bread served with orange honey butter! As a treat for lunch and dinner, guests are served shortcake topped with berries and vanilla ice cream. Yum! You can also purchase specialty drinks, wine or beer which are a separate price from the lump sum paid for the food items. A special note – some of the dipping sauces and small side items are grown fresh right in Epcot! We were also surprised at their fantastic gluten-free menu items which we needed for a Celiac member in our party.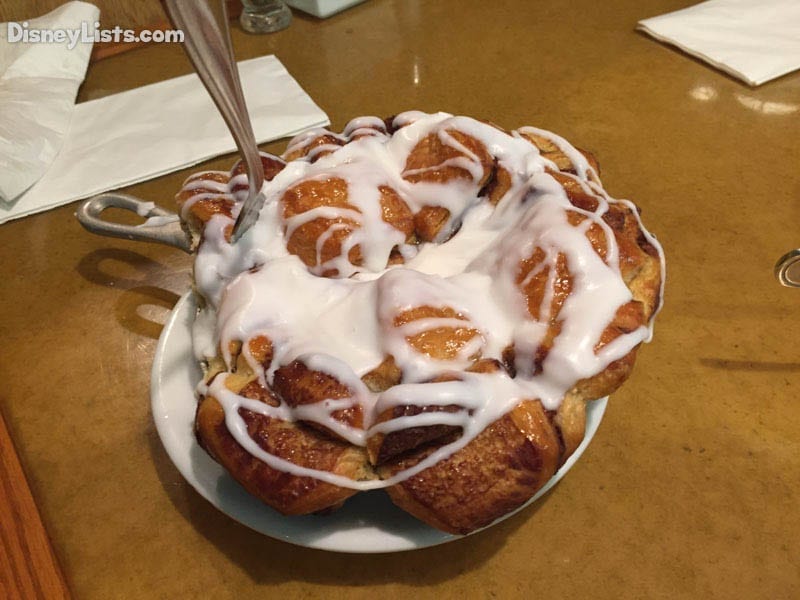 4 – Mickey in Overalls!
Editor's Note: At this time, up and close character greetings are temporarily suspended. The Garden Grill at Epcot offers a modified experience. The characters will greet your table from afar and let you take photos at a distance. 
Where else can you find Mickey Mouse dressed up in a flannel shirt and overalls? Farmer Mickey, Chip and Dale, and Pluto make their way around to the tables as you dine. Get those autograph books and cameras ready as they are super attentive and excited you have joined them at The Garden Grill. Chip and Dale are especially troublesome as they try to sneak food off your plate and even wipe their nose on the Cast Members shirts. We were celebrating a wedding anniversary and the Cast Member asked Dale to come over and celebrate with us. Definitely family-friendly fun with this crew of silly characters!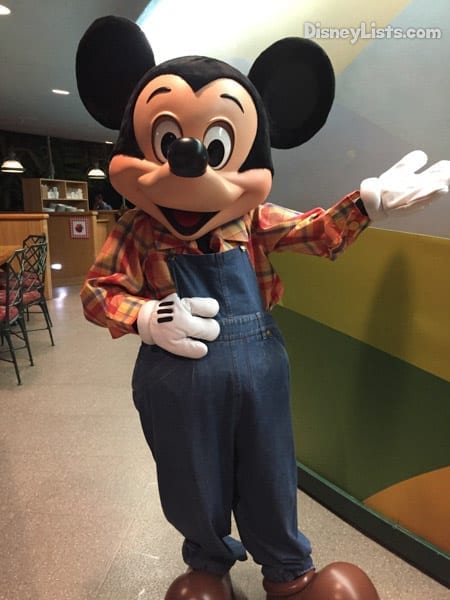 5 – Cast Members = Family
Hands down, one of the best experiences we've had at the many Disney restaurants we've been to! Our server (Steve) was absolutely exceptional. He was constantly refilling our drinks, checking in on us, and even chatted like he was part of the family. He interacted with the characters as if he was one of them and truly made us feel like we joined the Garden Grill family! We can't say enough at how pleased we were with the service here.
TIPS – Dine early (before the park opens) and you'll have the chance to see Epcot almost completely empty. If you finish breakfast before the park opens, you'll also have the opportunity to get in line for Soarin' before the rush arrives! If you haven't tried The Garden Grill because you just aren't sure if it's right for you, we feel it is worth trying at least once as we were pleasantly surprised with our experience and can't wait to go back again!
For a no obligation, FREE Quote on a Disney vacation package, please contact our travel partner Magical Vacation Planner at 407-442-0227 (407-442-0215 for Spanish). You can also request a FREE quote online by Clicking HERE.