Magic Kingdom's opening day was October 1, 1971, giving us forty-nine years of magic! If we had a time machine, oh how we would love to go back and see Magic Kingdom on that grand day! Why is it that Walt Disney World's Magic Kingdom still draws in the masses after 49 years? Well – because it's still AMAZING… and here's why.
1 – Walt's Dreams Keeping Coming True
Hands down, one of our favorite things that makes Magic Kingdom so incredible to this day is that Walt Disney's dreams are still alive and well! Even though Walt himself passed away before Magic Kingdom's opening day, his brother, Roy, made sure his dreams would unfold into what they are today. Walt's presence was said to be amongst the atmosphere on opening day, and even today we see Walt's incredible imagination present itself all over Magic Kingdom. From the littlest of details such as personal touches on the buildings on Main Street U.S.A. to the big ones such as the monorail pulling up to the front of the park – Walt is just about everywhere you turn at Magic Kingdom. Walt's vision of Magic Kingdom being a place where "the young at heart of all ages can laugh and play and learn — together" is still apparent forty-nine years later.
2 – Cinderella Castle and the 6 Lands are as Beautiful as Ever!
The "hub" style layout of Magic Kingdom was an absolute success from day one and is still very much appreciated today! At the center of the hub, guests will find the iconic Cinderella Castle which is just as stunning as ever. Surrounding the Castle are the 6 themed lands that were there on opening day and are still present today: Main Street U.S.A., Adventureland, Frontierland, Liberty Square, Fantasyland, and Tomorrowland. This layout was well thought out for the large crowds Imagineers knew would be flocking to Magic Kingdom. What seems like a simple concept is just one of the amazing pieces that we can't see ever changing from its' original footprint.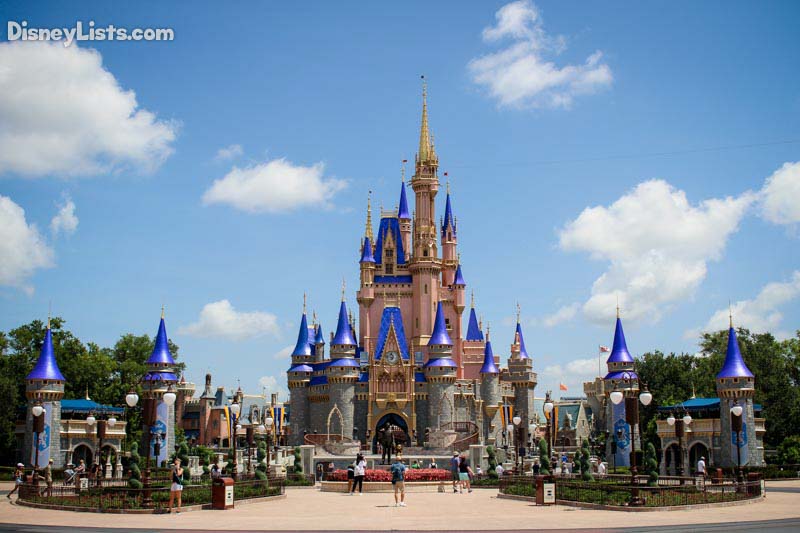 3 – It's Still All About the Mouse
Editor's Note: During the phased reopening of Walt Disney World, character greetings are temporarily suspended. You'll see characters come through each park in short parades. Click here for more information on how to see characters during the phased reopening.
On opening day at Magic Kingdom, Mickey Mouse walked the very first family into the park. Even today, guests show up in droves to visit Mickey Mouse and his many character friends. Characters even welcome guests still with an opening ceremony and rope drop. From lovable characters, to villains, to princesses – Magic Kingdom hasn't forgotten the importance of the characters as the years have passed. We can only imagine what Walt would have to say about that! Forty-nine years later and Walt's famous quote, "I only hope that we don't lose sight of one thing – that it was all started by a mouse", is being honored in extraordinary ways.
4 – Continuously Well-Staffed and Well-Organized
People like to visit Magic Kingdom time and time again because they know that when they do, they will get superb customer service and a well-organized experience. On opening day, Magic Kingdom was staffed with roughly 5,500 Cast Members that were trained to provide the park guests with magical experiences. Today, there are over 60,000 highly trained Cast Members throughout the Walt Disney World property that make it their priority to go out of their way to give guests exceptional service. From what may seem like the simplest job at Disney to the very top of the job ladder, Cast Members are "on-stage" at all times and this is apparent as a day at Magic Kingdom seems like a seamless experience!
5 – The Magic Continues into the Resorts
If you've ever had a chance to stay at one of the Walt Disney World property resorts, then chances are you would agree that yes – the magic does continue into the Resorts! On Magic Kingdom's opening day, two neighboring Disney Resorts opened as well which are now known as the Contemporary and Polynesian Resorts. While both of these resorts have undergone several changes, they both remain true to their original themes. With direct access from the monorail pouring right into Magic Kingdom, it is inevitable that pixie dust jumps from Magic Kingdom right into these resorts – plus the numerous others that have been developed in the past years.
6 – Attractions Remain Timeless
So many of Magic Kingdom's opening day attractions are still among guests' favorites! Walt Disney World Railroad, Peter Pan's Flight, Dumbo the Flying Elephant, Haunted Mansion, Jungle Cruise, Mad Tea Party, Tomorrowland Speedway, and "it's a small world," are just a few of the twenty-three attractions that opened on opening day forty-nine years ago that still have lines out the door! While these attractions are the timeless classics, we appreciate the introduction of new attractions as well while keeping to the same Magic Kingdom theme we all love.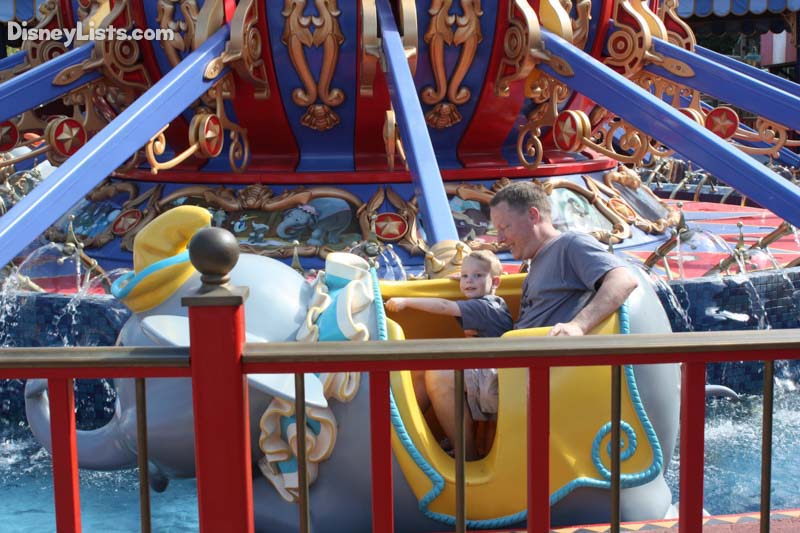 7 – Still Leading Innovations
Did you know that Magic Kingdom was the very first theme park to have continuously playing music on the pathways throughout the park? Walt Disney World has always been an innovation leader in the tourist industry in both big and small ways. From the opening day Monorail leading into Magic Kingdom to the current day MagicBands that permit guests with park access, paying abilities, and photo capturing – it seems like Walt Disney World always has the next biggest thing in their hip pocket ready to be released. Walt's quote says it best, "We keep moving forward, opening new doors, and doing new things, because we're curious and curiosity keeps leading us down new paths."
In the words of Walt, "It's kind of fun to do the impossible". And well – forty-nine years later, we celebrate the "impossible" being accomplished daily at Magic Kingdom!
For a no obligation, FREE Quote on a Disney vacation package, please contact our travel partner Magical Vacation Planner at 407-442-0227 (407-442-0215 for Spanish). You can also request a FREE quote online by Clicking HERE.