Waiting in line doesn't have to be as painful as you might think.  You can actually have a lot of fun and be entertained while you wait.  If you are worried about the lines at Walt Disney World, then here are 8 great DO's and DON'Ts for while you wait:
8 – DO check the wait times before you get in line.
You will definitely want to check the wait times before you get in line so that you can determine if you have the time to wait.  If the line is an hour wait and you have a dinner reservation in an hour, then you probably don't have time to wait.  It is far better to determine that up front before you spent a while waiting in the line, only to have to get out of it.
7 – DON'T send part of your party ahead to hold your place in line.
You may find that some guests do this, and there could be very legitimate reasons.  Sometimes a small child needs to go to the restroom while in line and one parent hurries to take them while the rest of the family continues their wait in line. I think we can all understand this one and don't let it bother us, but it is definitely not right to send one person to wait in line and then for several people to come and join them and cut ahead of everyone else.  This isn't fair and is a practice that will likely frustrate all of the guests that you pass.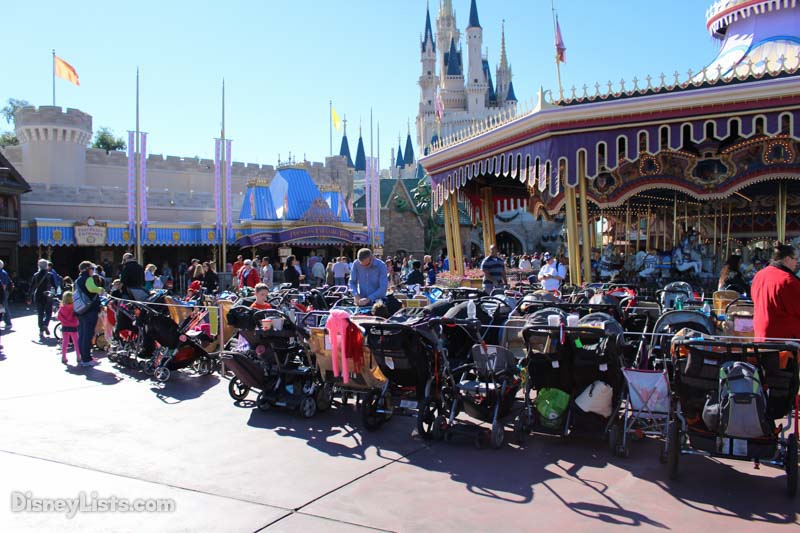 6 – DO determine if you need to park your stroller or not.
Some ride queues allow you to bring your stroller with you, and others you have to park before you enter the queue.  You will want to know this so you can determine if you can deal without your stroller for the wait.  You should be able to find stroller parking close by, and will want to remember where you park your stroller so you can find it after you exit the attraction.
5 – DON'T carry things in line with you that you can't bring on the ride.
If you have a stroller or someone waiting behind, then it is a good idea to leave items there if you can.  It is easier to not carry a lot with you on the attraction, and some attractions aren't very well suited to carry big bags with you while you ride.  Ask cast members at the entrance to the ride queue if you have concerns about carrying items on with you.
4 – DO follow directions for bring food/drinks in line.
There are outside ride queues where you are allowed to have food and drink in line while you wait.  There are other ride queues, particularly indoor ones where you will be asked to ditch your snacks before you enter.  You will want to pay attention to this so that if you want to finish your beverage or snack, you have time to do so before you ride the attraction.
3 – DON'T be disruptive to other guests.
You should definitely have fun and enjoy the experience, but be mindful of everyone around you.  You will be in very close proximity to other guests.  You should try to keep conversations from being too loud, and keep them appropriate for any guest or small child that may be in earshot.  Also, if you have been on the attraction before don't spoil the experience for other guest by giving away what occurs.  Many guests around you will have never been on the attraction and may not even know much about it, so you don't want to ruin it for them or negatively impact their experience.
2 – DO look around for magical extras and immersive components of the queue.
Many of the ride queues have fun games and/or interactive experiences to help keep you entertained while you wait.  Not only that, the queues are perfectly themed to go with the attraction and there are often many details and extras hidden in plain sight.  Look around and take in all the details and you will likely notice some pretty cool things!
1 – DON'T spend all of your time staring at your phone.
I know that in today's society it is pretty common for everyone to have their phone out and looking around at various social media sites. I highly recommend that you try to minimize phone time and be in the moment.  Look around at all of your surroundings, talk and interact with your family, talk to the guests with you in line and possibly make a new friend… this is all part of the experience that you won't want to miss out on.  You can play on your phone any time!
For a no obligation, FREE Quote on a Disney vacation package, please contact our travel partner Magical Vacation Planner at 407-442-0227 (407-442-0215 for Spanish). You can also request a FREE quote online by Clicking HERE.