Hollywood Boulevard is the main street on Disney's Hollywood Studios that is the street you walk down as soon as you enter the park.  It is the street that leads to all other streets within the park, so you can't miss it.  Here are 7 reasons why we totally love Hollywood Boulevard:
7 – The views of the Chinese Theater.
The Chinese Theater is the icon at the end of Hollywood Boulevard. It is a replica of the Chinese Theater directly from Hollywood in California. There are even handprints in the cement in front of the theater where you can test your handprints against famous celebrities. Walking down towards the theater, you can see how impressive it is and how beautiful it looks like the rest of the Hollywood Boulevard scenery.
6 – There is an instant feel of Hollywood nostalgia when you enter the park.
The park is very much designed after the early 1930's Hollywood type of era. It gives you the feel of what you would have expected the glitz and glamour of Hollywood to look like if you had visited the real Hollywood during that time. There are palm trees, twinkle lights in the trees, stunning window displays, and facades on the buildings that help to transport guests back decades to old-school Hollywood.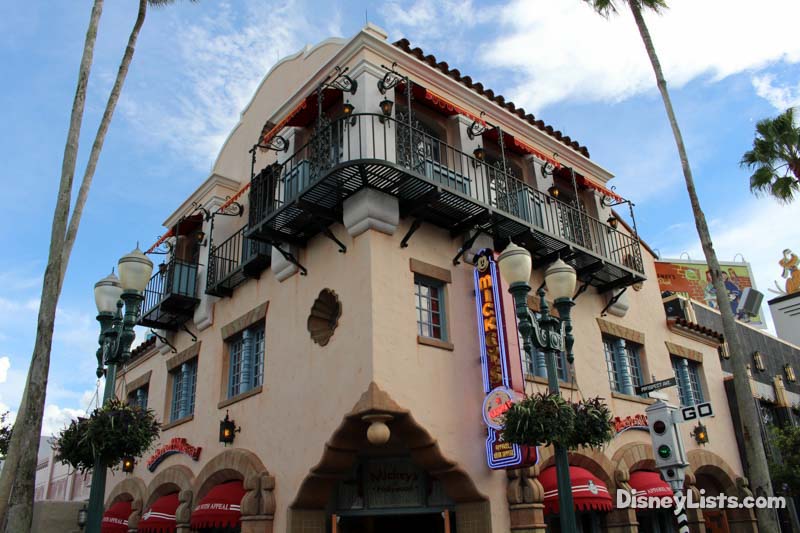 5 – A trip to The Trolley Car Café.
The Trolley Car Café is the Starbucks location at Disney's Hollywood Studios. A trip to The Trolley Car Café will allow you to get a delicious coffee as well as a variety of treats, bakery items, breakfast sandwiches, and more. This is a must-stop location for our family. We love getting charged up with a Starbucks coffee and treat to get us started on a fabulous day in the park.
4 – The fantastic shopping experiences.
There are so many great shops on Hollywood Boulevard to pick from. Keystone Clothiers has recently been refurbished and is loaded with Star Wars apparel, gifts, and gear. There are numerous other gift shops on Hollywood Boulevard with all types of souvenirs, including camera supplies, the iconic Mickey ear hats, kitchen gear, Christmas ornaments, t-shirts, and so much more. You will find a huge variety of different souvenirs to look for. You definitely want to spend time shopping on Hollywood Boulevard while you are there.
3 – Citizens of Hollywood encounters.
Editor's Note: the Citizens of Hollywood are temporarily unavailable.
Some characters roam the streets of Hollywood Boulevard to interact with guests. They are costumed and in characters as citizens that are from 1930's Hollywood. There is the utilities department, police officers, actors, city officials, etc. They roam the streets and even have their own vehicles to drive around while they talk to guests and involve them in their Hollywood antics. They will even stop and pose for pictures with guests and include them in their skits and games. It is extremely fun and makes for unique experiences each time guests walk down the street.
2 – Mickey and Minnie's Runaway Railway
In this bold and innovative new family adventure, guests go through the movie screen inside the park's re-creation of the Chinese Theatre and into the whimsical world of Disney Television Animation's Emmy Award-winning "Mickey Mouse" cartoon shorts. There they discover why "mouse rules apply" and anything can – and does – happen! With an original "Mickey Mouse" story by Walt Disney Imagineering featuring the new song "Nothing Can Stop Us Now," Mickey & Minnie's Runaway Railway is a celebration of Disney heritage and a showcase for state-of- the-art storytelling and attraction design. It's a charming experience for the entire family – from grandparents to grandchildren and everyone in between – full of surprises and pure, joyous fun befitting those true originals, Mickey Mouse and Minnie Mouse. This amazing new attraction is not to be missed!
1 – Amazing views of the evening fireworks.
Editor's Note: At this time, the Star Wars fireworks show is temporarily suspended.
When Disney's Hollywood Studios hosts fireworks, they are definitely a fantastic sight to see. In the most recent months, the fireworks show has been a Star Wars show performed with music from Star Wars movies and projections from the film on the Chinese Theater and surrounding buildings. Standing on Hollywood Boulevard is the best place to view the shows. The exact best location is closer to the Chinese Theater than at the start of the street close to the entrance.
For a no obligation, FREE Quote on a Disney vacation package, please contact our travel partner Magical Vacation Planner at 407-442-0227 (407-442-0215 for Spanish). You can also request a FREE quote online by Clicking HERE.