Aerophile is an amazing balloon ride that you can experience while you are at Disney Springs (its former name is Characters in Flight). This is the only way to get the best bird's eye view of all of Walt Disney World and the surrounding areas.  If you are thinking about trying it out, here are eight things that you definitely need to know.
8 – It isn't owned and operated by Disney.
This experience is definitely amazing and the only one like it on Disney property. The balloon was custom built by the company that owns it to meet Disney design standards, but it is actually not owned or operated by Disney. While they do offer a DVC discount, they do not offer any for Florida Residents, Annual Passholder, etc.  When you see the prices, expect to pay full price unless you have a different coupon.  The prices listed do include tax, so they are actually what you will pay to fly.
7 – It isn't a hot air balloon.
Many guests automatically assume that it is a hot air balloon experience.  This is actually not the case.  The balloon is actually filled with helium.  The crew has to refill the balloon with fresh helium about every 6 months!  It actually holds 210,000 cubic feet of helium if you can imagine that.  The balloon is 19 feet in diameter and can hold a total of 30 people (including the pilot).
6 – Ticket prices and purchase options.
The cost for this attraction including tax is $25 per adult and $20 for children ages 3-9.  They do permit children 2 and under to go on for free, which is great for families with small children.  Just keep in mind that smaller children may get scared by going up so high and by the caged in a basket that you will be in for the duration of the experience.  Also, keep in mind that guests under 12 must be accompanied by an adult (18 years of age or older) and are not permitted to ride without one.
5 – Hours of operation (weather permitting).
The flights usually start to take off around 9 AM most mornings and then keep going repeatedly throughout the day until around midnight.  The hours are subject to change based on various events.  The hours are also subject to change due to weather conditions.  Flights can't operate if winds are greater than 22mph or if there are any storms or inclement weather that would prevent guests from safely enjoying the experience.
4 – Be sure to check Groupon and other discount sites.
There is a DVC discount for this attraction. Currently, DVC Members save $10 on tickets for adults and children from 8:30 to 10:00 AM and 20% off full ticket prices after 10:00 AM (weather permitting). There is no annual passholder discount at this time. There are also often Groupons and other coupon opportunities that will help you get a discount, or even get 2 for the price of 1 deal.   Be sure to check these options and look closely at the fine print for usage information.  It matches your plans, you maybe be able to save a few bucks!
3 – Guests must transfer to ride.
If you are in a wheelchair or electric scooter, the walkway and platform to get to the ride are accessible, but you must be able to transfer to go on the attraction.  This means that you must be able to stand for the entire duration. The experience is also not recommended for expectant mothers or anyone with heart problems or any other condition that the experience could aggravate.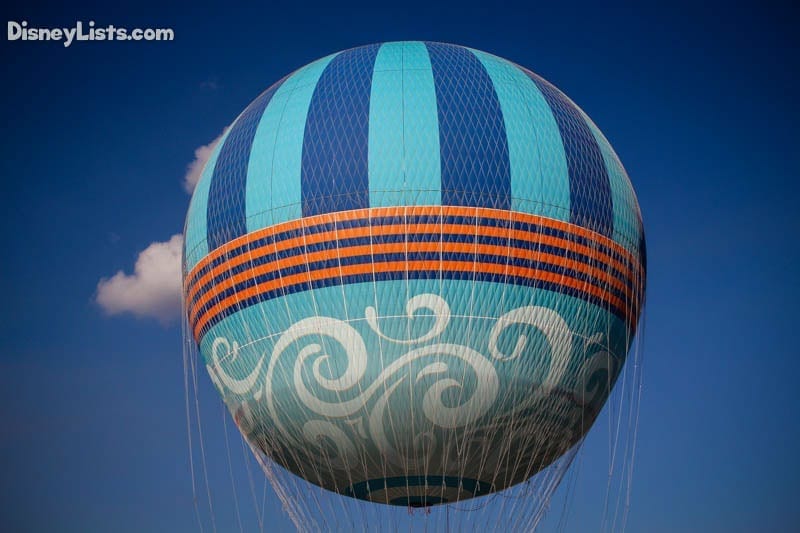 2 – You can't carry anything on.
To board Aerophile you will not be permitted to carry anything on with you.  No bags, food, drinks, strollers, etc. will be allowed on your flight.  You will need your hands free in order to hold on to the rails if you wish.  You can set your belongings to the side during your flight, just plan ahead and know that they will not let you board with these items.
1 – What to expect from the experience.
Once you board the flight, the pilot will have everyone spread out in order to balance the weight distribution in the basket.  The basket is covered on both sides with fencing, so there is no way you can get out (if you are claustrophobic, you may want to look and see if this will bother you).  Your pilot with then start to take flight.  The launch and the landing are both the bumpiest part of the ride, so you may want to hold and make sure any children are holding on, too.  You will be taken as high as 400 feet in the air where you will be able to see about 10 miles away from Disney Springs in all directions.  You can see all over Walt Disney World Resort and many of the resorts and park icons.  You will get to enjoy these views and take it all in for about 8 to 10 minutes before you make your descent back to the ground and exit.  It really is an amazing experience and seems much higher than it looks once you are up there!
For a no obligation, FREE Quote on a Disney vacation package, please contact our travel partner Magical Vacation Planner at 407-442-0227 (407-442-0215 for Spanish). You can also request a FREE quote online by Clicking HERE.