Of all the Disney theme parks, Magic Kingdom is our absolute favorite! We love the other parks for special reasons as well, but Magic Kingdom just screams Disney to us, which is why we keep going back time after time. Here are our top 9 favorite things we love doing while at Magic Kingdom. Do any of these make your Magic Kingdom favorites list?
9 – Exploring the Different Lands
Stepping foot into Magic Kingdom is an immediate awe-inspiring moment with Main Street, U.S.A. inviting guests in for a view of the Cinderella Castle in the distance. But the magic doesn't stop there! Magic Kingdom has 6 different lands that are all unique and set a tone unlike the other – Main Street U.S.A., Adventureland, Frontierland, Liberty Square, Fantasyland, and Tomorrowland. With each land different in appearance, music, food venues, attractions, and entertainment – there is something about every land that makes us want to go back for more!
8 – Shopping on Main Street U.S.A.
What would a trip to Magic Kingdom be without a little shopping on Main Street, U.S.A.? We love the shops on Main Street and are sure to set aside time to browse from shop to shop, which are all conveniently connected on each side of Main Street. Some of our favorite shops include the Emporium and Main Street Confectionary. Don't forget about the other gift shops and kiosks located throughout the park.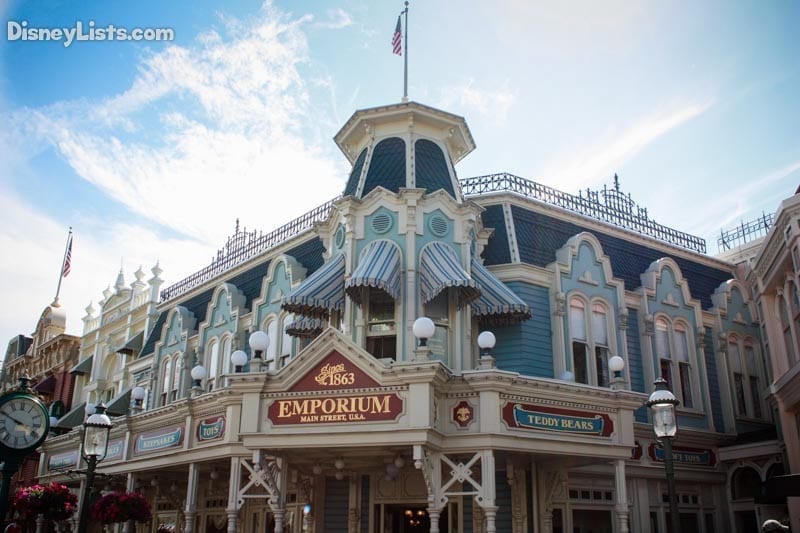 7 – Eating Our Way Through the Park
Editor's Note: During the phased reopening of Walt Disney World, not all restaurants have reopened. Be sure to check the My Disney Experience app for up to date hours.
We mentioned the Main Street Confectionary above, so of course, our taste buds would like a chance to speak and share their love for Magic Kingdom's food! Whether we are fortunate enough to dine at Be Our Guest Restaurant, grab a hot dog at Casey's Corner, or sit down and relax with a Dole Whip at Aloha Isle – we find Magic Kingdom's food always matches our cravings at just the right time. With some of the most famous Disney meals and snacks, eating our way through Magic Kingdom is an inevitable experience for us!
6 – Riding Walt Disney World Railroad
Editor's Note: The good news is we're getting a fantastic new major attraction in Tomorrowland, Tron Lightcycle Run. The bad news is the operation of the Walt Disney World Railroad has been temporarily suspended to accommodate construction. 
How often do you get to climb aboard a vintage steam-powered train? What may seem like a boring ride to some, the WDW Railroad is a definite favorite for our family. The train makes 3 stops at Main Street U.S.A, Frontierland, and Fantasyland and, in total, takes roughly 25 minutes to go around the park once. It's a perfect way to relax and enjoy the scenery around you.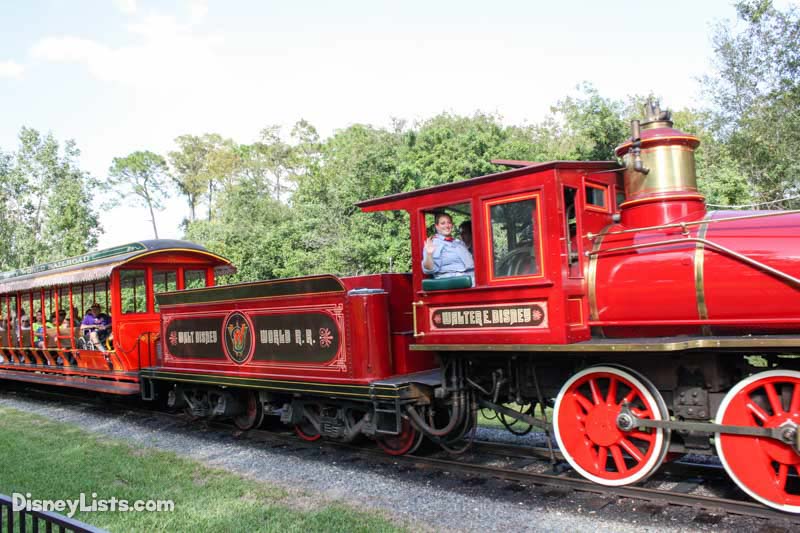 5 – Seeing Princesses and Characters
Editor's Note: During the phased reopening of Walt Disney World, character greetings are temporarily suspended. You'll see characters come through each park in short parades. Click here for more information on how to see characters during the phased reopening.
It seems like at least once (if not more) during our visit at Magic Kingdom, we have an outstanding experience with a character. We don't just mean the usual warm and fuzzy visits, posing for pictures, and autographs – but a standout moment. For example, we can remember walking through the Castle one morning early for a Cinderella's Royal Table breakfast. Mickey himself walked out and surprised us all! Instead of a wave and hurrying off to wherever he was headed, he looked as excited to see us as we were to see him! Big hugs from Mickey and we were on our way to breakfast. It's these special moments with characters and princesses that seem to happen at Magic Kingdom more so than any other park.
4 – Arriving Early for Opening Ceremony
Editor's Note: During the phased reopening of Walt Disney World, Magic Kingdom does not open an hour early. Cast Members have told us they would like guests to arrive at park opening. However, they will open the gates early to avoid crowding, but it will not be at any set time. Let the Magic Begin is not operating. 
If you haven't had the chance to arrive just before park opening for the Magic Kingdom's Opening Ceremony, we highly recommend you add this to your plans! The opening show, "Let the Magic Begin," opens the park 5 minutes before the posted opening time. A Royal Herald invites you to join Mickey and friends as they open the park in a magical way. This stage show takes place at the Castle Forecourt Stage. While it does not have the same charm as the Welcome Show that took place at the park gate, it still sets the tone for a special day at Magic Kingdom. All sorts of characters, exciting music – we find the opening ceremony to be an easy favorite to add to this list.
3 – Riding The Attractions
Of course, riding all of the attractions is a favorite for us! We enjoy all sorts of rides from big ones to small ones, old to new, and everything in between. Where else can you fly with Dumbo, get spooked by the ghosts on Haunted Mansion, breeze through a mine with the Seven Dwarfs, laugh with Monster's Inc. characters, get "It's a Small World" stuck in your head for hours, and scream through the darkness on Space Mountain – all in one park!
2 – Watching the Parades and Stage Performances
Editor's Note: During the phased reopening of Walt Disney World, the Festival of Fantasy parade and Mickey's Royal Friendship Faire are temporarily suspended.
No debating it, Magic Kingdom has the very best parade on Disney World property. The Festival of Fantasy Parade is the best day parade we have ever seen at Magic Kingdom. It is spectacular and totally worth waiting in a good spot to see all the floats, characters, and entertainers. Another form of entertainment we love is the stage performance in front of the Castle throughout the day – Mickey's Royal Friendship Faire. It's like watching a fairytale unfold live!
1 – Staying for the Nighttime Magic
Editor's Note: During the phased reopening of Walt Disney World, Happily Ever After is temporarily suspended.
The number one favorite thing we love doing at Magic Kingdom is sticking around for the nighttime magic that takes place daily! It's tough to explain how magical this time is in the park. Happily Ever After, Magic Kingdom's nighttime spectacular is a fantastic kind of Disney storytelling, one that takes you on a journey filled with heart, humor, and emotion. In addition to fireworks, the new show features more lasers, lights, and projections than any previous show at the Magic Kingdom. The 18-minute spectacle features characters and scenes from numerous Disney and Pixar films, with an emphasis on the newer films from the last 10-15 years. Don't miss Tinker Bell as she soars through the sky! One of us (or maybe both of us) has cried at least once as we watch the excitement on our children's faces. Simply an enjoyable family experience! You don't want to miss it! Read all you need to know about Happily Ever After here.
For a no obligation, FREE Quote on a Disney vacation package, please contact our travel partner Magical Vacation Planner at 407-442-0227 (407-442-0215 for Spanish). You can also request a FREE quote online by Clicking HERE.