Wondering what to do with your holiday leftovers? Well, Disney Parks has shared another delicious recipe and it will solve the dilemma over what to do with those turkey day leftovers! Learn more below.
Here are all the details from Disney Cast Member Karen McClintock:
Earlier this week, we shared a recipe for Ham Sliders with Pineapple Cherry Jam that is sure to take your Thanksgiving leftover game to the next level. Today, we are talkin' turkey…and stuffing!
We recently published the Foodie Guide to the Taste of EPCOT International Festival of the Holidays highlighting so many delicious dishes from the Holiday Kitchens this year.
But for today, I selected one of my favorite recipes from a past holiday festival – Leftover Stuffing Waffles with Turkey, Gravy, Mashed Potatoes, and Homemade Cranberry Sauce. This remix of the traditional Thanksgiving feast is the ultimate plate of leftovers – complete with crispy stuffing waffles! (Disney bonus points if you make your stuffing waffles with a Mickey-shaped waffle maker found at shopDisney.com!)
Happy Thanksgiving from our Disney Kitchens!
LEFTOVER STUFFING WAFFLES WITH TURKEY, MASHED POTATOES, GRAVY, AND HOMEMADE CRANBERRY SAUCE
EPCOT® International Festival of the Holidays
Serves 6
CRANBERRY SAUCE
12 ounces cranberries
1 cup sugar
1 cup water
Zest of 1 orange
WAFFLES
4 1/2 cups leftover stuffing, crumbled
2 eggs, beaten
1/4 to 1/2 cup heavy cream
Vegetable oil, for brushing waffle maker
TO SERVE
1 pound warmed leftover turkey, sliced
2 cups warmed leftover mashed potatoes
2 cups warmed leftover gravy
FOR CRANBERRY SAUCE:
Stir together cranberries, sugar, water, and orange zest in saucepan over low heat. Cook, stirring occasionally, about 10 minutes, until sugar dissolves and cranberries are soft.
Increase heat to medium and cook about 12 minutes, or until cranberries burst. Cool to room temperature before serving.
FOR WAFFLES:
Preheat waffle maker to medium-high. Combine stuffing, eggs, and 1/4 cup cream. If mixture is too dry and not spreadable in the waffle maker pockets, add more cream as needed, until mixture is just wet enough to spread.
Generously brush top, bottom, and all pockets of waffle maker with oil.
Evenly and firmly pack each pocket of the waffle maker full with stuffing mixture. (Note: If using a mini waffle maker this will make 12-14 mini waffles. A larger waffle maker (6"-8" in diameter) will yield 6-8 waffles). Close and cook about 7 to 8 minutes, until golden and the waffles easily lift out of waffle maker.
TO SERVE:
Place two mini waffles or one large waffle on each plate. Top each with turkey, mashed potatoes, gravy, and cranberry sauce.
Note: Always use caution when handling sharp objects and hot contents. Please supervise children who are helping or nearby. This recipe has been converted from a larger quantity in the restaurant kitchens. The flavor profile may vary from the restaurant's version. 
Click here for a print-at-home version of this recipe.
RELATED ARTICLE: 7 Best Disney World Holiday Souvenirs
by Christy Caby
The holiday season is my absolute favorite time of the year.  I get into all of the lights, music, decorations, etc.  I can't get enough of it.  When it comes to creating the magic at home with the holidays in mind, there are many great souvenirs that you can get from the parks that will definitely bring the Disney Magic to your home for the holidays.  Here are 7 of my favorites:
7 – Books
There are several great Disney holiday books that you can buy while on property.  You can get storybooks, cookbooks, holiday history books, and many others.  Books are a wonderful souvenir to bring home for the family.  The stories can be told time and time again and enjoyed over the years.  The kids can learn to read these books for themselves and they can be passed down to their kids and so on.  The cookbooks can make delicious meals for your family, and become new family favorites that are shared with other family and friends.  There is a lot of love that can be had from books, and they are a great investment for the family, and it's even better when they can become a part of holiday traditions.
6 – Tree Skirt
Disney stores sell amazing tree skirts.  They are beautiful and would look amazing around your family tree.  It is a great reminder of the memories from your vacation and is Disney magic for the tree!  The tree skirts sold in the gift shops can be quite expensive, so if you aren't looking to make that investment (while I do feel it is worth it) you can also buy a tree skirt that is able to be written on with a sharpie.  You could have various characters sign it so that you have a tree skirt full of character signatures.  If you want to make it even more special, you can add a handprint for each family member!  Either way, you go, it will be a great souvenir and extra love for the holiday.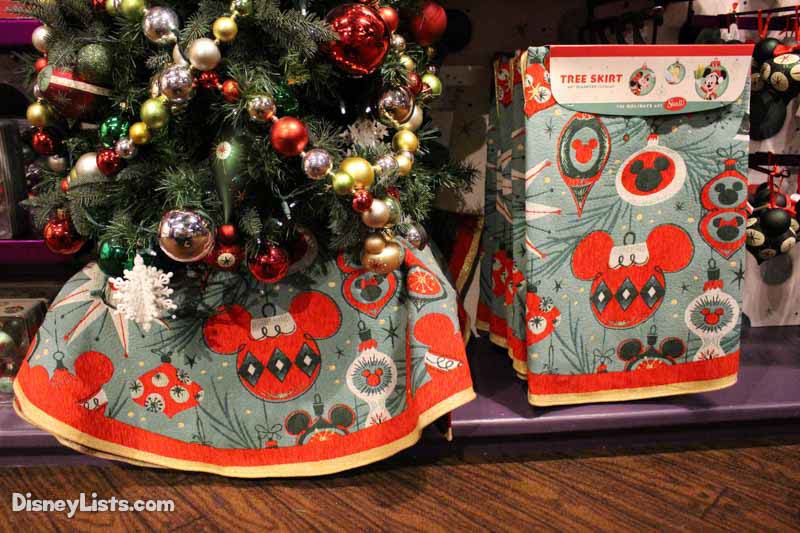 5 – Stockings
There are also amazing selections of Disney stockings.  There are even stockings for popular characters, so you may be able to find your favorite.  There are different designs and themes, too.  Again, if you have a tight budget you could look at buying stockings from home that can be written on with a sharpie.  Have the characters sign them and create stockings that are an amazing personalized souvenir for each family and are incredibly unique, too!  You will remember collecting the signatures and the fun you had when you hang the stockings each year.  Both options are great and will fill your house with holiday cheer.
4 – Plush
This are a lot of plush that are dressed in Christmas inspired outfits available for sale.  These make great souvenirs, too.  You can use them for decorations on shelves, additions to the tree, mantle decorations, centerpieces and so much more.  We have bought several of them through the years and use them all over.  There are varying sizes and characters, so you can get what works best for you and your family!  Plus, you can hug them a little bit, too!
3 – Disney Buttons, Magic Bands, etc.
You might be wondering why these items make the list.  Well, many of the Disney freebies you get can make awesome additions to ornaments, wreaths and various other holiday décor.  If you are crafty, you can either create your own masterpieces or look around Pinterest or Etsy for lots of ideas on how to use these items to create holiday magic to enjoy year after year.  The best part is that you get these items for free during your stay, so if you are on a tight budget, this won't be a problem and can still make amazing items that will bring you and your family lots of holiday cheer.
2– Pictures
Editor's Note: During the phased reopening of Walt Disney World, character greetings are temporarily suspended. You'll see characters come through each park in short parades. Click here for more information on how to see characters during the phased reopening.
So what I mean by this is your vacation pictures, especially if you visited during the holiday season or past holiday seasons.  If not, take lots of pictures around the Christmas shops and decorations in those shops.  I actually change out a lot of the decorations and artwork in our house during the holiday season so that it can be more Christmas inspired artwork.  You can buy frames for the photos at Disney or you can buy frames back home and make photo collages of Christmasey photos from your trip.  Photos are often the best souvenirs since they capture amazing memories that you remember each time you look at them, even if the memory starts going hazy over the years.  It also brings the Disney magic and the holiday cheer.  It is the best of all worlds!
1 – Ornaments
This is definitely the best and one of the favorite holiday souvenir purchases.  You can get ornaments for various attractions, events, characters, parks, and just about anything you can imagine.  Since ornaments are sold all year long, so no matter when your vacation is, you can bring a little bit of Disney home with you to enjoy during the holidays.  You can even get them personalized (depending on the location and the type of ornament that you select).  We made it a yearly tradition for our family where we each pick out an ornament for each Disney vacation.  By doing this we add more and more Disney to our tree and can treasure the memories from the vacation when we are putting our ornaments on the tree.  It is a wonderful way to commemorate your Disney trip and bring more warmth to the holiday.
For a no obligation, FREE Quote on a Disney vacation package, please contact our travel partner Magical Vacation Planner at 407-442-0227 (407-442-0215 for Spanish). You can also request a FREE quote online by Clicking HERE.