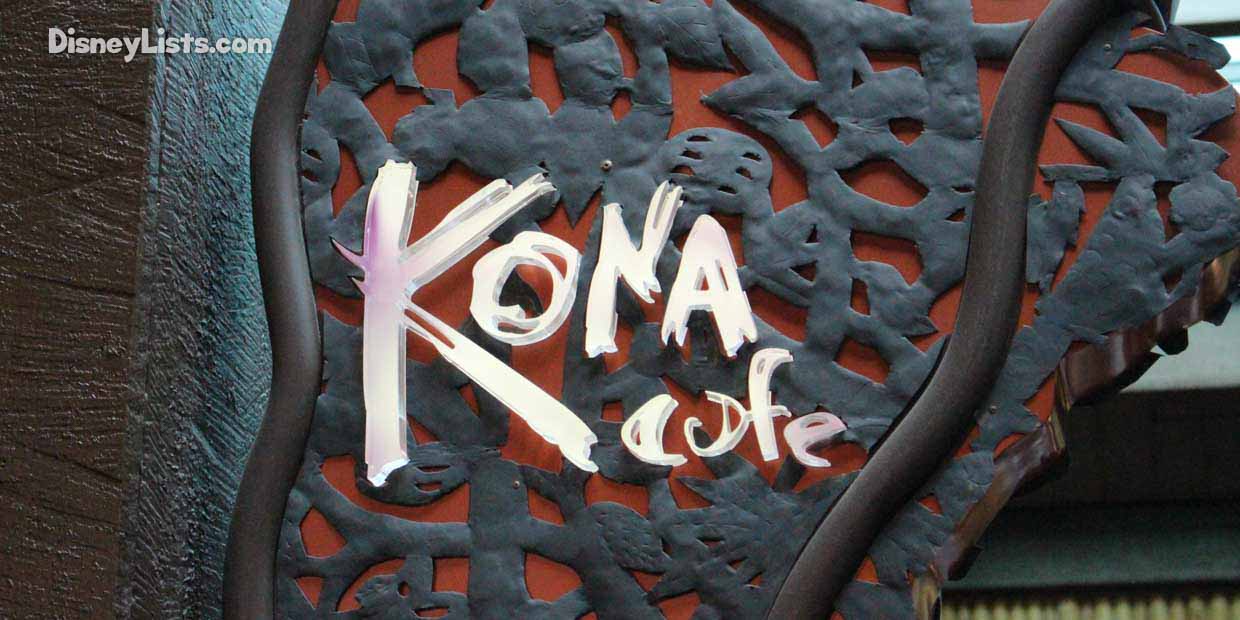 Aloha Disney Fans! Looking for a great dining experience at the right price with all the right flavors? Look no further than the Disney Resort, table service restaurant – Kona Café. In case you were wondering, "Kona" is actually a Hawaiian name meaning "Lady". Check out these 5 things we feel you should know before giving this little "Lady" Café a try!
1 – Polynesian Village Resort Perks
Editor's Note: The Polynesian Village Resort is undergoing a refurbishment through summer 2021, but the restaurant is still open. The monorail station is closed, however, so you'll need to get off at the Transportation and Ticket Center (TTC) and walk over to the Polynesian Resort. Bus transportation to the resort is still available.
Kona Café is located at Disney's beautiful Polynesian Village Resort where the sights and smells around the lobby are enough to make anyone want to stay! But, whether you are or are not a Polynesian Resort guest, you are still welcome to dine at Kona Café. Simply be sure to make a dining reservation and you will be allowed in the gates to park. If you are staying at Grand Floridian or at the Contemporary Resort, just hop on the Monorail. Explore the Polynesian Resort, enjoy the BouTiki gift shop, and be awe-inspired by the tremendous views out the back door of the Polynesian Great Ceremonial House (lobby). Just head upstairs in time for your dining reservation to the open layout of the Kona Café which neighbors the Polynesian's Ohana Restaurant.
2 – South Seas Inspired Atmosphere
When we think of Kona Café, we may think of only the Hawaiian themed atmosphere this restaurant offers – but what you may not know is that it has a great deal of Asian inspirations with it! As you approach Kona Café you'll immediately be drawn to the dynamic colors and vibrant designs from the lighting to the incredible carpet. A host/hostess will guide you from their stand to what looks like a short runway entrance facing the large kitchen window and mosaic filled counter space where pastry Chefs are hard at work displaying their yummy masterpieces for all to see! As you look to your left, you'll spot the Sushi bar with Chefs creating all the usual sushi lovers' favorites. With a good mixture of booths and tables, the space does tend to get crowded on busy days. The open and airy feel of the restaurants helps with very few dividers or walls blocking the view out to the lobby's second floor.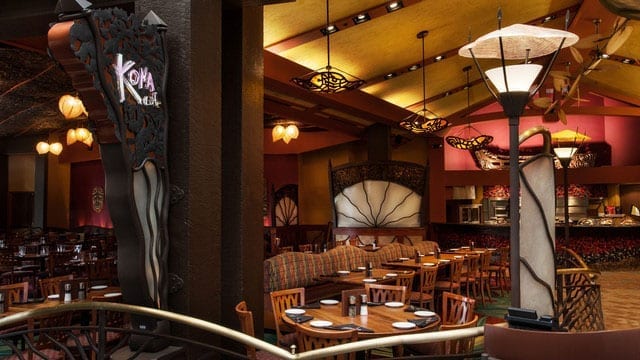 3 – American Cuisine with Hints of the Tropics
Serving breakfast, lunch, and dinner – Kona Café offers up a great deal of delicious food at a lower cost than one might find at the neighboring Ohana Restaurant. Kicking it off with their hearty breakfast options, Kona Café boasts the famous Tonga Toast as their most popular menu item. Tonga Toast is really French Toast with a twist as it is banana-stuffed sourdough rolled in cinnamon sugar and served with a strawberry compote! It's absolutely incredible and one of our favorite Disney foods. Breakfast also has menu items such as pancakes, omelets, eggs, bacon and sausage in several different plated forms. We also recommend you try the Liliko'i Juice for breakfast (orange, passion fruit, and guava blend). For lunch, you can select from a great list of heavy meals or meals on the lighter side. Some of the menu items are fish or barbeque tacos (yum!), chicken with coconut and mango sauces, Asian noodles with shrimp, Kona turkey sandwich, Kona surf burger, and steak salad – just to name a few! Dinner entrees are stepped up a notch from the lunch menu with some of the same options plus extras like the grilled New York strip and the Kona Coffee rubbed pork chop. Partner your meal with one of Kona's Café refreshing adult beverages while you are at it! Plus, don't forget to treat yourself to a dessert as Kona Café has some awesome treats like the Kilauea Torte, Jasmine Tea-infused cheesecake, and warm apple tart. Oh… we want more already!
4 – A Sushi Lover's Dream
Kona Café is the right place for a dinner if you are seeking some of Disney's best sushi on property! Kona has multiple sushi offerings on the menu which are created fresh from the Sushi kitchen on sight. With selections like the volcano roll, spicy tuna rolls, lava roll, Nigiri, and Sashimi – it's hard not to want them all. We recommend the Kona combo plate which provides you with tuna rolled in Nori with chef's choice of Nigiri and Sashimi. A little bit of variety and some of the favorites on one plate!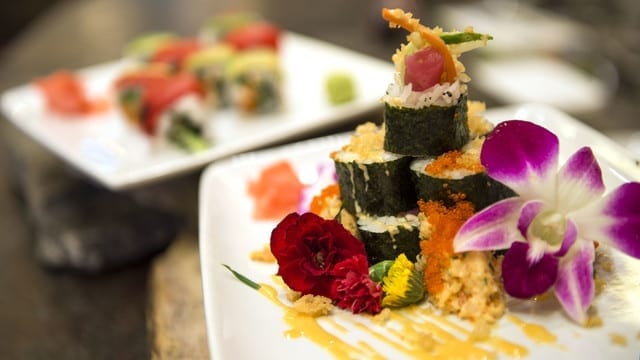 5 – In the Know
While we are ultimately fans of Kona Café and do recommend that everyone try it at least once, there were quite a few hiccups in our last dining experience over lunch there. We made reservations prior and when we arrived the restaurant was very busy so we expected we'd have to wait. We did, however, feel like we waited for a long time compared to our other Disney dining reservation experiences. When seated in the beautiful restaurant, we were seated next to one of the dividing walls where runners bring food out. With two kids in tow, it was a consistent task to be sure their chairs were pulled all the way in so the busy servers and food runners could get through. Because of this experience, we recommend that you ask for a seat away from the kitchen if at all possible. This makes for a much more pleasant experience! The service was lacking at our last experience and they actually ran out of clean forks which was odd. But, again – this was just one experience. Always, however – when the food comes out we are reminded of why we still would recommend Kona Café! It's truly fresh and delicious food we can't pass up. Again, we recommend asking to be seated away from the kitchen for the best possible experience!
For a no obligation, FREE Quote on a Disney vacation package, please contact our travel partner Magical Vacation Planner at 407-442-0227 (407-442-0215 for Spanish). You can also request a FREE quote online by Clicking HERE.