News
NEWS: Disney Parks to Provide an Exciting Lineup of Presenters for D23 Fantastic Worlds Celebration Virtual Event
The D23 Fantastic Worlds Celebration has gone virtual this fall there are some pretty exciting Disney Parks panels that will be fascinating and information! The best part is that you can enjoy them from the comfort of your own home! Learn more below.
Here are all the details from Disney Cast Member Thomas Smith:
An exciting line up of Disney Parks presenters will participate in five panels that are a part of the D23 Fantastic Worlds Celebration, a week of virtual events, articles and merchandise releases celebrating all the wonderful worlds of Disney taking place November 16 – 20 on D23.com.
Premiering at 3 p.m. PT / 6 p.m. ET on Monday, November 16, Brad Schoeneberg, Tracie Alt and Cody Hampton from the Disney Parks Merchandise team explore the rich storytelling that goes into the exotic and authentic imports of Star Wars: Galaxy's Edge!
It's all aboard at 3 p.m. PT / 6 p.m. ET on Wednesday, November 18, for a birthday celebration of everyone's favorite pals, Mickey Mouse and Minnie Mouse! Host Mark Daniel takes you on an inside a look at the wild and zany world of Mickey & Minnie's Runaway Railway at Disney's Hollywood Studios with one of the attraction's lead Imagineers, Kevin Rafferty. Then get a special look at the new Disney+ series "The Wonderful World of Mickey Mouse" and hear from Bret Iwan, official voice of Mickey Mouse, as he shares a sneak peek of his designer Mickey Ears.
Once you decide you are going to Walt Disney World Resort, the fun really begins. The dreaming, planning and sharing of excitement takes on a magic of its own. At 2 p.m. PT / 5 p.m. ET on Thursday, November 19, join host and Walt Disney World Ambassador Stephen Lim as he talks with fellow planners sharing stories and secrets on creating a memorable vacation to The Most Magical Place on Earth and discover how a great big beautiful tomorrow is just a dream away.
Premiering at 3 p.m. PT / 6 p.m. ET on Thursday, November 19, host and Walt Disney World Ambassador, Marilyn West, is joined by Zach Riddley, Imagineering Portfolio Executive for Walt Disney World Resort and Melissa Valiquette, Vice President of EPCOT as they share about the Magic of Possibility at EPCOT and how this park is transforming today and building toward the future. You'll also hear from Pixar's Roger Gould and Harley Jessup along with Tom Fitzgerald from Walt Disney Imagineering about the making of Remy's Ratatouille Adventure and what it takes to bring this animated favorite to life in the France pavilion.
Finally, as a D23 Gold Member Exclusive, Creating Fantastic Worlds: A Journey into Disney Worldbuilding premiers at 3 p.m. PT / 6 p.m. ET. From San Fransokyo and Wakanda to Treasure Cove, Mustafar, and beyond, enjoy the ultimate conclusion to D23 Fantastic Worlds Celebration as we bring together creative wizards from across the realms of Disney to share a collective look behind the magic in creating the worlds that we all love. Hosted by Justina Ireland, this all-star lineup of creative geniuses will include Paul Felix, Production Designer, Walt Disney Animation Studios, Noah Klocek, Production Designer, Pixar Animation Studios, Luc Mayrand, Creative Portfolio Executive, Walt Disney Imagineering, Ryan Meinerding, VP of Visual Development, Creative Director, Marvel Studios, Mark Miller, Executive Creative Producer, ILMxLAB and Andy Park , Director Visual Development, Marvel Studios. Gold Members can register here! Not a Gold Member? Learn more here.
Be sure to join D23: The Official Disney Fan Club for an exciting week of more virtual events, articles, and merchandise releases celebrating all the fantastic worlds of Disney by visiting D23.com, Facebook.com/DisneyD23, or YouTube.com/DisneyD23.
RELATED ARTICLE: 9 Things Disney World Fans Dream About
by Mike and Jamie Sylvester
Disney is all about making dreams come true! Dream big or dream small – here are 9 things we hear the most often that Disney World Fans dream about.
1 – Staying the Night in Cinderella Castle Suite
Oh please – if we could only be selected to stay a night at the Cinderella Castle – just once! We're pretty sure anyone and everyone would jump on the chance to stay the night in the lavish Dream Suite hotel room designed for specially selected guests. Unfortunately, this dream is highly unlikely for most of us, as sweepstakes winners and randomly selected guests are chosen for this night of dreams come true!
2 – Unlimited Visits
Many friends and family dream of visiting Disney any time they need a dose of magic. With the Disney Platinum Plus Pass, guests can enjoy Disney World Parks with no blackout dates – plus take advantage of the water parks. While this annual pass is spectacular, we do understand finances can be an issue. Our dream would be to win unlimited visits to Disney any time we'd like!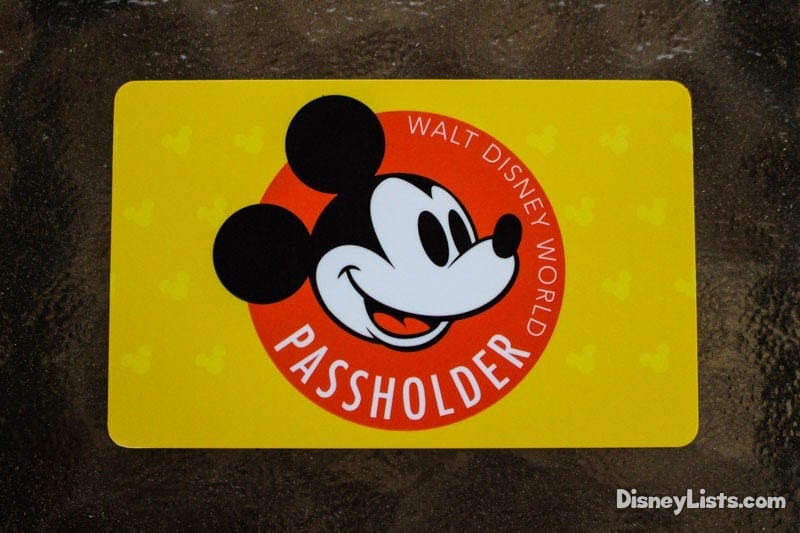 3 – Free Dining
This Disney dream is one that can come true! Disney offers promotional packages that provide free dining throughout select times of the year when staying at specific locations and purchasing tickets. It's a great perk and helps on the budget. Dreaming of Disney food is an everyday norm in our family – but getting it for free – sign us up!
4 – Staying at A Deluxe Resort
Deluxe Resorts are Disney's top of the line places to stay. They have awesome proximately to the parks, easy transportation, spectacular dining, and great guest services. If you plan properly, visit Disney during off-season times, and put money aside in a vacation account, you may just be able to make this dream a reality.
5 – Being the Parade Family / Grand Marshals
A common question Disney fans ask is how do we become the Magic Kingdom Parade Family / Grand Marshals? Once again, the family is randomly selected. You could be picked out of the crowd by a specific Cast Member or asked at the park entrance. They say your odds increase if you are one of the first at the gates before Magic Kingdom opens. Fun clothing (such as matching Disney outfits) and excited personality are said to help your chances. Good luck trying!
6 – Behind the Scenes Access
How does this work? How about that? Did that really just happen – how?! The more we explore Disney, the more we want to know more about the ins and outs of the magic. We are fascinated with the technology and detailed thought process behind each design, attraction, and grand event. Disney does offer some behind the scenes tours that can help you get some of your questions answered. Despite these tours, some Disney magic remains knowledge to only the Mouse!
7 – Dining Reservations at Be Our Guest
Editor's Note: During the phased reopening of Walt Disney World, the dining booking window is 60 days out.
We giggle a little with this one because we know many Disney fans want dinner reservations at Be Our Guest Restaurant at Magic Kingdom – and we know their pain! This dream has great odds of coming true with careful planning. If you are a Disney Resort guest, be prepared to book your Be Our Guest reservation 180-days in advance of your resort check-in date (plus 10 days) at either 6:00 am online or at 7:00 am by calling Disney Dining. Try the grey stuff!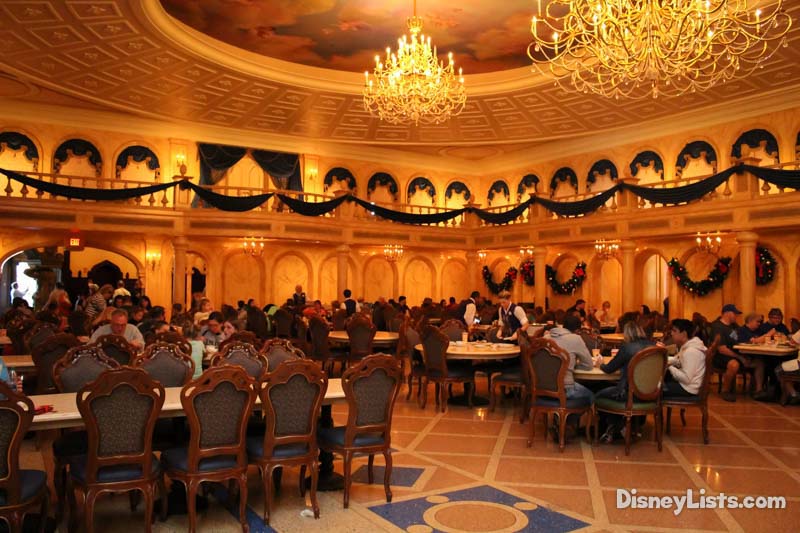 8 – Unlimited FastPass+
Editor's Note: During the phased reopening of Walt Disney World, FastPass+ is temporarily suspended.
Disney is constantly developing its FastPass+ system. We love selecting three FastPasses that let us bypass the standby line, followed by adding an additional FastPass+ as needed. We do dream however of having unlimited FastPasses! Can you imagine jumping to the front of every line at any time of the day? Obviously, an unrealistic dream for standard Disney guests, but fun to think about.
9 – Disney World Controls the Thermostat
You may have heard the wild rumor that Disney has the ability to control the temperature at their parks. Ok, this is 100% a rumor – except for within the buildings! Disney does not have a thermostat control to turn down the Florida heat or turn off the rain. That would be incredible though, wouldn't it?! This is one dream that we simply can't see coming to fruition – but we'll keep wishing.
What are your Disney dreams? We're going to start wishing upon some stars!
For a no obligation, FREE Quote on a Disney vacation package, please contact our travel partner Magical Vacation Planner at 407-442-0227 (407-442-0215 for Spanish). You can also request a FREE quote online by Clicking HERE.