Magic Kingdom has many different food options available. Need some help deciding? Saddle up and head out for some tasty grub! Here are five things to know about Pecos Bill Tall Tale Inn and Café.
1 – The Run-Down
Make your journey to Frontierland in Magic Kingdom. Located on the corner, within just a few short feet from Splash Mountain (and in-ears reach of the Splash Mountain screams as folks plummet down the mountain), you'll spot Pecos Bill Tall Tale Inn and Café. This quick-service location has been serving up some tasty food for a long while now, but just recently switched their menu over to a full Tex-Mex cuisine. Quick and casual in style, Pecos Bill Tall Tale Inn and Café doesn't offer reservations, so it's an excellent spot for all Disney guests. You can snag an excellent entrée for under $15, which by Disney's standards is pretty good! Plus, dining plans are accepted at this location.
2 – Old Western Saloon
Cowboys welcome! Take a step out west when entering Pecos Bill Tall Tale Inn and Café. This spacious quick service spot is neatly decorated to fit the western style theme. From the moment you approach this saloon, you can't help but notice the large, saloon-style Pecos Bill sign over the entrance of the building. Check out the short stools for seating at the round tables. Dim chandelier lights, hanging lanterns, intricate details, and colorful flowers and greenery make guests feel comfortable in this beautiful setting. Seating is available inside within two main, large rooms. There is also space for sitting upstairs, which is a neat place to tuck yourself away. Plus, a few seats are available outside surrounding the restaurant that provide a little bit of shade and are especially great when it's not terribly hot outside.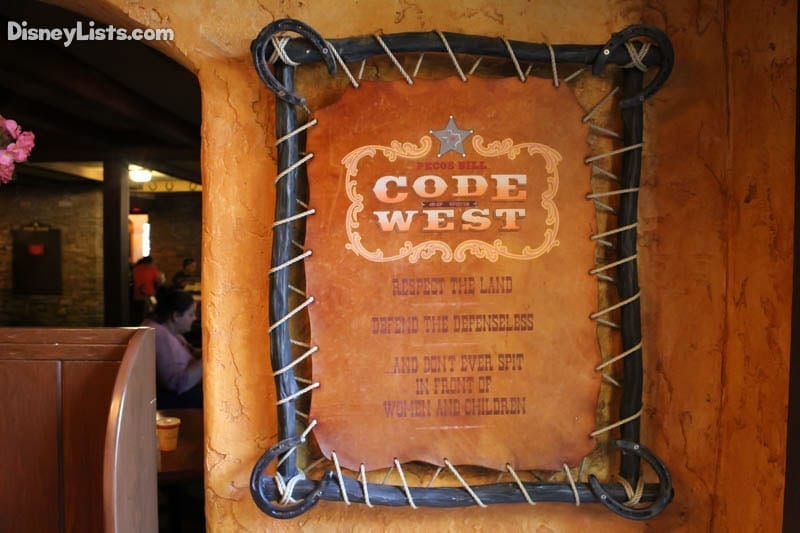 3- Who Was Pecos Bill?
Pecos Bill was an all folklore American Cowboy that comes with many tall tales from the Old West, specifically taking place when America was beginning to expand westward. A few tales include Pecos Bill falling out of a wagon as an infant unnoticed by his family! He was taken by a pack of coyotes that raised him. Pecos Bill later grew up to become a cowboy. He had a rattlesnake named Shake that he used as a lasso and another snake he used as a whip! His horse, Widow-Maker, was supposed to be so fierce that no one else could ride him but Pecos because they would be killed trying. But from time to time, Pecos decided to ride a mountain lion instead of his horse. Get this – dynamite was Pecos's favorite food – good thing they don't serve that at the restaurant! Pecos Bill was said to have lassoed a twister and even wrestled the "Bear Lake Monster" and won. The stories go on and on. Just think of what a great conversational piece this will make for your next meal at Pecos Bills!
4 – Tex-Mex Cuisine
Are you in the mood for a little bit of spice added to your meal? Look no future further! Pecos Bill Tall Tale Inn and Café has some delicious western flare options. Entrees include the fajita platter with pork carnitas and seasoned chicken, beef nachos, rice bowls, and more. Topping bars let you add a variety of tasty options to your entrée. We know that kids sometimes aren't into spicy foods, but no worries – Pecos Bill has them covered! Kids can enjoy a cheeseburger in addition to kid-sized versions of the tacos or a rice bowl. Don't forget a yummy churro for dessert!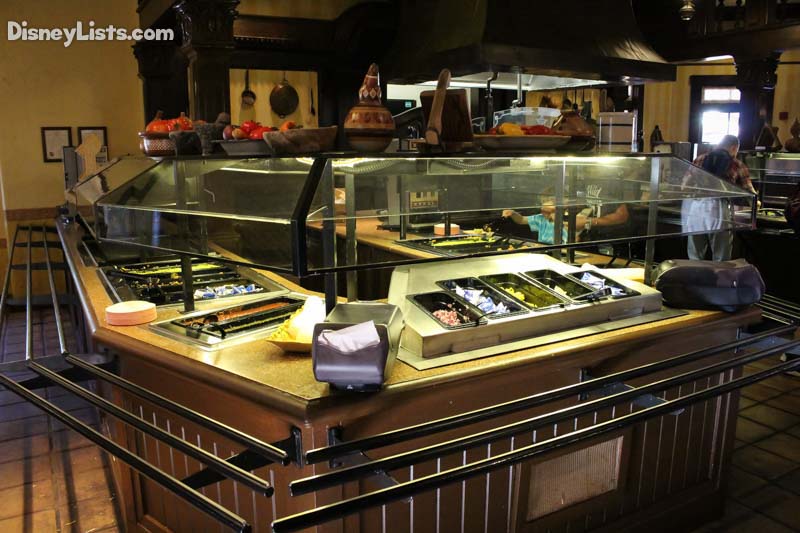 5 – Tips
Since Pecos Bill Tall Tale Inn and Café is in Magic Kingdom, you will need valid park admission and a park reservation to dine. We also recommend that you try to dine outside of the typically lunch/dinner hours, as it does get crowded and sometimes difficult to find seating. Opening as early as 10:30 am and closing at park closing most days, you'll likely want to try to dine before or after the lunch/dinner rush. Late-night dining here is also an excellent choice, as it is in great proximately to Big Thunder Mountain Railroad (our favorite to ride at night) and Splash Mountain. Plus, there is just something wonderful about a little bite of Tex-Mex flavor late at night!
We'd love to hear your favorite things and best tips from Pecos Bill Tall Tale Inn and Café!
For a no obligation, FREE Quote on a Disney vacation package, please contact our travel partner Magical Vacation Planner at 407-442-0227 (407-442-0215 for Spanish). You can also request a FREE quote online by Clicking HERE.