Ladies and Gents, it's time for a pedicure! That's right, we're headed to Disney World and are sharing the very best places we've found to put our feet up. How easily we forget as we over-plan our Disney vacation that it truly is a vacation after all. So, have a seat, prop up those weary feet, maybe even have a drink in your hand – and let's plan for relaxing!
1 – Hammock @ Polynesian Village or Caribbean Beach Resorts
Two of our favorite tropical-themed Disney Resorts would have to be the Polynesian Village and Caribbean Beach Resorts. With opportunities to put your toes in the sand and great outdoor bars to refresh your taste buds, a hammock is an obvious choice to put your feet up! It doesn't get much better than letting the Florida breeze blow all around you will lounging in a Disney Resort hammock. You'll also find hammocks at other various Disney Resorts.
2 – Senses Spa @ Grand Floridian or Saratoga Springs Resorts
Editor's Note: During the phased reopening of Walt Disney World, Senses Spa is temporarily closed.
Of course, we must place Senses Spa on our list since you can actually get a pedicure here! With two locations at Grand Floridian and Saratoga Springs, Senses Spa is pure bliss when it comes to putting your feet up. Between the multitude of massage options, nail care, and other treatments – it's worth planning some special foot care.
3 – Poolside @ Disney Resorts
Honestly, this list wouldn't be complete without having the option to put your feet up poolside at your Disney Resort. All three tiers of Disney resorts (value, moderate, deluxe) offer a variety of pools to relax by. We are especially loving putting our feet up poolside at the Art of Animation's Big Blue pool… the largest pool on Disney property! Plus, let's not forget about Disney's two waterparks, Typhoon Lagoon and Blizzard Beach. While you'll have a more crowded experience than you would find at your Resort pool, these two waterparks are still great options when looking for a place chill poolside!
4 – Plaza Gardens @ Magic Kingdom
Amid the hustle and bustle at Magic Kingdom is a gorgeous space of green that shouldn't be missed. The Plaza Gardens are relatively new to the Magic Kingdom but are quickly becoming a favorite spot of ours to sit and put our feet up with Cinderella Castle in perfect view. Keep in mind these spaces are blocked off from time to time for the parade and fireworks viewing, but are usually open and available for guests to enjoy throughout the day. We've even seen people napping in the Plaza Gardens!
5 – By the Fire @ Wilderness Lodge Resort
Just stunning! If you haven't visited Wilderness Lodge's main lobby, you are missing one of the most beautiful sights at Disney. As you enter the main doors, look straight and slightly to the right. You'll spot an enormous stone hearth fireplace that is always ablaze. Pick a rocking chair, slide your flip flops off, and let your toes get toasty warm!
6 – Movie Under The Stars @ Disney Resorts
Every Disney Resort offers a Movie Under The Stars for their guests. This complimentary movie is a fun way to cozy up with your kiddos, friends, or special someone while enjoying the spirit of Disney through a movie. Check your Movie Under The Stars Resort schedule to see what movie is playing and at what time.
7 – Parks @ Disney Springs
Disney Springs is massive and can fill a whole day with exploring if you are an avid shopping and food and drink fanatic. While at Disney Springs, our favorite places to put our feet up are at the Exposition Park located on the West Side and Waterview Park located in The Landing. Exposition Park is situated perfectly next to the Food Trucks, so grab a meal and rest your feet! Waterview Park has incredible views and is nestled next to the Boathouse, where you might see an Amphicar take off into the water.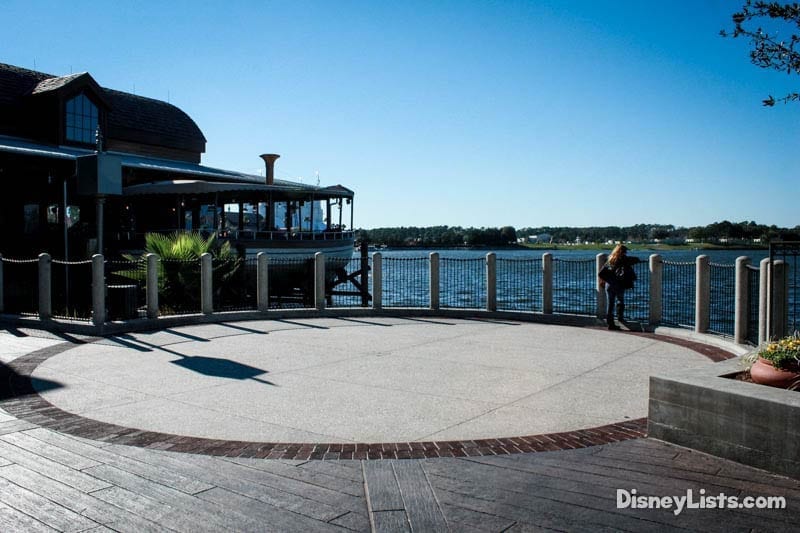 8 – Lobby @ Contemporary Resort
Strange enough – the Contemporary Resort lobby is an excellent place to put your feet up! It never seems overwhelming busy, and there are always couches or chairs to sprawl out on. We especially love the Contemporary Grounds coffee shop located in the lobby where you can get your coffee fix, smoothies, and tasty treats to enjoy while you relax.
9 – Horse-Drawn Carriage @ Fort Wilderness or Port Orleans Resort
Editor's Note: During the phased reopening of Walt Disney World, carriage rides are temporarily unavailable.
Two of Disney's Resorts, Fort Wilderness and Port Orleans, offer horse-drawn carriage rides. Check out the beautiful scenery with your loved one as you listen to the clapping of the horse's feet on the pavement. Sit back, put your feet up if you'd like, and take it easy for your 25-minute ride.
10 – Disney Vacation Club Member Lounge @ Epcot
While we understand that you may not be a Disney Vacation Club (DVC) member, we felt we had to include this one for those that are. Too good to pass up, DVC members will want to be sure to head over to the Imagination Pavilion where just above Figment, DVC members are welcome to rest in the air conditioning with great views of the park, charge stations for their phones, video games, and even free Coke products. If you aren't a DVC member, become a friend with one while at Epcot!
Is there a spot on Disney property we've missed that we need to know about?! We'd love to hear from you!