Whether your workload has lightened, you've saved up enough vacation days, the kids are out of school, or you simply need a little Vitamin D – a Disney World summer vacation is calling! Chances are you've heard that summer is the most popular time to visit Disney World (besides Christmas break). Plus, Florida summers are HOT… an easy 100 degrees in the shade! So, let's get to planning. Check out our top tips and tricks to having the best summer vacation EVER at Disney World!
Editor's Note: We understand that with the phased reopening of Walt Disney World, some of the advice in this article may not apply if you visit while park hours are reduced, capacity limits and physical distancing are in place, and some of our favorite experiences—fireworks, parades, and character greetings—are temporarily suspended. (You can read everything you need to know about the phased reopening by clicking here). We will continue to share articles that give guidance on a "normal" vacation to Walt Disney World, along with any special changes or instructions you may need to be aware of during the phased reopening to provide the best tips we can regardless of when you are visiting. ~ Chad & Cindy
1 – Book A Summer Deal
Time to save some money! Disney World always offers summer discounts and savings. Typically, these summer packages include at least a four-night stay along with theme park tickets. In the long run, you'll save hundreds by booking a package deal if one is available during the vacation dates you are seeking.
2 – Make Dining Reservations
If you've heard this and thought, nah – we'll just wing it, well, be prepared to fight the crowds big time! Having table service reservations can make a huge difference in your summer vacation at Disney. Not only will you have a place to sit to enjoy a meal, but you will also have an air-conditioned space. If you don't have reservations, chances are you won't be able to get a table at a table service restaurant. If you plan to go to quick-service spots, a great tip we like to use is to eat at off-times. For example, eat lunch at 11 am instead of the noon rush hour. This will give you a better chance of beating the crowds to lunch and finding a table to sit at.
 3 – Book Your FastPass+ In Advance
Editor's Note: During the phased reopening of Walt Disney World, FastPass+ is temporarily suspended. 
You can book your initial 3 FastPasses in advance (60-days resort guests, 30-days in advance for non-resort guests). We highly recommend you book your FastPasses in advance so you can map out your day, and obtain more FastPasses when your initial three are used. This not only saves you time but also the heat exhaustion from standing in long standby lines.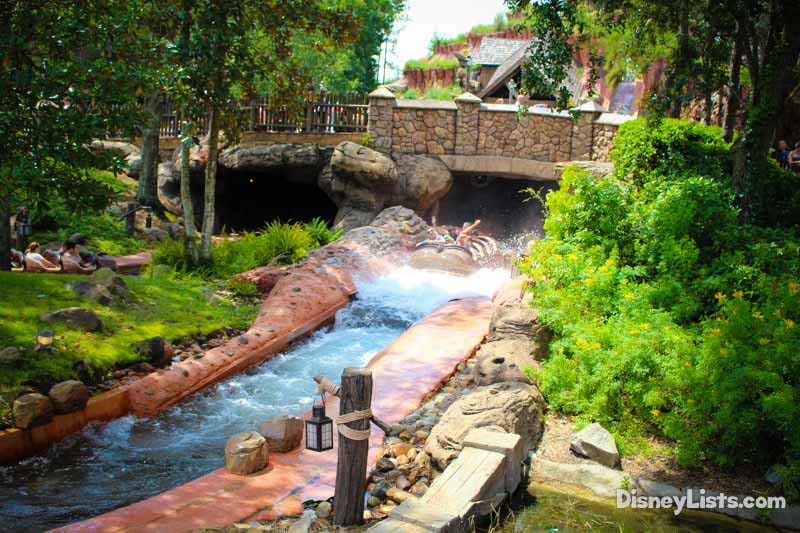 4 – Dress Cool
We don't mean the kind of "cool" such as awesome… but COOL as in light clothing. Although, if you can combine both cool (awesome) and cool (light wear) – then more power to you! Seriously though, we suggest a wardrobe that consists of the Dri-FIT type clothing such as breathable shorts, shirts, socks, and hats. Think light colors as well, as dark colors absorb the sun's rays rather than reflect it. When it's so hot, you can't tell the difference in body sweat and Splash Mountain water, you'll be thankful you are wearing light clothing to cool down and dry off faster.
 5 – Know Where to Go
If at all possible, avoid zig-zagging from one side of the park to the other. Having a plan in place before you arrive can alleviate the "theme park dance" as we like to call it. We've learned the hard way that when going from one side of the park to the other time and time again over the summer is an easy way to ruin a vacation at Disney. It's exhausting trying to move through the crowd, and the heat factor just triggers meltdowns!
6 – Take Advantage of Early Morning & Late Night Hours
Editor's Note: During the phased reopening of Walt Disney World, parks have reduced hours.
Arriving at park opening is an absolute must, in our opinion, over the summer. You get the fresh start of the day, crowds are less than they will be later, and the sun is just waking! The same goes for late-night hours. We suggest the early arrival, a midday break if possible at the resort, then a late-night, which is especially great once the sun goes down.
7 – Schedule Resort Time
Yes, it's tempting to hit a theme park every day/all day, but remember, this is a vacation after all! Cool off in the resort pool, hang out in your room with your family while watching a Disney movie, or take a cool middle of the day shower. Whether you schedule a full resort day or just some resort time, you'll appreciate this much-needed break from the summer crowds and heat.
8 – Enjoy Indoor Attractions
Seek out attractions that are maybe a little less popular and that are indoors with blasting AC! Some of our favorite "hideaway" attractions from crowds and heat are Muppet Vision 3D at Hollywood Studios, Carousel of Progress at Magic Kingdom, Journey Into Imagination With Figment at Epcot, and It's Tough To Be A Bug at Animal Kingdom.
 9 – Visit A Water Park
Editor's Note: During the phased reopening of Walt Disney World, Typhoon Lagoon is closed, however, Blizzard Beach is now open. Click here to learn more about visiting Blizzard Beach during the phased reopening.
Summer crowds do flock to Disney's two incredible water parks, Blizzard Beach and Typhoon Lagoon. With this being said, don't expect to avoid crowds at the water parks, but rather plan for a day of cooling off in the water with fun attractions to go along with it!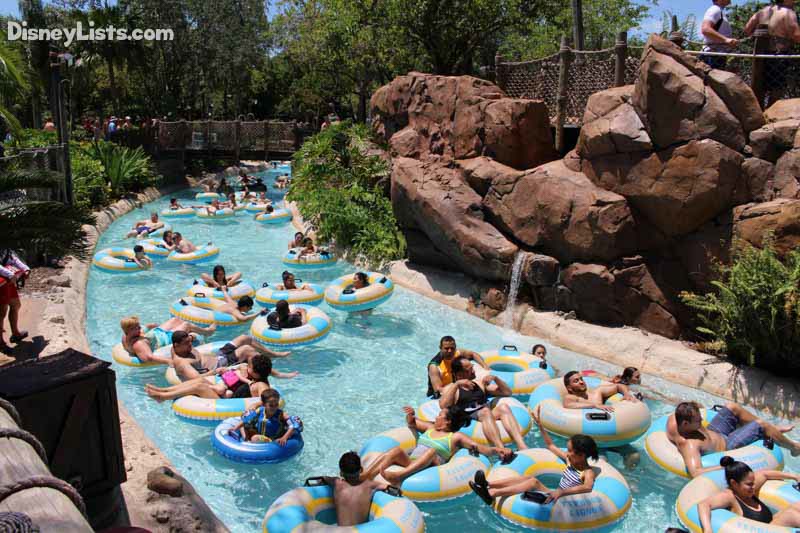 10 – Pack (and USE) Sunscreen
It seems simple enough, right?! Well, we've made the mistakes plenty of times, thinking that it's not too bad, only to end up with a sunburn on our very first day of vacation. Once you have that sunburn, it really puts a damper on the rest of the vacation. Don't forget to reapply when needed!
11 – Drink Water
Soda and alcohol can be special treats while on your Disney vacation, but be aware of how much water intake you've had. This is especially important if you have great plans to drink around the World Showcase at Epcot for example. Keep in mind that you should constantly be chugging water to keep yourself hydrated in the Florida heat.
12 – Chill Out
Editor's Note: During the phased reopening of Walt Disney World, Casey Jr. Splash' N' Soak is not operating.
Take notes from Baloo the Bear in Jungle Book when vacationing at Disney over the summer! He's one, no stress… chilled out bear! With massive crowds and 100+ degrees all around, there will come a time when you need to step back and chill out both in temper and temperature. Find opportunities to chill, even if it's for a simple 10 minutes away from the crowds and heat. Magic Kingdom has a fun water play area in Fantasyland known as Casey Jr. Splash' N' Soak. This is a great spot for kids to run free and cool down in the water while you take a breather. We also suggest looking for hidden areas that might not offer a bench or table, but a shady floor to sit on! Whatever it takes – just find time to chill out. Trust us, you'll avoid both children and adult meltdowns this way!
For a no obligation, FREE Quote on a Disney vacation package, please contact our travel partner Magical Vacation Planner at 407-442-0227 (407-442-0215 for Spanish). You can also request a FREE quote online by Clicking HERE.