A quick-service restaurant has hit the streets in Disney World's Hollywood Studios, with the wise-cracking Muppet, Rizzo the Rat, as the owner! Check out these six things you'll want to know about PizzeRizzo before making dining plans at Hollywood Studios.
1 – Muppet Courtyard Hot Spot
PizzePizzo is located in the Muppet Courtyard just steps from the beloved attraction, Muppet Vision 3D. While the restaurant is open seasonally, it offers a large indoor eating space that is perfect for cooling off while enjoying lunch on a busy day. 
2 – Family Pizzeria Themed
Sit back and feel like you've joined the Rizzo Italian family. As you approach PizzeRizzo, you'll immediately feel as if you've been transformed to the streets of New York with street lights, metal poles, fire escape, and a faded red and green PizzeRizzo pizza joint exterior – including the typical curtains in the windows, neon lighting, and paper menus and flyers plastered at the entrance. Once inside, you'll spot the exposed brick walls, pipes lining the ceiling, and classic pizza joint-style booths and tables. Indoor and outdoor seating is available, plus a second-floor banquet hall welcomes guests. This banquet (Rizzo's Deluxe Supreme Banquet Hall) invites guests to join a wedding reception already in progress with a disco ball and party playlist!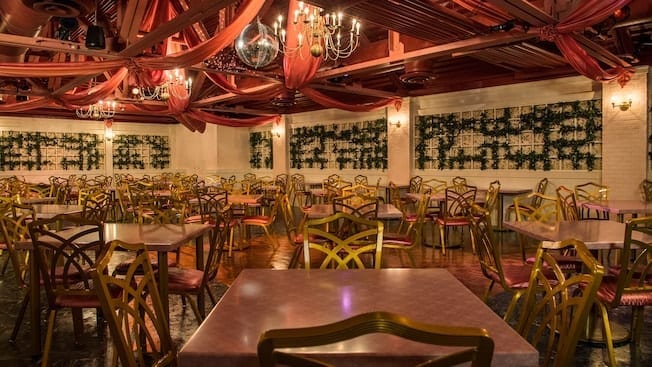 3 – The Lowdown on How It Works
Since PizzeRizzo is a quick-service restaurant, you can walk in expecting to stand in line at one of the registers to place your order – just like a typical quick service ordering experience at Disney. The screens above present the menu so you can easily decide what you'd like as you wait in line. With multiple registers and windows for food to come out of, the lines do move rather quickly. Snag your food and drinks, then head to a table. It really is a free-for-all, but we've noticed upstairs is typically less crowded than downstairs or outdoor seating.
4 – Italian Food Quick Service Style
With a simple lunch menu, the food and variety at PizzeRizzo is somewhat limited. You can select from one of their personal-sized pizzas (four small slices), which include cheese, pepperoni, vegetable, and pepperoni and sausage pizza. Served with each pizza is a small, cup-sized Caesar salad. If you aren't in the pizza mood, you can order a meatball sub (also comes with a Caesar salad) or an Antipasto salad. All entrees are under $12. Two of the kid's meal options are a cheese pizza meal or a macaroni & cheese meal – both include yogurt smoothie, oranges, and a drink choice. Wrap up your meal with one of the two desserts (or just order both!) – a cannoli and strawberry cheesecake cannoli. To be honest, the food here is well – quick-service pizza food. It's a simple hold over until you have a chance to taste what Disney really has to offer in Italian food – such as at Tony's Town Square Restaurant at Magic Kingdom. We did find the desserts tasty!
5 – Great Drink Variety
We were pleasantly surprised and pleased with the variety of drinks available at PizzeRizzo! With more drink options than food options, guests can enjoy non-alcoholic and alcoholic beverages. The non-alcoholic drinks are the typical fountain sodas, as well as coffee, hot cocoa, hot tea, and a Peach Bellini. Frozen Italian Margarita, Opici Family Sangria, Bud Light, and Italian-Brewed Peroni are available for alcoholic beverages. Drink up!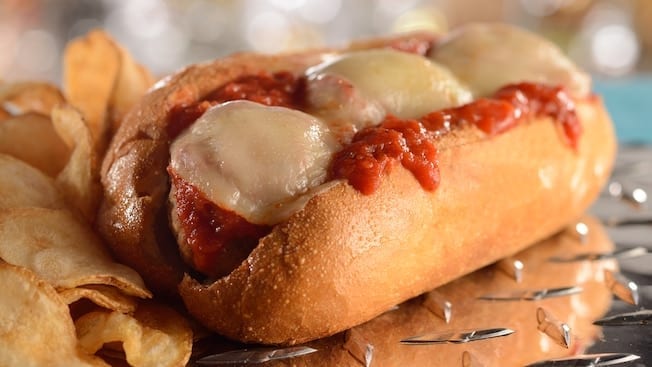 6 – Still on Our List to Dine
While we might not be singing praises about the food at PizzeRizzo, it is exactly what we expected from the quick service spot and we will likely dine there in the future. It's an easy spot to spread out and eat with tons of seating and a choice of eating indoors or out. We also found it's a great place for kids because they love the food and they can talk at their own volume level without you having to hush them! So, with a drink from the adult drink selections, air conditioning surrounding us, and kids chowing down on their beloved pizza – it's a win when needing that break in the park. And did we mention, the meals are fairly cheap for Disney standards and the Dining Plan is accepted.
Editors note: Be sure to check operating hours before your visit, as operating times are seasonal and can vary.
For a no obligation, FREE Quote on a Disney vacation package, please contact our travel partner Magical Vacation Planner at 407-442-0227 (407-442-0215 for Spanish). You can also request a FREE quote online by Clicking HERE.