Looking for a fun holiday activity for the family? Disney has released a new Kidcot holiday coloring sheet and family-friendly recipe! Catch all the details below.
Here are all the details from Disney Cast Member Chelsea Auburn:
With the holidays approaching, I wanted to share some stay-at-home fun activities that will be perfect for any family get-together!
For starters, you may know that at EPCOT, kids are invited to join Mickey and friends on an adventure around World Showcase. Each of the countries has a Kidcot Fun Stop presented by Ziploc Brand, a place where kids can collect a special traveler's card that features a special fact about that country and a corresponding coloring sheet.
Today, we are bringing one of our favorite Kidcot Fun Stops right into your home!
Did you know that in Germany, if you want to find a bakery, you just have to look for a pretzel hanging above the shop door – the emblem of the bakers guild? From the looks of this coloring activity, it looks like Chip & Dale have found their new favorite treat that is famous in Germany – you guessed it, a pretzel!
Click here to download this Kidcot Fun Stop coloring activity to finish at home!
Speaking of bakeries, we also have a special treat you can make at home!
From the pastry chefs over at Disney's Contemporary Resort, this recipe is one of my favorites for two reasons – it's EASY to make, and it combines two of my favorite things – chocolate and peanut butter!
If you have been following our #DisneyMagicMoments recipes, you know that Ava, a 13-year-old junior chef and daughter of Disney photographer Matt Stroshane, has been making "how-to" videos for some of these recipes in her home kitchen with the help of her personal sous chefs (mom and dad) and official taste tester (her 11-year-old brother, Adam). Check out the recipe and Ava's video below.
No-Bake Granola Treats from Disney's Contemporary Resort Bakery
Makes 12 (2×2-inch) treats
Ingredients: 
3 1/2 cups miniature marshmallows
2 tablespoons unsalted butter
3 tablespoons smooth peanut butter
1 1/2 cups granola
1/4 cup miniature semisweet chocolate chips
Directions: 
Melt marshmallows and butter in medium saucepan over low heat. Add peanut butter, stirring to combine. Remove from heat. Stir in granola.
Spoon mixture into 8×8-inch baking dish. Lightly press mixture into pan.
Sprinkle top of mixture with chocolate chips, lightly pressing the chocolate chips into mixture.
Set aside at room temperature to cool for 30 minutes. Cut into 12 pieces.
Store treats in an airtight container at room temperature.
Cook's Note: This recipe can easily be doubled if you like thicker treats!
Note: Always use caution when handling sharp objects and hot contents. Please supervise children who are helping or nearby. This recipe has been converted from a larger quantity in the restaurant kitchens. The flavor profile may vary from the restaurant's version.
RELATED ARTICLE: Kidcot Fun Stops Around Epcot's World Showcase – What You Need to Know
by Mike and Jamie Sylvester
When we first visited Epcot, we can remember thinking there really isn't much for our kids at Epcot outside of Future World. In our minds, the World Showcase portion of the park was for eating, drinking, and shopping. We just knew our kids wouldn't enjoy it. Well, YES – the World Showcase is primarily for all those wonderful things, but Disney hasn't forgotten about your young world travelers in tow! Along with stopping to see the entertainers, characters, and pavilion attractions – add in a scavenger hunt, your kids are sure to love. Here are a few things to know about Kidcot Fun Stops!
1 – A Scavenger Hunt Around the World
Set off on an adventure around Epcot's World Showcase with a visit to each of Epcot's 11 Pavilions (countries) where you'll find a Kidcot Fun Stop to stop off at for a special souvenir. Visit with a Kidcot Cast Member in each pavilion and continue around the World Showcase until you collect all eleven souvenirs! The best part is this is a FREE activity that allows your child to look forward to exploring the next pavilion with you. Indeed a win-win situation for both kids and adults!
2 – Goodbye Duffy, Hello Ziploc
As of July 15, 2018, Kidcot locations said farewell to the sweet Duffy, the Bear on a stick that was available for years previously. As much as we love Duffy, he's not super relevant for kids today. We know our kids didn't know who he was. As we say goodbye to Duffy, we say hello to a new Kidcot sponsor – Ziploc. Of course, this means a Ziploc bag is part of the Kidcot kit.
3 – Four Takeaways
Editor's Note: During the phased reopening of Walt Disney World, Kidcot Fun Stops offers a modified experience. 
Once arriving at a Kidcot location within a pavilion, you'll be offered four takeaways. If it's your first Kidcot location, you'll receive a Kidcot Ziploc bag that is made to look like a suitcase. Using this Ziploc bag (suitcase) makes for an easy way to carry everything around and is much more compact than the former Duffy on a stick! You'll also receive a Traveler's card that holds a brief paragraph about the country on the front of the card and a super cute coloring page on the back of the card. The third takeaway is a sticker relevant to the country to put on your 'suitcase.' And finally, each participant gets a signature that the Kidoct Cast Member will leave on your traveler's card. Some are drawn pictures while others are special "hellos" in the country's language. The Cast Member may even write your child's name in their language!
4 – Kidcot Locations (& Extra Kid-Friendly Activities!)
We highly recommend that you don't tell your kids where the Kidcot locations are. In our opinion, this is all part of keeping them happy and distracted as they hunt through the pavilion with you. But, keep in mind the list below just in case you are having a tricky time finding them yourself.
Mexico

: Enter the main building that San Angel Inn Restaurante is located in. Walk down the left side of the stairs where you'll see the Kidcot location at the base of the stairs.

Extra Kid-Friendly Activity 

– be sure to take a ride on Gran Fiesta Tour Starring the Three Caballeros. You can also meet Donald Duck at the base of the main building.

Norway

: Enter Puffin's Roost – a gift shop on the left. There is a small Kidcot table near the trolls for sale, located close to the huge troll.

Extra Kid-Friendly Activity 

– snag a FastPass for the popular Frozen Ever After attraction and meet Anna and Elsa at the Royal Sommerhus.

China

: Pass the Lotus Blossom Café on the left to enter the House of Good Fortune Gift Shop. You'll find a Kidcot Spot on the right.

Extra Kid-Friendly Activity

– check your Times Guide to watch the Jeweled Dragon Acrobats. You can also meet the beautiful Mulan here!

Germany

: Near the back of the Pavilion on the right, you'll spot Der Teddybear gift shop. The Kidcot Spot is towards the back of this store. Good luck keeping your kids from wanting all the cute toys!

Extra Kid-Friendly Activity

– Meet the lovely Snow White by the wishing well. You can also check out the miniature village and trains.

Italy

: Once you enter the Italy Pavilion, you'll notice the La Bottega Italiana gift shop on the right. Keep walking past this gift shop, and you'll spot Kidcot also on the right located outside.

Extra Kid-Friendly Activity 

– Don't miss Sergio, a unique juggler, and comedian.

American Adventure

: Look for the restrooms in the back corner near the Heritage Manor Gift Shop for the Kidcot area located outside.

Extra Kid-Friendly Activity –

Listen out for the Voices of Liberty. Plus, there's always a funnel cake to enjoy!

Japan

: Walk to the very back of the Pavilion and enter the doors to the Bijutsu-Kan Gallery. Kidcot is located just inside those doors.

Extra Kid-Friendly Activity

– Catch the Matsuriza on the big drums.

Morocco

: This one is a little tricky! Walkthrough the archway in the Pavilion and look to your right to spot the Kidcot location in the Marketplace in the Medina.

Extra Kid-Friendly Activity

– This is a great place to meet Princess Jasmine (who is sometimes joined by Prince Eric). There are usually some musicians on stage and maybe even a belly dancer if you catch the show at the right time.

France

: Another hard one to find! Head to the back of the Pavilion, to the Souvenirs de France, and you'll find the Kidcot table on the right side near the exit of Impression de France.

Extra Kid-Friendly Activity 

– Meet the beloved Belle from 

Beauty and the Beast 

in her blue dress near the water. You can also meet Princess Aurora here near the gardens.

United Kingdom

: All the way to the very back of the Pavilion, you'll spot a gift shop called The Toy Soldier. There is a small Kidcot table in the back.

Extra Kid-Friendly Activity

– Watch The British Revolution band perform. There are also meet and greets with Alice and Mary Poppins here!

Canada

: Follow the beautiful path towards Le Cellier Steakhouse, and you'll notice the Kidcot Stop at the exit of O Canada.

Extra Kid-Friendly Activity –

Head over to the Mill Stage to catch some musicians. Currently, you'll hear a fantastic bluegrass band!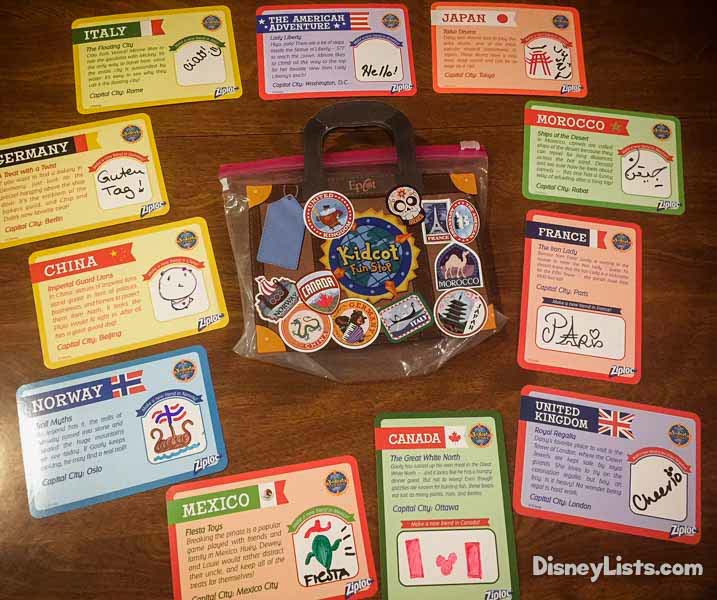 5 – To Color or Not to Color?
Now that you can locate the Kidcot Stops, you'll notice that each location has a basket of markers and chairs for the kids. Since the back of each travelers card has a coloring page, you can either decide to let your kiddos rest a short bit and color or move on to the next pavilion and save the coloring for later. We like to stop maybe one or two times to color and rest, but for the most part, we leave the coloring for the resort room later, when in a restaurant waiting on food, or even for when we get back home as a fun souvenir. If you do stick around to color, Canada's Kidcot is one of our favorites because it's covered and seems to have more seating available.
6 – Another Scavenger Hunt for the Tweens & Teens
While even us adults find it fun to do a scavenger hunt around the World Showcase, we know that sometimes the little 'suitcase' and travelers cards aren't always as fun for the older tweens and teens. A new scavenger hunt is on the horizon. Disney's DuckTales World Showcase Adventure invites guests to join Scrooge McDuck, Donald, nephews Huey, Dewey and Louie, Launchpad and Webby in search of priceless treasure. Using the Play Disney Parks mobile app, guests take a trip around World Showcase discovering exotic destinations, exciting mysteries, and maybe even a few thieves, villains and supernatural guardians of ancient artifacts. This will be the next iteration of a popular interactive scavenger hunt around World Showcase guests have enjoyed for years as they experience the magic of possibility at Epcot. Double the scavenger hunt!
For a no obligation, FREE Quote on a Disney vacation package, please contact our travel partner Magical Vacation Planner at 407-442-0227 (407-442-0215 for Spanish). You can also request a FREE quote online by Clicking HERE.