We really miss cruising and Disney Cruise Line, especially enjoying the fantastic Broadway-style entertainment on the ship. Thankfully, Disney Cruise Line has shared a virtual view of one of their shows. Learn more below:
Disney Cast Member Carly Scott shares more below:
Get ready for another fun family night hosted by Disney Cruise Line! This time we're bringing the world of Arendelle into your homes with a virtual watch party of our Broadway-style stage production, "Frozen, A Musical Spectacular."
You're invited to grab a front-row seat (on your couch!) as we raise the curtain for another virtual presentation of Disney Cruise Line's Broadway-style entertainment. Now showing, "Frozen, A Musical Spectacular!" This previously recorded video from our Walt Disney Theatre features the original cast from the show's opening.
Frozen Popcorn Snowballs
Before you start the show, whip up everyone's favorite theater snack: popcorn! Put a Frozen spin on it with this tasty recipe for Frozen Popcorn Snowballs from Disney Family, fun for both adults and kids to make together. And you don't have to worry about these snowballs melting!
Shadow Puppet Theater
After the show, put on your own "Frozen" performance with these printable shadow puppet characters from Disney Family. The templates feature favorite characters like Anna, Elsa, Olaf and Sven so your little ones can use their imagination to tell their own story about adventures in Arendelle.
RELATED ARTICLE: Castaway Cay – What You Need to Know About Disney Cruise Line's Private Island
by Cindy E. Nykamp
Castaway Cay is Disney's private island destination and it is absolutely amazing! Located in the tropical waters of the Bahamas, Castaway Cay provides the ultimate escape, whether a guest is seeking adventure, relaxation or quality time with the family. Learn everything you need to know about this amazing island destination below.
1 – Castaway Cay Transportation
The dock built at Castaway Cay eliminates the need to tender, making the ship easily accessible throughout the day.  Throughout the day guests are easily able to head back onto the ship for any reason. When exiting be on the lookout for many great photo spots, including a framed shot of your Disney ship with a Castaway Cay sign.
When you're ready to explore the island, transportation is provided to and from various points on the 1,000-acre island, including a special tram to Serenity Bay – a beach area reserved exclusively for guests 18 years of age and older. While we do enjoy walking around, it was very nice to have the option to take the trams to save some time.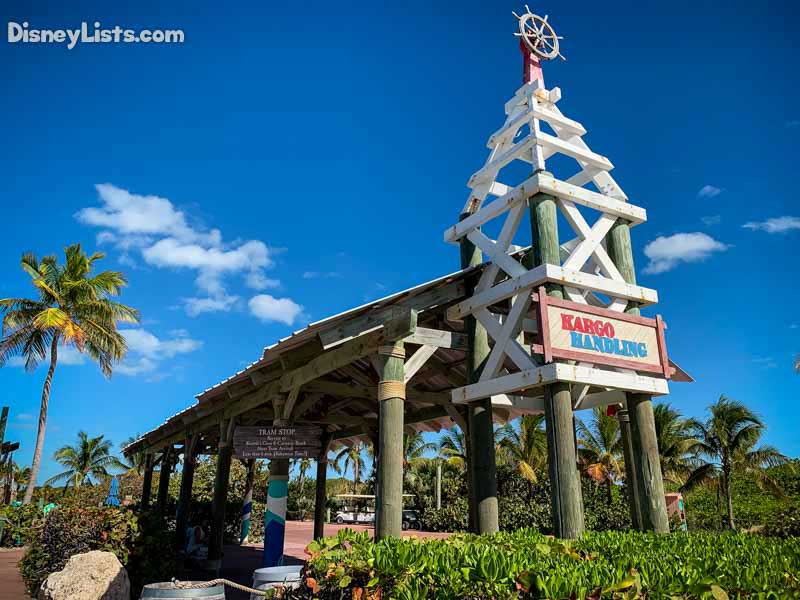 3 – Castaway Key Amenities
Castaway Cay has its own post office where guests can mail a message to family and friends back home. For added convenience, complimentary beach towels are available for guests to use on the island. There are also a few gift shops around the island to get the perfect souvenir. Stateroom key cards may be used to make purchases on the island, including merchandise and alcoholic beverages.
There are plenty of chairs all around the island so no need to worry about not getting one. There are also a lot of umbrellas around the island that are set up and available for no extra charge (other cruise lines charge for umbrellas). Being able to have an umbrella on a hot day is a very nice perk!
4 – You Won't Go Hungry or Thirsty
There are plenty of places to get delicious food on the island. An all-you-care-to-eat lunch buffet is served at the open-air Cookies' BBQ and Cookies Too located near the main family beach under covered family pavilions. Cookies feature typical back yard barbequed fare such as ribs, hamburgers, hot dogs, and chicken sandwiches, etc. The food choices are the same at each location so head to the one closest. Each Cookies location also has self-serve ice cream machines with the unique flavors of strawberry and banana, in addition to vanilla and chocolate.
Adults spending their time at Serenity Bay don't need to leave for the main beach to eat lunch or grab a drink. A smaller lunch buffet, Bahamian specialty drinks, beer, and mixed drinks are served at the nearby Castaway Air Bar. As an added bonus at the adults-only lunch location, ribeye steaks grilled to order are available.
Also be sure to check out Summertime Freeze, an Olaf-inspired beverage location serving non-alcoholic specialty frozen drinks in souvenir cups. Only Disney Cruise Line guests can cool down with creative menu items inspired by the animated hit "Frozen," like "Olaf's Flurry Freeze" and "Sven's Carrot Delight."
5 – Spaces for All Ages – For Families
Like the Disney ships, Castaway Cay is designed with unique activities and areas for every age group, providing an exceptional experience for everyone. We explored the many areas of the island. Here is a breakdown of the amazing things to do on Castaway Cay.
Flying high above the island on a parasail adventure, snorkeling in a 12-acre lagoon, casting off on a fishing tour, building sandcastles on the beach or bicycling around the island are just a few of the activities that every member of the family can enjoy. More fun for families includes:
Guests can swim and interact with Southern Stingrays in a private lagoon. This up-close encounter with the rays is part of a one-hour experience called Castaway Ray's Stingray Adventure and is open to guests five years of age or older.
For water sport enthusiasts there are water cycles, paddleboats, sea kayaks, sailboats, stand-up paddleboards and snorkel gear for rent. The island features a 12-acre snorkel trail dotted with sunken treasures, including a submarine from the classic Disney attraction 20,000 Leagues Under the Sea and a statue of a certain familiar mouse.
Located within swimming distance from shore, Pelican Plunge is a 2,400-square-foot floating platform featuring water slides, water cannons, and other get-wet fun.
On the island, a 2,400-square-foot water play area called Spring-a-Leakhelps everyone cool off with fresh-water jets that squirt and spray and saturate guests.
Castaway Family Beach has plenty of umbrellas, chairs, and hammocks for a perfect day in the warm sun and comfortable shade, plus tube and float rentals for fun in the swimming lagoon.
Premium private cabanas along the far side of the family beach and are available to rent, providing luxury and giving guests a spectacular view of their Disney cruise ship from the cabana's front patio deck.
In Da Shade Game Pavilion provides guests wanting to take a break out of the sun a place to play games such as table tennis, foosball, billiards and basketball in a shaded structure centrally located near Castaway Family Beach.
The Watercraft Ski Adventure gives guests a chance to drive a personal watercraft through intricate mangroves and other natural wonders around the island.
Nature-lovers rejoice: there are a number of paths to the island's interior that can be explored either on foot or bicycle.  A knowledgeable guide explains the ecological wonders found in the Bahamas during the Castaway Cay Walking and Kayak Nature Adventure.
Throughout the island, guests are treated to a myriad of surprises from Disney characters, including special meet-and-greets, photo opportunities, and dance parties.

6 – Spaces for All Ages – For Kids, Tweens, and Teens…
Mirroring the youth activities on the ship, children ages three to 17 will find programs and activities designed specifically for them on the island, supervised by trained, experienced counselors.
Scuttle's Cove is the "hub" of youth activities for kids (ages three to 12) and features a 1,200-square-foot water play area with a soft wet deck and an array of pop jets, geysers, and bubblers. It also connects to a Monstro Point, a dig site filled with artificial whale bones. Activities at Scuttle's Cove include:

Gotta Get Soaked, a team challenge with water balloons and buckets.
Water Mania, water play for younger kids.
Caribbean Beach Party, sandcastle challenges and bubble games, offering more games, music, and fun for the little ones.

Tweens (ages 11-13) have scheduled time to hang out together, supervised by youth counselors, at In Da Shade Game Pavilion and Pelican Plunge.
Hide Out is a secluded retreat for teens (ages 14-17) where they can hang out, kick back, soak up the sun, listen to music and watch the action at the nearby beach volleyball and soccer areas.
Teens explore Castaway Cay during TheWild Side excursion designed just for them. They'll snorkel, bike and kayak through the island and finish with a hearty lunch.
Have young kids? Read our tips for Castaway Cay for Families with Young Kids by clicking here.
7 – Spaces for All Ages – Just for Adults…
Located almost a mile from the main family beach, Serenity Bay is a pristine stretch of beach exclusively for adults. At Serenity Bay, where sparkling azure waters meet the natural white sand, and palm trees sway in the breeze, special amenities and activities offer the ultimate in relaxation for adults:
Guests can soak up the sun or relax in the shade of an umbrella on comfortable lounge chairs or two-person hammocks that dot the beach.
Premium private cabanas spoil guests with the luxury of a deluxe beach resort.
Adults can enjoy a therapeutic massage at a massage cabana overlooking the ocean or participate in a yoga class on the beach, just steps away from the crystal-clear water.
8 – Our Time on the Island
During both our Disney cruises, we thoroughly enjoyed our time on the island. The food was delicious, and we really enjoyed having plenty of beverage stations to grab a soda or water. We have a nice bike ride through the island trails were able to see some pretty secluded areas. We did not end up swimming as it was a cool day (our cruise was in January). However, the water looked fantastic, and there were plenty of people enjoying the many activities in the water. Time on the island was too short, but we can't wait to get back and explore it again!