We may be only a week away from celebrating Christmas, but get out those planners, because now is a great time to plan your spring vacation to Walt Disney World. Disney has released the dates of the 2021 Taste of EPCOT International Flower and Garden Festival and you'll definitely want to visit! Learn more below!
Here are all the details from Disney Cast Member Jeremy Schoolfield:
It may be chilly outside now, but a hint of spring is in the air as EPCOT prepares for the Taste of EPCOT International Flower & Garden Festival beginning March 3, 2021, at Walt Disney World Resort. With garden-fresh cuisines, creative gardens and unforgettable topiaries, this vibrant festival combines the freshest flowers and flavors from around the world.
Guests will be delighted to hear their favorite Character topiaries are coming back – from Mickey, Donald and friends, to Remy, Anna & Elsa, Lady & the Tramp, Figment and more. Our Disney Horticulture team is busy planting, pruning and planning now for the kaleidoscope of bright blooms and floating gardens scattered throughout EPCOT, with each one making a perfect backdrop for family photos.
With more than 20 delectable stops, World Showcase will play host to the festival's Outdoor Kitchens and other food & beverage locations, offering a smorgasbord of flavors and beverages.
Gardeners of all ages will be invited to participate in Spike's Pollen Nation Exploration – a springtime scavenger hunt starring Spike, the buzzzz-iest honeybee at Walt Disney World. And, guests will "bee" on the lookout for festival-specific merchandise throughout the park.
Taste of EPCOT International Flower & Garden Festival will run through July 5, and is available with valid admission and a park reservation for the same date. Remember to check for Disney Resort package and hotel offers for your travel dates!
RELATED ARTICLE: 7 Things We Love About the Epcot Flower and Garden Festival at Disney World
by D.W. Noonan
Epcot now hosts four fabulous festivals every year drawing countless visitors to celebrate those seasons with special programming. Many events and activities return to Epcot every year, but festival planners also like to create new things for visitors to enjoy. This spring, the Epcot International Flower and Garden Festival runs from March 3 to July 5. There are a lot of things about the Flower and Garden Festival, but the following nine tops the list.
7 – The Weather
While the days in Florida generally range from warm to hot all year long, the springtime days perfectly fall in the middle with temperatures averaging in the mid-70s to low 80s. During the festival, you're not likely to suffer from relentless heat beating down upon you or cool breezes giving you the shivers. Also, Florida's dry season occurs from March to May, meaning that during the festival, you'll usually find clear skies, low humidity, and not much precipitation. These nearly perfect days enhance your experience of the blossoming flowers of Epcot. Any summer guest at Walt Disney World has certainly endured sweltering humidity and heavy thunderstorms that drive them indoors, but we love the fact that we can avoid them during the Flower and Garden Festival.
6 – The Floral Variety
The diversity of flowers that Disney horticulturalists display during the Epcot International Flower and Garden Festival is mind staggering. Disney achieves this through intensive preparation that requires more than a year of work and around 24,000 cast members. The stunning colors draw a multitude of pollen-carrying insects, melodious songbirds, and photo-snapping humans to the festival. Be sure to bring a quality camera to capture the spectacular images that you're not likely to find elsewhere.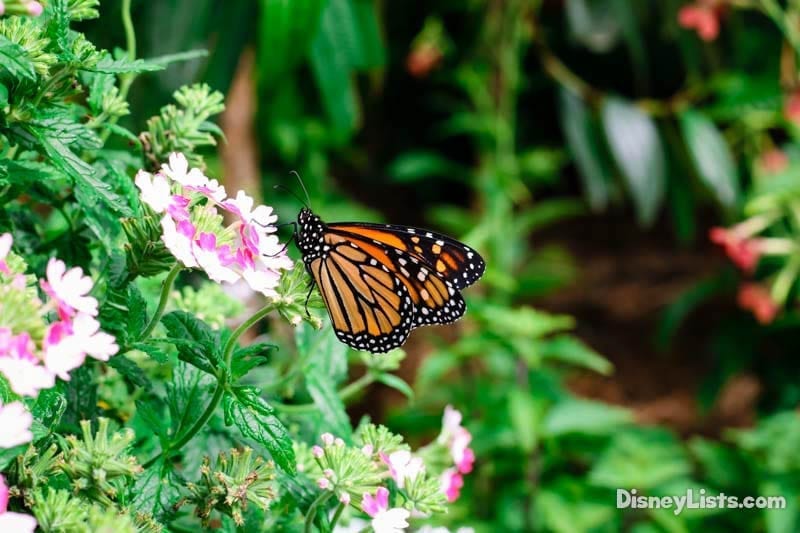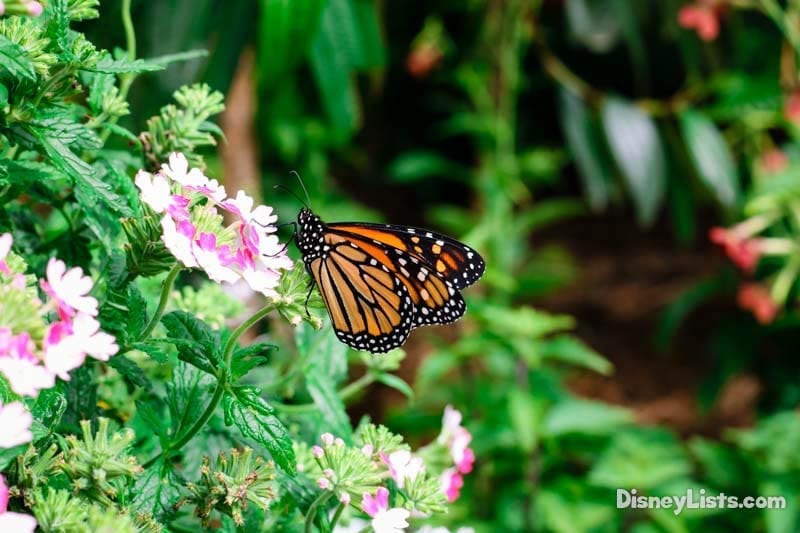 5 – The Fragrances
Naturally, the great floral variety will produce the most pleasant aromas you'll ever smell. Delight your olfactory senses with fragrances from over 30 million blooms as you stroll through lively gardens, linger among the flower towers, and visit purple martin and butterfly habitats. The experience draws you closer to nature and helps you to appreciate all the tools that flowers employ to attract insects to carry their pollen. Festival attendees love the freshness of nature's perfume, and you'll be sure to enjoy it, as well.
4 – The Gardening Tips
There are many gardens to explore throughout both Future World, Showcase Plaza, and World Showcase. Here you'll find gardening tips on the various signs throughout the gardens. Use what you learn to plant your first garden or to improve your current gardening skills.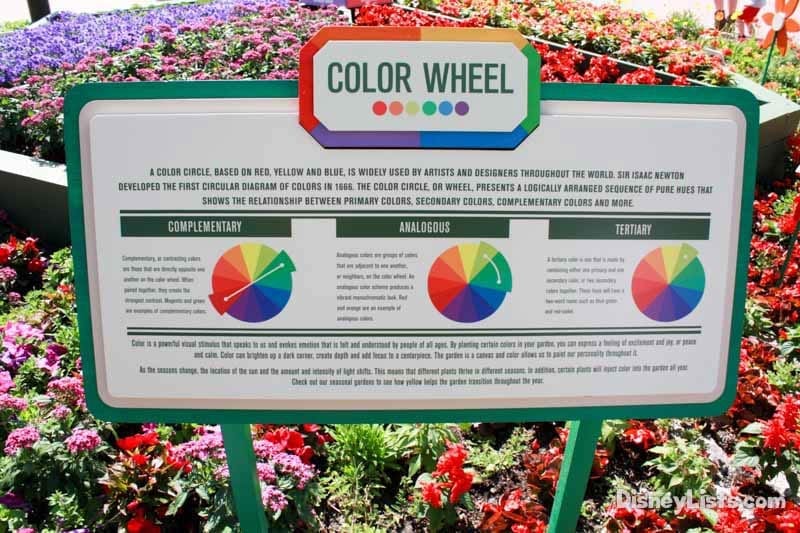 3 – Kid-Friendly Learning
The festival not only provides lots of educational opportunities for adults but also for kids. Butterflies on the Go is an exhibit that allows children to encounter a multitude of butterflies, learn about their life cycles, and maybe even witness one or more emerging from a cocoon. Also, kids can learn about migratory purple martins by visiting their habitat. Other educational presentations geared to the children are provided by the National Park Foundation, the National Park Service, National Wildlife Federation, The Nature Conservancy, and the Disney Conservation Fund. The festival serves as the perfect occasion for kids to learn even while having fun at Epcot.
2 – The Character Topiaries
By far, we find the topiaries created for the Flower and Garden Festival to be nothing short of amazing. Disney's horticulturalists become plant sculptors as they transform shrubbery into three-dimensional depictions of popular Disney movie characters. The staple characters appear all over the place, but the festival planners also add new characters and motifs each year. You'll see everything from Anna and Elsa to Winnie the Pooh, so make sure you snap lots of photos of these incredible topiaries to add to your vacation albums and scrapbooks.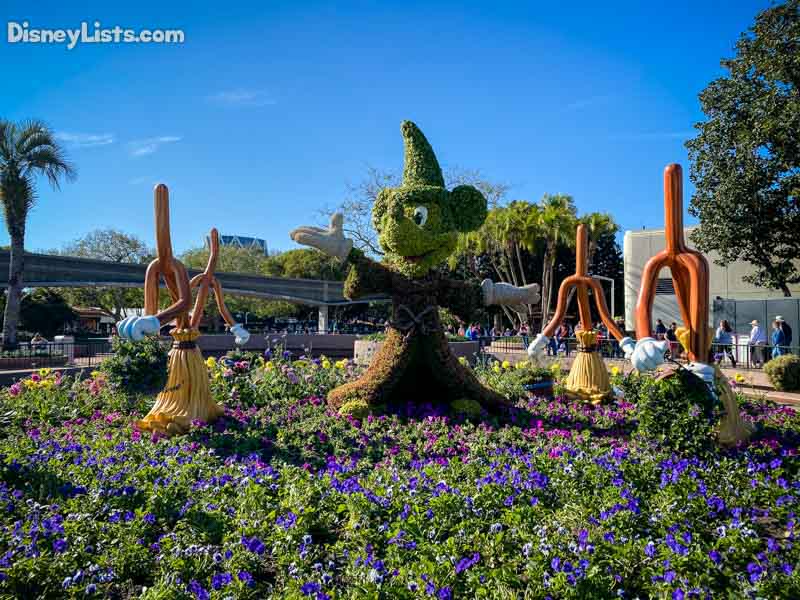 1 – The Outdoor Kitchens
Disney vacationers love Epcot for its variety of cuisine and libations. During the Epcot International Flower and Garden Festival, the diversity of food and drink increases with the installment of booths around the World Showcase. These Outdoor Kitchens feature garden-fresh inspired food and craft brews, ciders, and wines from the nations and regions represented. These creative recipes extend beyond the already delicious cuisine at each pavilion, so you're bound to find something new. The Outdoor Kitchens serve as reason enough to love the festival, especially for foodies.
For a no obligation, FREE Quote on a Disney vacation package, please contact our travel partner Magical Vacation Planner at 407-442-0227 (407-442-0215 for Spanish). You can also request a FREE quote online by Clicking HERE.