News
NEWS: Disney Announces New Package Offer – Two Extra Days of Park Tickets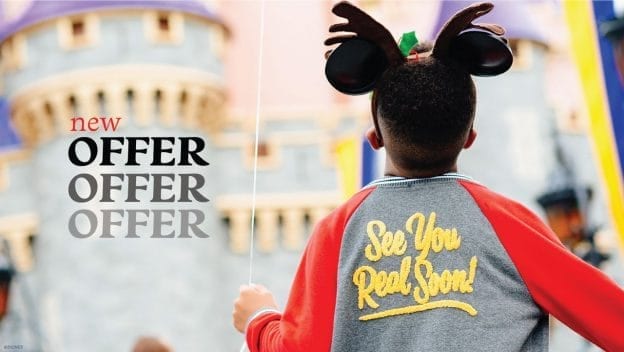 The year 2021 is almost here and Disney has released a new Walt Disney World resort sale that includes a special bonus! Learn more below.
Here are all the details from Disney Cast Member Jeremy Schoolfield:
We're all ready to turn the page on 2020, right? If you're thinking about how great it would be to take a Walt Disney World Resort vacation next year, I have some excellent news to share.
Today we're announcing a special new offer available to book beginning January 5, 2021: when you buy a non-discounted four-night/three-day room and ticket package at select Disney Resort hotels for arrivals most nights January 8 through September 25, 2021, you'll get an additional two days of theme park tickets! I wanted to let you know about this great offer now so you have a couple weeks to start planning … and dreaming of all the fun you can have at The Most Magical Place on Earth.
Like what, you ask? Well … plenty! You could check out the Taste of EPCOT International Festival of the Arts, which begins January 8 and runs through February 22. We have all sorts of new character experiences throughout the theme parks and Resort hotels. And there are incredible attractions galore, from Mickey & Minnie's Runaway Railway at Disney's Hollywood Studios to Avatar – Flight of Passage at Disney's Animal Kingdom Theme Park and so many more. Cinderella Castle even has a royal new makeover at Magic Kingdom Park – perfect for that new family portrait! 2021 will also mark the return of the guest-favorite Park Hopper option, which will be available for purchase as an add-on with this package.
As a reminder, Walt Disney World continues to operate with enhanced health and safety policies so everyone can enjoy the magic responsibly. To manage attendance, guests are required to have valid theme park admission and make a park reservation for each day of their visit through the Disney Park Pass system. Please visit Disneyworld.com/Updates for more information. There are also some other excellent offers available right now for booking into 2021, so there are plenty of options to get your new year started off right. Disney Vacation Club Members, learn about a special Member Offer at Disneyvactionclub.com. Here's to a great big beautiful 2021!
We highly recommend booking with an Authorized Disney Vacation Planner to ensure you are well taken care of and get all the discounts available to you. For more details and help booking your vacation, call our travel partners Magical Vacation Planners at (407) 442-0227. You can also get a no-obligation, FREE vacation quote by clicking here.  Their services are free to you and they can answer any questions you may have.
RELATED ARTICLE: Top 10 Reasons You Need to Stay on Property
by Chad Nykamp
Every Disney World vacation starts with choosing where to stay. As much as we'd like to be in the parks 24/7, they do close, and you do need a place to sleep. But staying at an on property resort is about so much more than sleeping. Disney hotels are genuinely part of the whole experience. In our years of coming to Disney World, we have stayed on and off property. There are lots of reasons why staying on property just can't be beaten. Here are ten of them.
10 – Room Charging
Those awesome Magic Bands aren't just for getting into the parks. They also allow on property guests to charge purchases back to their rooms. The convenience of this may not be completely evident until you are in the midst of your vacation. This means you won't have hundreds of charges to go through on your credit card. It really makes life easy at the pools and water parks, as there is no need to carry cash or credit cards with you. Warning: It doesn't make it a lot easier to make purchases so be sure to monitor how much you're spending to avoid a budget-busting surprise later.
9 – Save Money
Editor's Note: During the phased reopening of Walt Disney World, the Disney Dining Plan is temporarily suspended.
This is going to come as a surprise to a lot of people, but staying off property probably may not be saving you as much as you think, if anything.
If you're flying into Orlando and staying off property, you'll need to rent a car and pay $25 a day for parking at the theme parks. For an average family, those two items will add $75-100 per day for a one-week vacation. Disney resort guests and get from the airport to Disney World for free on Magical Express and use the busses to get anywhere in the World. By staying on property without a rental car, you'll save that $75-100 per day. To get a real apples to apples comparison, you need to add the cost of your rental and theme park parking to your off-property room rate. However, there is a resort parking fee for overnight resort guests. So, if you are arriving in your family vehicle, or decide you want a rental car, you will pay for parking as well and eliminate those savings.
Finally, don't forget about the dining discounts and Disney Dining Plan. These options can add up to additional savings. Bottom line, staying on property is probably less expensive than you think compared to off-property hotels all things considered. Just make sure you're comparing similar level hotels (no, you can't compare staying at a youth hostel to a suite at the Grand Floridian).
8 – Early access to Dining Reservations and FastPass+
Editor's Note: During the phased reopening of Walt Disney World, FastPass+ is temporarily suspended and the booking window for dining is 60 days. 
While changes over the last few years to Disney's reservation system have made getting dining reservations easier, that doesn't mean that the most popular dining spots don't fill up quickly. Getting a table during prime dining time at Le Cellier, Cinderella's Royal Table and many others is a challenge even during the slowest times of the year. Reservations for dining can be made 180 days in advance. Staying on property gives you an advantage here because of the +10 rule. The +10 rule allows you to start making reservations 180 days out from your check-in day AND then 10 days past that. Essentially, giving you a 9-day window where you have a head start over the general public.
The same advantage applies to making FastPass+ reservations. Fast passes can be reserved 30 days in advance UNLESS you're staying on property. Resort guests can choose fast passes 60 days in advance. Avatar Flight of Passage here I come!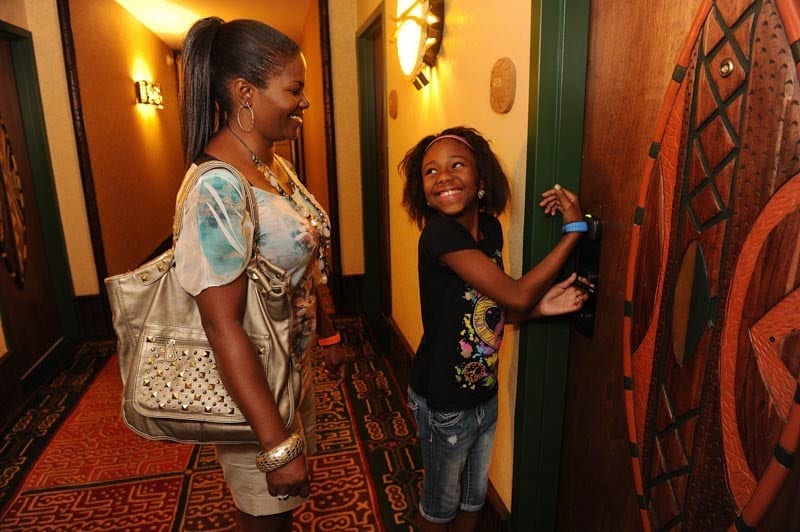 7 – Transportation
If you've ever seen a National Lampoon's Vacation movie (look kids, Big Ben, Parliament), you'll know that getting around can suck a lot of fun out of the experience. Disney knows that, so they've set up a public transportation system that rivals that of most major cities. From the moment you land in Orlando to the time you depart, you can get around without ever doing any of the driving. Between buses, boats, the Disney Skyliner, and monorails, there isn't anywhere you can't get to.
Also, if you think you're going to stay off property and the hotel shuttles will be just as good, think again. If your hotel offers a shuttle, it likely has very limited and fixed schedules and will probably be very crowded. I've heard horror stories over and over about how much vacation was wasted this way.
6 – Pools
For many people, the pool is a big part of a vacation experience. It's bound to be the favorite part of the trip for most kids, and it's an important afternoon break from the heat of central Florida. The pools at Disney World blow away the pools at most off-property hotels. With fantastic theming and pool bars at most resorts, it not only cools you off but also pulls you deeper into the magic.
*** See #3 below.
5 – Extra Magic Hours
Editor's Note: During the phased reopening of Walt Disney World, Extra Magic Hours are temporarily suspended.
Extra Magic Hours are a way for guests staying on property to enter a select park each day an hour early or stay later after a park has closed to the general public. Besides extending precious park time, it's also an excellent opportunity to get extra rides in when lines are shorter. Morning EMH provides the maximum low wait time riding. We've managed to get in more rides in one morning this way than an entire afternoon during regular hours.
4 – Convenience/Time
What is the biggest problem with every Disney vacation? Every single one of them is too short. One of the biggest advantages of staying on property is the convenience it provides and the precious time it saves. Getting to the parks is quicker. Running back the room for a nap or pool time is just a lot easier if you're in a Disney hotel. Remember, Disney World is twice the size of Manhattan. It's a BIG place and getting from point A to B can already take a lot of time.
A Disney World vacation isn't cheap. I always encourage people to imagine they are paying by the hour. Every hour wasted during your vacation is losing money.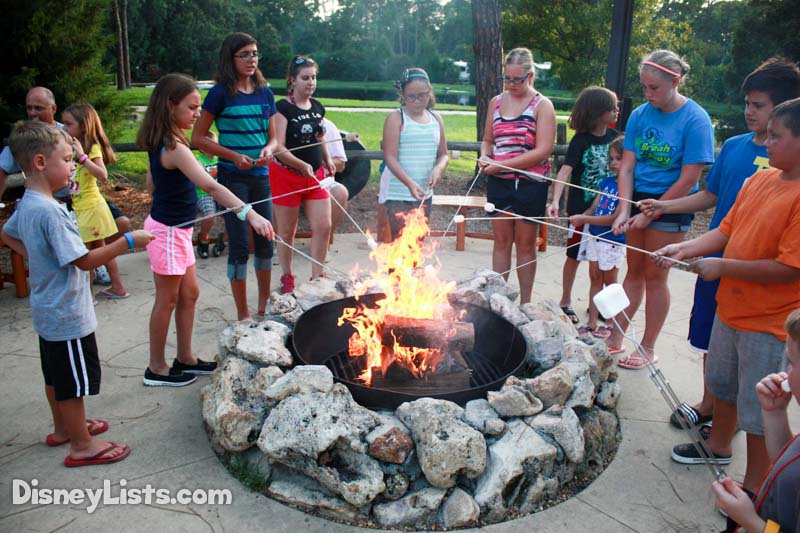 3 – Special Entertainment – movies at the pool, trivia, and games
One really cool treat to staying at a Disney resort is all the little entertainment extras they provide. Head to the pool in the afternoon, and you're likely to walk into a dance party or trivia game. In the evenings, many of the resorts set up a movie screen and show a Disney favorite poolside. There may also be a scavenger hunt or field games depending on where you're staying.
2 – The Magic
What makes Disney World different from every other amusement park in the world? The Magic! A vacation at Disney is like going to another planet. I haven't vacationed anywhere else where I'm able to leave the real world behind entirely. We call it the bubble. Staying on property extends the bubble to 24 hours a day and provides total immersion in what Disney does best.
1 – Pre-trip Build up
The absolute best part of staying on property is that the experience starts even before you make the reservation and continues up until check-in. Disney is great about sending materials pre-trip that amp up the excitement. We especially look forward to receiving our Magic Bands! One trip, they even sent us a sweet light-up Mickey jump drive with all our information on. It's very entertaining and full of great information. It's also a good way to get your Disney fix between vacations (floating bench mean anything to you? :) )
For a no obligation, FREE Quote on a Disney vacation package, please contact our travel partner Magical Vacation Planner at 407-442-0227 (407-442-0215 for Spanish). You can also request a FREE quote online by Clicking HERE.