Pandora – The World of Avatar is Disney's Animal Kingdom's newest land is the largest expansion in the history of Disney's Animal Kingdom. Since its opening in 2017, the land has been a huge hit with guests and is extremely popular. Keep reading to learn everything you need to know about Pandora – The World of Avatar.
10 –  What is Pandora?
The land is based on Oscar-winning filmmaker James Cameron's record-breaking box-office hit, Avatar, which was released in 2009. The film was insanely popular, mostly due to Cameron's amazing special effects. The movie is a science fiction film about humans attempting to colonize a habitable moon called Pandora. While living on Pandora sounds like a great opportunity for this cast of humans, they are met with resistance from the local tribe of Na'vi. Animal Kingdom's lush world of Pandora is set a generation after a great conflict, the Na'vi and humans are at peace, and the land is experiencing a rebirth. Pandora now welcomes Disney guests as eco-tourists.
"We are taking our guests on a journey to this world in an experience that's as realistic and immersive as possible," says Joe Rohde, Walt Disney Imagineering portfolio creative executive. "In the movie, the world of Pandora is a setting for the action and characters whose story we follow. Here, guests are the primary characters immersed in an extremely vivid, authentic experience."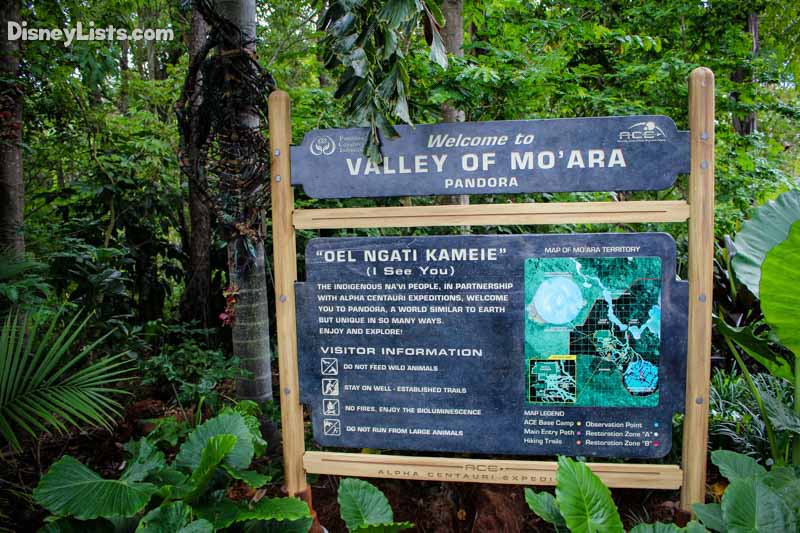 9 – How Does Pandora Fit in with Disney's Animal Kingdom?
The land is a collaborative effort of Walt Disney Imagineering, Cameron and Cameron's Lightstorm Entertainment. The thriving Pandoran landscape reinforces messages intrinsic to Disney's Animal Kingdom such as transformation through adventure and conservation and stewardship. "A similar value system underlies the AVATAR film," John Landau AVATAR producer, Lightstorm Entertainment says, and he's hopeful guests are inspired to find meaning in their expedition through Pandora. In addition to the bioluminescent plants of Pandora, with species names like Spiny Whip, Dapophet and Vein Pod, other wonders of the land include the creatures that guests encounter and, in some cases, interact with.
"The landscape will be alive with creatures," Rohde says. "We're bringing to life everything from the largest creature you might encounter to the most microscopic. Animals will appear out of the underbrush – big Pandoran animals will appear at the edge of the forest, and you'll hear the very complicated calls they issue back and forth."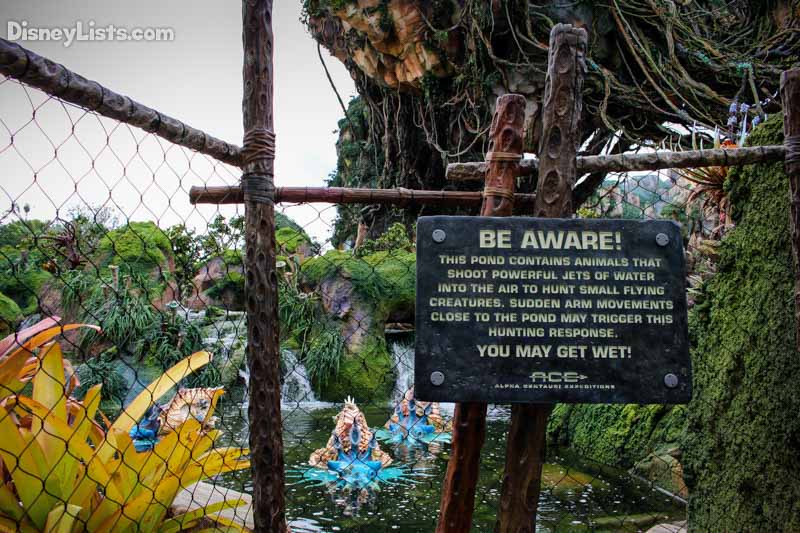 8 – What Kind of Technology Can I Expect?
Since 2012, Walt Disney Imagineering and Lightstorm Entertainment have collaborated to imagine and create Pandora through the talents of a team of designers, artists, sculptors, structural engineers, robotic technicians and a host of other professionals. The team traveled to rainforests and tribal areas and worked with artisans, weavers, and carvers, including Bali artisans who contributed works to Discovery Island when it opened at Disney's Animal Kingdom in 1998. Authenticity and realism were drivers in the creation of Pandora, and the result truly is a world beyond belief. "The attractions have very deliberate emotional moments crafted into them, the way a good story does, the way a good film does," Rohde says. "It's not as simple as just coming to a place that looks realistic. It's a place that's been deliberately imbued with the emotions of awe, of wonder, of respect, of harmony."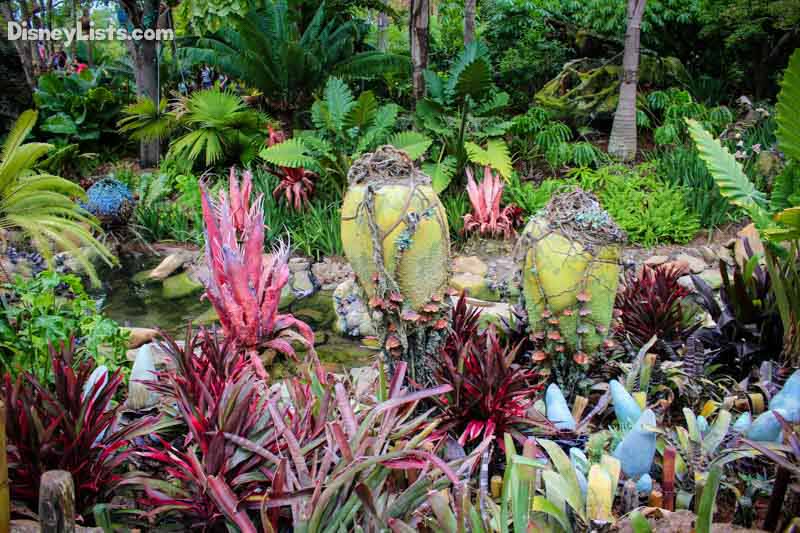 7 – What Will I See First?
Guests to Disney's Animal Kingdom cross the park's Discovery River into Pandora – The World of Avatar and continue along a winding rainforest path for their first glimpse of the land's iconic "floating mountains." "When guests come across the bridge, they are transferred light-years away, to the Alpha-Centauri solar system and Pandora," says Jon Landau. "It's an otherworldly, fully-themed experience."
As you explore the verdant terrain sprawling beneath mountains that appear to float in the sky, you'll see waterfalls cascading down the mountainside into meandering streams and pools, and then you'll discover two thrilling new expeditions: Avatar Flight of Passage and Na'vi River Journey.
The transformation from Animal Kingdom to the moon of Pandora begins as guests cross the bridge from Discovery Island and from the moment we stepped foot into Pandora we were delighted by the joy of discovery. The landscape is dotted with beautiful, colorful, and amazing imagineered plant life. The tone is set for the Pandora experience a short way up the trail as guests encounter an enormous pod-like plant that reacts in different ways to guest interaction (this particular plant loves to have its belly rubbed!).
This is just the beginning of the experience. Further into Pandora, we were astounded by the amount of color, artwork and interactive experiences. Disney is famous for its immersive theming. However, Pandora takes the theming to a whole new level. Rather than just providing backdrop and context, with so many remarkably foreign flora and fauna to discover, and nearly everything having some sort of interactive element, the theming in Pandora rises nearly to the level of attraction in itself.
In addition to taking time to admire the beauty of the plant life, be sure to be on the lookout of the many examples of Na'vi artwork woven into the landscape and queue areas.
6 – What is Avatar Flight of Passage?
Avatar Flight of Passage launches each guest on an exhilarating, wind-in-your-face experience on a winged mountain banshee over the awe-inspiring world of Pandora. Guests will actually feel the banshee breathe beneath them as they soar through the forest and past floating mountains. What was a rite of passage for Na'vi in Cameron's film becomes a multisensory experience for guests seeking the ultimate adventure – an encounter with the most feared predator of Pandora, the Great Leonopteryx.
This simulation-type ride is thrilling, realistic and very intense. Guests sit on seats similar to a motorcycle that faces an enormous projection screen similar to Soarin'. The projection is 3D so expect to wear 3D glasses. There are also numerous 4D effects and scents that add to the realism. Most guests will find it the most amazing simulator ride they've ever experienced.
This attraction is one of the Individual Lightning Lane Attractions at Disney's Animal Kingdom, where guests can pay for access to the Lightning Lane. This lane allows guests to "skip the line." It is not included in Disney Genie+ and must be purchased separately on the morning of your visit. Prices will vary by date, attraction, and park. We've seen prices range anywhere from $7-$25 per person per attraction.
WARNING: Guests who suffer from motion sickness need to be warned that this ride is on a whole new level than any other simulator/movie attraction at Disney. Cindy learned this the hard way. While Cindy has no problem riding attractions like Expedition Everest or Soarin', this ride was another story. The full immersion of the senses in this ride makes it so much more intense than rides like Soarin' or Star Tours. If you're prone to motion sickness, you probably want to take a pass on this attraction. If you still want to experience the ride, you may want to consider having a sick bag ready and perhaps try some Dramamine before boarding.
This ride requires guests to be at least 44 inches tall. There is a single-rider option for this ride.
5 – What is the Na'vi River Journey?
On the family-friendly Na'vi River Journey, guests travel down a sacred river deep into a bioluminescent rainforest. Aboard reed boats, they float past exotic glowing plants and Pandoran creatures into the midst of a musical Na'vi ceremony. The mystical journey culminates in an encounter with the breathtakingly realistic Na'vi Shaman of Songs who is deeply connected with Pandora's life force and sends positive energy into the forest through her music. "This is an attraction that the entire family can enjoy," Rohde says. "We put you into a magical experience that comes to life through the bioluminescence, the plant and animal activity, and the shaman's music. There's a wonderful harmony in the entire glowing scene during this lyrical, uplifting journey that builds to a really beautiful crescendo." Note that Na'vi River Journey is one of the Disney Genie+ attractions.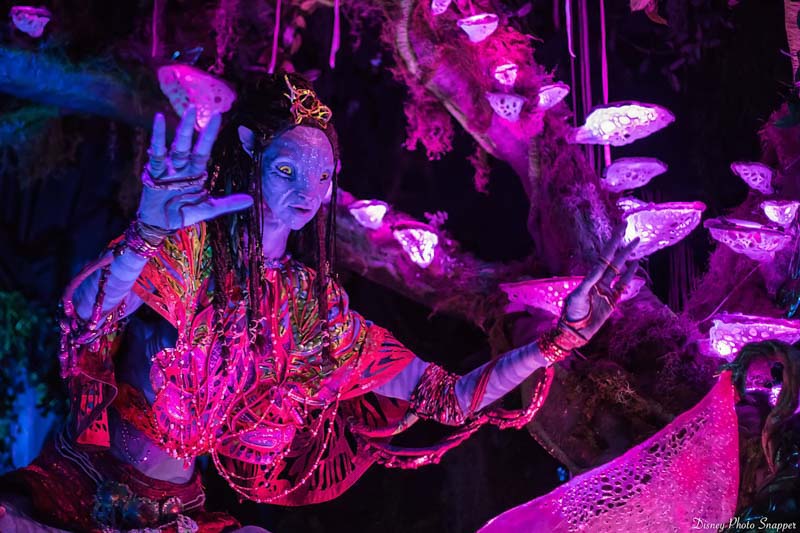 This attraction is a very gentle ride that is appropriate for all guests. There are many cool effects to discover (make sure you look up as well as around). The unbelievable animatronic Na'vi Shaman is well worth the ride alone. The movements of this new generation of animatronic are amazingly fluid and lifelike. It's great to see technology advance so much.
 There is no height requirement for this ride.
4 – Where Can I Eat in Pandora?
The artful storytelling on Pandora continues as guests stop for sustenance at the land's Satu'li Canteen (pronounced "Sa-too-lee"), a Quonset-hut-style building with a spacious dining area that pays tribute to the Na'vi and their culture with special décor. The menu at this fast-casual restaurant is inspired by the healthful bounty of Pandora – wholesome grains, fresh vegetables, and hearty proteins.
Satu'li Canteen has become our favorite quick-service restaurant at Disney's Animal Kingdom. Not only is the food delicious and filling, but the prices are right in line with other Disney quick service restaurants if not a bit cheaper (around $15 per person with entrée and drinks). The portions are surprisingly generous, and we leave full without being able to finish our meal. The meal at the Canteen is better quality, has better flavors, and is more filling than most standard Disney quick service locations. The Canteen is now our go-to quick service location for Animal Kingdom. In our opinion, it is easily in the parks' top three counter service options.
Guests can also grab a drink at nearby Pongu Pongu, where a friendly expat serves out-of-this-world beverages, including a bioluminescent frozen cocktail and indigenous beers. There's even a sweet snack that guests won't find elsewhere. That snack is called the Pongu Lumpia and is a pineapple cream cheese spring roll. The snack was interesting. The filling was light and sweet, although we thought there could have been less pineapple and more cream cheese in the filling. However, if you love pineapple, you'll likely love this snack. The Pongu Lumpia and a non-alcoholic beverage are both snack items on the dining plan.
3 – How Should I Plan My Visit to Pandora?
We highly recommend that you take plan two days at Animal Kingdom during your Disney World Vacation. While some have argued that this park can easily be conquered in one day, that is certainly not the case anymore. We've always been huge fans of Animal Kingdom, and now more than ever, you'll want plenty of time to explore all the lands and experience the park in both the day and nighttime.
If your time or budget doesn't allow for an extra day, then plan on getting to Animal Kingdom right at opening and get in line for Flight of Passage. The attraction usually has a long wait due to its popularity and slower loading nature. The queue for Flight of Passage is insanely long (it took us nearly 10 minutes to walk through without doing any actual waiting).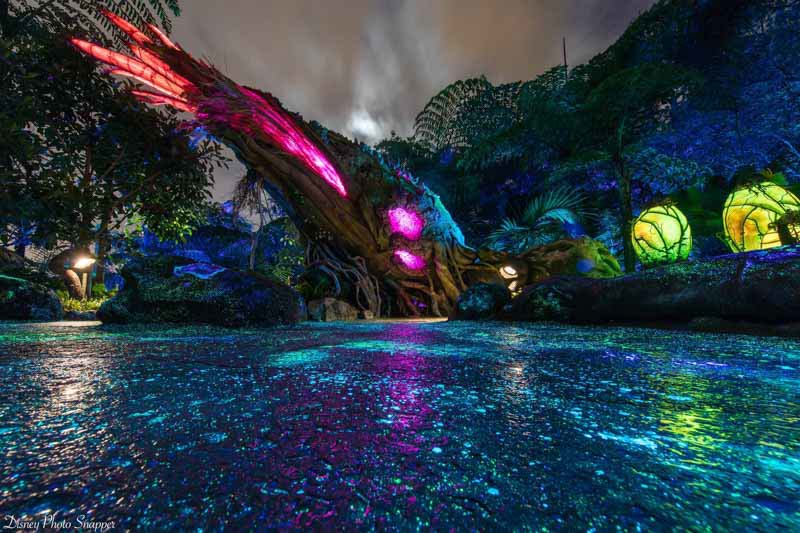 2 – Do I Need to Visit Pandora at Night?
The answer is an unequivocal yes. We've visited at night, and the land transforms into an entirely new experience. The bio-luminescent plants of Pandora illuminate the land at night, giving breath-taking views of the Pandora landscape that are completely different from the daytime experience. Along with the other Animal Kingdom nighttime experiences, such as a night safari, Animal Kingdom is now a must-do nighttime park. In addition to the attractions, food and beverage, and merchandise in this new land, you'll have a chance to experience the Tree of Life Awakenings throughout the evening.
1 – I Have No Interest in Avatar. Is Pandora Really Worth Visiting?
We'll admit we've always been skeptical about the success of this land, given the fact that the film is approaching a decade old. Also, while the movie was popular at its release, the film does not have the cult following of, say, Star Wars or Harry Potter. However, Disney seems to have pulled off an amazing experience that will stand on its own regardless of what has or will happen with the Avatar movie franchise.
Despite this, the short answer to "should I visit" is an absolute yes. Whether you are an Avatar fan or not, the new Pandora expansion is stunning if you choose to skip the Pandora land because you aren't a fan of the movie, you will really be missing out.
For a no obligation, FREE Quote on a Disney vacation package, please contact our travel partner Magical Vacation Planner at 407-442-0227 (407-442-0215 for Spanish). You can also request a FREE quote online by Clicking HERE.