Walt Disney World has reinvented The Diamond Horseshoe several times throughout the years, transforming it from a Western-themed dinner show to a counter-service restaurant to its current blend of an all-you-can-eat version with food available to order a la carte. Because of the changes made recently, you may not know much about what makes it a fabulous restaurant. If you're curious, then consider these seven things you should know about The Diamond Horseshoe before eating there.
7 – Between the Lands
Officially, The Diamond Horseshoe sits within Liberty Square's borders, but a few steps to the west puts you squarely inside Frontierland. The location of this table-service restaurant provides easy access to anyone who's been riding the mountain attractions nearby or taking a tour of Haunted Mansion. Its location also provides a perfect bridge between the lands, since it features the themes of Western expansion so common in Frontierland while still maintaining the colonial elegance of the East. In any case, it serves as a top-notch dining facility right in the heart of the action.
6 – Grabbing a Table
Certainly, making early reservations at sit-down restaurants in Walt Disney World guarantees your table, but walk-ins shouldn't find it impossible to eat at The Diamond Horseshoe. However, parties larger than four diners will likely endure an extensive wait, and peak season may shut out all walk-ins. If you're visiting in the middle of the summer, the Christmas season, or during spring break, then make sure you reserve your table as early as possible, up to 60 days in advance. Even if you didn't decide to book a table at this restaurant before your arrival, you should ask the host or hostess when a table will become available or check your My Disney Experience app to see if you can make a last-minute reservation. Also, take note that the Diamond Horseshoe operates seasonally and is not always open.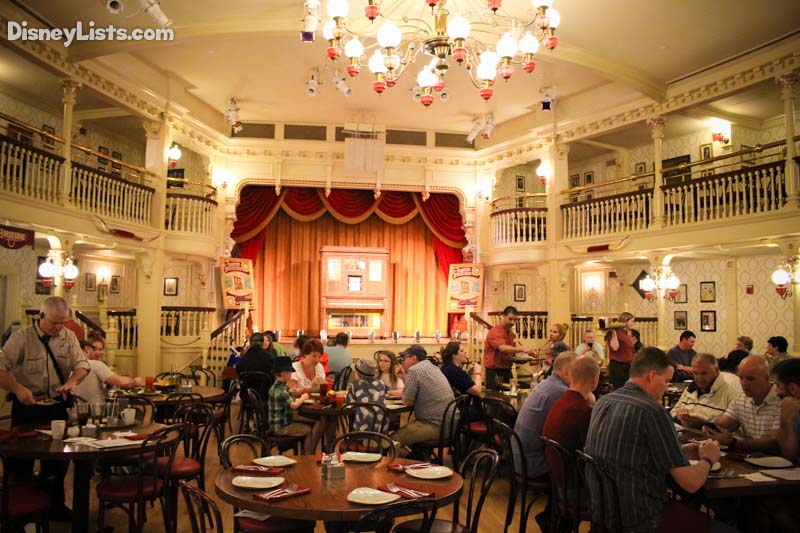 5 – High-Falutin Motif
Take a walk around the dining hall and notice the artwork and decorations featuring America's westward expansion. Many guests tour the room while snapping photos of their favorite pieces; if you join them, be certain to respect other diners and avoid blinding them with your flash. If the upper level is open, then consider visiting there, as well. The décor takes you back to America's historical roots and puts you in a cowpoke mood. Even though the stage doesn't currently feature Old West shows and revues, you can still take note of the self-playing piano stationed there. With the elegant design and historic décor, it becomes easy to imagine that you've slipped into a classy saloon from America's past, just without the alcohol, gambling, and gunfights.
4 – Friendly, Folksy Service
Though all Disney restaurants present the friendliest cast members to seat and serve you, The Diamond Horseshoe brings it out with Western charm. The staff greets you with an exuberant "howdie" and calls you by your family name, even when you dine alone. During both peak and off seasons, you'll likely encounter warm, speedy service from your server. Also, the food is presented quickly, since the limited menu selections mean that the chefs are constantly preparing each type of entrée. Cast members make rounds routinely to remove empty plates, replenish drinks and cornbread, and take additional orders.
3 – Grub Pile
Though the cowboys of yesteryears called their meals "grub piles," which they often received at chuckwagons, The Diamond Horseshoe isn't serving messy heaps of beans and meat. Naturally, popular Western dishes inspired the menu, but the chef's transformed ingredients once consumed on the trail into delicious cuisine. Start off with a course of salad for everyone with a chipotle-ranch house dressing and a platter of moist cornbread. You can expect Roast Turkey Breast, Pennsylvania Pot Roast, and Oven-roasted Pork with Mashed Potatoes, Seasonal Vegetables, Herb Stuffing, and House-made Macaroni & Cheese. For dessert, you'll find options such as Warm Apple Cake and Oooey Gooey Toffee Cake. These current offerings taste delicious but make sure you check the menu at The Diamond Horseshoe regularly before you arrive, as Disney has experimented and altered the menu from time to time.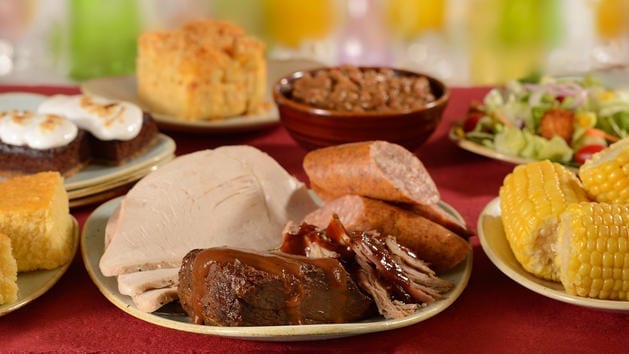 2 – Helpings
Besides the flavorful dishes being served, the great thing about the all-you-can-eat option is that you can try everything. Disney reimagined this restaurant as an all-you-care-to-eat dining hall in honor of the robust appetites of cowboys on the trail. Just as cowboys need sustenance to herd cattle across large areas of the country, your family members need nourishment to energize themselves for activities at Magic Kingdom. Those having trouble deciding which entrée to try find this arrangement satisfying, since they can have them all. Those with large appetites should make sure they have room to loosen their belts. If you have a smaller appetite or have been snacking all day, don't worry, you are free to order individual items as well.
1 – Paying Up
Editor's Note: At this time, the Disney Dining Plan is temporarily suspended, however, Disney has confirmed that it will return.
Dining at Walt Disney World doesn't come cheaply to those who want to experience its excellent restaurants. However, for the quality of cuisine and the endless supply of chow, the prices at The Diamond Horseshoe provide great value for your family. For this reason, you may want to consider skipping a traditional lunch and simply going hog wild here. If you do, you won't be hungry later, though you could suffer from a stomach ache on Space Mountain if things go too far. The Disney Dining Plan requires an entitlement of one table-service meal for The Diamond Horseshoe, however, if you're short on entitlements because of a reservation at one of those premium, 2-credit restaurants, then consider just paying out-of-pocket for this one. Also, don't forget to tip!