Disney is continuing to share more Disney Parks recipes and this one is from the new Vibrante & Vívido Food Studio at this year's Taste of EPCOT Festival of the Arts! We're looking forward to making this one at home. Learn more below.
Here are all the details from Disney Cast Member Sarah Domenech:
New Year, new food studio at the Taste of EPCOT International Festival of the Arts! That's how the saying goes right?
Vibrante & Vívido Food Studio is the new addition to this year's festival and the food featured is definitely vibrant, vivid and oh so colorful and full of flavors inspired by different cuisines in South America.
Located between Morocco & France, the food studio includes Latin-inspired dishes like a Chilled Seafood Cocktail with Octopus, Scallops, Shrimp, Black Garlic Aïoli, Tomato-Coconut Sauce, and Serrano-Lime Oil; a Blue Corn Pupusa-stuffed with Cheese and topped with Shredded Pork, Guajillo and Árbol Chile Sauce, Cabbage Slaw, and Aji Amarillo Crema (Gluten/Wheat Friendly) and a Passion Fruit Mousse with Dragon Fruit Jam.
Some of the beverages that you can find at this new studio are a coconut and passion fruit smoothie (non-alcoholic), a frozen piña colada and a passion fruit daiquiri.
For those at home that would love to make one of these dishes at home, here's a recipe for the Mousse de Maracuya con Pitaya Roja Jam.
MOUSSE DE MARACUYA CON PITAYA ROJA (PASSION FRUIT MOUSSE WITH DRAGON FRUIT JAM)
Makes 12 Servings 
Dragon Fruit Jam 
1 (12 ounce) bag frozen red dragon fruit
1 cup sugar
1 tablespoon lime juice
Mousse de Maracuya 
1/4 cup sugar
1 cup passion fruit purée
1 cup chopped white chocolate
1 1/2 cups heavy whipping cream
Reserved dragon fruit jam
Sugar Cookies 
3/4 cups butter, softened
1 cup sugar
2 eggs
1/2 teaspoon vanilla extract
2 1/2 cups all-purpose flour
1 teaspoon baking powder
1/2 teaspoon salt
Dragon Fruit Glaçage 
15 gelatin sheets
2 cups ice water
1 1/4 cups frozen red dragon fruit
1 1/2 cups sugar
1 (14 ounce) can sweetened condensed milk
4 cups chopped white chocolate
Passion Fruit Sauce 
2/3 cup passion fruit purée
1 tablespoon lime juice
1/2 cup sugar
Directions:
For Dragon Fruit Jam:
Combine dragon fruit, sugar, and lime juice in small saucepan. Cook over medium-high heat until liquid begins to boil. Reduce to simmer and cook for 20 minutes, stirring occasionally, until thick.
Place in medium bowl and cool for 30 minutes. Blend with immersion blender until smooth.
Refrigerate until ready to use.
For Mousse de Maracuya:
Combine sugar and passion fruit purée in small saucepan. Cook over medium heat for 5 minutes, until hot but not boiling.
Place white chocolate in medium glass bowl. Pour hot passion fruit mixture on top and rest for 2 minutes. Stir until chocolate is melted and mixture is smooth.
Cover and refrigerate for at least 4 hours.
Whip heavy cream in bowl of electric mixer fitted with whisk attachment until stiff peaks form. Gently fold whipped cream into chilled passion fruit mixture.
Transfer mousse to piping bag fitted with large round tip.
Fill twelve 3 1/4 x 2 1/8 x 1 1/4-inch rectangular silicone molds half way full with mousse.
Pour reserved dragon fruit jam into piping bag fitted with small round tip. Carefully pipe a thick strip of jam into the center of each mold, being careful to avoid the edges.
Fill each mold with remaining mousse, filling to top.
Freeze for a least 4 hours, or overnight.
For Sugar Cookies:
Cream together butter and sugar in bowl of electric mixer fitted with paddle attachment. Add eggs and vanilla and beat on medium speed until mixed. Add flour, baking powder, and salt, and mix on low speed until soft dough forms.
Cover and chill dough in refrigerator for at least one hour.
Preheat oven to 325°F. Line 2 baking sheets with silicone baking mats.
Roll dough on floured surface into 1/4-inch thick rectangle. Cut into twelve 3 1/2 x 2 1/2-inch rectangles.
Place 6 cookies on each baking sheet. Bake 12-15 minutes, until golden brown.
Cool completely.
Once cookies are cool, place all 12 cookies on parchment-lined baking sheet. Set aside.
For Dragon Fruit Galçage: 
Bloom gelatin sheets in ice water.
Heat dragon fruit and sugar in small saucepan over medium heat until boiling.
Drain excess water from gelatin sheets.
Add gelatin and sweetened condensed milk to boiling sugar mixture.
Place chopped white chocolate in large bowl. Pour warm mixture over white chocolate. Let sit for 2 minutes.
Carefully blend with immersion blender until chocolate and dragon fruit are smooth.
Cool to 90°F.
For Passion Fruit Sauce:
Place passion fruit purée, lime juice, and sugar in small saucepan. Cook over medium-low heat, until boiling.
Simmer for 5 minutes, until sauce thickens and begins to reduce.
Remove from heat and cool to room temperature before use.
To serve: 
Remove frozen mousse from molds. Place on baking sheet lined with silicone baking mat.
Pour 2 1/2 cups of the 90°F dragon fruit glaçage into liquid measuring cup. Carefully pour on top of the frozen mousse, making sure edges and sides are covered. Set in refrigerator for 30 minutes.
Reheat remaining glaçage in a saucepan over low heat until it reaches 90°F. Pour into liquid measuring cup and pour over mousse for a second coat.
Place one mousse onto the center of each cookie. If mousse is too soft, place in freezer for 10 minutes before moving. Refrigerate until ready to serve.
Place 1 tablespoon of passion fruit syrup on each plate. Spread evenly into a circle with a pastry brush or by pressing the flat edge of drinking glass against the syrup.
Place cookie with mousse on sauce to serve.
Cook's Note: Refrigerate any leftover jam in a sealed container – it's delicious spread on warm buttered toast.
If you haven't experienced this year's festival, running now through February  22, don't wait too long. In addition to Vibrante & Vívido Food Studio, there are 14 more food studios celebrating the best in culinary arts.
RELATED ARTICLE: 2021 EPCOT International Festival of the Arts: What You Need to Know
by Cindy E. Nykamp
The Taste of EPCOT International Festival of the Arts is now open at Walt Disney World Resort, celebrating visual, culinary and performing arts from around the world. Through February 22, 2021, guests can experience this celebration as part of regular park admission, with something to satisfy every palate – and every palette! Learn more about this festival below. We visited the festival on opening day and have been back to experience more! We've got all the details on this year's festival and you don't want to miss it. Learn more below.
1 – Food Studios Bring Global Culinary Arts to EPCOT
When you think of an EPCOT festival do you think of the food? We do, and even though this festival is the smallest of the four festivals, the Festival of the Arts has got some great offerings for guests to enjoy! Not only that, but the festival invites guests to eat great works of art! There are more than fifteen Food Studios throughout the park that offer imaginative, art-inspired food and drink featuring clever culinary creations cooked up by Disney chefs.
Here are some highlights for items to be on the lookout for:
NEW! Vibrante & Vívido Food Studio – located between Morocco and France in World Showcase – features a Chilled Seafood Cocktail, Blue Corn Pupusa and Passion Fruit Mousse, along with a Coconut and Passion Fruit Smoothie and more.
The Artist's Table at The American Adventure offers a menu including Beef Wellington, a Sipping Chocolate Flight and guest-favorite Artist Palette Jumbo Chocolate Chip Cookie.
The Painter's Palate in World Showplace features Prime Steak Tartare, Pistachio Cake and a selection of cocktails.
Festival Favorites – also in World Showplace – offers Remy's Ratatouille, a Lemon Blood-Orange Tart, the Neapolitan Beer Flight and more.
Check out some of the delicious items we tried! (Click on any photo to enlarge).
Frozen Rusty Nail Cocktail, Kalimotxo (Red wine cocktail with Pibb Xtra) and Pistachio Cake from the Painter's Palate
Remy's Ratatouille with eggplant, zucchini, yellow squash, tomatoes, and red pepper piperade from Festival Favorites
Learn more about this year's new offerings from Disney Chef Kevin in the video below:
Click here for full menus from each Food Studio, plus other festival-related foodie fun.
Click here for photos from our Instagram Story of photos of every Menu Board with prices for easy planning.
2 – 100+ Visiting Artists Share Their Work During the Festival
The Taste of EPCOT International Festival of the Arts boasts more than 100 talented artists over the course of the 46-day event, featuring pieces in a wide variety of styles and disciplines. Guests can explore Festival Markets throughout the park to purchase new discoveries and, in some cases, meet the artists in person. This part of the festival really makes it stand out from the other festivals at EPCOT. It's such an amazing experience to be able to not only meet a Disney artist but have them sign their work of art for a very special keepsake.
As you enjoy the festival here are some tips for exploring and enjoying the art shared at the festival:
Disney-inspired art is available throughout Festival Markets, ranging in styles from classic to whimsical to edgy. Non-Disney art is available, as well.
Visiting artists create new pieces live during the festival, providing insight into their processes and personalizing work for guests.
Artists and Festival Markets will rotate throughout the festival, so guests will likely find something new each time they visit.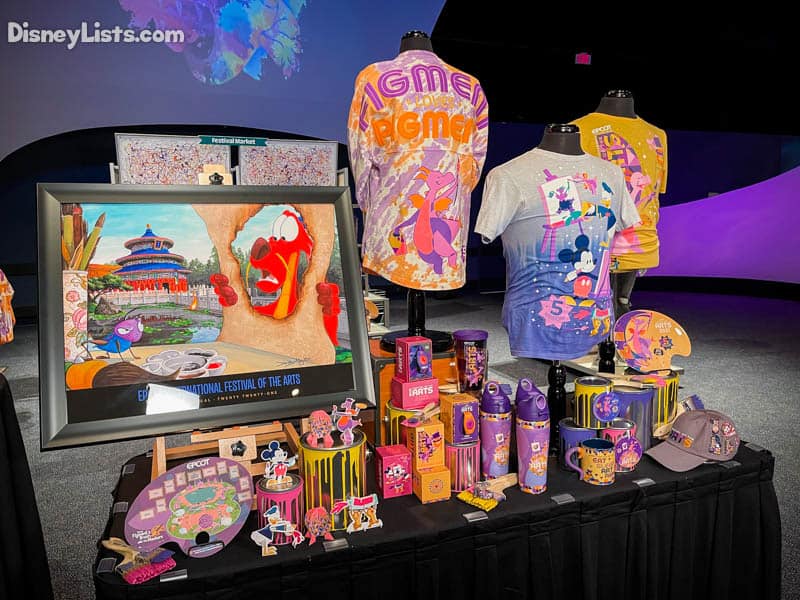 3 – Event Merchandise – Celebrating the 5th Anniversary of the Festival of the Arts!
Event-specific merchandise is available throughout the park, including shirts, caps, face coverings, trading pins, MagicBands, homeware and more. This year's festival celebrates the 5th Anniversary of the Festival of the Arts. Look closely at some of the merchandise and you'll spot Dreamfinder!
4 – A Variety of Visual Arts and Live Performances Await
This year's festival offers a multi-disciplinary showcase of performances, including music and visual arts. New this year is the chance to see the Voices of Liberty take the America Gardens Theatre stage with a brand-new showcase – the Disney Songbook. Featuring classic Disney tunes, this lively performance celebrates the artistry of Disney composers. We enjoyed this addition so much and it is well worth taking time to watch their performance!
At World Showplace (between the Canada and UK pavilions), Performance artists rotate throughout the festival in World Showplace, including thrilling feats of strength from Art Defying Gravity, a pianist playing favorite Disney songs, and a high-energy onstage performance by a guest artist who paints Disney characters in only a matter of minutes.
Finally, guests can take in the festive atmosphere created by the popular JAMMitors, performing live on the Mill Stage in the Canada pavilion.
5 – Interactive Activities Offer Artful Fun for Everyone
The Taste of EPCOT International Festival of the Arts creates plenty of ways for guests to express their own artistic talents and style.
The Animation Academy at America Gardens Theatre features a Disney artist giving guests a step-by-step lesson in drawing Disney characters.
Expression Section: A Paint-by-Number Mural invites guests to work together in completing a larger-than-life piece of art created for the festival by Disney Imagineers.
Around World Showcase, guests can step into famous artwork in special photo-opportunity installations.
With Spin Art, guests can create their own art by choosing their favorite colors and then "spinning" them to life via a custom-made stationary bicycle.
Through Enemy Ink, guests can express their own fashion sense by choosing a color, design and style and then watch as a new t-shirt is printed right before their eyes.
On the bridge between Future World and World Showcase, guests can discover the work of imaginative chalk artists. Guests can also find chalk drawings of Disney characters tucked away in corners throughout World Showcase. (See photos below).
6 – Search World Showcase on Figment's Brush with the Masters Scavenger Hunt
In Figment's Brush with the Masters, guests of all ages help Figment learn more about art in a family-friendly scavenger hunt around World Showcase. After purchasing a map and stickers, guests look for Figment hiding inside famous works of art at each pavilion. Upon completing the journey, guests return the map to the park's Disney Traders for an artful surprise. Take a look below at photos of the prizes which are works of art themselves!
7 – Health and Safety Reminder
As a reminder, Walt Disney World continues to operate with enhanced health and safety policies so everyone can enjoy the magic responsibly. To manage attendance, guests are required to have valid theme park admission and make a park reservation for each day of their visit through the Disney Park Pass system. Please visit Disneyworld.com/Updates for more information.
More Coverage of the 2021 Taste of EPCOT Festival of the Arts!
Click here for our Instagram Story with photos and video from our visit on opening day of the festival.
Click here for our Instagram Story with photos and video from our second visit to the festival!
For a no obligation, FREE Quote on a Disney vacation package, please contact our travel partner Magical Vacation Planner at 407-442-0227 (407-442-0215 for Spanish). You can also request a FREE quote online by Clicking HERE.