It's hard to believe that we are just over five weeks away from the 2021 Taste of EPCOT International Flower & Garden Festival! The festival runs this year from March 3-July 5. Disney has announced new details about what we can expect this year! Learn more below.
Here are all the details from Disney Cast Member Jeremy Schoolfield:
The Taste of EPCOT International Flower & Garden Festival is a little more than a month away! To get you ready for this year's event, debuting March 3 and continuing through July 5, let's take a look at some fresh new festival details we're sharing today.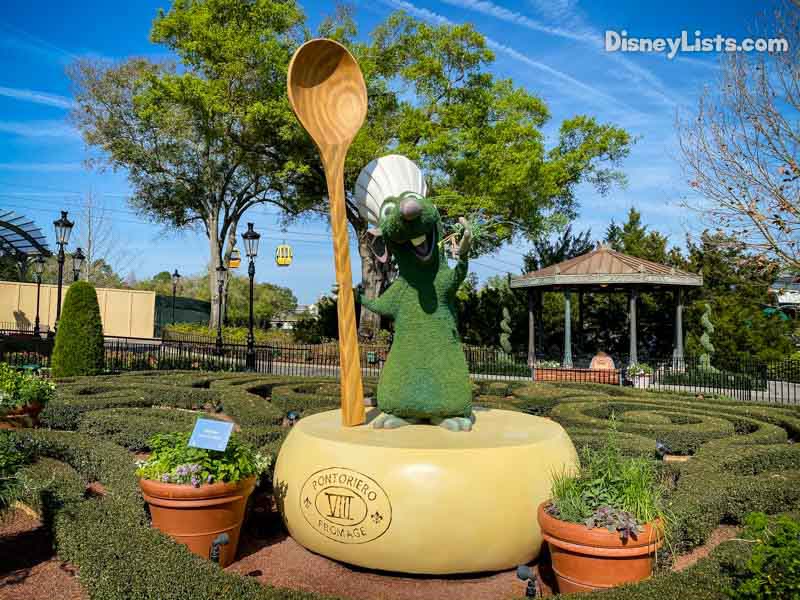 1 – Topiaries Full of Disney Character
Throughout the park you'll see gorgeous topiaries of Disney characters blooming to life in floral sculptures. Highlights will include Remy in the France pavilion, Tinker Bell and the Fairy Houses in the United Kingdom, Lady and the Tramp in Italy and Sorcerer Mickey at the park's reimagined main entrance.
2 – Gardens to Explore
Soak in the sights of spring in 20 different garden areas all across EPCOT, including floating gardens on the waters of Future World, a bamboo garden in China, a tropical rainforest garden in Mexico and the English Tea Garden Presented by Twinings of London in the United Kingdom (where you can also take a Self-Guided Tea Tour!). Another picturesque spot is The Goodness Garden Butterfly House Presented by GoGo squeeZ, where you can view a kaleidoscope of butterflies up close, in all their extraordinary color. And at Outdoor Escapes Presented by OFF! Repellents in Future World East, you can unwind in refreshing spaces that show you just how easy it is to create an outdoor escape for family and friends.
3 – Outdoor Kitchens Galore
Embark on a mouth-watering journey around the park and discover a smorgasbord of options, with more than 20 delectable stops to choose from. Each Outdoor Kitchen offers a specialty menu of creative cuisine and libations to savor and sip. We'll have more details to share in an upcoming post about all the foodie fun you can expect this year.
Here are the Outdoor Kitchens and descriptions as listed on the Walt Disney World website:
Bauernmarkt: Farmer's Market
Venture to Germany for Bavarian bites sure to sate foodies of all ages—every dish is köstlich!
Cider House (Located in World Showplace)
Behold buzz-worthy ciders and artisanal provisions that are sure to hit the spot.
The Citrus Blossom
Treat your taste buds to the subtleties of lemon, orange and lime—turning delicious dishes even more delish!
Festival Favorites (Located in World Showplace)
Discover Guest-favorite dishes, microbrews and other beverages.
Flavor Full Kitchen Hosted by AdventHealth
Discover the many flavors of healthy cuisine in this delightful eatery, featuring vegetables straight from the garden!
Fleur de Lys
Indulge in haute cuisine and boissons that'll make you fall in ooo-la-la-love with this palate-pleasing Parisian pop-up!
Hanami
Journey to Japan for innovative plates crafted with culinary Zen.
Jardin de Fiestas
Take a food-tastic tour of the Mexico Pavilion… these tantalizing tastes will add some spice to your day!
The Honey Bee-stro Hosted by National Honey Board™
Quell cravings with an incredible menu of all-natural food and drink infused with the nectar of the gods!
La Isla Fresca
Nibble on Caribbean-seasoned dishes that'll send appetites swaying to the island beat!
Lotus House
Sink your teeth into authentic Chinese eats filled with morsels of good fortune!
Magnolia Terrace
Get a nice, cozy feeling with some comfort food inspired by the Gulf region.
Northern Bloom
Please discriminating palates with fantastic fare from our Great White North neighbor… O Canada!
Pineapple Promenade
Get your tropical fruit fix from tart 'n' tangy to the sweetest frozen treats!
Primavera Kitchen
Mangiare hearty helpings of Old-Country dishes served with a glass of vino… now that's amore!
Taste of Marrakesh
Intoxicate taste buds with the exotic flavors of this North African mecca—mysterious Morocco!
Trowel & Trellis Hosted by Impossible™ Foods
Delight in some of your favorite foods—created from innovative recipes with some impossibly delicious twists!
Additional Locations
Delight your appetite with mouthwatering morsels, nibbles and noshes from these year-round food stops.
Refreshment Port
Refreshment Outpost
Cool Wash
Funnel Cake
Joffrey's Coffee & Tea Company
4 – Entertainment All Around
The festival features plenty of live music every day. Voices of Liberty perform an all-American a cappella showcase, celebrating the landscape, heart and human spirit of America, and Mariachi Cobre takes the stage for a performance of world-famous Mexican folk music. You can also tap your toes to the sound of the Jammin' Gardeners, performing rhythmic beats with inspired backyard percussion, and head into World Showplace, where the EPCOT Pianist will be playing a selection of songs of the season.
5 – Health Full Trail Presented by AdventHealth
Looking for inspiration, creativity and some youthful energy? At the Flavor Full Outdoor Kitchen and garden along the Imagination Walkway, the whole family can learn ways to stay healthy.
6 – Family Fun with Scavenger Hunts
Spike's Pollen-Nation Exploration is a springtime quest to find the buzzzz-iest honey bee at Walt Disney World Resort. And as a special treat during the Easter season (March 19 – April 4), you can also take part in the Egg-stravaganza Scavenger Hunt to find Disney pals and their oversized eggs all around World Showcase.
7 – Festival Memories
Commemorate your visit with official event merchandise, including apparel, headwear, drinkware and much more, featuring Orange Bird, Figment, Minnie Mouse and Spike the Bee.
The Taste of EPCOT International Flower & Garden Festival is available with valid admission and a park reservation for the same date.
RELATED ARTICLE: 9 Things We Love About the Epcot Flower and Garden Festival at Disney World
by D.W. Noonan
Epcot now hosts four fabulous festivals every year drawing countless visitors to celebrate those seasons with special programming. Many events and activities return to Epcot every year, but festival planners also like to create new things for visitors to enjoy. This spring, the Epcot International Flower and Garden Festival runs from March 3 to July 5. There are a lot of things about the Flower and Garden Festival, but the following nine tops the list.
9 – The Weather
While the days in Florida generally range from warm to hot all year long, the springtime days perfectly fall in the middle with temperatures averaging in the mid-70s to low 80s. During the festival, you're not likely to suffer from relentless heat beating down upon you or cool breezes giving you the shivers. Also, Florida's dry season occurs from March to May, meaning that during the festival, you'll usually find clear skies, low humidity, and not much precipitation. These nearly perfect days enhance your experience of the blossoming flowers of Epcot. Any summer guest at Walt Disney World has certainly endured sweltering humidity and heavy thunderstorms that drive them indoors, but we love the fact that we can avoid them during the Flower and Garden Festival.
8 – The Floral Variety
The diversity of flowers that Disney horticulturalists display during the Epcot International Flower and Garden Festival is mind staggering. Disney achieves this through intensive preparation that requires more than a year of work and around 24,000 cast members. The stunning colors draw a multitude of pollen-carrying insects, melodious songbirds, and photo-snapping humans to the festival. Be sure to bring a quality camera to capture the spectacular images that you're not likely to find elsewhere.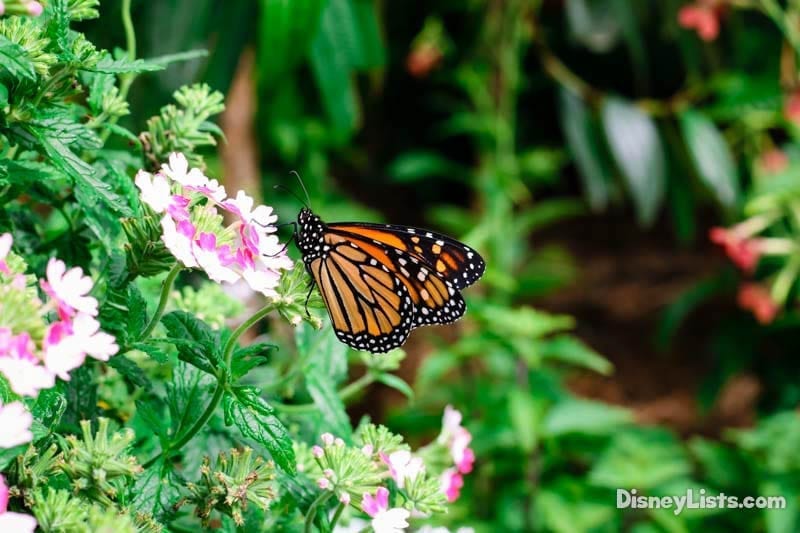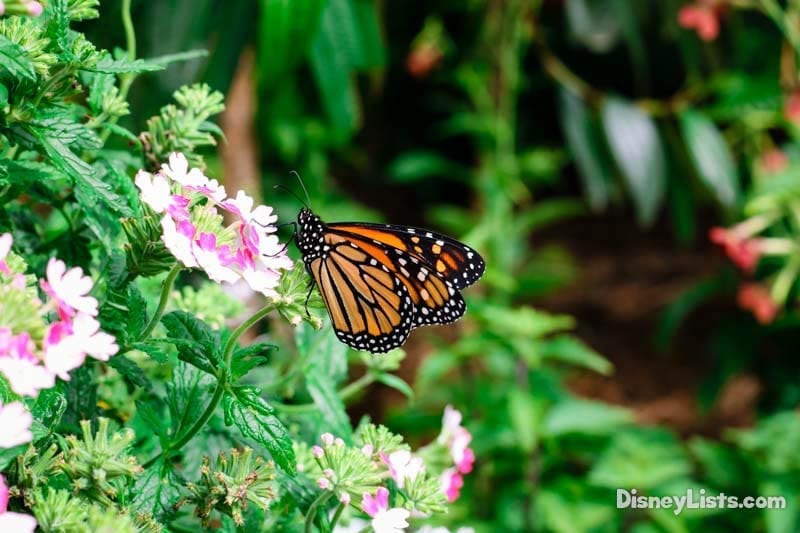 7 – The Fragrances
Naturally, the great floral variety will produce the most pleasant aromas you'll ever smell. Delight your olfactory senses with fragrances from over 30 million blooms as you stroll through lively gardens, linger among the flower towers, and visit purple martin and butterfly habitats. The experience draws you closer to nature and helps you to appreciate all the tools that flowers employ to attract insects to carry their pollen. Festival attendees love the freshness of nature's perfume, and you'll be sure to enjoy it, as well.
6 – The Gardening Tips
There are many gardens to explore throughout both Future World, Showcase Plaza, and World Showcase. Here you'll find gardening tips on the various signs throughout the gardens. Use what you learn to plant your first garden or to improve your current gardening skills.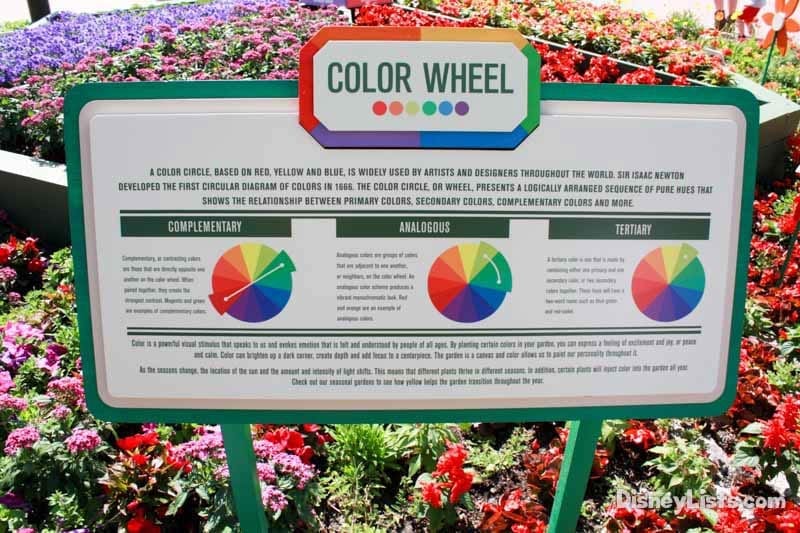 5 – The Play Gardens
The 2020 Epcot International Flower and Garden Festival hosts two play gardens for the little ones to explore. Parents may take a breather while their kids play an instrument or climb around the playsets. You'll find Bo Peep's Playtime Training Grounds near Test Track and the Play Full Garden on the Imagination Walkway.
4 – Kid-Friendly Learning
The festival not only provides lots of educational opportunities for adults but also for kids. Butterflies on the Go is an exhibit that allows children to encounter a multitude of butterflies, learn about their life cycles, and maybe even witness one or more emerging from a cocoon. Also, kids can learn about migratory purple martins by visiting their habitat. Other educational presentations geared to the children are provided by the National Park Foundation, the National Park Service, National Wildlife Federation, The Nature Conservancy, and the Disney Conservation Fund. The festival serves as the perfect occasion for kids to learn even while having fun at Epcot.
3 – The Character Topiaries
By far, we find the topiaries created for the Flower and Garden Festival to be nothing short of amazing. Disney's horticulturalists become plant sculptors as they transform shrubbery into three-dimensional depictions of popular Disney movie characters. The staple characters appear all over the place, but the festival planners also add new characters and motifs each year. You'll see everything from Anna and Elsa to Winnie the Pooh, so make sure you snap lots of photos of these incredible topiaries to add to your vacation albums and scrapbooks.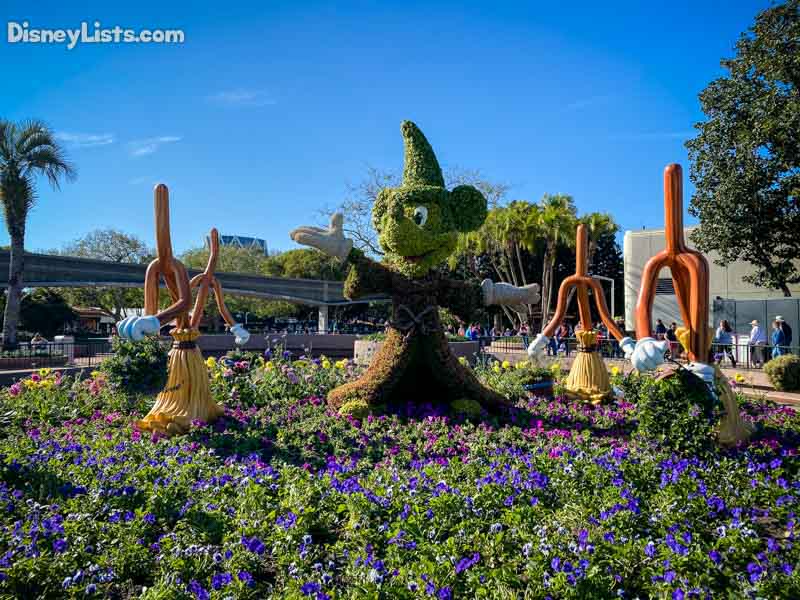 2 – The Outdoor Kitchens
Disney vacationers love Epcot for its variety of cuisine and libations. During the Epcot International Flower and Garden Festival, the diversity of food and drink increases with the installment of booths around the World Showcase. These Outdoor Kitchens feature garden-fresh inspired food and craft brews, ciders, and wines from the nations and regions represented. These creative recipes extend beyond the already delicious cuisine at each pavilion, so you're bound to find something new. The Outdoor Kitchens serve as reason enough to love the festival, especially for foodies.
1 – The Concerts
We love music, and Walt Disney World pulls out all the stops with their Garden Rocks Concert Series to give us what we want. Located at the America Gardens Theatre, the concert series showcases popular musical acts from the past every weekend. Clap, stomp, or dance to the beats of groups like the Air Supply, Starship, Rick Springfield, and Blood, Sweat, and Tears, to name a few. No matter what weekend you visit during the Epcot International Flower and Garden Festival, you'll be sure to find a rockin' concert to enjoy.
For a no obligation, FREE Quote on a Disney vacation package, please contact our travel partner Magical Vacation Planner at 407-442-0227 (407-442-0215 for Spanish). You can also request a FREE quote online by Clicking HERE.