Park Hopper passes are a ticket option at Walt Disney World. You may be wondering what this is and why you might want to consider park hopping while you are on vacation. Hopefully, we can help!  Here are our top ten questions and answers about park hopping at Walt Disney World:
10 – What is park hopping?
Park hopping is where you plan to visit multiple Walt Disney World theme parks in the same day and plan to spread your day across different parks rather than spend all of your time in one park.
9 – Do I need a special ticket to park hop?
Yes. You must have Park Hopper passes in order to visit more than one park in a day. The single-park tickets are called Magic Your Way passes and only allow admission into one theme park per day. Park Hopper passes have an increased cost associated with them for the flexibility.
8 – Can I upgrade to park hopper tickets if I already bought single-park admission tickets?
Yes. You will need to visit one of the ticket windows or guest relations, and they will be able to upgrade your tickets for you. You will have to pay the additional price difference after subtracting what you already paid from the total price for the Park Hopper passes.
7 – What is the price difference for park hopper versus single-park admission?
Walt Disney World uses variable pricing for theme park tickets. That means the price of admission varies by date and theme park. The cost of park hopping is also no longer a fixed price. Unfortunately, this means making decisions about what ticket and options to buy is a little more complicated than it has been in the past.
The price difference to add park hopping generally ranges between $68-83 per person. In the screenshot below, you can see an example of the prices charged for the different theme parks and the price of a park hopper ticket for a single-day ticket. The prices are for January 11, 2023.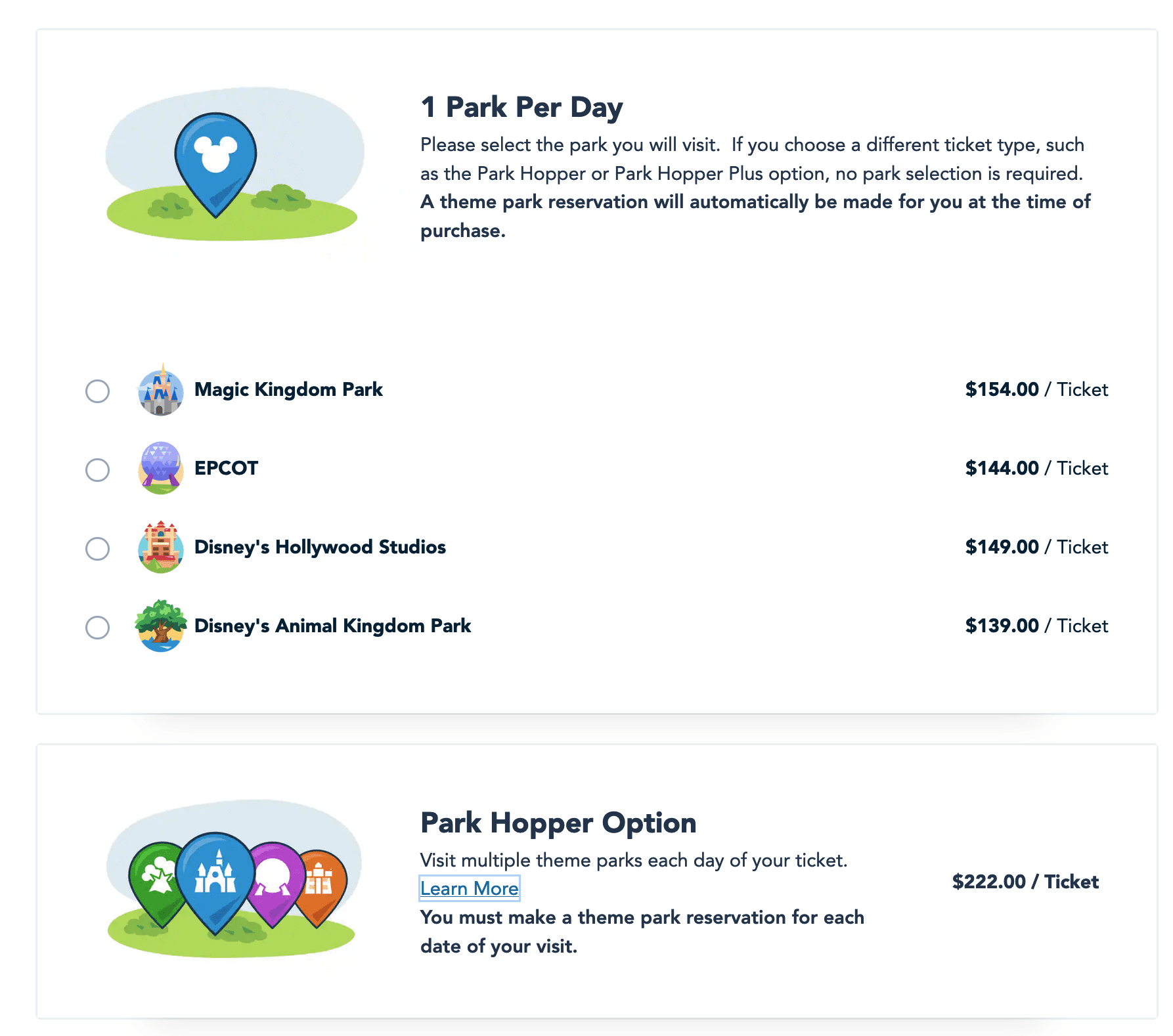 The total amount varies depending on whether you have a single-day or multiple-day pass. Typically if you have a multiple-day pass, you pay a set amount to add Park Hopper no matter how many days you have on the passes. This means the price would be the same if it were two days or ten days.  This price is charged on a per-person basis for everyone three and older. Therefore, if you purchase a multi-day ticket, you will get a much better per day deal on the park hopper option. The example below is for a seven-day ticket. The price difference for the entire seven days is $90 per person or $7.50 per day.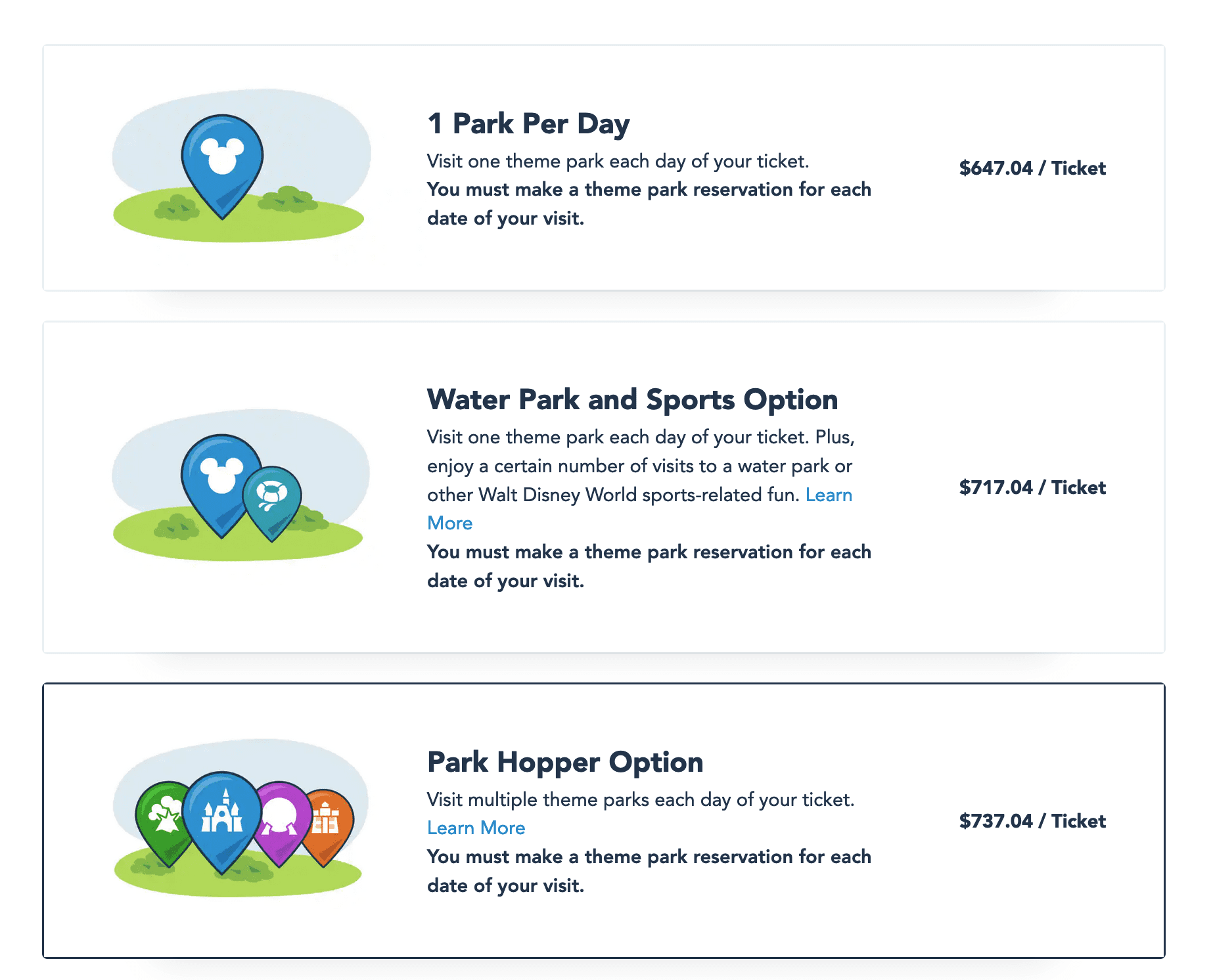 6 – Why would I want to park hop?
There are various strategies for visiting Walt Disney World that incorporate park hopping. If you feel like you will want the flexibility to go where you want at any time, then park hopping is probably what you will need. It may not be necessary if you like to be immersed in a single park each day. There are also guests who may want a meal at a particular park but enjoy the day at a different park, so they hop over for the meal and plan their day accordingly.
5 – I have small children with me. Is park hopping worth it?
This really is up to you to decide, but just keep in mind that if you plan to park hop, you have get all the way out of the park you are in and to the transportation to the next park. This likely means folding up the stroller and gathering all your bags to board your transportation. Then you have to get everything back set up the way you had it and make the journey into the next park. We have done this many times with small children, but it can definitely take time out of the day and may be frustrating for them. If you think your kids will get frustrated and grumpy during that process, it may not be a good use of time. If you think they will need to nap midday, you may not get as much value with Park Hopper since you could just leave for a nap and return to the same park.
4 – Are the water parks included in park hopper tickets?
Yes and no. There are two park hopper options. The first only allows you to park hop to the four theme parks. A "Park Hopper Plus" option gives guests the ability to park hop to the theme parks, and you get a certain number of visits to other Walt Disney World fun based on the length of your ticket. For example, a four-day ticket allows four visits and a five-day ticket allows five visits. For each visit, you can choose one of the following: Disney's Typhoon Lagoon, Disney's Blizzard Beach, ESPN Wide World of Sports, Walt Disney World golf courses, and miniature golf courses. The Park Hopper Plus option is generally an additional $20 more added to what you will pay for the basic Park Hopper option.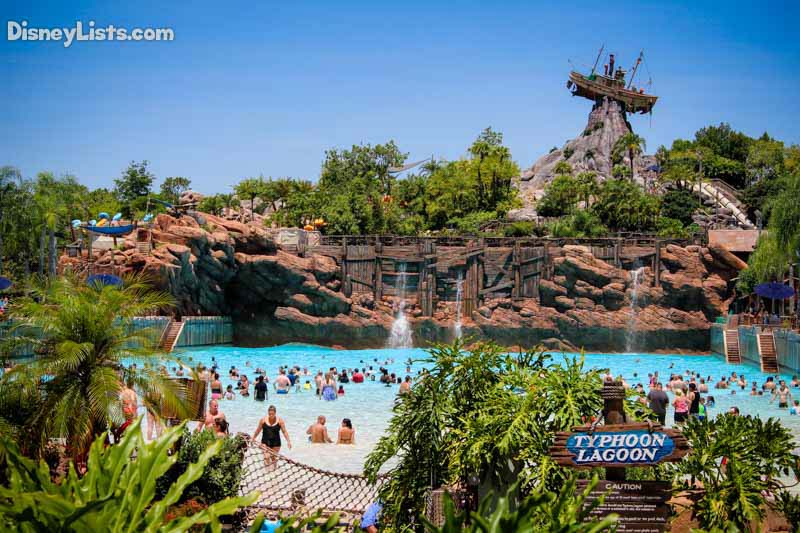 3 – I'll be staying for a short trip. Would I get value out of park hopping?
I tend to feel park hopping is extremely valuable for a shorter trip. If you know you only have a few days to work with, you can still get into all of the parks and plan your days based on what is most important for you to get in, rather than being limited just to the park that you start at for the day. It may not be the best value for you if you have a park or parks that you don't plan to visit.  If you only have your heart set on one or two of them, then you may be fine without it.
2 – Are there guidelines for how and when I can park hop?
Yes, there are now certain hours that park hopping is allowed. With the updated Park Hopper experience, guests must make a Disney Park Pass reservation for the first park they plan to visit AND enter that first park prior to visiting another. At this time, a park reservation is not required after the first park. However, reservation requirements are subject to change.
Additionally, Disney sets specific Park Hopper hours during which this option is available. Park Hopper hours start at 2 p.m. each day and end at the park's scheduled close time. Guests should check DisneyWorld.com/ParkHours and the My Disney Experience app for the most up-to-date Park Hopper hours, as they could start earlier at a later date, depending on the day and park.
1 – How can I get the most out of park hopping?
You get the most out of park hopping with good planning. Keep in mind dining options and park hours. Disney's Animal Kingdom usually opens early and is the first park to close. Therefore, you would be better off starting your day at Disney's Animal Kingdom and then park hop over to one of the other parks after 2:00 pm. If you are the type that can go from sun up to sun down every day, you are going to find that you can get a lot of accomplished and love park hopping. The key is all in the planning and leaving yourself a little bit of wiggle room for spontaneity.
For a no obligation, FREE Quote on a Disney vacation package, please contact our travel partner Magical Vacation Planner at 407-442-0227 (407-442-0215 for Spanish). You can also request a FREE quote online by Clicking HERE.