Around the World
Guest Bloopers: Top Ten Craziest Things a Cast Member Saw and Heard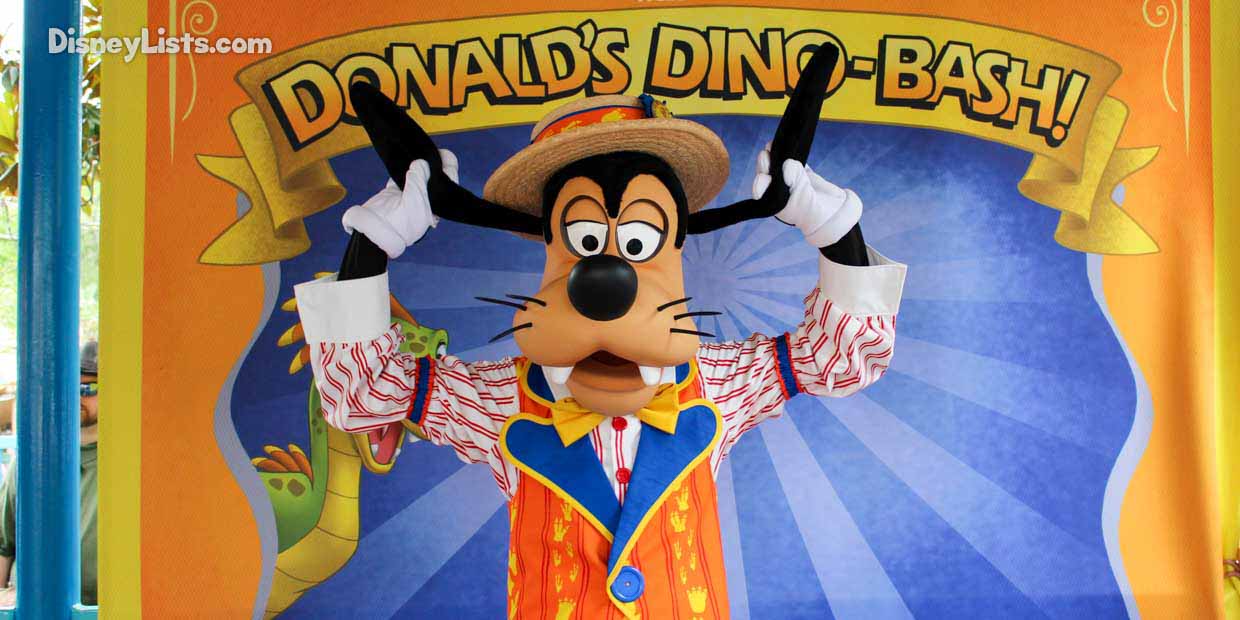 As a former Cast Member at Disney World's Animal Kingdom, I've seen a lot of crazy, hilarious, and downright confusing actions from guests. Disney World is a huge vacation destination, and everyday guests are experiencing all the wonder and magic for the first time. However, not all guests do their research before traveling, which can bring about some entertaining antics. Even the most seasoned Disney-goers have their spacey moments! It is said that people leave their brains behind while on vacation, and I now know that to be true. Here are the ten that stand out in my memory the most:
1 – "Does This Park Have Rides?"
This is actually a question I got a lot while at Animal Kingdom. I had at least one guest a week that genuinely thought Animal Kingdom was nothing more than a glorified zoo. Somehow, they didn't research the park before coming. They missed all the attraction signs on the way in. They managed not to pick up a single map or see any advertisements. Even with the screams from riders on Expedition Everest echoing in the distance, I would still encounter confused guests wondering where and if there were any rides in the entire park.
2 – Throwing Objects at the Animals
The hot Florida sun makes guests lazy and tired. It also makes animals lazy and tired. A lot of the animals on exhibit at Animal Kingdom, such as the apes, anteaters, and babirusas, have little spots up in the trees or down in the bushes where they can nap in the shade. Unfortunately, this keeps them out of sight of the guests.
In the Oasis section of the park, near the entrance, lies the anteater exhibit. The Anteaters are particularly hard to find when they're napping, and I liked to point them out to guests. Usually, guests would smile or point in excitement and then move on. However, this one party actually picked up a rock and aimed to throw it at the anteater, to wake them up. I remember dashing toward the guest and persuading them not to harm the poor, sleeping animal. Would you like it if someone threw a rock at you?
3 – "Feeding" Children to the Crocodile
In the Dinoland USA area of Animal Kingdom is an exhibit holding an American Crocodile. The crocodile stays very still for long periods, leading a lot of guests to believe that it is fake. Despite how many times I stood in front of the enclosure and spewed facts about the American Crocodile, some guests just wouldn't take my word for it. I saw more than one parent jokingly pick their child up and dangle them over the fence, right in front of the crocodile's eyes- pretending that if the child didn't behave, they would be the crocodile's lunch. I can't explain how wrong this was on many different levels, and I'm so glad none of the parents actually let go.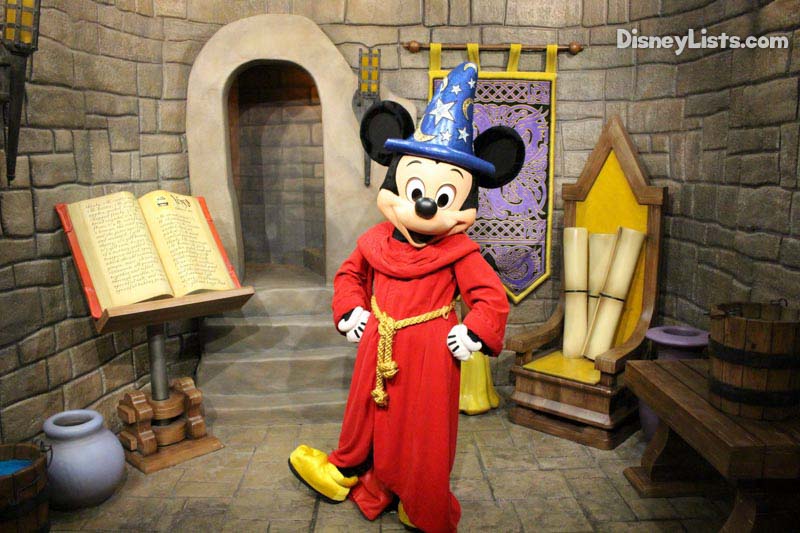 4 – Forgetting Character Integrity
As a Cast Member, one of the most important things we're taught in training is to preserve character integrity. That means there is only one Mickey Mouse-he just magically gets around really fast! A lot of parents seem to forget about character integrity, especially when it comes to their child meeting their favorite character. I've been asked by parents, right in front of their kids, how many "Elsa's" there were. I was even asked once by a mom if I was also "a Princess Jasmine." While flattering, that was definitely an awkward moment! There is only one of each character, and Princess Jasmine spends her free time in Agrabah, of course!
5 – Walking in Front of Parade Floats
There have been many times where, as a guest, I've been in the Magic Kingdom about to watch the Festival of Fantasy parade, only to see Cast Members frantically trying to get families out of the way of the parade route. Most of the time, these families aren't even aware of what they're doing- they're just aimlessly strolling, unaware of the rows of people on either side watching them. Sometimes, they even stop to consult a map, oblivious of Cast Members urgently instructing them to get behind a roped area. Though it doesn't look like it, the parade floats can hurt you if they were to hit you, and safety is a number one priority for Cast Members. Be aware of your surroundings!
6 – Mistaking Real Animals for Robots
This is probably the one line from a guest that stood out to me most during my time working at Animal Kingdom. A grown man came up to me and gestured at a duck crossing our path (Disney World has a lot of ducks). It was apparent that English was not his first language, but he managed to ask, in total innocence, "Is that remote-controlled?" It took me a minute, but then I realized…he thought the real-life duck was an Audio-Animatronic.
I politely told him, no, and I guess I can't really blame him. Disney is known for its realistic Animatronics. If you are visiting Disney for the first time, you can get overwhelmed by all the auditory and visual experiences being thrown your way. After all, Disney does pipe in smells and play bird/insect noises in the background of certain lands! Still, it was a crazy encounter I will always remember.
7 – Dropping Items in the Animal Habitats 
Cast Members at Animal Kingdom, especially those working around the habitats, spend a lot of time telling guests not to lean over the railings or fences. This is both for the safety of the guests and the animals. It's one of the main reasons why plastic lids, straws, and balloons aren't allowed in Animal Kingdom- they are bad for the environment and our animals!
One day while entertaining guests with facts at the Siamang exhibit (the flexible apes that live over a big pond in the Asia section), a woman leaned over the fence to get a better look. Despite my warnings, she dropped her child's pacifier inside the exhibit. This was a problem because one, the pacifier was now contaminated by being in ape water, and two, the apes could accidentally eat the pacifier and get sick.
I had to stand there with the family while a keeper came to fish out the pacifier, and then explained to them it would have to be sanitized and could be picked up at the front of the park later in the day. I'm still not sure why they didn't just buy a new pacifier.
There was also a memorable moment where a woman dropped her sunglasses in the Otter habitat…but that's another story!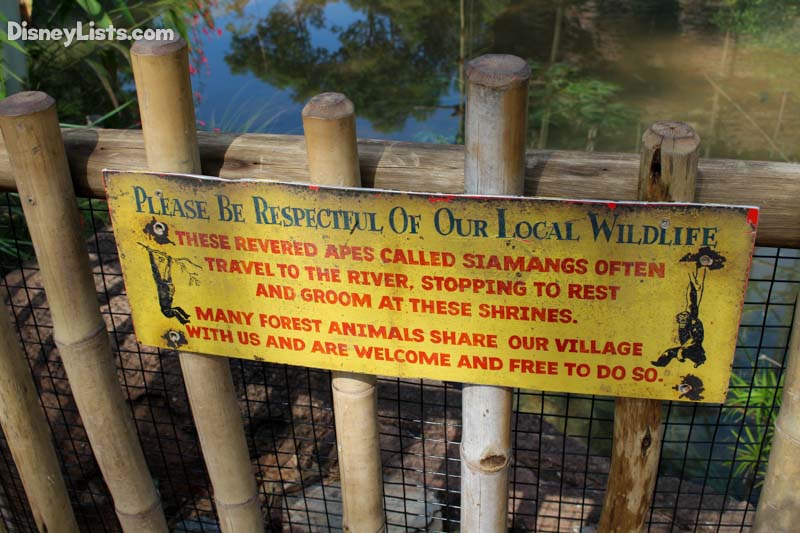 8 – Treating Cast Members Like Babysitters
Luckily this didn't happen a lot, but there were a few times I would lean down to talk to a child, and while I was showing them cool animal facts and games, the parents would slowly drift away and start pouring over their Fast Pass and dining plans. Some just wandered off to the side, staring quietly out over the park, as if to get a moment's peace. Usually, when the child had earned their stamp or sticker, they would gleefully walk back to the parents, and the group would depart.
Except for the few times a child just didn't want to leave, which was always great- I loved when kids got super into learning about the animals! However, sometimes their parents would let the child stay with me while we talked, and sometimes even start to head towards a shop or restaurant (I guess they assumed I would bring the child back to them when we were done). There are a lot of ways I could explain how unsafe it is to leave your child with a stranger (even if they are Disney Cast Members), but even so, it's not very courteous, and definitely always made me a little anxious! 
9 – Screaming in My Face 
I think sometimes guests forget that Disney World is supposed to be fun, and you are rarely in real danger. There are thrills, but usually, guests are safe in the Disney bubble.
In the mornings during my shifts at Animal Kingdom, our team would go out and hold "bug boxes" for guests to see at the park entrance. These bug boxes held spiders, tarantulas, scorpions, grasshoppers, and sometimes toads. We were all trained in how to handle the bugs, including training how to keep a safe distance from the guests and when to bring the insects back inside.
One time, a girl took one look at the Huntsman Spider in my "bug box," screamed bloody murder in my face, and ran off. At first, I felt horrible for inadvertently scaring her. Then I realized she was the one who chose to approach me. If she had stuck around, I would have been able to explain that the spider was not dangerous and that I would never let it out of the box.
10 – Asking Where Disney World Is 
This may be the craziest guest blooper of all, and yet I can't recall a single Cast Member I've spoken to who hasn't been asked this question. I'll be standing in a theme park or anywhere on property, and a guest will come up to me and ask, "Where is Disney World?" This is, of course, while we are in Disney World.
Eventually, I learned that when guests ask this question, they usually mean, "Where is the Magic Kingdom?" They want the park with the castle. They don't realize Disney World encompasses all of the theme parks, hotels, and water parks, and it's an innocent mistake to make for a first-timer. Still, it was always a little confusing to hear at first!
For a no obligation, FREE Quote on a Disney vacation package, please contact our travel partner Magical Vacation Planner at 407-442-0227 (407-442-0215 for Spanish). You can also request a FREE quote online by Clicking HERE.