During the phased reopening of Walt Disney World, character dining has been hard to come by with only a few restaurants offering modified experiences. That's why we're so excited to learn that another character dining experience is coming back! The young kiddos will be so excited. Learn more below!
Here are all the details from Disney Cast Member Karen McClintock:
Breakfast is back at Hollywood & Vine starting Mar. 22! Wave and snap photos of your favorite Disney Junior Characters while dining on a delicious and hearty à la carte breakfast. Start with a sharable pastry basket for the table and choose your breakfast entrée, such as the delicious French toast stuffed with chocolate-hazelnut spread or all-you-care-to-enjoy pancakes made with our signature house-made batter. Yum!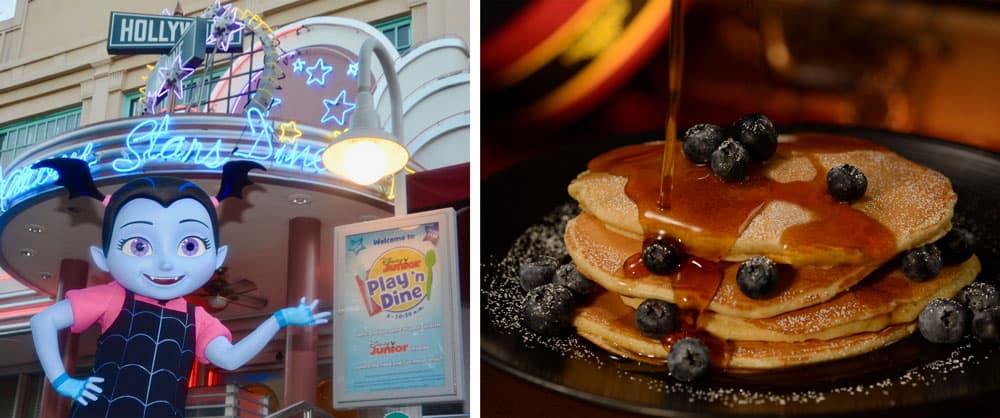 À la Carte Menu Options:
All-you-care-to-enjoy pancakes made with our signature house-made batter.
French toast stuffed with chocolate-hazelnut spread.
Toasted open-faced salmon bagel.
Four-egg scramble.
Four-egg cheese omelet.
Plant-based egg frittata.
To book your reservation for Hollywood & Vine Breakfast, visit DisneyWorld.com starting Feb. 26.
RELATED ARTICLE: Disney's Hollywood and Vine: What You Need to Know
by Christy Caby
Hollywood and Vine is a lot of fun!  There are characters, singing, dancing, and great food, so you can't beat that!  It is a great option to dine in Disney's Hollywood Studios, especially if your group loves character encounters.  Here are 8 things you definitely need to know about dining at Hollywood and Vine:
8 – Modified Character Dining All-Day
During the phased reopening the Disney Junior breakfast has not been available. However, Disney recently announced the return of a modified breakfast experience on March 22, 2021.  At breakfast, the characters are from Disney Junior. They are characters like Doc McStuffins, 'Fancy Nancy,' Vamprina, and Roadster Racer Goofy. If your kiddos are Disney Junior fans, they will LOVE it! At lunch and dinner, things change over to have characters that include Mickey, Minnie, Goofy, Donald, and Daisy. If you want the classic characters, then definitely book a lunch or dinner reservation.
7 – The meals are All You Care to Enjoy.
The prices for your meal will be a set price depending on the time of the meal and age of the guest. The meal is All You Care to Enjoy, which is Disney's version of a buffet. Your server will bring you fresh drinks and help you find anything that you need, but you will go up and make your own plate with everything you want, and you can go back as many times as you like. These meals are great if you have children under 3 in your party since they eat for free! You definitely won't leave these meals hungry, so plan your other meals in the same day to be on the lighter side!
6 – Be sure to have your cameras ready.
You will definitely want to get a ton of pictures of the characters as they make their way around the restaurant to visit with your family. You'll be able to take photos with the characters in the distance. They will pose for you to take photos of just them or distanced selfies. They will have autograph cards that they give out, so you have a keepsake from the meal. 
5 – The theme changes seasonally for lunch and dinner.
The concept for dinner is currently very unique. Lunch and dinner are called Minnie's Seasonal Dine. Minnie is the host and the meal, costumes, decorations, etc. change for each season. There is the Silver Screen Dine, Spring Dine, Summertime Dine, Halloween Dine, and Holiday Dine. The dates for each of the meals are listed on the website and allow you to experience the restaurant in a different way and with the meal offerings changing for each event. It is so much fun, and it's great that it is always changing.
3 – You should definitely make a dining reservation.
Editor's Note: During the phased reopening of Walt Disney World, the dining booking window is 60 days. Fireworks and Fantasmic are also temporarily suspended. 
The restaurant, especially at dinner, is extremely popular. Because of the popularity, you will definitely want to make your dining reservations as soon as you can so that you get the best times. We don't like to eat dinner too late because then we would miss fireworks and Fantasmic, so we like to make sure we can snag an earlier time. If you have a reservation, you can plan your other events and know you don't have to worry or wait around to get in.
2 – Consider the Fantasmic Dinner Package.
Editor's Note: During the phased reopening of Walt Disney World, Fantasmic is temporarily suspended. We offer this tip for future planning for when it returns. 
The Fantasmic Dinner Package allows you to enjoy Minnie's Seasonal Dine, and then you get access to the VIP section to Fantasmic. It has an increased cost to the meal to add this, but it can be well worth it so that you don't have to worry about getting a seat to Fantasmic during popular times. You can walk right in and be seated right in the center of the theater for great seats!
1 – Plan the earliest breakfast time.
Editor's Note: During the phased reopening of Walt Disney World, breakfast has been unavailable, but will return on March 22, 2021. 
If you are an early riser, you can snag the 8:05 am breakfast reservation. This works when the park is scheduled to open at 9 am. This allows you early access to the park so you can take pictures without all of the other guests around. You can also enjoy your meal as one of the first guests at the restaurant and then get out to enjoy your day and start hitting the attractions. It can be a great way to get the most out of your day.
For a no obligation, FREE Quote on a Disney vacation package, please contact our travel partner Magical Vacation Planner at 407-442-0227 (407-442-0215 for Spanish). You can also request a FREE quote online by Clicking HERE.