News
NEWS: New Details on Celebrate Soulfully at Disney Springs This February
"Celebrate Soulfully at Disney Springs" brings together several new offerings debuting in February at the Walt Disney World shopping, dining, and entertainment district. With jazz-inspired performances, new art displays, special food menus, and more, there's something for everyone to enjoy. Learn more below!
Here are all the details from Disney Cast Member Kelsey Noland:
By now, you may have already heard about "Celebrate Soulfully at Walt Disney World" which was recently announced. While I can't wait for our guests to check out all of the elements, I'm especially excited for the enhancements that just debuted at Disney Springs.
Coinciding with the start of Black History month, "Celebrate Soulfully at Disney Springs" honors Black culture and puts the spotlight on some of the Black and African-American talent at Disney Springs, while also introducing some exciting new offerings. With jazz-inspired entertainment, new art displays, special offerings, and more, there's something for everyone to enjoy!
Indulge in New Tastes: If you're seeking a special, elevated dining experience, stay tuned for more details on a special ticketed event at The Edison. "Chef Dee Presents A Taste of the Bahamas" is a one night-only event taking place on February 25, hosted by the newest Executive Chef at Patina Restaurant Group, Deaundra "Dee" Rolle. From appetizers of conch fritters with remoulade to a steamed snapper entrée and benne cake ice cream for dessert, guests will feel transported to the Caribbean with every bite as Chef Dee describes the inspiration behind her creations, drawing on her Bahamian heritage. For those with a sweet tooth, the debut of two new petite cakes at Amorette's Patisserie is not-to-be-missed. One cake celebrates Disney's first Black princess, Princess Tiana, while the other features Joe Gardner, the African American jazz musician at the heart of "Soul." Both are chocolate cakes with raspberry mousse and each is a culinary work-of-art inspired by a beloved film.
Immerse Yourself in Music, Art and More: Experience Motown Mondays, Jazz Thursdays and Smooth Sundays – a line-up of musical acts that will stir your soul. Three evenings a week, you can find a collection of notable artists taking the stage throughout Disney Springs, among them Motown in Motion, Tonya Staples Duo and Joseph Jevanni. Also, listen up for jazz-style renditions of some of your favorite Disney tunes as you meander through property – select locations feature a soundtrack that will make any jazz-loving Disney fan smile from ear-to-ear. Also smile-worthy are four new art displays inspired by Disney and Pixar's SOUL, created by emerging Black artists: Bee Harris, Bianca Pastel, Arrington Porter and Cory Van Lew. Originally developed in collaboration with Disney and Pixar as part of a HUE Unlimited collection of wearable artwork, the work reflects each artist's interpretation of the film. To take in even more art, make plans to dine at House of Blues Restaurant and Bar. You can check out special Mardi Gras-themed menu items from February 12 – February 16, but their impressive collection of Southern Vernacular Art, available year-round, is the largest permanently displayed collection of Outsider and American Folk Art in the country. More than 150 untrained, self-taught and mostly African-American artists (including notable artists such as Mose T., Jimmy Lee Sudduth, Leroy Almon, Roy Ferdinand, Howard Finster, Richard Burnside, Ruth Mae McCrane, Jon Bok and Archie Byron, to name just a few,) created emotional, raw, primitive and powerful pieces which serve as a Visual Blues, visible throughout the venue.
Shop for Something Spectacular: As you browse the retail destinations at Disney Springs, be on the lookout for these stores, that are spotlighting Black designers, artists and visionaries:
Visit Bowes Signature Candles, located inside Marketplace Co-Op, and delight your senses with aromatic must-haves and invigorating scents to suit your every mood. The company was founded by Jamaica native Dave Bowes, an artisan who discovered his passion for candle-making in 2002. Today, his company boasts over 110 inspired candle scents sold proudly at Disney Springs and shipped worldwide, including the featured "Jamaica Me Crazy" candle – it's one of Bowes' signature scents and a masterful blend of mango, papaya, orange, pineapple, coconut and watermelon.
At Sephora, the company has made a commitment to dedicate substantial shelf space in-store to diverse companies. Fenty Beauty (Founder and CEO, Rihanna), Briogeo (Founder and CEO, Nancy Twine), Pat McGrath Labs (Founder & CEO, Pat McGrath) and Shani Darden Skincare (Founder and CEO, Shani Darden) are among the brands they are proud to prominently feature. In addition, Sephora recently launched BREAD BEAUTY SUPPLY which offers haircare for basics, kinky and coily hair; their aim is to double the assortment by the end of 2021.
Inside Art of Disney, check out the Artist Spotlight to learn more about Floyd Norman, Bruce Smith and Marlon West – some of the talented animators who have worked with the Walt Disney Animation Studios in films ranging from "The Jungle Book" to "Hercules" to "The Princess and the Frog" and beyond.
Within some of the most popular Disney-owned locations, you'll discover products featuring classic and new characters and films. At World of Disney, look for items tied to "Soul" and "Princess at the Frog." Marketplace Co-Op will also feature "Princess and the Frog" merchandise, while Super Hero Headquarters will offer some of the most popular "Black Panther" must-haves.
Be sure to follow us on Facebook, Twitter and Instagram via @DisneySprings to learn about new developments as they're announced and to see the latest in our new spotlight series featuring talented Cast Members, artists, and employees. For the latest details, click here. If you do have the chance to visit, tag your photos with #CelebrateSoulfully for your chance to be featured on our social media handles.
We hope to celebrate soulfully with you soon at Disney Springs – in February and beyond!
RELATED ARTICLE: 8 Things You Might Have Missed at Disney Springs
by Mike and Jamie Sylvester
Disney Springs is the place to be for the trendiest merchandise, top of the line eateries, and superb entertainment. With all the recent changes, it's easy to overlook some of the simplest, yet fascinating things at Disney Springs. Check out these top 8 things that you might have missed – but will hopefully have a chance to check out on your next visit to Disney Springs!
1 – Coca-Cola Polar Bear
Editor's Note: During the phased reopening of Walt Disney World, character greetings are temporarily suspended.
Who wants to give a great big bear hug to the Coca-Cola Polar Bear?! Well, now you can. Standing 7-feet tall and grinning from ear to ear, the Coca-Cola Polar Bear is now available for a meet and greet in the new Coca-Cola shop located in Town Center – near the Orange Parking Garage. He's located on the second floor and totally worth a break from shopping for a great photo opportunity!
2 – Amphicars
It's hard to miss the lovely BOATHOUSE waterfront restaurant in The Landing portion of Disney Springs. You've likely heard of their incredible food and hopefully have had a chance to taste it! We're surprised to learn that many people pass this spot by before getting a glimpse of the Amphicars. What are Amphicars you say? They are cars that can drive on land and act like a boat in water! It's fascinating to watch really. A great spot to catch a glimpse of a Amphicar tour is the Waterview Park neighboring the BOATHOUSE.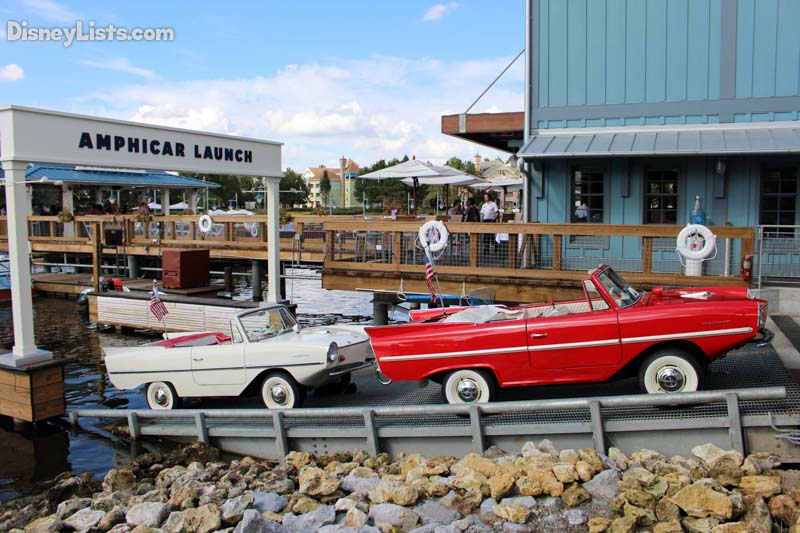 3 – Cupcake ATM
You may have heard by now of the incredible gourmet cupcake shop located in Town Center of Disney Springs known as Sprinkles. Sprinkles serves their deliciously famous cupcakes, ice cream, and more from their cute, yet trendy corner shop nestled next to the water. But, don't rush in just yet! As you are about to enter the main doors, look to the right. Here you will notice a pink Cupcake ATM. The best part – it really works! Select a cupcake of your choice, scan your card for payment, and out comes an incredible cupcake. This is especially wonderful to enjoy when Sprinkles is closed during the late hours or early morning hours – because it's never too early to eat a cupcake while at Disney Springs!
4 – Happy Hound
Because we all love our furry friends as much as Mickey Mouse loves Pluto – check out a little kiosk called the Happy Hound located in the Marketplace. Somewhat tucked away and off the main path, look for Happy Hound behind the Little MissMatched shop. This kiosk if full of fun accessories for the dog in your family with items such as custom collars, tags, outfits, and toys.
5 – Breakfast and Brunch
When stepping foot into Disney Springs, chances are you are prepared to shop and snag a few snacks and possibly a meal while you stroll. Well, did you know one way to get a great head start at Disney Springs is to enjoy one of their breakfast or brunch offerings before the rush even arrives? Wolfgang Puck Express (Marketplace) has a great breakfast menu daily, Raglan Road Irish Pub (The Landing), Chef Art's Homecoming, and City Works offer a Saturday and Sunday brunch for guests to enjoy, and even House of Blues (West Side) has a brunch! Take a look at the Disney Springs breakfast and/or brunch dining options and start your day off with the most important meal of the day – Disney Springs style.
6 – Water Wheel
Located in Town Center between ZARA and Antropologie, and in front of the Disney Springs Welcome Center, take note of the short bridge and water scenery. Once you start looking, it's easy to notice the industrial style machine known as the "water wheel". Spin the wheel and you'll see you are pulling water from the small pond below. Switch to the other side over the bride and have someone else spin the wheel to get a neat look at the mechanics of it all. This is just a simple spot our children especially love spending a couple of minutes at.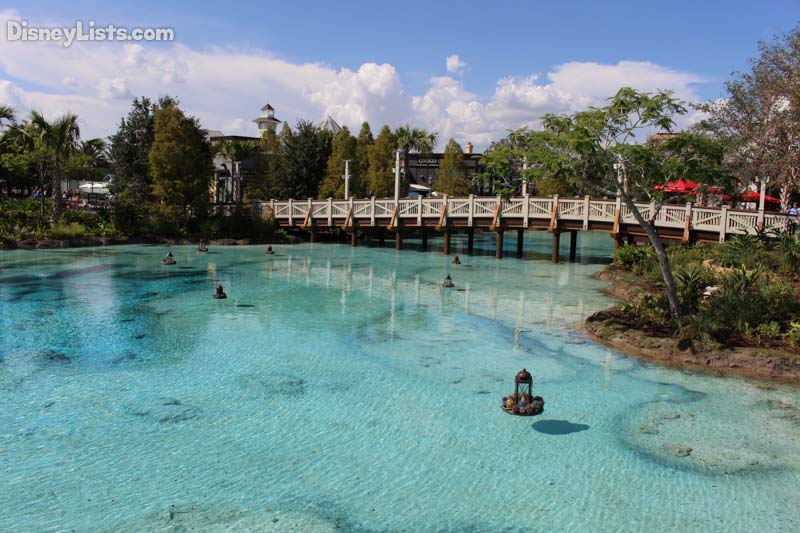 7 – Top Scenery Spots
It's tempting to rush from shop to shop at Disney Springs, but something that you might miss by doing so are excellent spots to check out the scenery at Disney Springs. Sometimes filled with entertainment venues and other times a quiet place to take in all the beautiful scenery, Disney Springs has a few spots we feel are frequently overlooked. Our top picks are Exposition Park (West Side – watch the Aerophile balloon take off), Riverboat Square (The Landing – favorite place to people watch), Springs Overlook (Town Center – a quiet nook), and Waterview Park (The Landing – best place for water views).
8 – Holiday Entertainment
Each holiday is celebrated at Disney Springs to its fullest potential – but we especially appreciate how Disney Springs goes big for Christmas! Sure, they offer a 2-Day Black Friday weekend and merchandise discounts as one would expect – but they take it one step further so everyone can enjoy the gift of Christmas at Disney Springs. Some of these special Holiday entertainment options include: holiday performances and musical entertainment at the Marketplace Waterside Stage; Santa Claus at Santa's Chalet at the Christmas Tree Trail for kiddos to ask for their wish list; and Christmas Tree Trail in the Marketplace to browse multiple themed trees.
It is impossible to see and do all at Disney Springs which is why we keep going back regularly for more! What is your favorite "thing you might have missed" at Disney Springs? We'd love to hear from you!
For a no obligation, FREE Quote on a Disney vacation package, please contact our travel partner Magical Vacation Planner at 407-442-0227 (407-442-0215 for Spanish). You can also request a FREE quote online by Clicking HERE.