News
BREAKING NEWS: Opening Date Announced for Remy's Ratatouille Adventure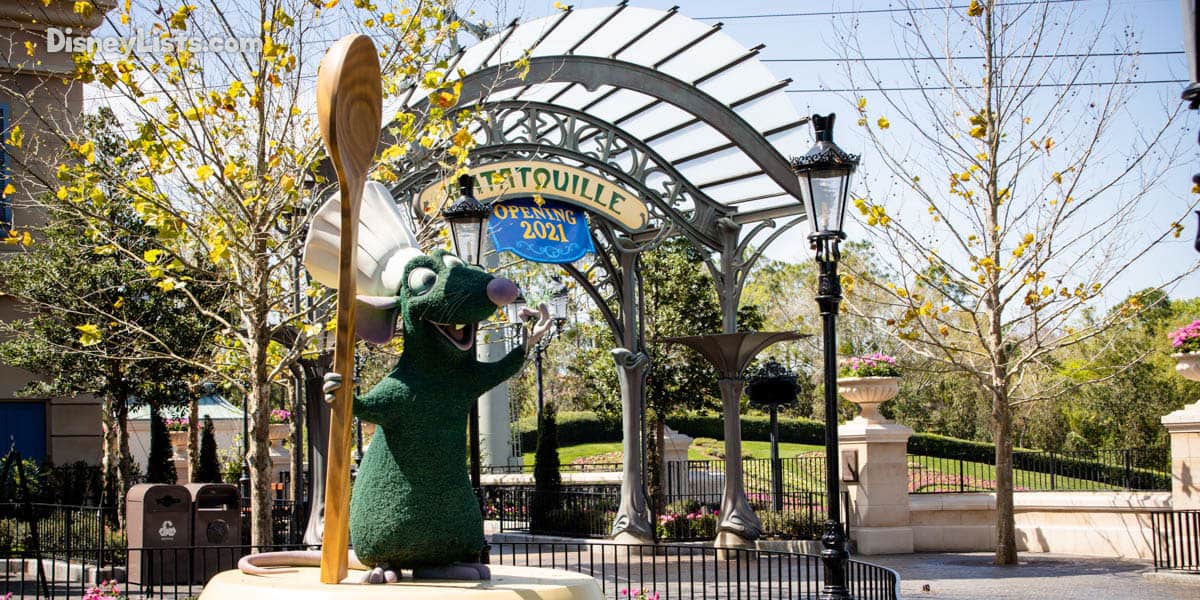 The wait is almost over! Disney has announced the opening date of Remy's Ratatouille Adventure the new family-friendly attraction coming to the newly expanded France pavilion. Originally scheduled to open in summer 2020, the opening was delayed due to the global pandemic that closed Walt Disney World for over four months in 2020. Catch all the details below.
Here are all the details from Disney Cast Member Jeremy Schoolfield:
Everyone's favorite "Little Chef" is cooking up something really big for Walt Disney World Resort's 50th anniversary, because the grand opening of Remy's Ratatouille Adventure at EPCOT is set for October 1 of this year!
That date may sound familiar, as it will also mark exactly 50 years since Walt Disney World officially opened for the first time. So Chef Remy will help us kick off "The World's Most Magical Celebration" in Parisian style.
In this delicious new attraction, you'll feel like you've shrunk to the size of Chef Remy as you scurry through Gusteau's famous restaurant on a wild adventure for the whole family (no height requirement!). Based on Disney and Pixar's Academy Award-winning "Ratatouille," the experience will be part of a newly expanded France pavilion inside EPCOT that will also open October 1.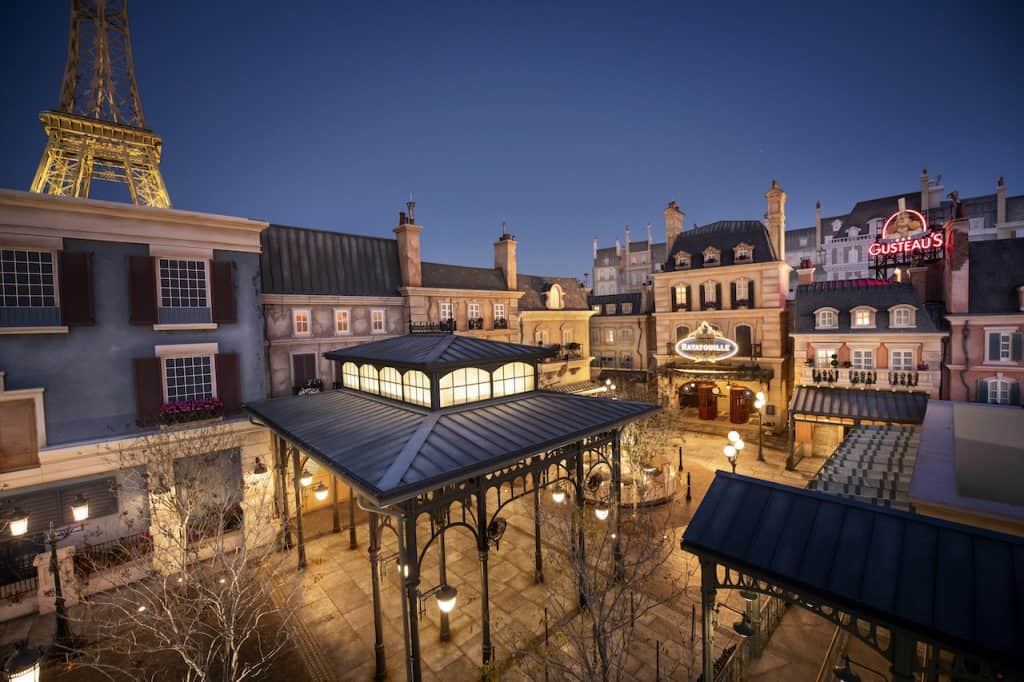 When you round the corner into this new portion of the pavilion, you'll be transported into a fanciful version of Paris that feels straight out of the animated film. As you can see in this beautiful nighttime photo we're sharing today, it's easy to understand why little Remy fell so head-over-heels in love with the "city of lights."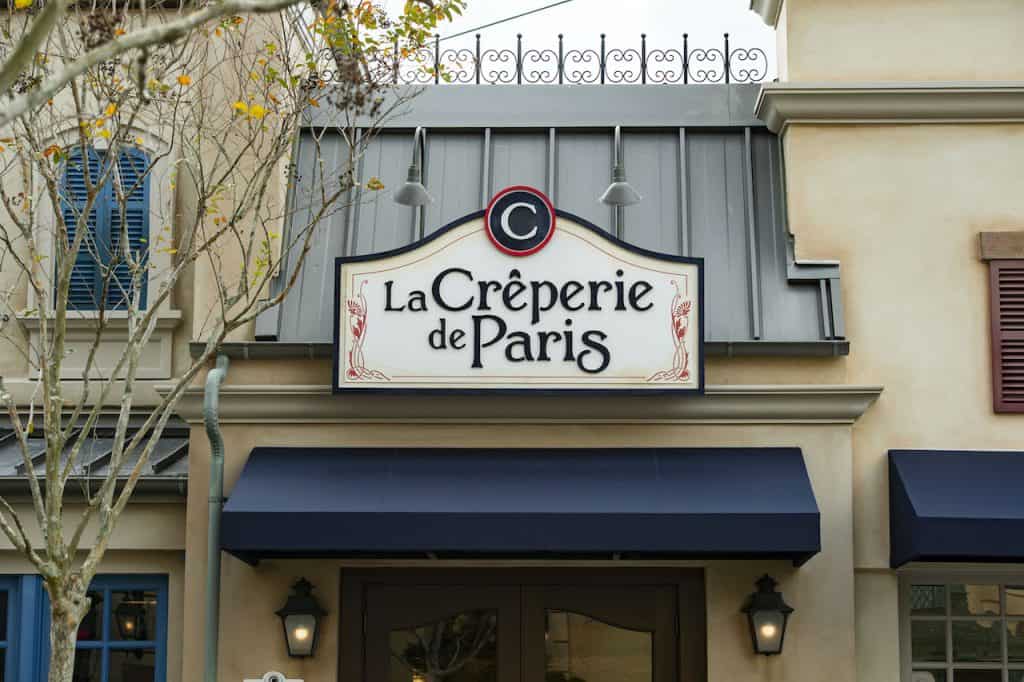 And oh wait … there's more! Also opening October 1 will be La Crêperie de Paris, a new restaurant offering both table- and quick-service options. The menu will feature sweet crepes, savory buckwheat galettes (naturally gluten friendly) and authentic French hard cider. The attraction, restaurant and pavilion expansion are all part of the historic transformation of EPCOT currently underway, celebrating how the impossible becomes possible through the power of imagination … and a little Disney magic. This amazing time in the park's history has already brought us a reimagined main entrance with new entrance fountain, "The Soul of Jazz" exhibit and new films in three different pavilions, with much more on the way.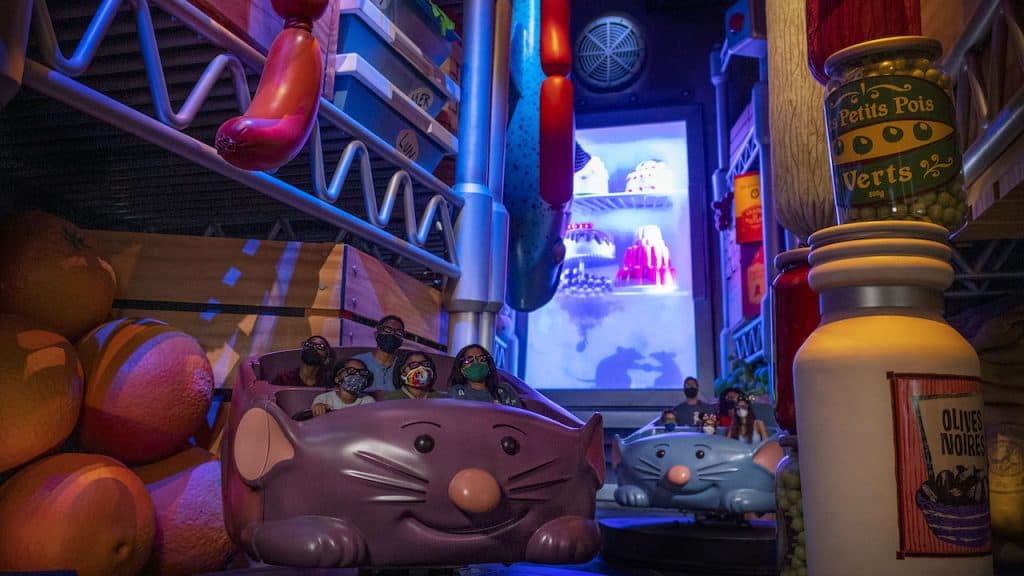 We're looking forward to Remy joining us for "The World's Most Magical Celebration," an 18-month event that will feature new experiences at the four Walt Disney World theme parks and beyond, where shimmering EARidescent décor will appear as if by magic.
RELATED ARTICLE: 8 Reasons Why We Love the France Pavilion
by Mike and Jamie Sylvester
Bonjour Disney Fans! It's time to put on a beret, practice your "Oui, Oui" (pronounced "we, we"), and get ready to explore the France Pavilion in Epcot's World Showcase. Of the eleven Pavilions around the World Showcase, France is one of our favorites as it stands out in beauty, dining, and entertainment. Here are a few reasons we love the France Pavilion, with more to love in the near future!
1 – Absolutely "Magnifique" Atmosphere!
The France Pavilion is truly a little slice of France in the heart of Florida. The most significant touch of France shines through in the Eifel Tower that stands tall in the distance as the backdrop of the pavilion. Sure, this Eifel Tower is only 1/10 the scale of the actual Eifel Tower in Paris, but it still boasts a grand presence. The pavilion is themed to look like a Paris neighborhood, hence the Eifel Tower off in the distance. The charming fountain is a focal point as you wander the Paris street, with shade trees and bright flowers to greet you. Shops and eateries line the pavilion path making the transformation into France feel complete. We especially love this space during the Epcot Flower and Garden Festival when Beauty and Beast topiaries appear in stunning form. A "magnifique" pavilion indeed!
2 – "Fantastique" French Cuisine & Sips
A little croissant here, creme brulee there, and of course a glass of champagne to sip on… oh, yes, Epcot's France Pavilion shows no mercy on the diet, and we are ok with that! France has six regular eateries (with a 7th on the way!), with typically one to two more available during Epcot's Festivals.
Monsieur Paul: First up, we bring you, Monsieur Paul. Monsieur Paul is a fine/signature dining restaurant that holds nothing back when it comes to gourmet dining. The entrees are spectacular, to say the least, and the stunning, white linen atmosphere matches it the overall fine dining experience.
Chefs de France: The most visible restaurant at the pavilion's entrance is Chefs de France with its picturesque windows perfect for people watching as guests stroll by. This table-service restaurant is a little more family-friendly than Monsieur Paul, but still that touch of elegance with delicious food.
Les Halles Boulangerie-Patisserie: Les Halles is our favorite France eatery! One look at the display cases of pastries here will leave you in a sugar-coated state of mind. Try a few, try them all – we won't judge. The quick-service meals and simple sandwich items are fantastic grab and go selections.
Les Vins des Chefs de France: No food here unless you count the refreshingly popular Orange Slush (Grand Marnier, Rum, and Grey Goose Orange & Orange Juice) as a snack! Les Vins has premium French wines readily available, as well as champagne and beer for a great adult stop.
L'Artisan des Glaces: No Paris neighborhood would be complete without a local ice cream shop! Ice cream and sorbet awaits for a must-do stop on those hot Florida days.
Crepes des Chefs de France: This cute kiosk near the World Showcase lagoon typically has a line as Disney fans know this is the place to get a yummy crepe. Mmm… Bon Appetit!
PLUS – Opening October 1, 2021! We are all waiting with much excitement for the new La Crêperie de Paris eatery. La Crêperie will offer both a table-service dining experience and a quick-service stop. Celebrity Chef Jérôme Bocuse is once again working his magic in the kitchen, and we can't wait to taste his masterpieces this summer!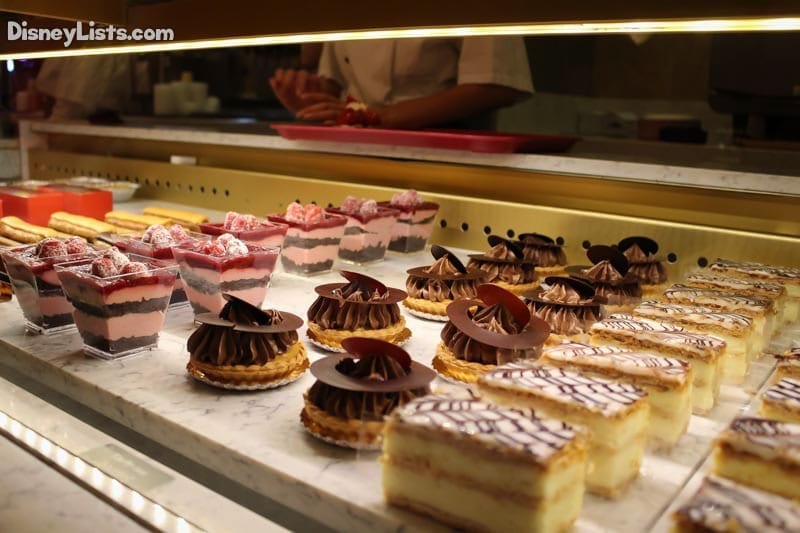 3 – Shopping in Paris
A tour of Paris wouldn't be complete without a little shopping, of course! Four boutiques line the streets in the France Pavilion, each with their own unique gifts and souvenirs.
Plume et Palette: Designer French bags and fragrances… need we say more? Or have you already left to go shopping?
La Signature: With a makeup consultant on hand, you'll have a chance to shop over 70 different French cosmetics and fragrances. You deserve this pampering boutique!
Les Vins de France: Remember this one from the eateries above? Well, you can have a glass of wine now, but buy a bottle of French wine to take home!
Souvenirs de France: This shop has the most "practical" Disney-type souvenirs with a Paris twist to many of the items. It's a great place to get an Epcot France t-shirt, mug, and more to spoil yourself or to bring back for family and friends.
4 – AND Double the Films
Impressions de France is a France Pavilion staple! This 18-minute film featuring the beauty and romance of France is a must-do experience for many Disney fans. When rumors of a new film began to creep in, many had much to say about their disapproval of this decision. Lo and behold, there is another film, BUT it did not replace Impressions de France. Instead, both shows run daily on a rotating schedule. So, what's this second film all about? Well, if you're a Beauty and the Beast fan (who isn't, right?!), the France Pavilion just got a whole lot better for you. In the same theater as Impressions de France, a Beauty and the Beast Sing-Along is a fantastic show for guests of all ages to enjoy. Be prepared to sing along to Beauty and the Beast favorites with an excellent musical score as the story of Belle and Beast is retold. There is, however, a slight twist to the plot, so you'll have even more to look forward to!
5 – "Tales as Old as Time: French Storytelling on Stage and Screen" Gallery
There is a new exhibit inside Palais du Cinéma that invites guests to explore six distinct gallery cases featuring a collection of costumes, music, artwork and more, all dedicated to the adaptation of French literature in cinema, theater, ballet, and opera. "Tales as Old as Time: French Storytelling on Stage and Screen" reinforces how French literature has inspired artists from around the globe. Timeless Disney classics such as "Sleeping Beauty," "Cinderella" and, of course, "Beauty and the Beast," are highlighted. Items on display from the Walt Disney Archives include a glass slipper from the live-action "Cinderella" film and Belle's costume from the live-action "Beauty and the Beast." Community arts organizations from Florida also contributed pieces to the exhibit. When planning on arriving to see "Beauty and the Beast Sing-Along," be sure to give yourself a few extra minutes to look around at the items in the gallery. The displays are very interesting and well worth a visit!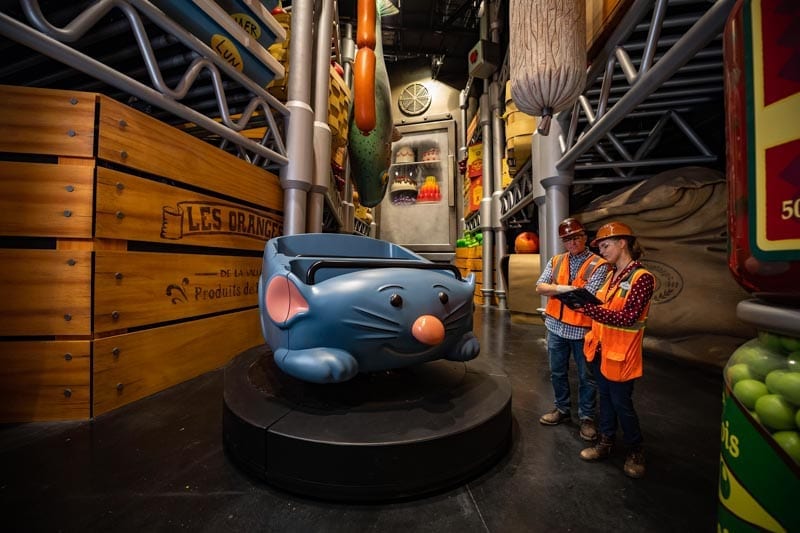 6 – Remy is Scurrying in!
Another addition hitting the France Pavilion by storm is Remy's Ratatouille Adventure – opening October 1, 2021! It's not very often a World Showcase Pavilion gets a ride, so of course, the excitement for this one is abundant. Remy, the sweet, "Little Chef" rat from Disney's Ratatouille wants you to join him on an adventure. You'll have a chance to feel like you've shrunk down to the size of Remy as you are hurried through the twists and turns of Chef Gusteau's restaurant. A similar attraction is very popular in Disneyland Paris, as we suspect this one to be!
We got a sneak peek at Remy's Ratatouille Adventure! Click here for more information on the new attraction!
7 – DuckTales at Moving In
Still, there is more to love in Epcot's France Pavilion! Disney's DuckTales World Showcase Adventure is a new addition to the Play Disney Parks Mobile App around Epcot's World Showcase. DuckTales was once a popular TV series in the late '80s and early '90s, but like any show, it slowly lost popularity. Disney has revived the show, and it's now a big hit on Disney+ and Disney Channel. Using the app, you'll have a chance to help Scrooge McDuck, Donald Duck, Donald's nephews (Huey, Dewey, and Louie), Launchpad and Webby search for treasure! There is never a dull moment with this crew, so chances are they will end up in a little trouble along the way. This scavenger hunt will have guests completing tasks in each pavilion. We can't wait to see what the DuckTales have in mind for France! (The opening date is unknown). 
8 – Views from the Skyliner
The Disney Skyliner is the newest way to get around much of Disney World. Being that it is a gondola-style transportation system, it has gorgeous views as guests are transported to and from locations including Epcot, Hollywood Studios, Disney's Riviera Resort, Disney's Caribbean Beach Resort, Disney's Art of Animation Resort, and Disney's Pop Century Resort. One of the main Skyliner stations drops off and picks up just outside of Epcot. This station is located just across the water from the France Pavilion. The views from the Skyliner looking down on France capture the pavilion's beauty from an aerial view!
There is no shortage of reasons to love the France Pavilion now, and even more as these newbies open. We must say "Au revoir" for now, but hope to bump into you along the streets of Epcot's mini-Paris!
For a no obligation, FREE Quote on a Disney vacation package, please contact our travel partner Magical Vacation Planner at 407-442-0227 (407-442-0215 for Spanish). You can also request a FREE quote online by Clicking HERE.