Looking forward to celebrating St. Patrick's Day? Disney Parks has released a new St. Patrick's Day recipe for you to enjoy at home. Learn more below.
Here are all the details from Disney Cast Member Karen McClintock:
Corned beef is a dish long associated with St. Patrick's Day celebrations in America, and our chefs at Disney's Animal Kingdom Theme Park have created a fun recipe to get your corned beef fix for this Irish holiday.
Our St. Patrick's Day Reuben Totchos, offered through Mar. 17 at Restaurantosaurus, are crispy potato barrels loaded with cheddar cheese sauce, sautéed corned beef, sauerkraut, Thousand Island dressing, and crunchy rye croutons – yes, please!
Enjoy this easy and delish recipe for St. Patrick's Day or whenever you want to celebrate the spirit of the Irish.
St. Patrick's Day Reuben Totchos from Disney's Animal Kingdom Theme Park
Serves 4-6
INGREDIENTS
2 slices marble rye bread
1/2 cup Thousand Island dressing
1/4 cup whole grain mustard
1 (2 pound) package frozen potato barrels
1 (15 ounce) jar cheddar cheese sauce
2 cups canned or bagged sauerkraut
1 cup shredded green cabbage
1 pound sliced top round corned beef
2 green onions, thinly sliced
FOR REUBEN TOTCHOS:
Preheat oven to 350°F. Cut marble rye bread into 1/4-inch cubes. Place on baking sheet and cook for 5-7 minutes, until toasted. Set aside.
Combine Thousand Island dressing and whole grain mustard in small bowl. Refrigerate until ready to serve.
Cook frozen potato barrels according to package directions and keep warm until ready to serve.
Heat cheddar cheese sauce in small saucepan over medium-low heat, until warm. Keep warm.
Heat sauerkraut in medium saucepan over medium heat for 8 minutes, until warm. Remove from heat and cool for 3 minutes. If needed, drain any excess liquid. Stir in shredded green cabbage. Set aside.
Slice corned beef into thin strips. Heat large skillet over medium-high heat for 5 minutes, until hot. Add corned beef and sauté for 3 minutes, until corned beef is warm and edges begin to crisp.
Place potato barrels on large serving dish and cover with warm cheddar cheese sauce. Top with warm corned beef and sauerkraut. Drizzle with Thousand Island dressing. Top with toasted rye bread and sliced green onions.
Note: Always use caution when handling sharp objects and hot contents. Please supervise children who are helping or nearby. This recipe has been converted from a larger quantity in the restaurant kitchens. The flavor profile may vary from the restaurant's version.
Click here for a print-at-home version of this recipe.
RELATED ARTICLE: 8 Secrets of Disney's Animal Kingdom
by Caitlin Corsello
Of the four theme parks in Walt Disney World, many guests love spending tons of time in Disney's Animal Kingdom. The park opened on Earth Day in 1998 and has been celebrating nature and the environment through attractions, dining, entertainment, and shopping ever since. The park aims to help guests embrace the beauty of the environment while also teaching them about the importance of conservation and this message is conveyed through beautifully themed areas and lands. One of the things that makes Disney's Animal Kingdom so amazing is the intense attention to detail throughout the park including many hidden secrets. These secrets may be hidden in plain sight or very hard to find, but they all help to make Disney's Animal Kingdom so amazing for guests to enjoy. Here are eight secrets of Disney's Animal Kingdom for guests to spot on their next visit to the park.
1 – Prehistoric Pipes
One of the most popular attractions in Disney's Animal Kingdom can be found in DinoLand U.S.A. where prehistoric creatures are brought to life. Dinosaur invites guests into the Dino Institute for an adventure back in time that is full of big thrills and big dinosaurs. Before boarding the attraction's Time Rovers, guests enjoy a preshow video and enter into an industrial looking loading area. After moving down a set of stairs and approaching the final section of the loading area, guests should look up above to spot a trio of pipes that sport complicated chemical formulas. The pipes are red, yellow, and white and represent ketchup, mustard, and mayonnaise paying tribute to Dinosaur's early days when McDonald's sponsored the attraction.
2 – Asphalt?
DinoLand U.S.A. features plenty of experiences and attractions to enjoy outside of Dinosaur including the bright and cheerful Chester and Hester's Din-O-Rama. The area is designed to look like a roadside attraction full of carnival games, road signs, several attractions, and a larger than life yellow dinosaur. One detail in particular helps Chester and Hester's Din-O-Rama feel like an old roadside attraction, but it is not be exactly what it seems. Guests who walk through the area can look down and discover worn asphalt that resembles an old highway. Since real asphalt and the hot Central Florida sun don't mix, Imagineers actually crafted a fake asphalt to give an authentic feel to the area without a melting pathway for guests to walk on.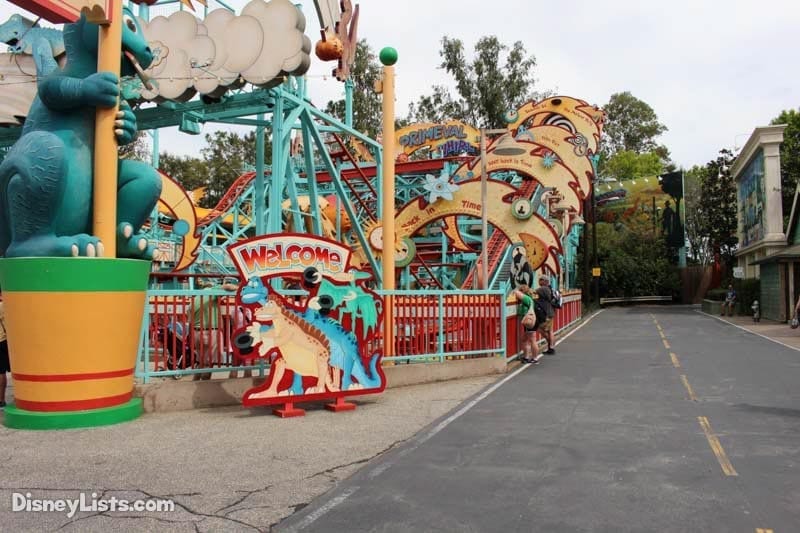 3 – Unique Support
Any guest who visits Disney's Animal Kingdom is sure to spend some time simply taking in the beautiful Tree of Life which acts as the icon for the park. The massive structure is covered in hundreds of intricate animal carvings and is topped with massive branches covered in thousands of green leaves. While the structure might look like a real tree, guests might be surprised at what is inside the trunk giving it support. The Tree of Life is actually supported by a recycled oil rig which was the perfect shape and strength to support the many branches and their weight while still leaving room in the roots for the theater that houses It's Tough To Be A Bug.
4 – Joe Rohde
Guests who enjoy the Africa section of Disney's Animal Kingdom and wander through the village of Harambe can enjoy countless amazing details which make the area come to life and feel like an authentic African village. Guests who look closely at a sign in the area might recognize a name that has plenty of significance when it comes to the park. Guests should look for a sign that reads "JORODI" and advertises the sale of masks and beads. The sign pays tribute to Imagineer Joe Rohde who was instrumental in the design and concept of Disney's Animal Kingdom!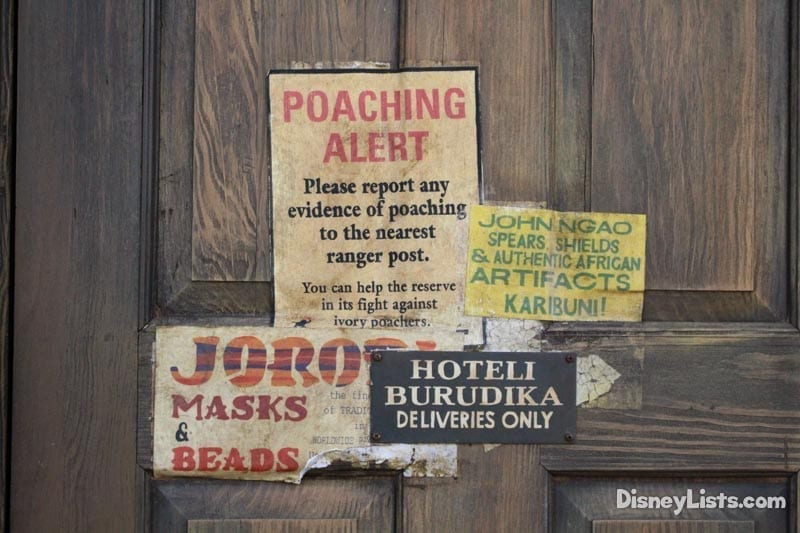 5 – Trolley in Front of Gorilla Falls Exploration Trail
Near the entrance of the Gorilla Falls Exploration Trail, you'll find a small trolley on the right-hand side. This trolley holds crates, equipment, and tools. One of the crates has ZU2298 Radio stamped on it. This references the park's opening date of April 22, 1998. Be sure to stand next to it and listen for a special broadcast!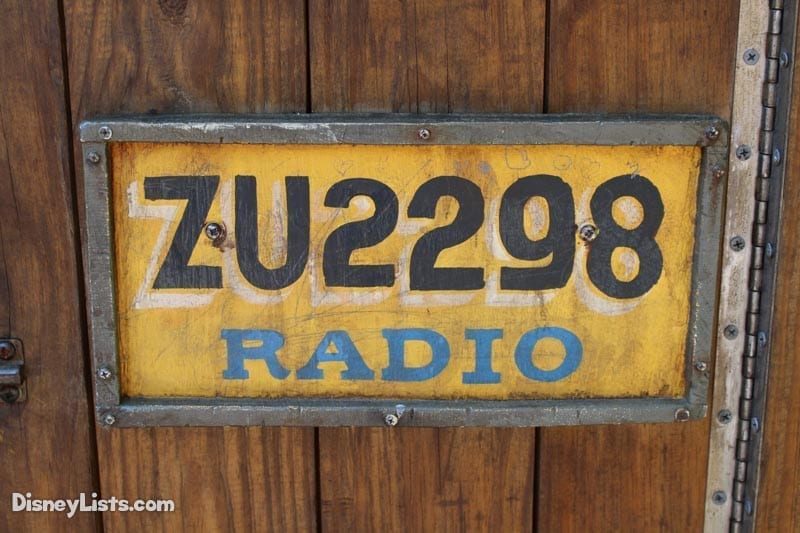 6 – David Greybeard
Another famous animal can be found near the entrance into the lobby of It's Tough To Be A Bug. In the early stages of Disney's Animal Kingdom, renowned scientist Jane Goodall was given a tour of the park before commenting that there was no representation of a chimpanzee on the Tree of Life. Imagineers then added a massive carving of a chimpanzee into the roots of the tree immediately before the entrance to the 3D show housed inside. While many guests might wander past this chimpanzee without stopping, those who look closely will notice a plaque explaining that it was carved in the likeness of David Greybeard, a chimpanzee that Goodall studied for years.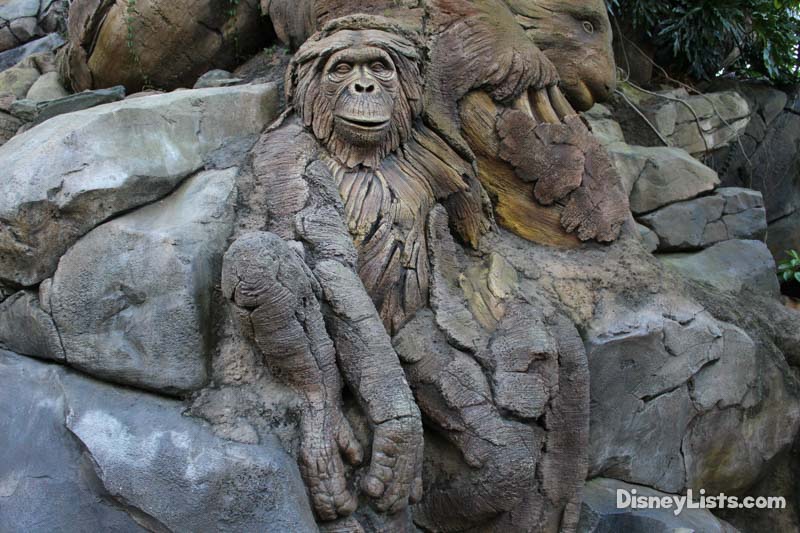 7 – A Special Blend
Expedition Everest is one of the most popular and thrilling attractions in Disney's Animal Kingdom and brings guests into the realm of the fabled Yeti. Before boarding the attraction and venturing into the Forbidden Mountain, guests walk through a highly detailed queue that features the offices and equipment rooms of a mountaineering company. One room that guests pass through appears to store food and rations for those who are looking to conquer the climb up the massive mountain. Guests who look closely at some of the supplies might notice a special blend of tea for travelers to try dubbed "Ye-Tea!"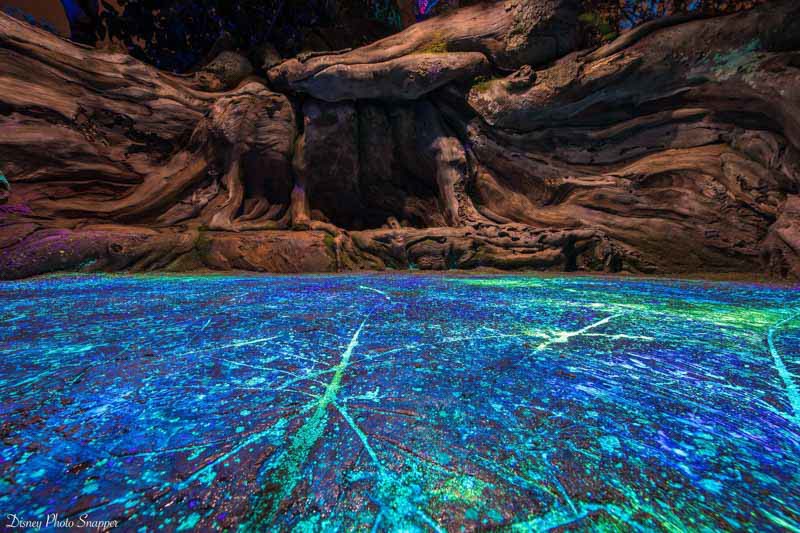 8 – A Beautiful Alien Landscape
When you journey to the far-away world of Pandora – The World of Avatar as probable eco-tourists, you'll encounter floating mountains, a glowing, bioluminescent rainforest, and other wonders of an alien world. The Valley of Mo'ara on Pandora is undergoing a rebirth long after a destructive mining operation known as the Resources Development Administration (RDA) ceased operation. Eco-tourists, for the first time, can travel to this exoplanet located in the Alpha Centauri star system 4.4 light-years from Earth. The iconic floating mountains in the Valley of Mo'ara – there are 22 – peak at about 130 feet above the valley floor. A team of more than 60 artisans from the U.S., Peru, France, Portugal, Japan, and Ireland contributed to creating the art-scape of the floating mountains. It wouldn't be an alien planet without bizarre plant life. On Pandora, a diverse ecosystem is rebalancing as a variety of colorful plant life flourishes. Plants have names like Puffball Tree, Dapophet, Vein Pod, Scorpion Thistle, Episoth, and Flaska Reclinata. More than 250 varieties of live trees, shrubs, and epiphytes mingle with the Pandoran. The Disney horticulture team planted more than 500 trees and nearly 10,000 shrubs across the Pandoran landscape. Finally, many of the walkways and paths, like the alien plant life that surrounds them, are also bioluminescent. A treatment added to some of the Pandoran walkways gives them that glowing quality. Charged by sunlight and reinforced by black light, the glowing pathways come to life.
For a no obligation, FREE Quote on a Disney vacation package, please contact our travel partner Magical Vacation Planner at 407-442-0227 (407-442-0215 for Spanish). You can also request a FREE quote online by Clicking HERE.