News
NEWS: Disney World Brings Back Resort Easter Egg Displays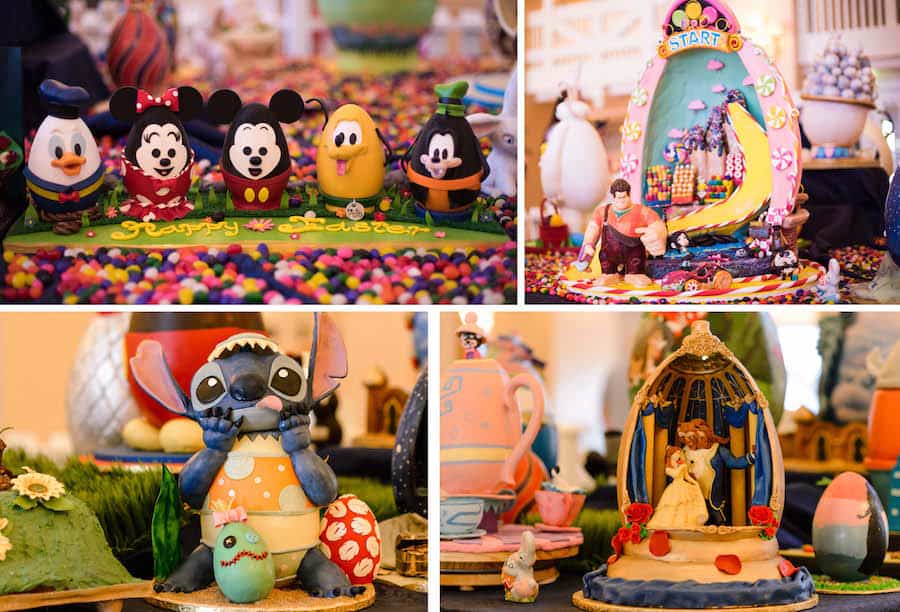 This Easter season at Walt Disney World, the resort Easter Egg displays are back and we are so excited. We really missed the gingerbread displays over the holiday season, and so we are very thankful that the Easter Eggs are out this spring. Learn more below.
Here are all the details from Disney Cast Member Karen McClintock:
Our talented pastry chefs have created eggs-travagantly detailed pieces of sweet edible art that will be on display at various resort locations.
Disney's BoardWalk Resort – Lobby area (available for viewing Mar. 26-April 4)
Disney's Grand Floridan Resort & Spa – Lobby area, concierge level, and Grand Floridian Café lobby (available for viewing Mar. 15-April 4)
Disney's Saratoga Springs Resort – Carriage House (available for viewing Apr. 1-11)
Disney's Yacht and Beach Club Resort – Beach Club lobby, Yacht Club lobby, Ale & Compass Restaurant, The Market at Ale & Compass (available for viewing Mar. 18-Apr. 4)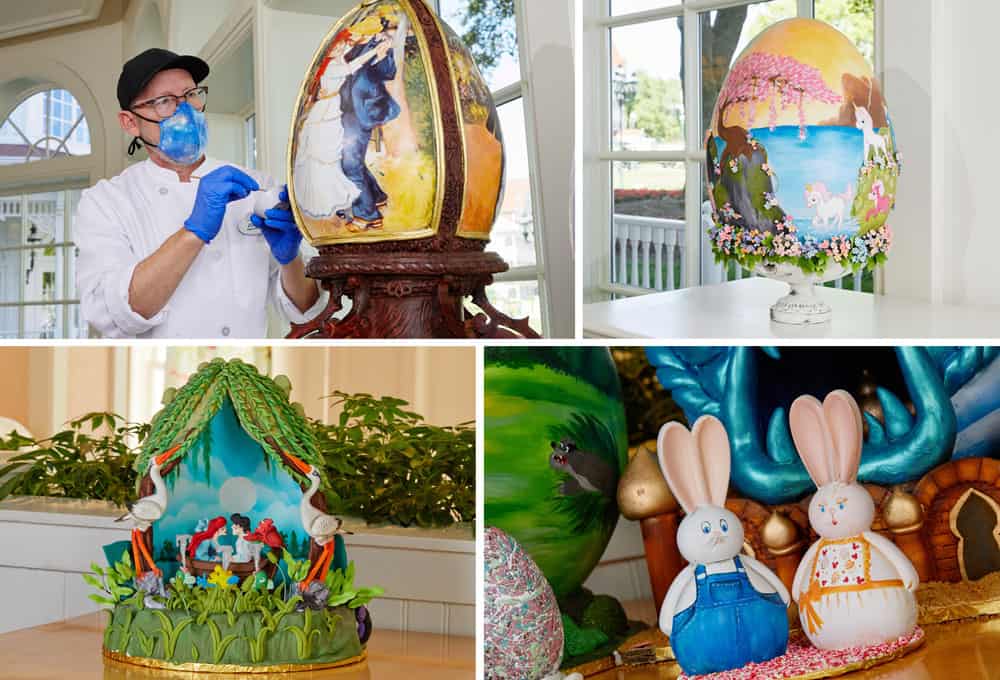 RELATED ARTICLE: 6 Reasons Spring is the Best Time to Visit Disney World
by Christy Caby
Spring is in the air!  Well, at least we are ready for it to be!  Springtime at Walt Disney World is absolutely amazing and there is so much to do and see on property.  Walt Disney World Resort already has more than you can do and see over the length of vacation, and then during springtime there is even more for you to enjoy!  The restaurants roll out their spring menus, special events start and many other great things are happening.  Here are 6 reasons why we love springtime at Disney World.
6 – Easter fun around all of Walt Disney World
Editor's Note: Because of the phased reopening of Walt Disney World, 2021 Easter offerings may be modified.
Easter is a fun holiday at Walt Disney World.  Some of the events you don't have to be there on Easter Sunday to experience either.  At the Magic Kingdom starting in early March, you are able to meet Mr. and Mrs. Bunny up until Easter Sunday.  They are super cute and a lot of fun.  On Easter Sunday there will also be the Easter processional and other Easter entertainment.  At Epcot, also starting in early March you can participate in the Easter Egg Hunt around the World Showcase.  You purchase a game card and apply the stickers once you have found the egg at each pavilion.  You return it to receive a special surprise.  Everyone in the family can play, so it is a lot of fun for everyone.  On Easter Sunday, the favorite bunnies will also meet at the other parks so that you have more opportunities to get your picture with them.  The Grand Floridian does an Easter egg display for guests to view.  All of the resorts get into the action with themed Easter activities in the days leading up to the holiday, and many of the restaurants also serve brunches and other special meals.  There are definitely tons of great activities and it is a great way to enjoy the holiday!
5 – The Weather
The weather in the spring is beautiful.  It is definitely warm and sunny during the day, but it isn't as hot as it is during the summer.  You get to enjoy cooler evenings than you would in summer and the temps won't be as high during the hottest part of the day as they will be in the summer.  It is a much more comfortable time to visit and not feel like you are constantly overheating on your vacation.  It is still important to stay hydrated and coated in sunscreen anytime that you are vacationing in Florida, but the impacts are far less when you aren't dealing with the scorching summer heat.
4 – Flower & Garden Festival
Beginning in March each year, Epcot is transformed into an amazing Flower & Garden Festival with impressive topiaries, beautiful flower arrangements and so much more.  The event includes educational booths and demonstrations that help educate guests on how to grow and care for all types of plants.  There are also limited-time food and beverage snack locations inspired by fresh produce and ingredients.  There is so much to see and do that it would be very difficult to fit it all into one day, and still enjoy all the rides, shows, and attractions that Epcot already has to offer.  You will want to make sure that you have your camera ready for this one so that you can capture all of the beauty around Epcot during this time.  It really is breathtaking!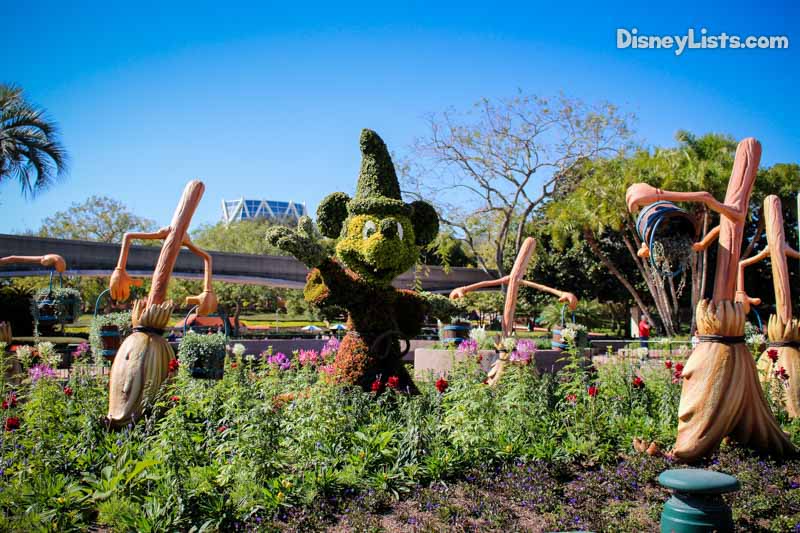 3 – St. Patty's Day at Ragland Road
If you are Irish or just like to celebrate St. Patrick's Day, then you don't want to miss the celebration that takes place at Ragland Road.  The celebration actually lasts all week with non-stop musical and dance entertainment performing every night.  Ragland Road is an authentic Irish pub where you will find all of your favorite Irish dishes and beers.  There are also Celtic face painters on hand for the event so that you can really dive into the celebration.  It is so much fun and an event that you will definitely want to find a sitter for!  You will also be able to find St. Patrick's Day ears and a few other themed merchandise items in the parks that you can purchase, too!
2 – Deals and discounts on resort packages
Every spring Disney announces various promotions and discounts on vacation packages and resort stays for the spring.  You can usually get a discount on the cost of your stay when you utilize the discounts.  You can even get great discounts as a Florida Resident or an Annual Passholder with special discounts offered on resort stays over the spring.  It is a great time to visit Disney, and you can even save a few bucks on the stay, too!  Don't expect the free dining promotion during this time, as Disney hasn't offered that promotion in the spring for a couple of years now.
1 – Longer Park Hours (Usually)
Editor's Note: During the phased reopening of Walt Disney World, park hours have been reduced. In spring 2021, expect shorter hours and capped crowd levels. 
Because springtime brings in crowds and visitors that are on their spring break vacation, the parks are open later to accommodate the increased crowds.  You may find the Magic Kingdom to open at late as 2 AM on certain days and other parks open until at least 9 or 10 PM.  This gives you more time to enjoy the parks!  The best recommendation to beat the crowds is to hit the parks right at opening and the morning hours, take a break around noon and the early afternoon when the parks are at their busiest and then return for the evening hours so that you can see all of the evening shows and then have the energy to stay until closing when the crowds and families with smaller children start to make their way out of the park after the fireworks!  We love the parks at night!  They are so beautiful!
For a no obligation, FREE Quote on a Disney vacation package, please contact our travel partner Magical Vacation Planner at 407-442-0227 (407-442-0215 for Spanish). You can also request a FREE quote online by Clicking HERE.