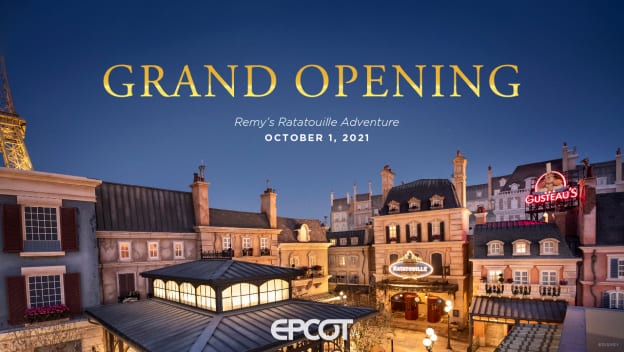 Walt Disney once said Epcot "would always be in a state of becoming" – it is a place that changes with the times. Over the next several years, the Walt Disney World Resort theme park will live up to that promise in a whole new way as it continues the biggest transformation of any Disney park in history, bringing the next generation of immersive storytelling to life through a plethora of new attractions and experiences. The France pavilion is seeing some exciting changes! Learn more about what's coming to the France pavilion below.
1 – Remy's Ratatouille Adventure
The grand opening of Remy's Ratatouille Adventure at EPCOT will be October 1, 2021. This new family-friendly attraction invites guests into the flavorful world of Disney and Pixar's Academy Award®- winning "Ratatouille," where they will feel as if they shrink to the size of Chef Remy and scurry through Gusteau's famous restaurant. Guests will find Remy's Ratatouille Adventure in a newly expanded area of the park's France pavilion, where the real is made fantastic in a reimagining of Paris inspired by the film.
2 – Remy's Loading Zone
We had a chance to step into the attraction during an exclusive media preview. It was fascinating. Since it was backstage and a construction site, no photography or video was allowed. We were able to step into two different areas. First, we were in the area where guests will be loaded into the ride vehicles. The ride vehicle is so cute! You're in a rat vehicle since your perspective is that of a rat. The vehicle utilizes a trackless ride system (like the Star Wars: Rise of the Resistance). It will enable you to scurry around the attraction.
In the loading area, you feel like you're on the rooftops of Paris. You'll see oversized gutters and smokestacks that are crooked. Mike, a Walt Disney Imagineer, described the look as "crookedology" because you are in the animated world of Remy, and the regular rules don't apply! Because you are the size of a rat, the room itself is massive and has an extremely high ceiling.
3 – Remy's Pantry
After that, we went into the pantry. The pantry is also very tall and oversized. Disney released a photo of the room we were in. Take a look below.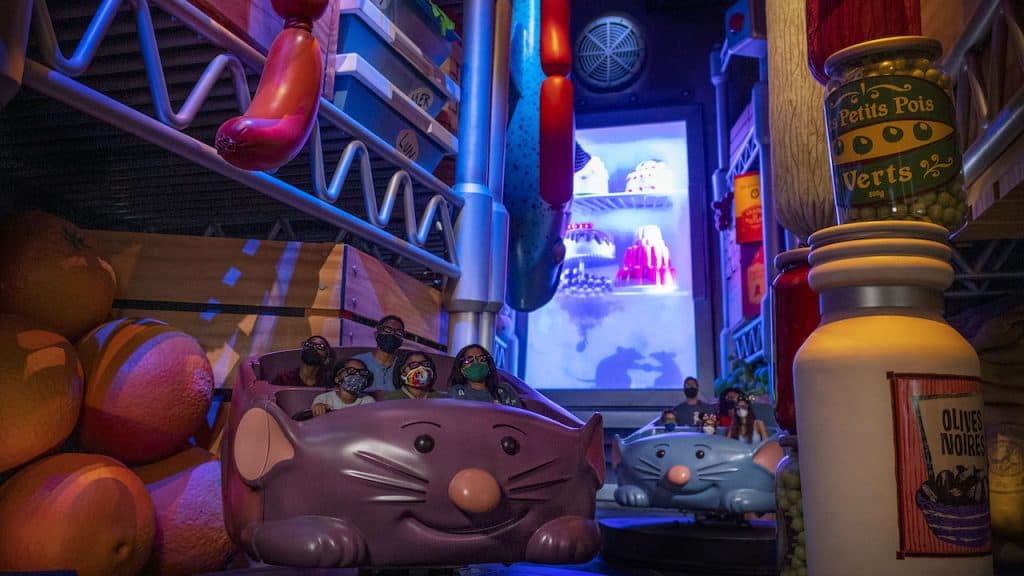 There are also lots of food items stacked all around. The items are all a bit cartoonish, but since you are in Remy's world, the theming is perfect.
We are really looking forward to this new attraction. It will be a lot of fun for the whole family.
4 – La Crêperie de Paris
Also debuting October 1 in this section of the pavilion will be a delicious new restaurant, La Crêperie de Paris, offering both table- and quick-service options. The menu will feature sweet crepes, savory buckwheat galettes (naturally gluten friendly) and authentic French hard cider. We're looking forward to checking out these new options in the expanded France pavilion!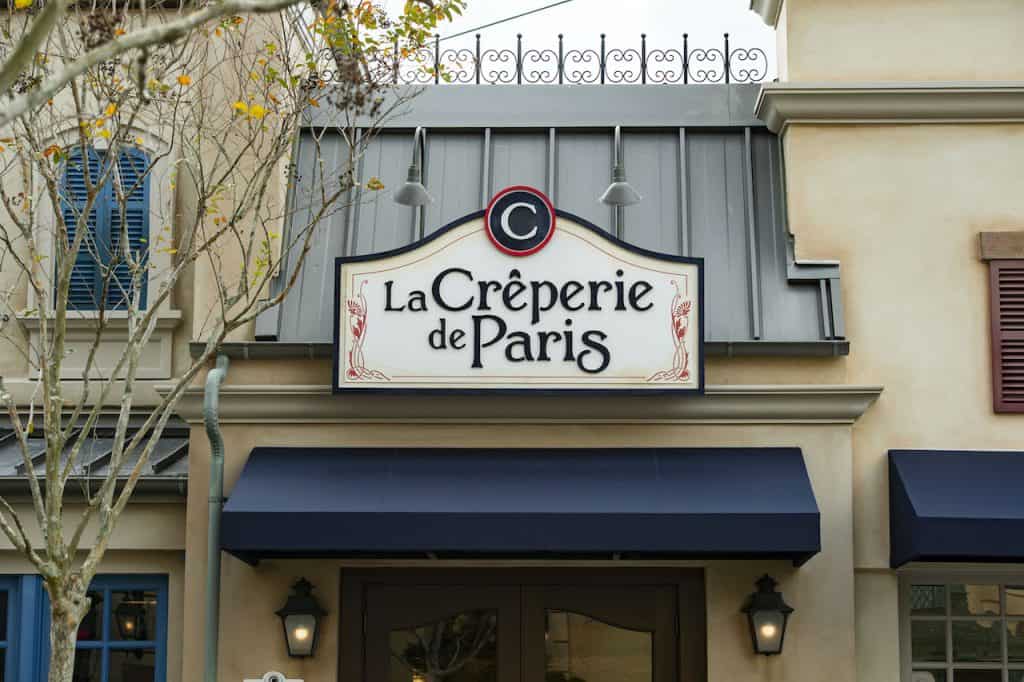 5 – Epcot Transformation
The updates in the France pavilion are a part of a large-scale transformation of Epcot. The park will be unified with four neighborhoods that each speak to important aspects of the world and its people: World Showcase, World Celebration, World Nature, and World Discovery. These neighborhoods will be filled with new experiences rooted in authenticity and innovation that take guests to new destinations, where the real is made fantastic in a celebration of curiosity, hands-on wonder, and the magic of possibility. World Showcase will continue to be a celebration of culture, cuisine, architecture, and traditions – infused with new magic. The attraction, restaurant, and pavilion expansion are all part of the historic transformation of EPCOT currently underway, bringing a breadth of new experiences to the park in a celebration of curiosity, discovery, and the magic of possibility.
6 – 'The World's Most Magical Celebration" Beginning October 1, 2021
Remy's Ratatouille Adventure will officially debut as part of the kickoff for "The World's Most Magical Celebration" honoring Walt Disney World Resort's 50th anniversary. This 18-month celebratory event will feature new experiences at the resort's four theme parks and beyond, where shimmering EARidescent décor will appear as if by magic. At EPCOT, new lights will shine across the reflective panels of Spaceship Earth, connecting to one another in a symbol of optimism resembling stars in a nighttime sky. The iconic structure's permanent new lighting will continue beyond "The World's Most Magical Celebration" as a defining feature of the park. Click here to learn more about the 50th-anniversary event!
For a no obligation, FREE Quote on a Disney vacation package, please contact our travel partner Magical Vacation Planner at 407-442-0227 (407-442-0215 for Spanish). You can also request a FREE quote online by Clicking HERE.