We absolutely love the Disney water parks!  There are two different water parks with two very different themes.  They are Disney's Typhoon Lagoon and Disney's Blizzard Beach.  No matter which one you choose, you are sure to experience a splashing good time and a lot of thrilling slides!  Here are our top questions and answers about Disney water parks:
12 – It's a little cooler out, is the water heated?
Yes!  The water is heated and there is typically at least one of the water parks that remain open, even in traditionally colder months.  If the weather is too cold or there is other inclement weather, the park will be closed.  It would be a good idea to check the weather before heading to one of the water parks.
11 – Are there lockers to keep my valuables in?
There are locker rentals available at both of the water parks. Each of the water parks features keyless lockers that can be used throughout the day for a one-time charge. To rent a locker, visit one of the electronic kiosks in the locker areas and choose the size you want. After payment, you can select a 4-digit pin number that will open your assigned locker. A standard sized locker, 12.5″ x 10″ x 17″, is $10 a day. A large locker, 15.5″ x 13″ x 17″, is $15 a day.
10 – Do I have to bring my own towels?
You can definitely bring your own towels if you would like to.  Towel rentals have typically been $2 per towel to rent them.  Both water parks have towel rentals if you have a valid Magic Band to scan for the towel rental.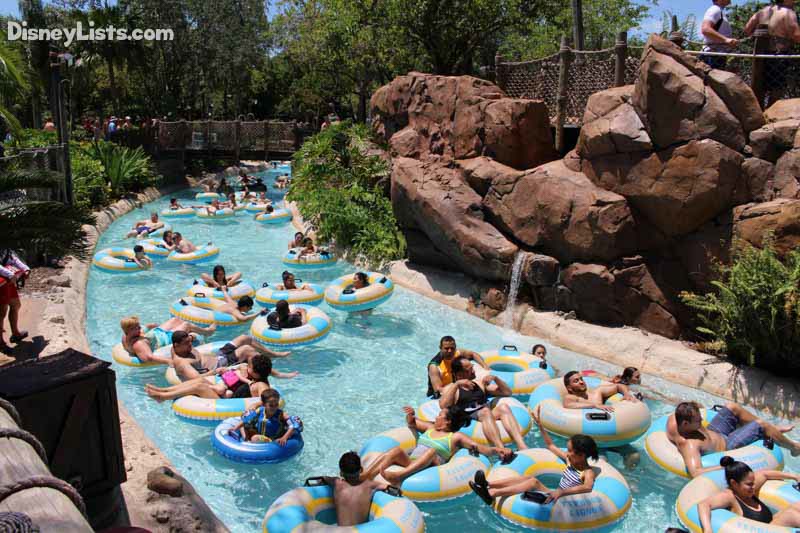 9 – I heard about cabana rentals, how does that work?
For an extra fee, you can rent private patios or cabanas that include additional services.  The rentals guarantee that you have covered seating. Depending on the package, it also includes water, sodas, snacks, towels, an attendant to order anything you want (paid for separately), etc.  These can get quite pricey, climbing over $300 during peak season.  If you don't want to pay for this perk, you can typically find a spot to leave towels and bags to hold your spot in between playing in the park.
8 – Can I bring inflatable toys and rafts?
No.  Disney doesn't allow you to use any of your own inflatable devices.  Not to worry though, plenty of tubes are available for use for free within the attractions.  Life vests are also available for free use for younger kiddos who may need to wear one for safety.
7 – Are all swimsuits acceptable at the water parks?
No.  You cannot have any kinds of buckles that are exposed metal on the slides or around the tubes.  There are also no string or thong swimsuits allowed at the park.  The swimsuits must be fully cover those areas.  If you have diaper-age children, then they must also wear swim diapers while enjoying the parks.
6 – Am I allowed to bring in food and drinks?                 
Yes, you can even bring in your own cooler.  You can bring in anything you like as long as there are no glass containers and no alcoholic beverages.  The coolers will be searched upon entering the park, so it is best to plan ahead and not try to slip these items in so that they don't get thrown away when you try to enter.
5 – What is a good checklist of items to bring with me?
I like to make sure I have a change of clothes for the whole family (we usually show up in our swimsuits with covers over them).  Sunscreen is a definite must, as the Florida sun will catch up to you very quickly and you will regret not having any.  If you have sensitive feet, it is a good idea to bring shoes that you can wear in the water but many do walk around barefoot.  You can either bring your own water bottle and towels or plan to buy water and use the towels that are there, but either way, they will be necessary!
4 – Are there attractions for all ages?
Yes!  There really is a great mix of attractions that everyone can enjoy.  The more intense water slides will have height requirements that prevent some of the younger kids from riding, but for the most part, smaller kids can enjoy a lot of different fun things at both water parks. There are even special kid areas with slides and water playgrounds that are safe for them.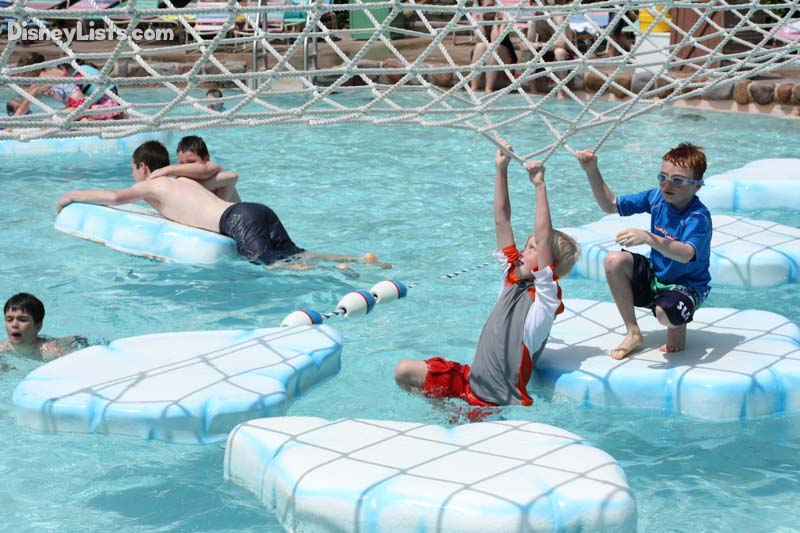 3 – Can I park hop between water parks?
Mostly no. Only annual passholders to who paid for the Water Park and Sports option can visit both water parks on the same day. Most guests must purchase admission for each water park.  If you have the Park Hopper Water and Sports Option or Park Hopper Plus on your passes, you have limited entries into the water parks.  If you plan to go to both parks and have two days, it is usually better to devote time to each one rather than hop to another one on the same day.
2 – Are characters at the water parks?
During peak seasons, you may find characters doing meet and greets at each of the water parks.  They have special areas where they will meet and greet guests for pictures during select times of the day.
1 – Are Photo Pass photo opportunities available?
During peak seasons, you may find a few different PhotoPass opportunities around the park.  There are even photographers that will wade into the lazy river to take pictures of your group while you float around and enjoy the day.  These make for some of the most fun pictures from your trip!
For a no obligation, FREE Quote on a Disney vacation package, please contact our travel partner Magical Vacation Planner at 407-442-0227 (407-442-0215 for Spanish). You can also request a FREE quote online by Clicking HERE.