Disneyland
News
NEWS: Details on Disneyland Resort's Reopening, Including Theme Park Reservations and Tickets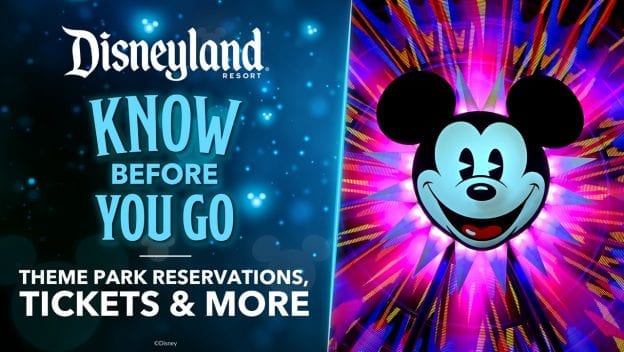 Disneyland Resort's reopening is quickly approaching and soon California residents will be able to return to the park. Disney has released information on the new theme park reservation system for guests wanting to visit. Learn more below.
Here are all the details from Disney Cast Member Michael Ramirez:
As announced, Disneyland park and Disney California Adventure park plan to reopen on April 30, with limited capacity! With this exciting news, we know you are eager to get back to the magic, and likely have questions about your next visit.
When we reopen our two theme parks, we will have enhanced health and safety measures, and will limit capacity through a new theme park reservation system that requires all guests to obtain a reservation for park entry in advance. Theme park reservations will be available online, in advance only, for a specific date, subject to availability.
Here's some important information to help you plan ahead:
Theme Park Reservations: To enter Disneyland park or Disney California Adventure park, both a theme park reservation and valid admission ticket for the same park on the same date are required for guests ages 3 and up. Guests must have a valid theme park admission ticket in order to make a reservation. Theme park reservations will be limited and subject to availability and, until further notice, only California residents may visit the parks, and in groups no larger than 3 households, in line with current state guidelines.
Theme park ticket sales are now available for guests without park tickets. Guests may begin purchasing tickets and making park reservations. As a reminder, ticket expiration dates were extended for many outstanding tickets. To accommodate as many types of ticket holders as possible, park reservations for select dates may be made available on a rolling basis. Ticket calendars will be updated on a rolling basis. Check for updated availability.
Tip: Be sure to log in to your Disney account first to link valid theme park tickets prior to accessing the park reservation system. See how to make a park reservation, below!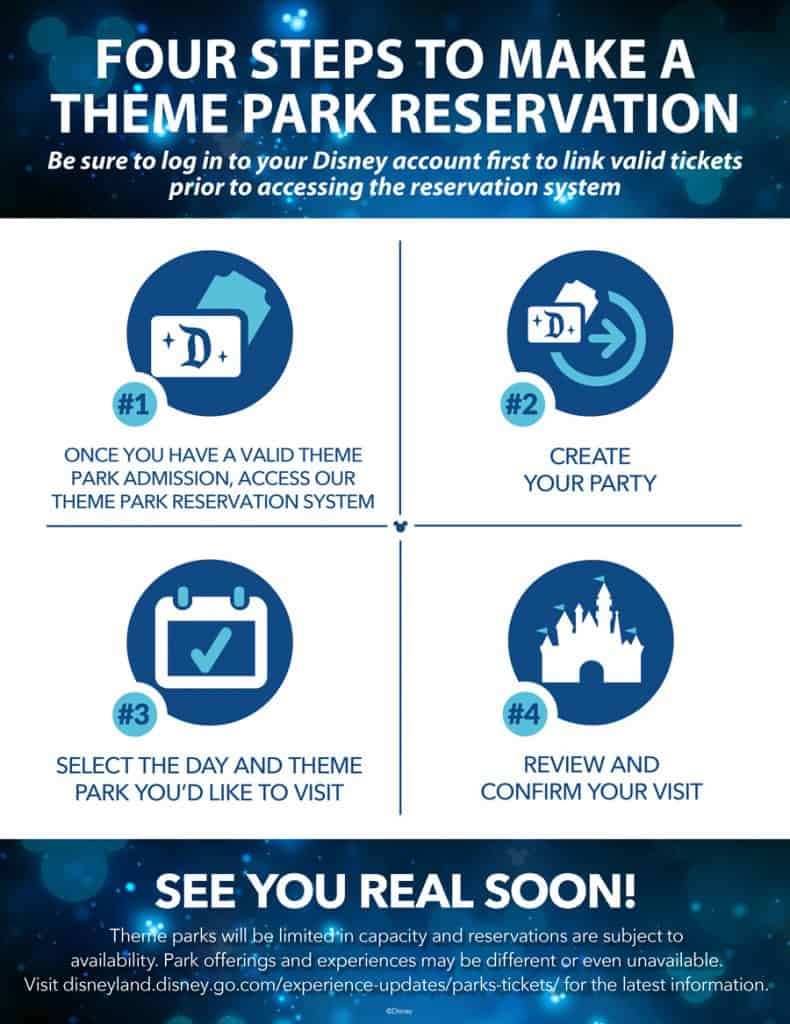 Guests with valid theme park admission tickets who are planning a stay at Disney's Grand Californian Hotel & Spa will also need to book a theme park reservation, as a hotel stay does not guarantee a theme park reservation. Tip: If you plan to visit the theme parks during your stay, get your theme park reservation prior to making your hotel reservation. For room reservations and travel packages, visit Disneyland.com or contact your travel professional for stays beginning April 29. Theme park reservations will need to be made separately.
Guests with Park Hopper tickets may choose, pending availability, which theme park to start their day, when making their theme park reservations, and then will be able to visit the other park beginning at 1 p.m. that day. Guests with multi-day tickets will be required to make a separate park reservation for each day they plan to visit the theme parks.
Park Hours: Upon reopening, daily park hours for Disneyland park and Disney California Adventure park are currently planned to be 9 a.m. to 7 p.m. Visit Disneyland.com for operating hours on the day you wish to visit, as they are subject to change.
Parking: Theme park parking will be available at the Mickey & Friends and Pixar Pals parking structures, located off Disneyland Drive.
Dining: For a contactless and cashless experience, our mobile order service — available exclusively on the Disneyland App* — makes it easy for you to plan ahead, order, and pay for food and beverages at most quick-service restaurants inside the theme parks. In order to foster physical distancing during this time, we will plan to reopen dining bookings for select locations on April 22, with limited capacity. You will be able to book your dining reservation 60 days in advance on Disneyland.com or with the Disneyland App, subject to availability. Tip: Be sure to have the latest version of the app downloaded and installed on your mobile device.
Please check Disneyland.com to learn important details about our health and safety measures prior to your arrival, such as the requirement for temperature checks and for all guests, ages 2 and older, to wear an appropriate face covering. We continue to keep the well-being of guests and cast members in the forefront of our planning and look forward to welcoming you back to the Disneyland Resort!
*Message, data and roaming rates may apply. Availability subject to handset limitations, and features may vary by handset, service provider or otherwise. Coverage and app stores not available everywhere.  If you're under 18, get your parents' permission first.
For a no obligation, FREE Quote on a Disney vacation package, please contact our travel partner Magical Vacation Planner at 407-442-0227 (407-442-0215 for Spanish). You can also request a FREE quote online by Clicking HERE.